
Table of Contents

About the Author

Related Posts
FREE | Repair Unreadable or Unplayable Videos Online Free
Cedric
Updated on Jul 13, 2021|
min read
Videos contain a lot of valuable information and memories. When they are damaged, it is hard to find a way to re-fix them. But accidents are always happening. The video becomes unplayable. You have lost the material.
Maybe the videos got corrupted by a sudden power outage while transferring to another device. Even worse, some people mistakenly delete the broken videos before trying to recover them.
Many people are losing valuable content because of damaged videos. Fortunately, EaseUS RepairVideo can help recover unreadable, broken, or corrupted videos from any kind of camera for free.
Also read: How to fix corrupted videos from Android
What Makes a Video File Unreadable or Unplayable
Many reasons can make a video file unreadable, corrupted, or unplayable. Here are a few reasons why videos can get corrupted:
The file was not created properly by the video editor or camera.
The file was edited in a different type of video editor than the original one.
The resolution is too high for the playback device, often leading to pixelation.
A downloader program such as BitTorrent was used to download the file and it has errors.
A hardware failure on your computer's hard drive caused an error during playback.
A video file can become corrupted due to power outages, improper shutdown, or a faulty hard drive. 
The conversion process from one format to another usually leads to the corruption of videos.
Video files could get lost if they have been accidentally deleted from your computer or if someone has stolen them by hacking into your account. 
Viruses can also be an issue when it comes to uploading and downloading videos online.
Use Free Online Video Repair Tool to Repair Unreadable Videos Easily
EaseUS Repair Video is one of the best video recovery software that can recover unplayable videos for free, on any compatible browser. 
Why Use EaseUS RepairVideo to Fix an Unplayable Video 
Repair unreadable videos from SD/MMC card, XD card, CF card, USB storage device, etc. The supported video format is AVI, MPG, MPEG, M2TS, MTS, M2T, M2V, MOV, MP4, M4V, 3GP, 3G2, F4V, DVR-MS, M2P, WMV, ASF, VOB, VRO, FLV, DAT
Convert your videos with just a few clicks. Start getting your videos back now. Go to the EaseUS website and try it out by clicking on "Repair".
Steps to Fix Unreadable Video Free Online with EaseUS RepairVideo 
Fixing unplayable videos is easy with EaseUS RepairVideo. You will not have to pay any fees to download the results from the tool, and it's safe to use. For receiving the repaired video file, you only need to enter your email address. Just access the EaseUS site to start using.
Step 1. Upload your video with the corruption issue. You can click the Upload Video button on the left to select a video file, or simply drag and drop the video to the area on the right.
Step 2. Enter your email address and click the Start Repairing button to instantly start the repair. Here, you must make sure the entered email address is valid to send and receive email messages over the Internet. EaseUS VideoRepair will send you a confidential extraction code to the provided email address. You can only download the repaired video by applying the code you received.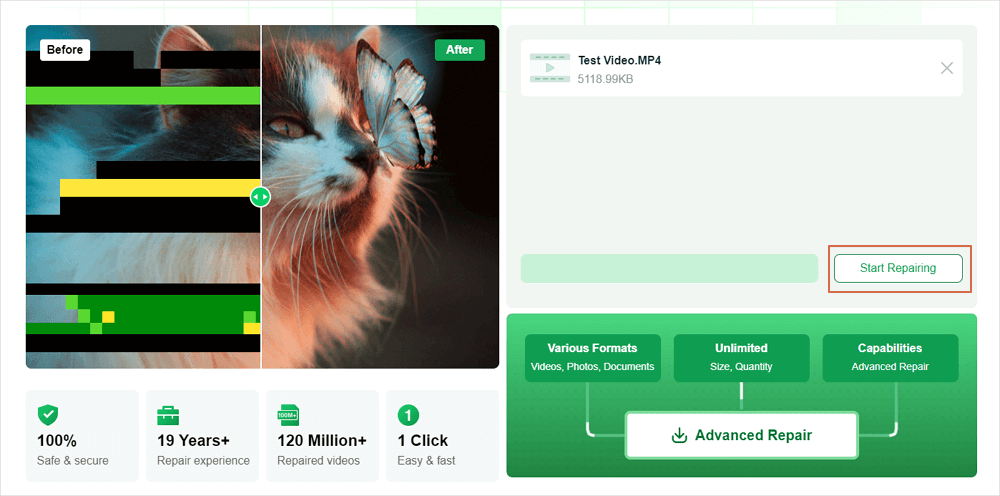 Step 3. The uploading and repairing process goes. You don't necessarily stay all the time waiting because once the session reaches 100% compeletion, you'll receive the extraction code in your mail.
Step 4. In your mail, check the message sent by EaseUS. There you'll remember the extraction code (just leave the page open so you can return to check). Click the View Your Repair button and you'll be guided to the website. Click the Download Video button, then enter the code that is exclusively generated for you, and click OK.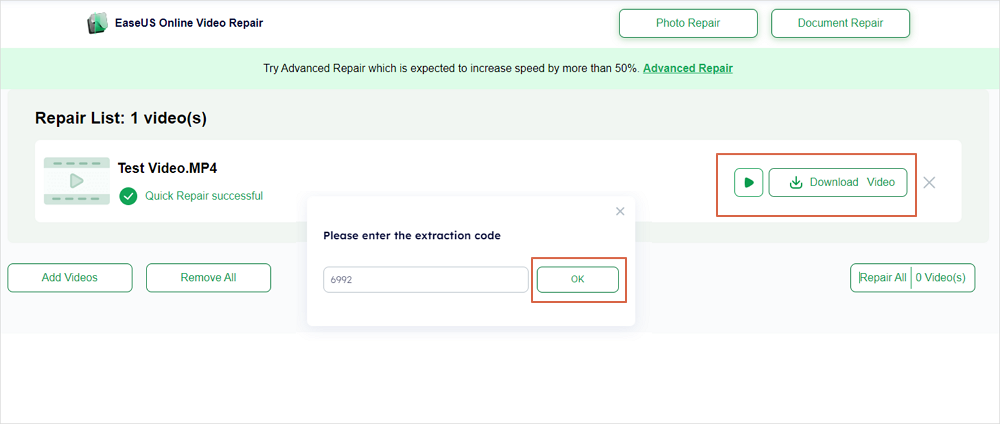 Regular Tricks Against Video Corruption
When video content is corrupted, viewers are often left to imagine what happened. These regular tips can help protect against it and are good for any video production.
Always double-check before you upload your video to make sure that it is the correct length.
Avoid zooming in too close on a scene as this can cause the quality of the video to degrade. If your camera has a zoom function, be sure to adjust it so that the camera is not too close to an object or person when recording them.
Always pay attention to sound quality and avoid any extraneous noise during recording.
Keep your computer's software up to date, as malware can cause corruption of videos when they are downloaded from websites or streamed on social media sites.
Safely remove all devices. Your computer may still be reading/writing data after you finished the desired procedures, so ejecting USBs and external HDs carefully prevents damage to video files. 
Copy the video file before editing or converting, this way you'll always have a playable version of it, and only the copy suffers damage.
Only use safe devices while transferring your video files. Hard drives, USBs, and phones affected by malware can make the videos unplayable.
Back up your video files with cloud storage services, guaranteeing you will have playable versions of them.
Don't record videos while your device is running on low battery, because it can lead to corrupted files.
Use professional tools for editing, converting, and repairing your broken, corrupted, or unplayable video files.
Conclusion
Video is a powerful storytelling medium which is why it is so important that the integrity of the video not be compromised. Damage can happen for a variety of reasons, including sudden power loss, virus attack, human error, and so on.
There are many ways to prevent this, such as having backups of footage and storing them in different formats or taking regular backups of footage. 
You can restore the unplayable video by using recovery programs if your file has already become corrupted. EaseUS RepairVideo is a powerful and professional recovery tool for corrupt, damaged, or unreadable video files.
Users can utilize the tool to recover videos from any type of device, including smartphones and high-end cameras.
About the Author

Cedric Grantham is one of the senior editors of EaseUS who lives and works in Chengdu, China. He mainly writes articles about data recovery tutorials on PC and Mac and how-to tips for partition management. He always keeps an eye on new releases and likes various electronic products.