
Table of Contents

About the Author

Related Posts
How to Repair Corrupted MP4 Video Files Online Free
MP4 is the most common and in-demand video file format because of its compatibility with most video players. This multimedia container is preferred around the world for storing music videos, and movies due to its: 
High resolution
Audio quality
Lightweight
Enriched graphics
Due to these benefits and the skills of streaming videos on the internet, many filmmakers prefer using this format.
Like any other file format, MP4 can also cause you severe problems by getting damaged or distorted. Not accessing your favorite video or not having a backup of your essential presentation can get you in real trouble. What to do in such a situation? Can the corrupted file be repaired?"
To find the answers to these questions, you need to understand the reasons that cause your video to get corrupted.
Why Do MP4 Files Get Corrupted
There can be several reasons that can cause your MP4 videos to get damaged. Some of these include:
Unstable internet connection
Virus attack
Sudden power breakdown
Incomplete download
Incomplete media transfers
These are some common reasons that can cause your healthy and playable video to get damaged. But does this mean that you can never reopen your precious video? No, it does not. There are plenty of video repair tools available that can facilitate you to repair your video with ease.
Irrespective of your cause of corruption, we have found you a safe Workaround that can help you repair your corrupted videos. The tool that we are mentioning below will help you fix your video swiftly and comprehensively.
EaseUs RepairVideo, a Professional MP4 Video Repair Tool
EaseUs RepairVideo is a professional MP4 video repair software that can help you fix corrupted, broken or damaged MP4 video. Being a free tool, this software has many prominent features that make it the user's number one choice for their video repair.
EaseUs RepairVideo tool allows you to fix your MP4:
If your video is facing a synchronization issue
If your MP4 video is flickering or distorted
If you're facing a black screen issue but can hear the audio
If your MP4 files stop playing but the screen shows the remaining time
Furthermore, it can also repair your videos corrupted due to:
Read and write errors
Improper downloads
Compression issues
Changes in format
No matter how your file got corrupted, this tool works for you on both Mac and Windows devices. It also can repair videos from Android and iPhone. 
How to Repair Corrupted MP4 Using the EaseUS Free Video Repair Tool
Upload your video and follow this step by step guide to use the EaseUS free online video repair tool to repair your corrupted MP4 videos
Step 1. Add Damaged MP4 Video
Go to the official site of EaseUS RepairVideo. Click "Upload video" or drag the MP4 video directly.
Step 2. Enter the Email Adress
Input the right email adress to make sure that you can receive the extraction code. Then, click "Start Repairing".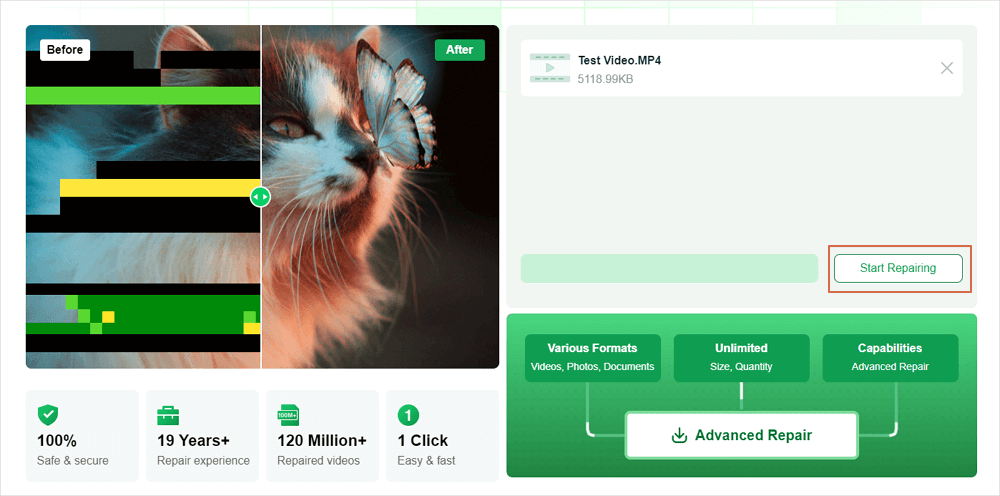 Step 3. Repair Damaged MP4 Video
EaseUS RepaiVideo starts the repairing process automatically. If your MP4 file is very large, it would take some time. You can close the site, and EaseUS will inform you through the email.
Step 4. Download the MP4 Video
When the repairing process completes, click the "Download Video" button and enter the extraction code from your email. Then, you can get the repaired MP4 video.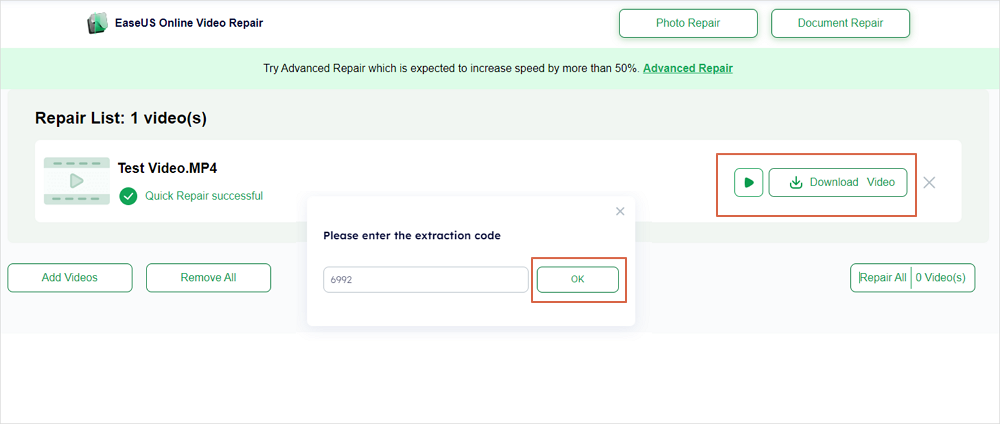 Conclusion
Though you can quickly restore your corrupted video files, you can still make some minor precautions to prevent your videos from damaging.
You can make a copy of your information so that you don't lose any of your content while trying to alter your videos.
Try using external devices such as USB, DVD, and CD to backup your data, so that you have an alternative if you lose any of your video files in case of your PC damage.
Protect your devices using antivirus software and try making your computers work even in optimal conditions, like a reliable electricity connection.
Still, if you lose any of your MP4 video files due to them being damaged, you can always use the EaseUS RepairVideo to fix your video files for free.
About the Author

Cedric Grantham is one of the senior editors of EaseUS who lives and works in Chengdu, China. He mainly writes articles about data recovery tutorials on PC and Mac and how-to tips for partition management. He always keeps an eye on new releases and loves various electronic products.