
Table of Contents

About the Author

Related Posts
3 Methods to Repair Broken MP4 Video Files
There can be multiple reasons where you may end up getting an MP4 video corrupted. MP4 is the most popular media container, and it does provide you access to a huge degree of multimedia container format ever. But what if you find the MP4 video damaged and corrupted? Let us find the best ways on how to repair broken MP4 files with ease.
.mp4 Videos Are Broken on My Computer
There can be a multitude of reasons for an MP4 file to get corrupted. Depending on the scenario, the file may become unplayable, buffer or even get stuck. Understanding the possible reasons for the video file getting corrupted can help you avoid those circumstances in the future.
Some possible causes that can make an MP4 file get corrupted can include
A sudden shutdown of the camera or recording device.
An unstable internet connection.
An improper system shutdown.
Error in reading or writing the data.
Virus and malware attacks.
Interrupted or incomplete data transfer and download.
How Do I Fix Broken MP4 Videos - 4 Capable Methods
There can be a few simple workarounds you can give a try to before attempting any of the other high-end methods. A few of the good ways that can be helpful in this context can include
Change your video player and check if the video player is an issue.
Change the extension of the file and check if that makes the file playable.
If none of the simpler ways work for you, you can try the more advanced fixes that are outlined here below.
Method 1. Repair Broken MP4 Using EaseUS RepairVideo
The EaseUS RepairVideo can be the easiest and simplest tool that can prove to be extremely handy in helping you repair a broken file. The EaseUS RepairVideo is a professional and standalone tool that can help you recover your video.
The online video repair tool assists you in an efficient video repair through an online mode. The browser-based operation makes this a great choice for all operating systems. It is much simple and easy to work with and provides you a better experience ever.
The features that make it a good fix to go with can be:
It is 100 percent safer and secure.
There are subscriptions or other charges.
A high degree of success rate in recovering the videos.
It can recover videos in any corruption scenarios such as editing, recording, power outage, and video transfers.
Support for the videos recorded on any devices and cameras.
Step 1. Add Damaged MP4 Video
Go to the official site of EaseUS RepairVideo. Click "Upload video" or drag the MP4 video directly.
Step 2. Enter the Email Adress
Input the right email adress to make sure that you can receive the extraction code. Then, click "Start Repairing".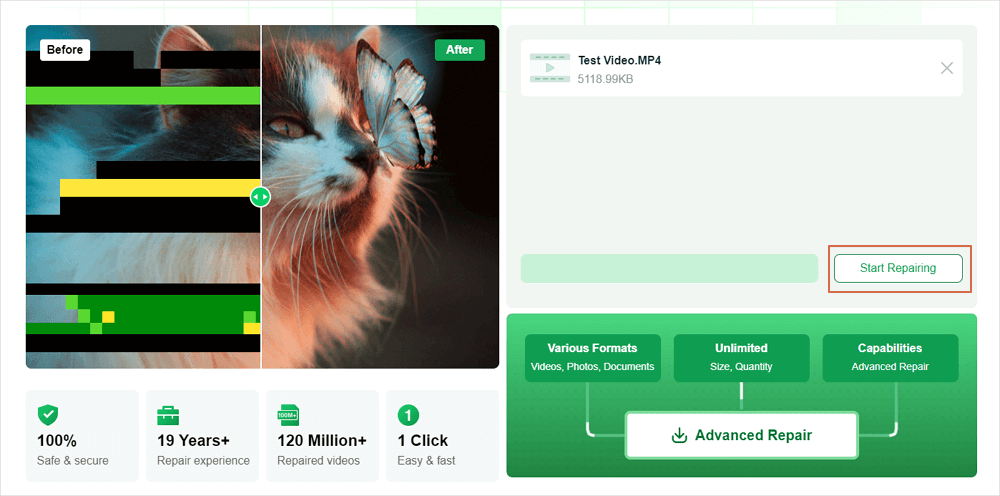 Step 3. Repair Damaged MP4 Video
EaseUS RepaiVideo starts the repairing process automatically. If your MP4 file is very large, it would take some time. You can close the site, and EaseUS will inform you through the email.
Step 4. Download the MP4 Video
When the repairing process completes, click the "Download Video" button and enter the extraction code from your email. Then, you can get the repaired MP4 video.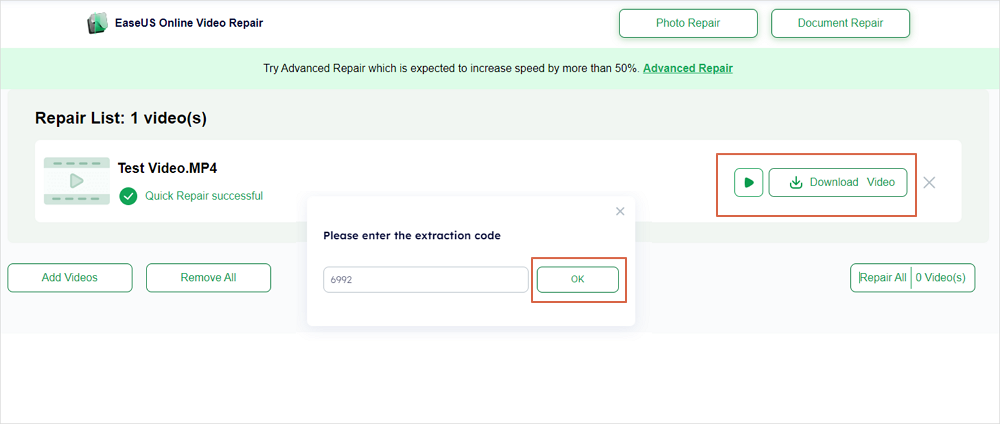 Method 2. Fix Broken .mp4 on Windows 10 Using VLC
VLC Media player is an excellent media player software for letting you repair your corrupted and damaged videos with ease. It has a huge number of features and functionalities that will assist you in handling a wide range of video codecs.
Here are the steps that you can use to repair a corrupt video file using VLC Media Player
Choose the corrupt MP4 file on VLC Media Player.
If the codec is supported, the video should begin playing.
If that does not happen, the video file may be severely corrupt or damaged. Here is how you can do it:
Right-click on the corrupt video file and change the extension using the Rename. 
Change the extension to AVI
Launch VLC, and go to Tools -> Preferences
Under the Inputs/Codecs section, locate the Damaged or incomplete AVI file. 
You should find it under the File section.
Select Always Fix from the drop-down list. 
Play the video now, and you should get access to an enhanced experience in playing the video.
Method 3. Repair Broken MP4 Video by Converting Another Format
This method to assist you in fixing the corrupt video files I to change the file format o the video file. You can try converting the MP4 video file into other formats such as AVI, WMV, MOV, FLV, MTS, or MKV. This is an amazing way to make non-playable videos playable.
For converting the video to the preferred format, we recommend using easy-to-follow and simple tools. Make sure that you have used a reliable online or offline method to repair a broken MP4 file. You can employ any tool for the purpose.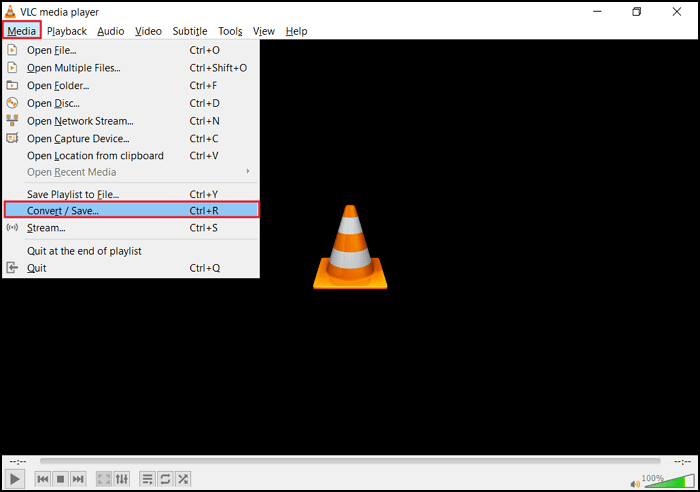 We will use VLC Media Player for this task 
Choose Media button. Now, press on Convert/Save.
Add the files to this media player. You may also use the drag and drop feature for the purpose.
Choose the output file format from the Profile button.
Choose the Destination file and pick a file name.
Click on Start to convert your file to chosen file format.
Method 4 . Repair a Broken MP4 Video File with Stellar repair Video
The Stellar Video Repair can be a good tool for most of the needs that you may have. It can handle as many as 17 different video file formats. It can easily repair severely damaged video files. It can work with both Windows and Mac devices making it a fully functional tool in every respect.
Here are the steps you will find useful in how to repair damaged video with Stellar Video Repair:
Launch your Stellar Video Repair tool.
Click on Add File to add the damaged file to the software. 
Click on Repair to recover the file. 
Once the file is recovered, you can preview them, and if you are satisfied, you may decide to save the repaired file.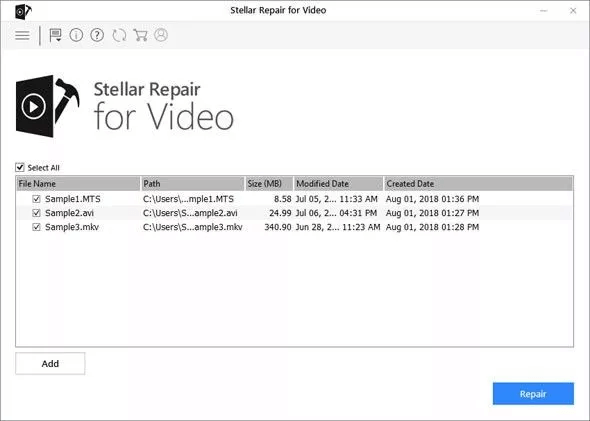 The Concluding Thoughts
Well, a broken MP4 file can be a huge concern and something that you would want to recover at any cost. There are several capable tools that can be useful in letting you recover your files without any hassles. We assume the tools featured here can be helpful in providing you an enhanced degree of experience.
The EaseUS VideoRepair is a wonderful software and should be the right choice because of the free and online nature of the tool. You do not need to install any software, and it can be used on any operating system or device. The support for a huge range of video file formats and other advanced features should make it a tool you want to go with.
About the Author

Brithny is a technology enthusiast, aiming to make readers' tech life easy and enjoyable. She loves exploring new technologies and writing technical how-to tips. On her spare time, she loves sharing things about her favorite singer - Taylor Swift on her Facebook or Twitter.