
Table of Contents

About the Author

Related Posts
Repair Blu-Ray Video Files with Free Video Repair Tool
Cedric
Updated on Mar 09, 2022|
min read
Blu-ray disks are one of the most popular media formats and are used for storing video files, especially movies. They have been around for quite some time and have been used by millions of people across the world. However, blu-rays may also get damaged over time due to a number of reasons. If this happens, you may not be able to play your Blu-ray disks anymore.
Most people who experience this problem think that their disks are completely broken and need to be replaced with new ones. But discarding your old Blu-ray unplayable disks isn't always necessary. You can repair Blu-ray disks, whether they are damaged or not. This guide will show some reasons Blu-ray disks become unplayable and how to fix them in several ways.
Why My Blu-Ray Video Got Damaged
The problem with blu-ray disks is that they are prone to scratches as well as dust and lint. When these problems become too much, the disk may start to skip or freeze, and in some cases, it may not work at all. So, the disks may stop working since they are uncleaned.
Also, your PC may stop playing Blu-Ray videos due to problems with the drivers. In the case your Blu-ray isn't damaged, you can update, reinstall and reroll the Blu-ray drives from your hardware. Few people have the knowledge to repair blu-ray disks. However, there are some steps that they can take to try and fix the disk.
How to Repair Blu-Ray Discs
Take the following three ways to repair blu ray video files. 
Method 1. Update the Blu-Ray Drives
It's possible that your device's drivers have become outdated as Windows shuts off support for DVDs and CDs. A driver update is necessary for both Blu-rays and motherboards. After that, the Blu-ray video files will be playable.  You can do it this way:
Step 1. Go to the Start Menu and type Device Manager for searching it.
Step 2. Click on the tabs DVD/CD-ROM drivers and IDE ATA/ATAPI controllers for expanding it.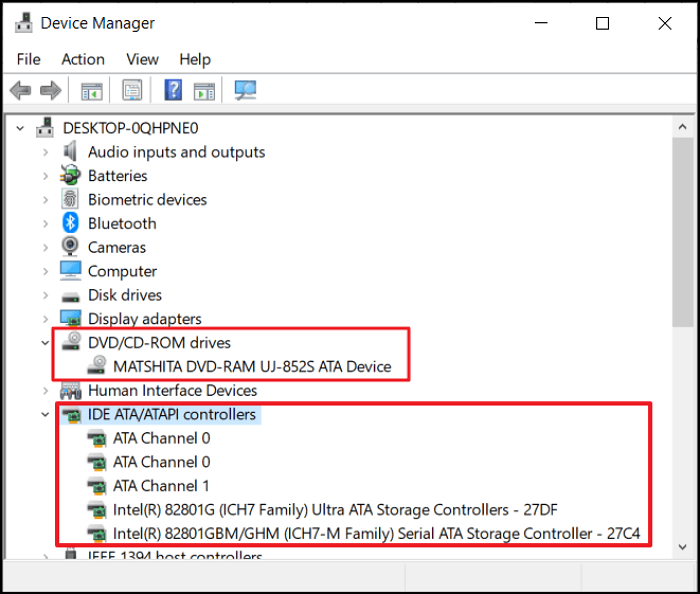 Step 3. Select "Properties" from the right-click menu of your Blu-ray player.
Step 4. Click on the "Driver" tab and then "Update Driver".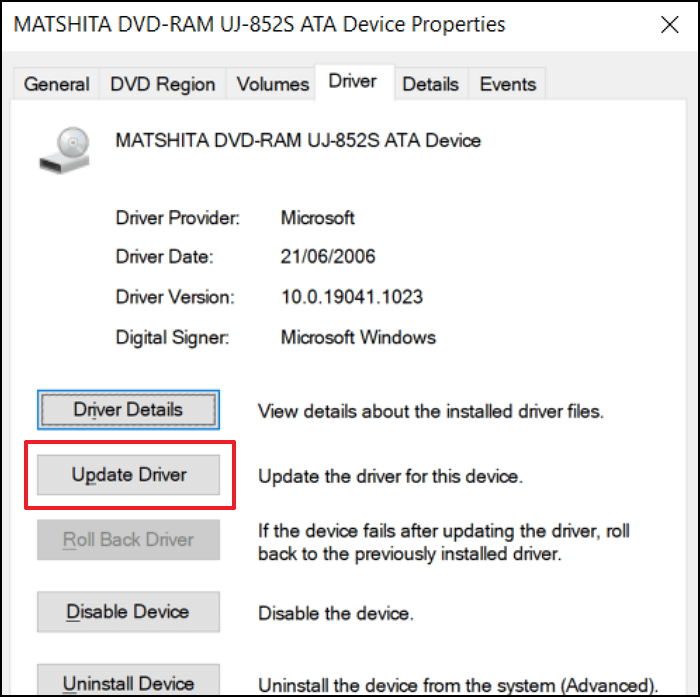 Step 5. Done. To update IDE ATA/ATAPI drivers, repeat the above steps.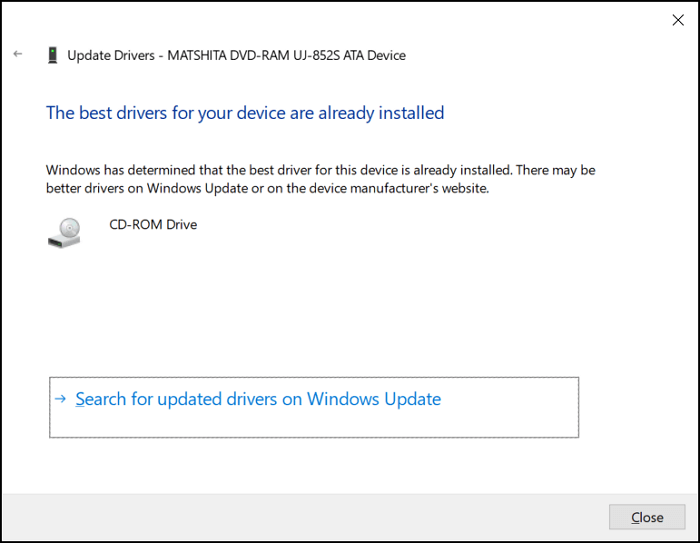 Method 2. Reinstall the Blu-ray drivers
Try reinstalling your drivers if updating them does not work. Reinstalling the Blu-ray drivers may fix corrupted ones. The following are the steps:
Step 1. You can find Device Manager by going to the Start menu and typing it in.
Step 2. Click on the "DVD/CD-ROM" drivers tab to expand it.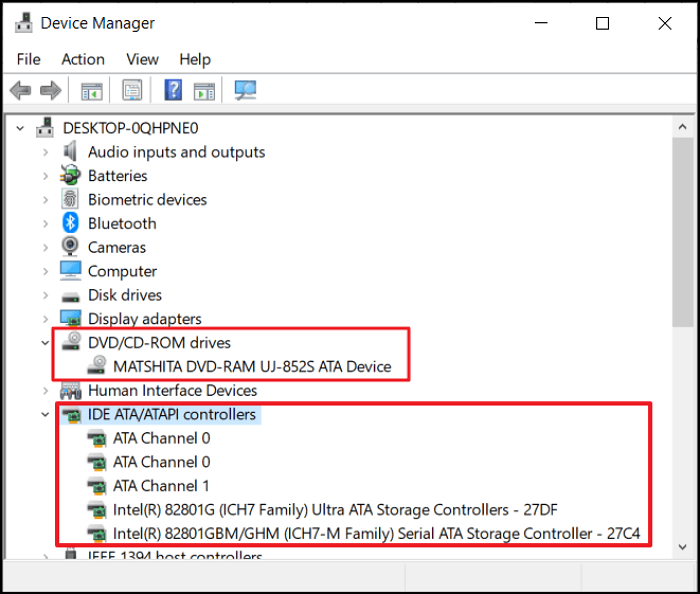 Step 3. The driver should be installed automatically once Windows restarts after you right-click your Blu-ray device and select "Uninstall".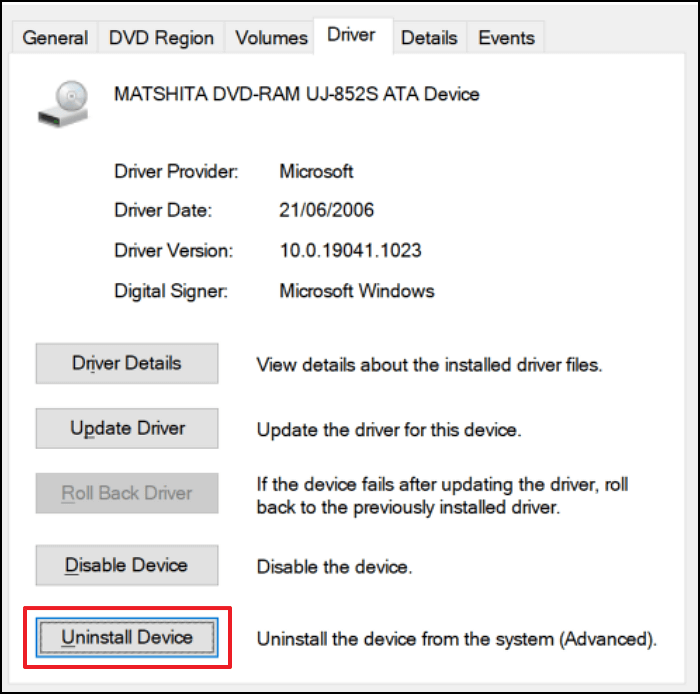 Method 3. Reroll the Blu-ray drivers
You might want to roll back your drivers if your Blu-ray drivers still fail to read discs, but they worked prior to an update. Hardware and recent updates might not be compatible. 
You can roll back drivers in Windows using a quick tool. The roll-back feature in Windows can be used to restore an older version of drivers. Blu-ray players can be rolled back individually as well. To accomplish this, follow these steps:
Step 1. On the Start Menu in Windows 10, search for Device Manager.
Step 2. Click on the "DVD/CD-ROM driver and IDE ATA/ATAPI controllers" to expand them.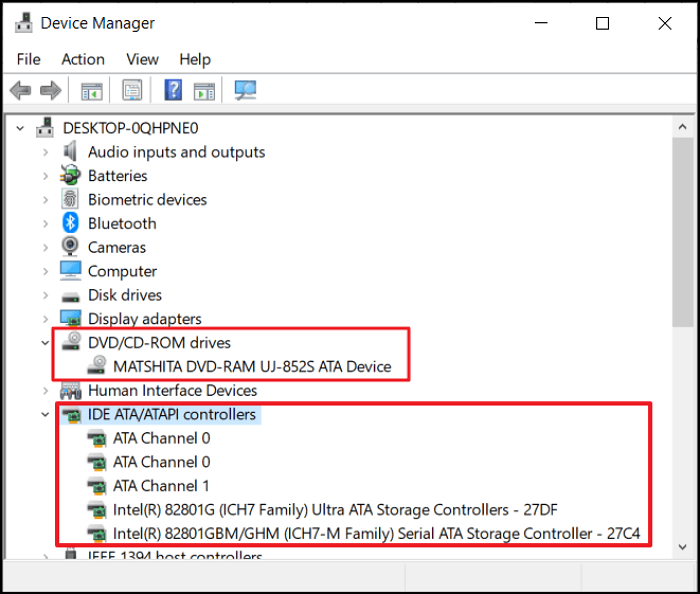 Step 3. Select "Properties" by right-clicking the Blu-ray drive.
Step 4. On the "Driver" tab, click the "Roll Back Driver" button. Repeat the process with the IDE ATA/ATAPI drivers to roll back all of them.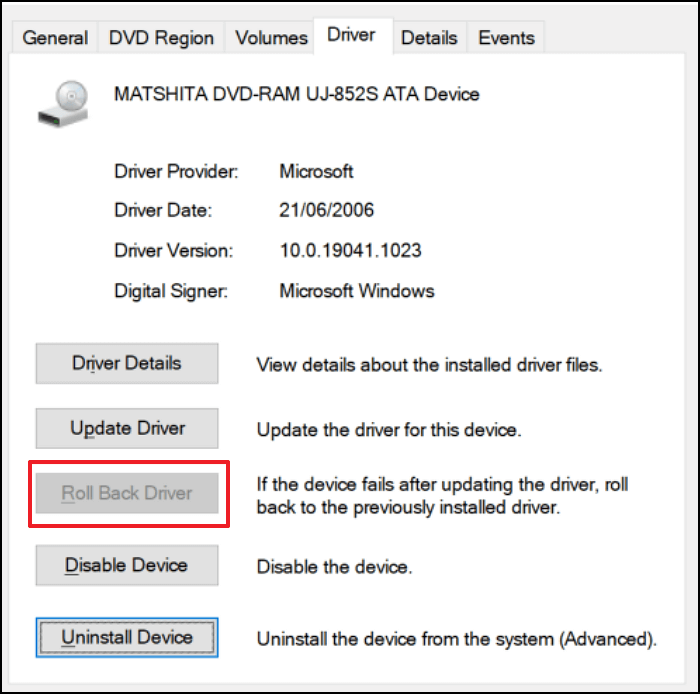 Video Repair Tool - EaseUS Video Repair
You can recover videos from your computer using EaseUS RepairVideo software for free. Just go to the EaseUS RepairVideo website and try it, since it runs on your browser.
Videos can be recovered with this online service if even they are damaged by malware, viruses, or lost batteries. Anyone can use this software because it doesn't require any special skills.
This application can recover videos from various devices, including cameras, camcorders, Android and iOS devices, and SD cards. EaseUS RepairVideo can fix any damaged or corrupted video and make it work like new.
The following are some of the features of EaseUS RepairVideo:
You can run it on any browser that supports it. There is no need to install or buy the results.
Whether the video was damaged during editing, converting, transferring, or during recovery attempts, EaseUS RepairVideo can restore it. Additionally, you can repair corrupt videos that are due to malware, battery loss, etc.
Compatible with the most popular video file formats, including 3GP video repair, M4V, FLV, AVI, MOV, MP4, MKV, WMV, SWF, FLV, MP3, NPEG, 3G2, RM/RMVB, etc.
You can restore broken videos from various devices, such as LG, Sony, HTC, Samsung, Huawei, Motorola, and ZTE. Also from pocket cameras, dashboard cameras, USB flash drives, CTTVs, damaged hard drives, and many other sources.
Step 1. Upload your video with the corruption issue. You can click the Upload Video button on the left to select a video file, or simply drag and drop the video to the area on the right.
Step 2. Enter your email address and click the Start Repairing button to instantly start the repair. Here, you must make sure the entered email address is valid to send and receive email messages over the Internet. EaseUS VideoRepair will send you a confidential extraction code to the provided email address. You can only download the repaired video by applying the code you received.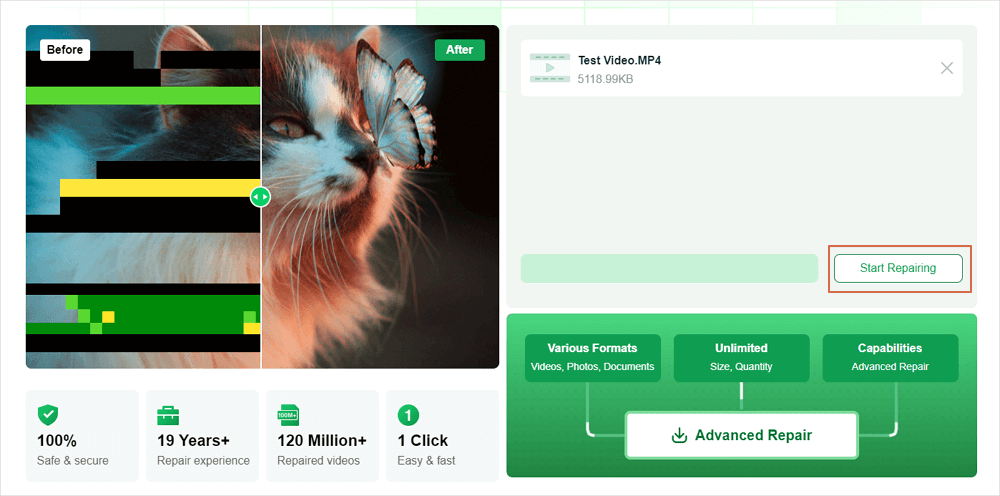 Step 3. The uploading and repairing process goes. You don't necessarily stay all the time waiting because once the session reaches 100% compeletion, you'll receive the extraction code in your mail.
Step 4. In your mail, check the message sent by EaseUS. There you'll remember the extraction code (just leave the page open so you can return to check). Click the View Your Repair button and you'll be guided to the website. Click the Download Video button, then enter the code that is exclusively generated for you, and click OK.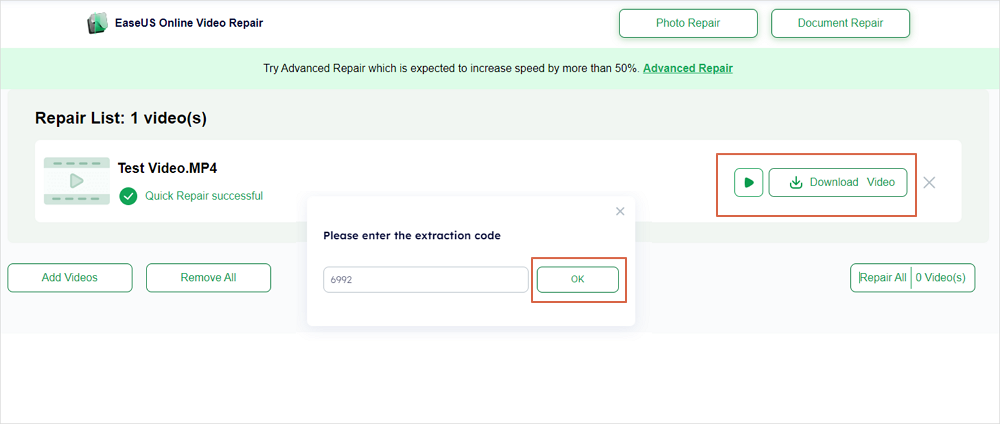 Conclusion
Most people don't know that there is an easy way to fix unplayable blu-ray videos without having to buy a new one.
The first point is to determine if the disk is actually damaged. Most damaged disks will freeze or skip during playback, but some will still display a picture in the player. Even for damaged blu-ray disks, there is still a solution. Blu-ray repair kits come with everything you need including tools for removing debris and repairing scratches using buffing pads.
If you determine that your disk is not damaged, there are a few things that you can do to try and repair it. You can try playing the disk with a different player or updating your firmware on your current player. So, your Blu-ray video files will be repaired, waiting to be played.
For corrupted video files in general, you can try EaseUS RepairVideo. It is free, online, and can bring back your videos that stopped playing.
About the Author

Cedric Grantham is one of the senior editors of EaseUS who lives and works in Chengdu, China. He mainly writes articles about data recovery tutorials on PC and Mac and how-to tips for partition management. He always keeps an eye on new releases and likes various electronic products.