
Table of Contents

About the Author

Related Posts
MP4 Video Repair Online| How to Repair Corrupted Videos
MP4 videos are a great way to get information and have fun. When you start a video, it becomes corrupted right away. You don't want to lose your data, but you can't seem to discover a means to fix your corrupted file.
The notification "video cannot be played" or "file is infected due to virus" will almost surely appear if your video is not playable. Your mp4 video is most likely damaged. This article will recommend a method to repair your mp4 video online and for free.
Furthermore, this article will explain what the best tool is for repairing mp4 corrupt videos and how you can do it yourself.
What Are the Causes of MP4 Video File Corruption
MP4 is the most widely used media format, storing almost all music, video, graphics, pictures, and subtitles. You may have noticed a message that said something like "the video is not watchable" or "an error occurred when playing video." Here are some other symptoms that will display when the video can no longer play:
 MP4 isn't capable of playing video.
 The file did not respond.
 You accidentally formatted the memory card.
 The video abruptly ended and is no longer playable.
During video recording, your camera may be turned off incorrectly, and some of the information is lost. 
The storage unit is damaged. Reading and writing in the video was unsuccessful.
The mp4 file cannot be played because of a virus in your system or storage unit.
During editing, some data was lost or lost altogether. The files may not be readable or the data may be incomplete.
 A data transfer interruption occurred. Internet connection either failed or became unstable while the transfer was in progress. Consequently, some of the data was missed or not transferred, which is why the video won't play.
If you have experienced all these possible scenarios then below is the detailed solution as well as the recommended tool.
MP4 Video Repair Online Tool (Recommended) 
To fix your MP4 video files that have been corrupted EaseUS RepairVideo is a free online tool that can help you repair your videos.  Among other things, the following qualities make EaseUS RepairVideo an extraordinarily well-performing and preferred video repair tool.
Support corrupted video files in all scenarios
Regardless of where your video is kept, EaseUS RepairVideo can help you repair it. You can even get your video from a flash drive, a hard drive, a detachable disc, or a pen drive.
Support video repair on different devices
EaseUS RepairVideo stands out as a truly unique tool because of this functionality. Smartphones, tablets, LG, Samsung, Sony, hard drives, USB, CCTV, dashboard cameras, and a range of pocket cameras are all supported for video repair.
Support all video formats
It is capable of repairing AVI, MP4, MGP, MOV, MKV, 3G3, FLV, RM/RMVB, and 3GP. EaseUS RepairVideo helps users repair almost all video formats keeping the video unchanged. 
Support for repairing social software videos
The tool offers support for fixing social media videos as well as videos on blogs, internet forums, etc.
100% free and safe
It is entirely safe and free to use EaseUS RepairVideo. The data is 100% private and protected without you paying a cent for repairing it. A code containing an encryption key is sent to you via email. By making sure that only you are able to access your data, it ensures your privacy.
How to Repair Corrupted Video Files Online
To use EaseUS RepairVideo to repair your corrupt video online, go to the EaseUS website. Select and upload the corrupted mp4 video. It will request your email address. Fill up your email address and click the "Start Repairing Video" button. Once the video has been repaired, enter the extraction code that was sent to you through email. You will be able to download your video using this code.
Step 1. Add Damaged MP4 Video
Go to the official site of EaseUS RepairVideo. Click "Upload video" or drag the MP4 video directly.
Step 2. Enter the Email Adress
Input the right email adress to make sure that you can receive the extraction code. Then, click "Start Repairing".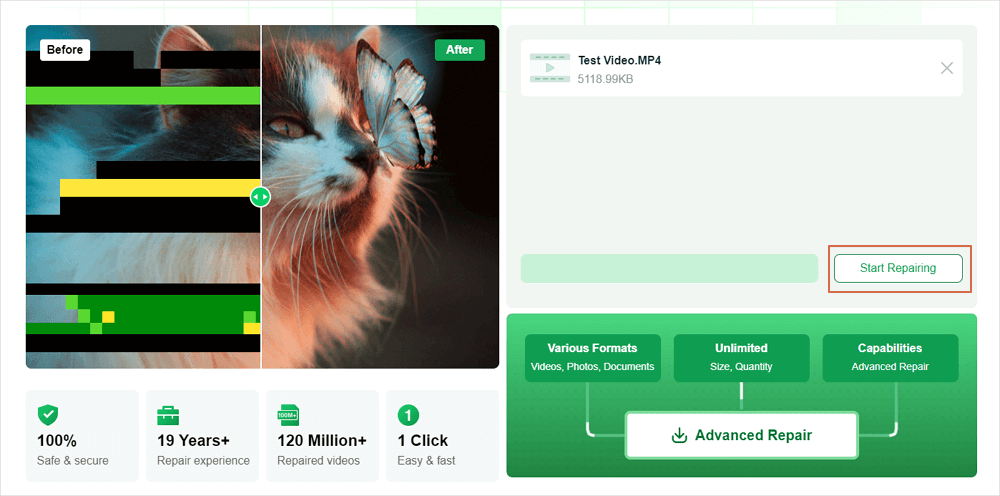 Step 3. Repair Damaged MP4 Video
EaseUS RepaiVideo starts the repairing process automatically. If your MP4 file is very large, it would take some time. You can close the site, and EaseUS will inform you through the email.
Step 4. Download the MP4 Video
When the repairing process completes, click the "Download Video" button and enter the extraction code from your email. Then, you can get the repaired MP4 video.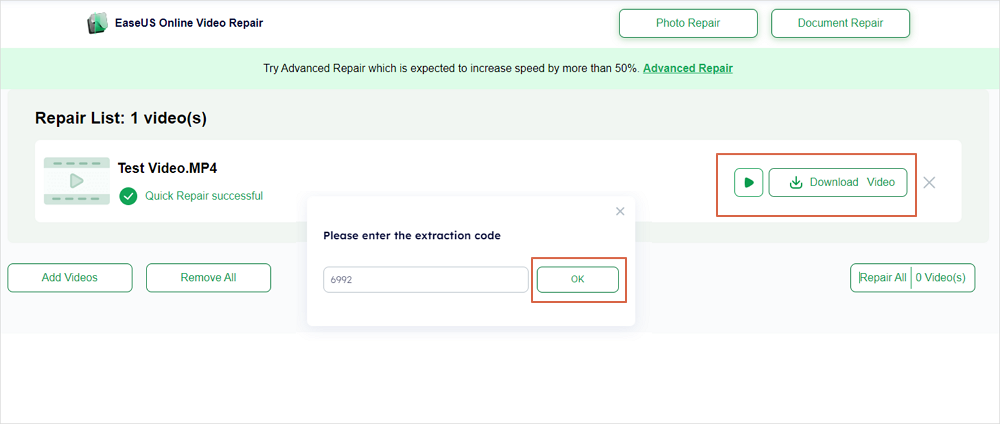 Conclusion
Fortunately, you finally have a way to fix all of your corrupted, unplayable video files. You may not have attempted to restore it because video editing appears to be a difficult operation best left to professionals. It was made simple for everyone by EaseUS. Everyone can comprehend it thanks to the guided steps and simple tools. EaseUS RepairVideo tool's compatibility with all video formats and devices made it extremely helpful. Your file will be uploaded, repaired, and sorted in no time.
About the Author

Brithny is a technology enthusiast, aiming to make readers' tech life easy and enjoyable. She loves exploring new technologies and writing technical how-to tips. On her spare time, she loves sharing things about her favorite singer - Taylor Swift on her Facebook or Twitter.