
Table of Contents

About the Author

Related Posts
How to Fix Error 0xa00f4244 - We Can't Find the Camera
Brithny
Updated on Aug 30, 2021|
min read
Virtual communication software has made it easy to conduct office meetings, attend schools and stay in touch with your loved ones. Therefore, a small camera problem can today fully disturb your life. 
If you are facing error code 0xa00f4244 while using a webcam on your computer, it must be blocking your work continuity. So, let's deal with this inconvenience and fix error 0xa00f4244 quickly. 
What is an Error 0xa00f4244?
If you see error 0xa00f4244 or "we can't find your camera" message while loading a video communication app on your computer, this means your webcam has some problem.  
This error occurs because of many reasons, for example—
If your computer is infected with the virus.
When you have physically disabled the webcam.
You are using old camera drivers.
The camera application isn't properly installed.
You have recently updated your Windows OS, etc.
So, there are multiple reasons behind the error 0xa00f4244, but fortunately, this error can be treated easily. Let's see how to fix error 0xa00f4244 swiftly. 
5 Methods to Fix Error Code 0xa00f4244
If you are unable to attend your online classes or meetings due to error code 0xa00f4244, you can use the following fives methods to easily fix this error:
Method 1. Update the camera driver in Disk Management 
If you notice a problem with the webcam after updating the camera app driver or Windows OS, this means your installed driver is incompatible with the Windows version. In this case, you have two options: rollback the camera drive to the previous version or install the compatible driver. 
To revert back to the previous driver version, follow these steps:
Press Windows + R keys together, type devmgmt.msc, and hit the enter key.
Expand the Imaging device or Sound, Video, and Game Controllers on the Device Manager window and find your webcam. 
Right-click on the webcam folder, select the Properties > Driver tab > Rollback Driver option (if available).
To continue Rollback, click on the Yes button and reboot your PC once the process is complete. 
Now, open the camera app to check whether it's working now or not.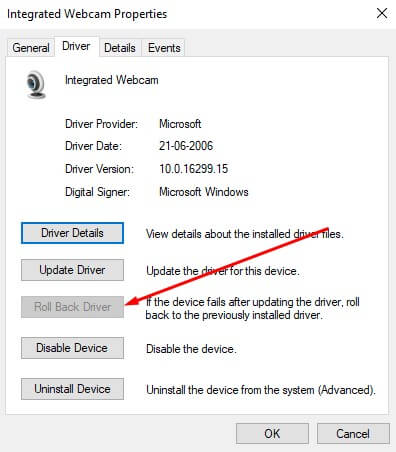 If you don't want to go back to the previous camera driver or Rollback driver option isn't available on your computer, you can install a compatible driver as
Press Windows + R key, type devmgmt.msc, and hit Enter.
Expand Cameras on the Device Manager.
Go to the webcam, right-click and select the Uninstall device. 
Restart your computer after uninstalling the driver.
Now, again go to the Device Manager and click on the "Scan for hardware changes," and this will automatically install the camera app driver.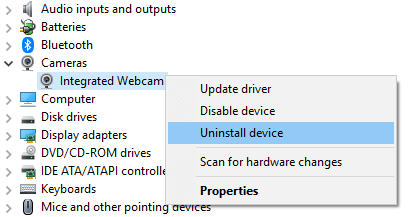 Or, you can also visit the device manufacturer's website to find and download the latest webcam driver version. 
Method 2. Run the troubleshooter in-store apps 
If there's a problem with the camera app or general App Store settings, you can fix error code 0xa00f4244 by running the troubleshooter as: 
Press the Windows + I together to open the Settings application. 
Click on the "Update and Security > Troubleshoot" from the left panel. 
Navigate and select the Store App. 
Click open the Run the Troubleshooter and check your camera app now!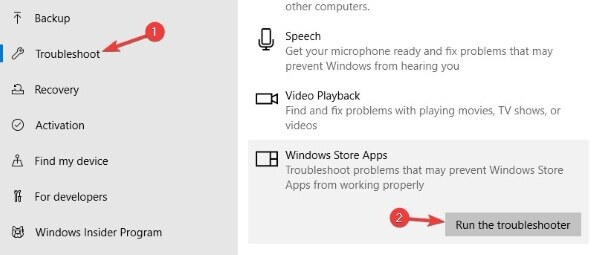 Method 3. Tweak the registry settings 
Sometimes, different encoding standards can lead to camera errors. In this case, you have to tweak the registry settings to resolve the issue. It is not a recommended method if you are a novice user. But if nothing else works for you, follow these steps to dot:
Search for the Regedit from the windows search bar. 
Right-click on the Registry Editor and run it as an administrator.  
Click on the File, select Export, and backup your registry. 
If something went wrong in the process, you can restore it or can also create a Restore Point. 
Now, use the following command line for 32-bit and 64-bit systems, respectively —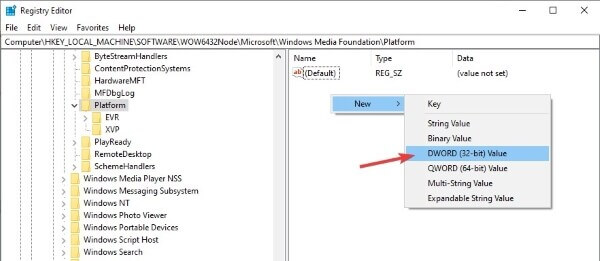 For 32-bit System — HKEY_LOCAL_MACHINESOFTWAREMicrosoftWindows media foundation platform
For 64-bit System — HKEY_LOCAL_MACHINESOFTWAREWOW6432NodeMicrosoftWindows media foundation platform
Right-click on the right windows and select the New. 
Choose the DWORD (32) Value. 
Right-click and select Modify to set the registry value 0 and save the changes. 
Now, restart your PC and run the camera app to check if it's working or not.
Method 4. Make sure the camera app is turned on 
If you have recently changed your device's privacy settings, it can cause error code 0xa00f4244. In this situation, you have to tweak your camera settings and enable the camera application on your computer. To do so, just follow these steps:
Open the Settings by pressing Windows + I keys together. 
Click on the Privacy and the Camera option from the left pane. 
If the label next to the camera shows Off, turn the toggle to On, and this will fix the camera error code 0xa00f4244 for you.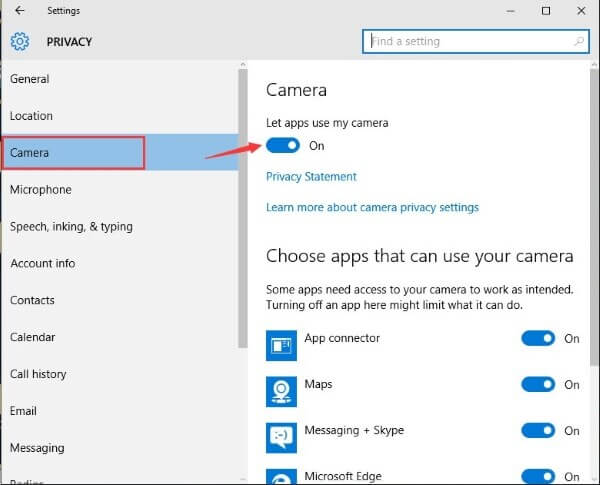 Method 5. Scan your device for the malware
If your PC is under malware attack, this can also stimulate error 0xa00f4244. So, you should run a malware scan on your computer to fix the camera code error 0xa00f4244. You can scan your device for the malware as follows: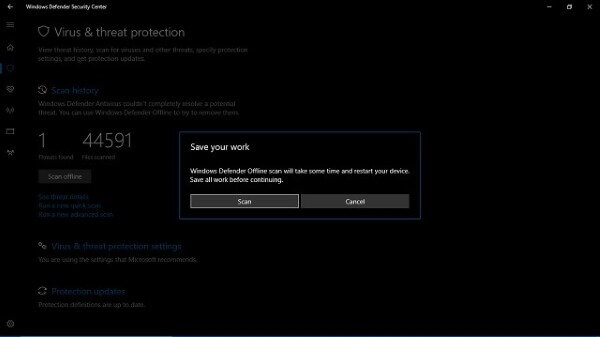 Open the Windows Defender from the notification area. 
Clean on the Virus and threat protection option and then on the Scan Offline. 
Your PC will restart after this and automatically undergoes the malware scan process. 
Once the process completes, reopen the Windows Defender and click on the Virus and threat protection option. 
Now, enable the Cloud-based protection options and simply restart your system to check if the camera works now. 
Bonus Tip — How to Repair Damaged Videos 
You have now explored five easy ways to fix the error code 0xa00f4244 on your computer. But we won't leave you here without sharing a simple solution to fix your damaged, corrupt or broken MP4 and MOV videos. 
EaseUS RepairVideo is a free video repair tool that can fix all corrupted or unplayable videos for you. The best thing about this tool is you don't have to download it on your computer. You can upload corrupted videos on your web browsers and simply follow these easy steps to fix your videos: 
Step 1. Open EaseUS RepairVideo and Upload Problematic Video
Open EaseUS RepairVideo page: https://repair.easeus.com/, click "Update Video", or drag and drop a corrupted, broken, or not playing video to the right area to upload to EaseUS RepairVideo page.
Step 2. Enter a Valid Email Address and Start Repairing Video
Enter a valid email address and click "Start Repairing" to upload and repair the malfunctioning video.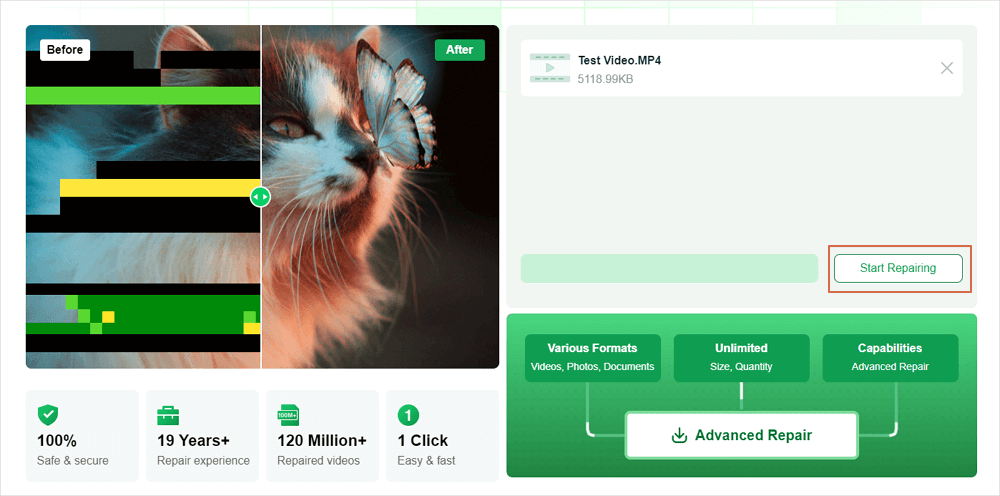 Step 3. Wait for the Automatic Uploading and Repairing Process to Finish
EaseUS RepairVideo will automatically upload and repair the corrupted or broken video for you. You can leave the repairing page opened and continue doing other stuff.
Step 4. Enter Extraction Code and Download Repaired Video
When the repairing process completes, you can preview the video at the right pane. Also, you'll receive an email with a video extraction code.
Go and find the code, reopen the EaseUS RepairVideo page. Then click "Download Video" and enter the extraction code, click "OK" to start downloading the repaired video.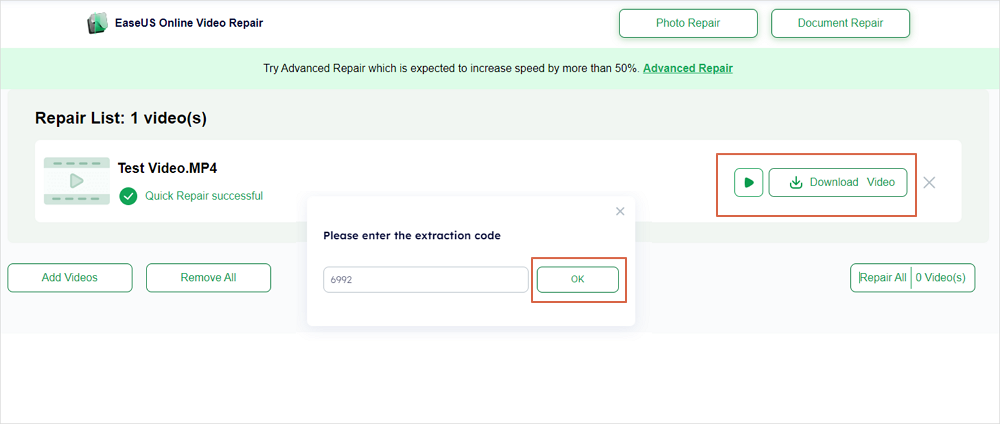 Conclusion 
Today, if you don't want to lose touch with the outer world, having a properly working camera is vital for you. Thus, if the camera error 0xa00f4244 is annoying you a lot, you should instantly fix it. For this, you can run a malware scan, tweak camera settings or even change registry settings if nothing else works for you. 
Once your error 0xa00f4244 is fixed, you can use the EaseUS RepairVideo tool for free to fix your corrupted videos too. So, let's not wait for any longer people and fix all video or camera troubles on your Windows 11 today.
About the Author

Brithny is a technology enthusiast, aiming to make readers' tech life easy and enjoyable. She loves exploring new technologies and writing technical how-to tips. On her spare time, she loves sharing things about her favorite singer - Taylor Swift on her Facebook or Twitter.