
Table of Contents

About the Author

Related Posts
3GP Video Repair Online | Try Reliable Online Tool
Introduction 
A 3GP (3GPP file format) container is a format used by the Third Generation Partnership Project (3GPP) for 3G multimedia services. In addition to 3G mobile phones, some devices with 2G and 4G networks can also play the 3GP format.
Computers can play 3GP movies via Microsoft Windows, Apple macOS, and several Linux operating systems. Windows Media Player and Apple QuickTime (both built-in media players) can play 3GP video files. The VLC media player plays these video files on all three platforms. Other options include Media Player Classic, K-Multimedia Player, Totem, RealPlayer, MPlayer, and GOM Player.
Several factors can affect a 3GP video, such as malware invasion and loss of battery power on your device while recording or transferring. As a result, your 3GP video files will no longer be able to play correctly.
This guide will show you how to repair 3GP online and offline using three free programs.
Use 3gp Video Repair Online Tool 
In the case of broken 3GP video files, EaseUS RepairVideo will repair the file and restore it to its original state.
Repairs are simple and fast. You only need to select the damaged file and click on the Repair button. After that, the software will locate and fix the broken video file. Any operating system can run the tool online. No downloads are required, and it is totally free.
RepairVideo supports all popular video formats, including MP4, MOV, MKV, FLV, AVI, 3GP, M4V, WMV, FLV, SWF, MPG, 3G2, RM/RMVB, NPEG, etc.
It covers several scenarios of video corruption, whether it is a file that got damaged during editing, conversion, or corruption after recovery.
This tool retrieves video from a variety of sources, including external hard drives, damaged hard drives, USB flash drives, SD cards, cameras, dashboard cameras, CCTVs, pocket cameras and even more.
Go to the EaseUS RepairVideo page after you have transferred large video files from your 3G phone to your computer.
Step 1. Upload your video with the corruption issue. You can click the Upload Video button on the left to select a video file, or simply drag and drop the video to the area on the right.
Step 2. Enter your email address and click the Start Repairing button to instantly start the repair. Here, you must make sure the entered email address is valid to send and receive email messages over the Internet. EaseUS VideoRepair will send you a confidential extraction code to the provided email address. You can only download the repaired video by applying the code you received.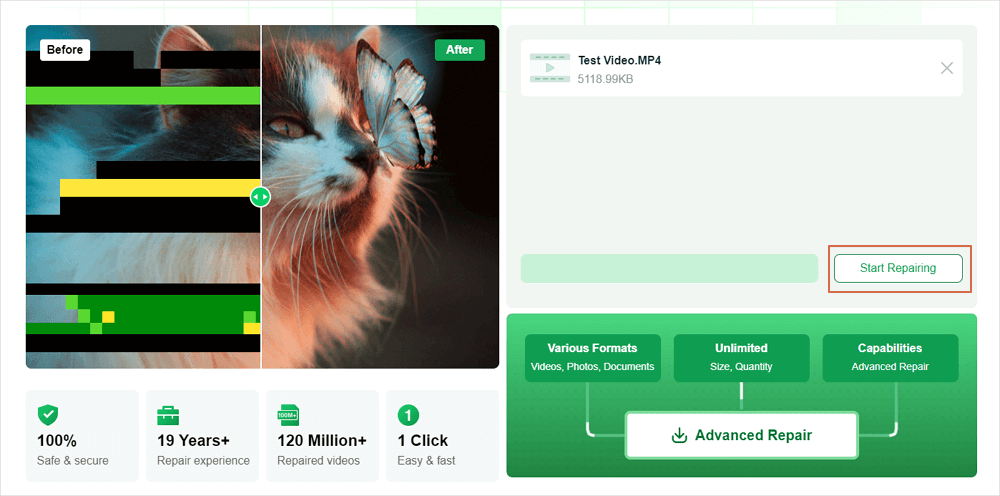 Step 3. The uploading and repairing process goes. You don't necessarily stay all the time waiting because once the session reaches 100% compeletion, you'll receive the extraction code in your mail.
Step 4. In your mail, check the message sent by EaseUS. There you'll remember the extraction code (just leave the page open so you can return to check). Click the View Your Repair button and you'll be guided to the website. Click the Download Video button, then enter the code that is exclusively generated for you, and click OK.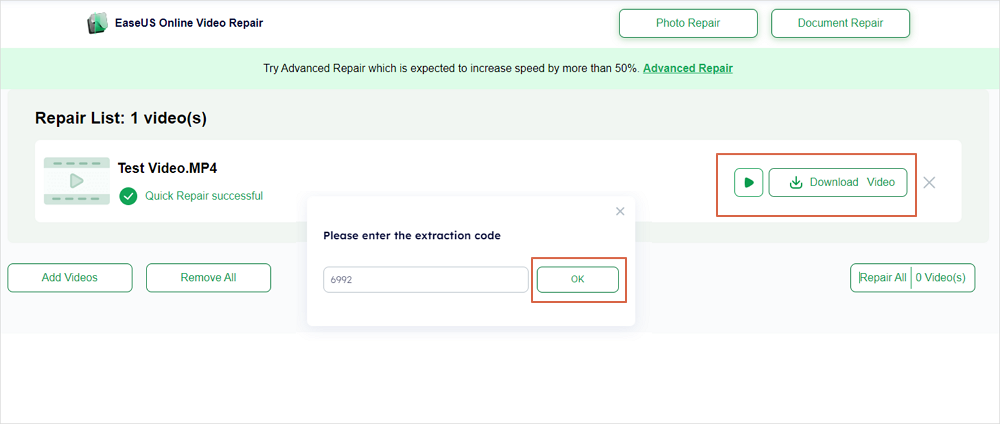 Alternatives to Repair 3GP Video Files Online
1. Convert 3gp video to another format with Zamzar
With Zamzar, you can convert your songs, videos, images, and documents into a variety of formats. You can use the tool on any compatible web browser for free.
If you want to repair a 3GP video, you can convert it into another format using Zamzar. Even though this method does not always work, it is worth a shot.
There is a maximum file size of 50 megabytes for videos you can convert.
Zamzar makes it easy to convert 3GP video files. Just follow the steps below.
Step 1. Click on the green button Add files or drag-and-drop the 3GP file you wish to convert to the dropzone.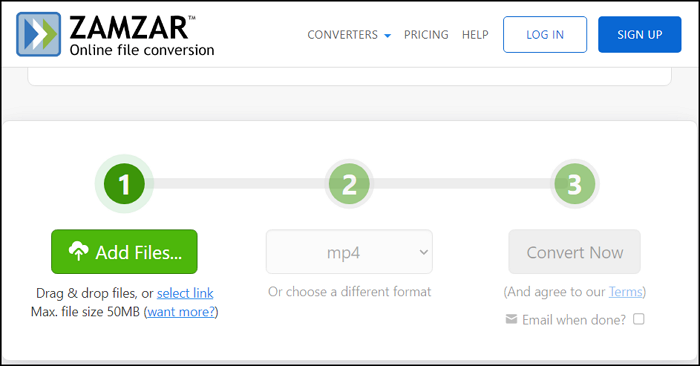 Step 2. Choose MP4 as the output format, or you can choose another format for converting your 3GP video file.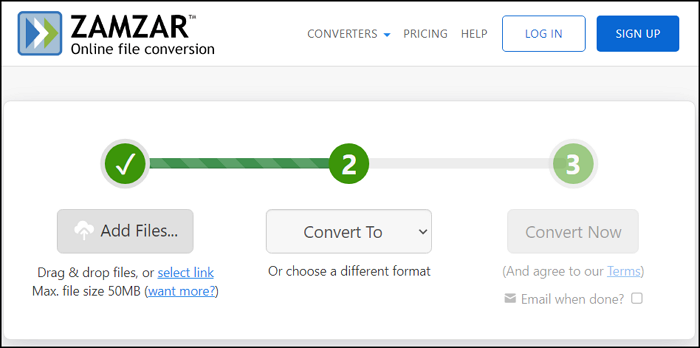 Step 3. Start the conversion of your 3GP file by clicking "Convert Now".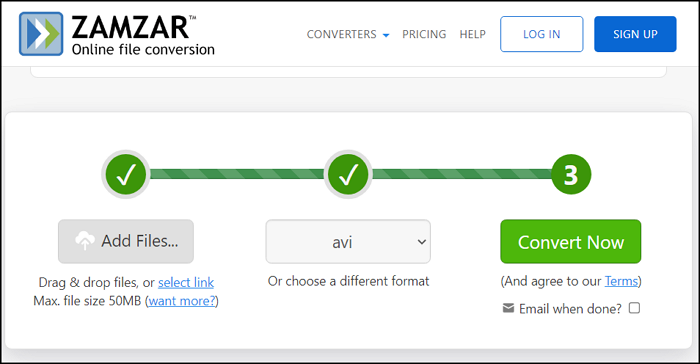 Step 4. Then, wait for the conversion, and click the blue Download button once it is complete. The file can also be emailed to you.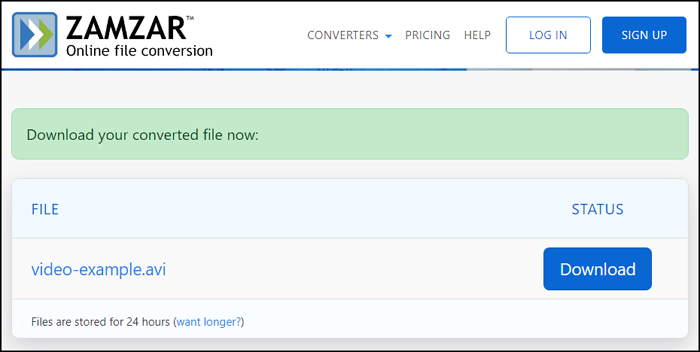 2. Convert 3gp files to another format in VLC
VLC Media Player supports all file formats, no matter what codec they require. Originally, it was created as a basic media player, but over time it has acquired more features. 
Simple and lightweight, the user interface is very easy to use. With this free app, users can play almost any audio or video file format. There are many features in VLC, such as the ability to play videos while they are downloading. 
In addition, you can convert a 3GP file to another format with VLC Media Player in order to recover your video file.
The steps below will guide you through the process of recovering your 3GP video file.
Step 1. Click the "Media" tab in VLC. You can now click "Convert/Save".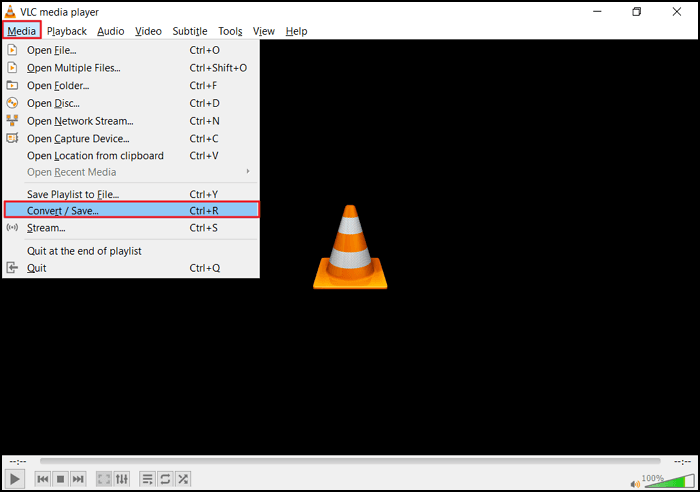 Step 2. The Add option allows you to attach videos for transcoding.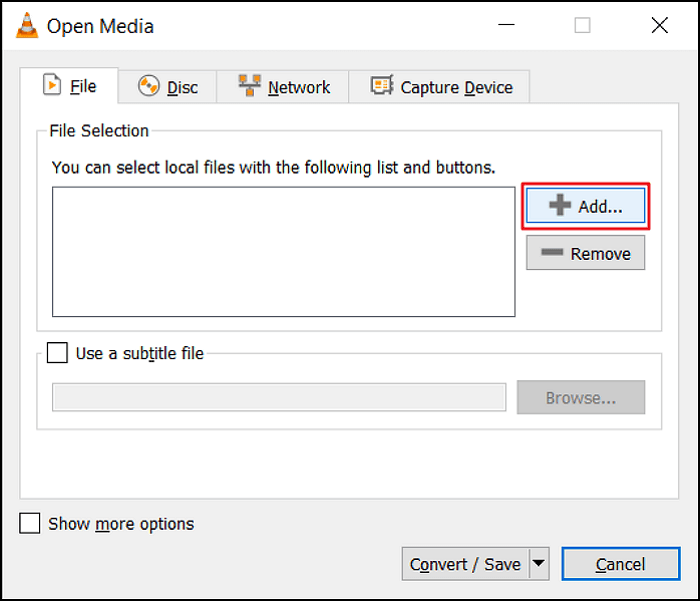 Step 3. You will be asked for the file name and location in the Convert box. Type these in.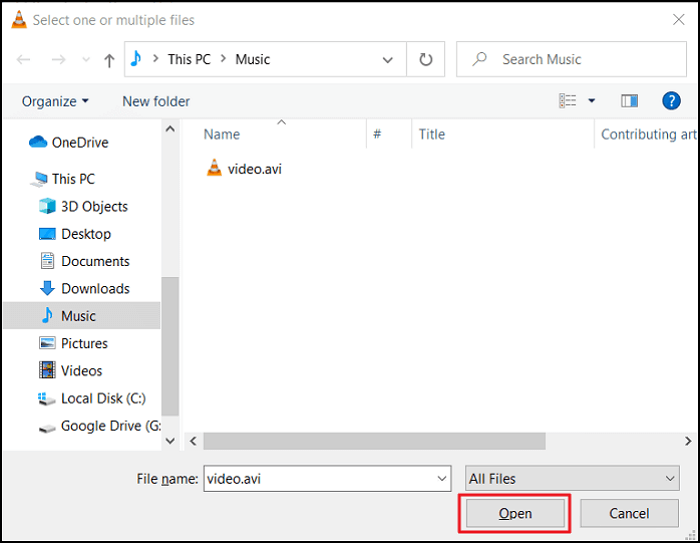 Step 4. Click "Convert/Save". You can select the input codec from the Profiles list in the new window that opens.
Step 5. Once you have chosen your profile method, click the Start button, and VLC Media Player will handle the rest for you.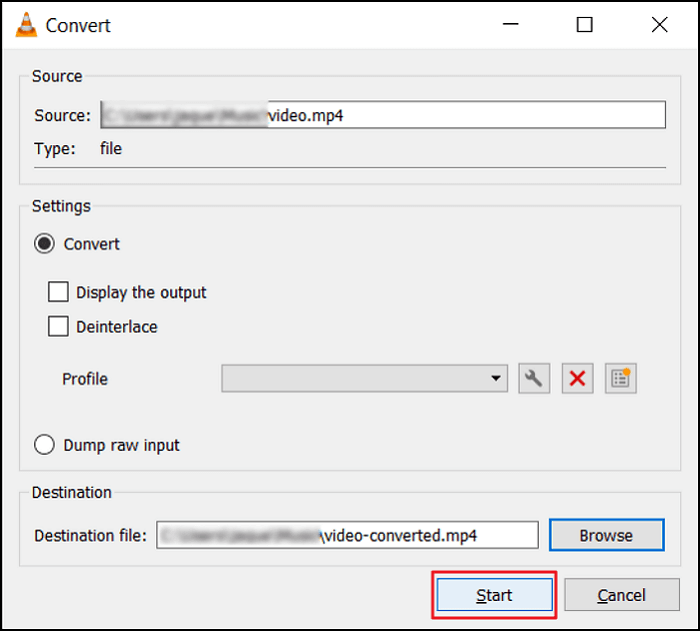 Conclusion 
By using three methods, we learned how to fix 3GP video files for free. You can use VLC Media Player, Zamzar, and EaseUS Repair Video.
VLC Media Player can be downloaded and installed on any PC computer, such as Windows, Macs, and Linux. You can change the format of the videos, however, it not always works.
Zamzar can be accessed online, allowing you to convert video files in your browser. But you cannot upload files with more than 50MB.
For converting 3GP video files of any size, no matter the issue, and without downloading anything, just test EaseUS Repair Video now.
About the Author

Roxanne is one of the main contributors to EaseUS and has created multiple posts on digital devices like PCs, Mobile phones, tablets, Mac, etc. She loves to share ideas with people of the same interest.