Top 5 Free YouTube Video Converter (2021 Picks)

Jane Zhou updated on Mar 24, 2021 to Video Editing Tips | How-to Articles
When it comes to uploading videos to YouTube, you need to be sure that the format is correct. If you upload an invalid format, YouTube will reject the file. Apart from this, you may also need to convert a YouTube video into a video format that can work on other devices like Smart TV or your mobile device.
In this post, I am sharing a list of free YouTube Video converter software which will make sure not only you can upload in a supported format, but also make an appealing video.
Depending on users' preferences, these programs allow you to save music from videos or cut out the audio to convert it into a podcast. Use these video converter software for YouTube at your discretion to keep yourselves entertained!
Top 1. EaseUS Video Editor
Platform: Windows 10/8.1/8/7
EaseUS Video Editor is one of the most popular YouTube video converting software for Windows, which can help you turn YouTube videos into many popular video and audio formats. Besides, this Pro-level video editing software offers more than 300 special visual effects and filters to create marvelous movies from clips or footage. Also, you can use the built-in basic and advanced editing tools to modify the videos as you want with simple clicks.
EaseUS Video Editor
Support a wide variety of video/audio formats
Offer over 300+ visual and transition effects
Adjust the encoder, frame rate, resolution, and more while exporting
A great audio mixer software to edit audio files easily
How to Convert YouTube Video to MP3 or MP4 on Windows PC:
Step 1. Launch EaseUS Video Editor, then choose the right aspect ratio according to your needs.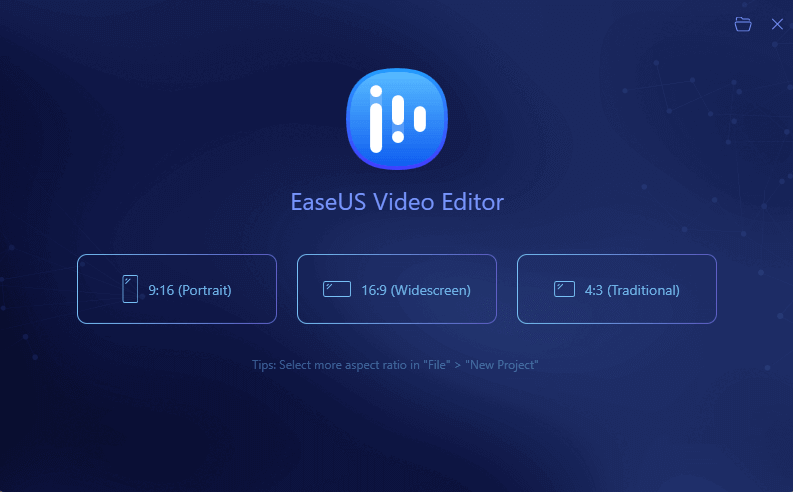 Step 2. Select and import the video to the library. Once done, right-click the clip in the "Media".Select "Add to Project" to load the video to the timeline.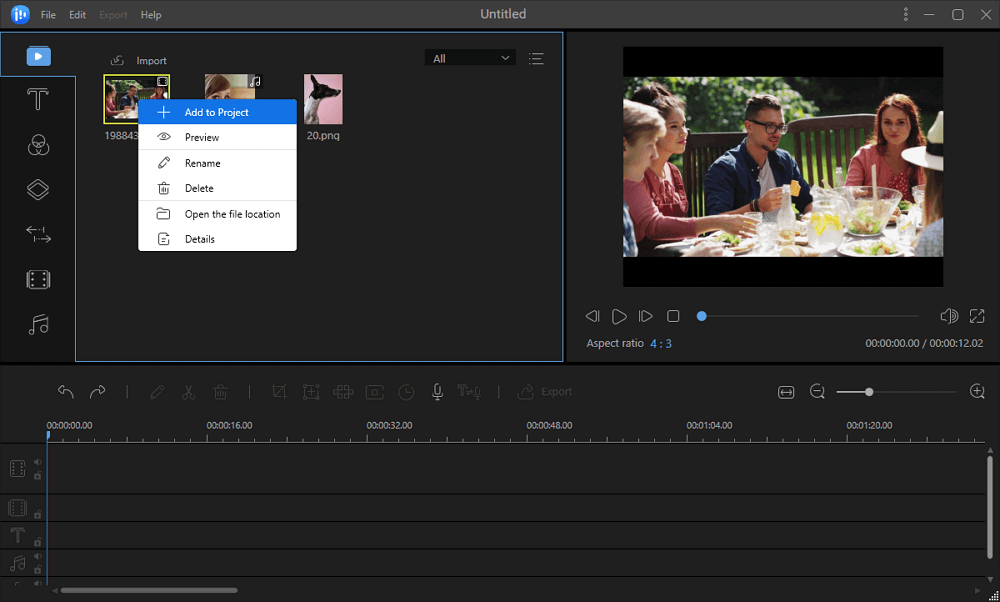 Step 3. If you would like to edit the file, right-click it and select "Edit". Here you can apply special effects, adjust the speed, enhance contrast, add saturation, or make other adjustments.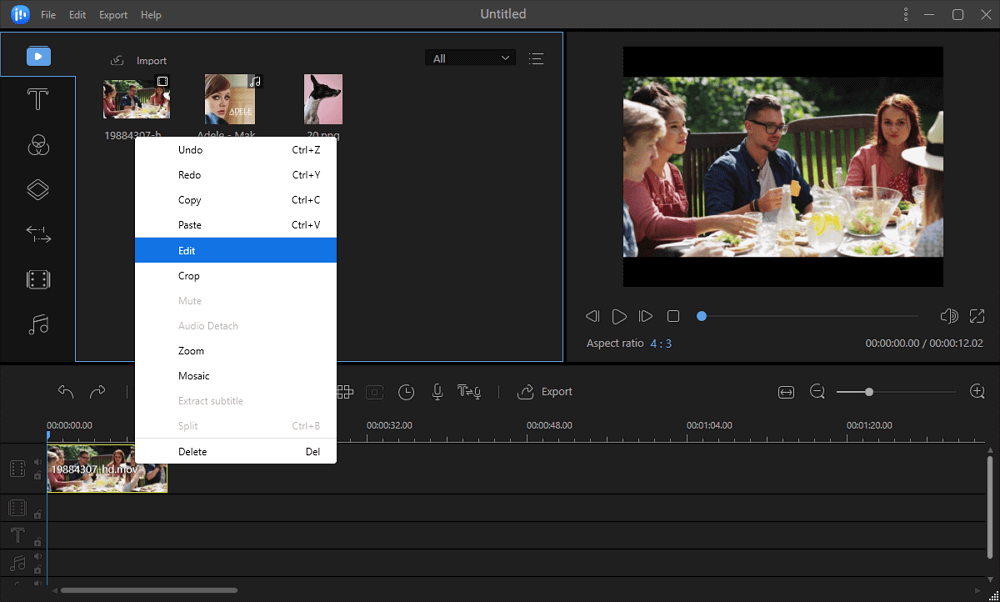 Step 4. When finished, simply go to the toolbar and select the "Export" option. You'll be offered different options to save the project. Select your desired one and export the converted video.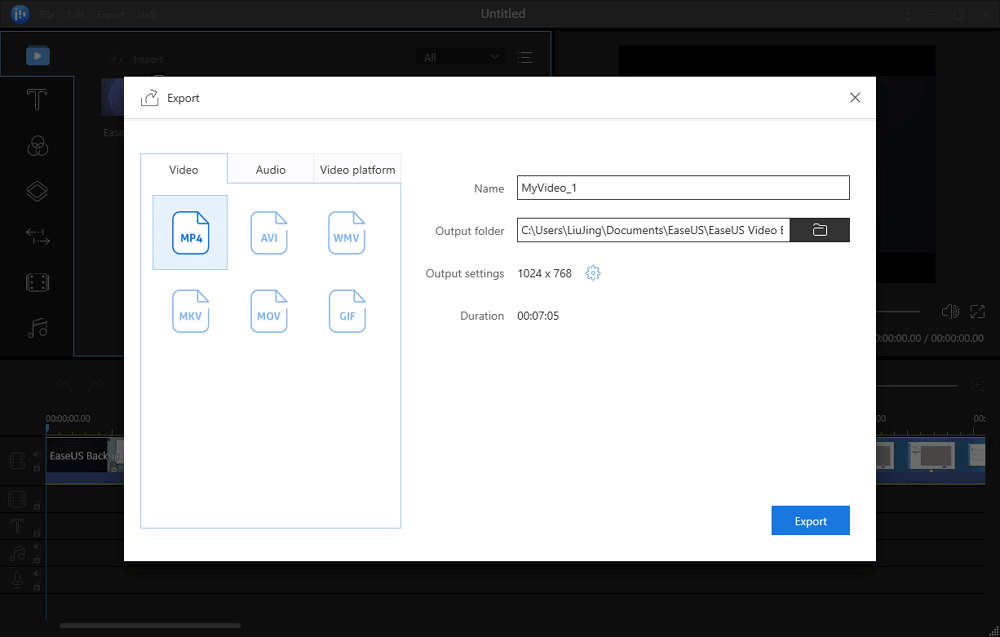 Top 2. 4K Video Downloader
Platform: Windows, OSX, or Linux
4K Video Downloader is a desktop video converter for YouTube, which can convert YouTube videos to their highest format. It can save the video in MP4, MKV, 3GP formats, or extract audio from video in MP3, M4A, or OGG.
When converting the video, you can choose the resolution of the final output. You can also configure the application's Smart Mode, where one can set the highest quality, download folder, etc.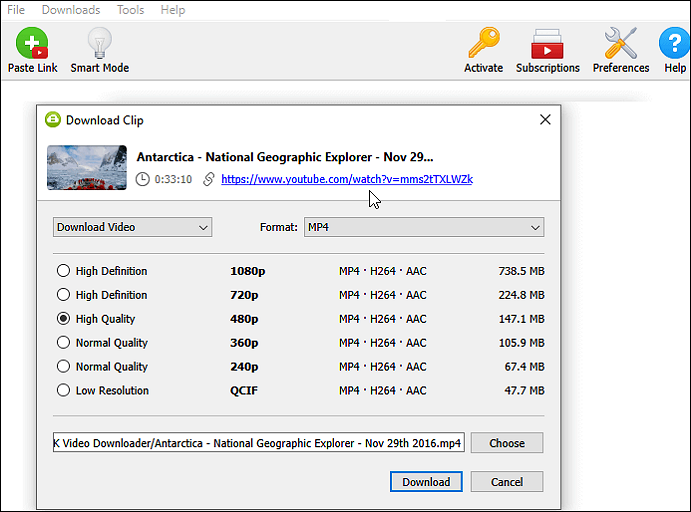 Pros: 
Support conversion to all major formats and quality
Smart mode offers a pre-configured setting for a quality and download folder
Convert multiple videos using links in the text file
In-app proxy setup.
Support downloading 360 degree and 3D videos
Cons: 
> > > Download 4K Video Downloader for PC.
Top 3. noTube video converter
Platform: Windows, OSX, or Linux
It is a multi-format YouTube video converter that downloads videos on any device. The program offers no delay in starting (no advertisements) the download process. It makes noTube Converter one of the most efficient platforms for video conversion.
You can add the address in the URL bar to start converting your favorite YouTube videos to MP3 or MP4 formats. As soon as you click on the listed video, the download will start.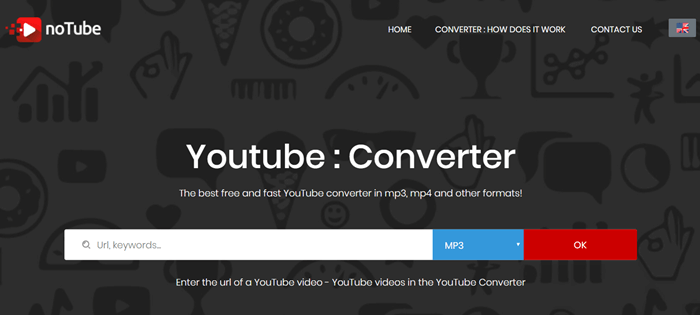 Pros: 
No limitation on the number of videos
No registration
Support other platforms, including Dailymotion, Facebook, Instagram, and Twitter
Cons: 
Supports multiple formats, but still limited
Limited to 4GB video size download
> > > Enjoy the service by visiting this link. 
Top 4. Ytmp3 Video Converter
Platform: Windows, OSX, or Linux
Ytmp3 Video Converter is a useful tool to convert YouTube videos to mp3 or mp4 files. The conversion time is fast and takes not more than a few minutes to get the job done. Converted videos are of high quality as well. If the original video were uploaded in 1080P, it would download videos in 1080P. 
YTmp3 service is free for use and requires no additional software or registration. It even can convert videos up to a length of 1 hour. Once the conversion is complete, click on the download button to download the converted video.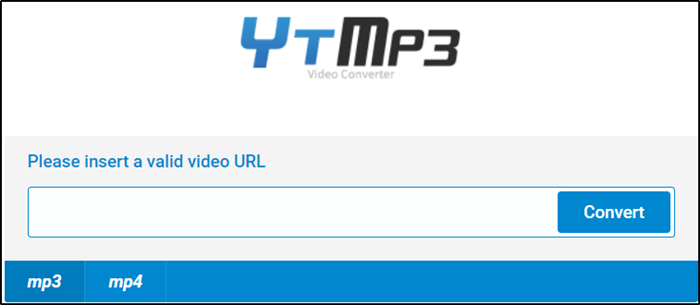 Pros: 
Comparatively faster against other services for shorter videos
Always download the highest quality video
Cons: 
Support only two formats
Limited to 1 hour video length
No way to choose the quality of the video
> > > Enjoy the service by visiting this page.
Top 5. Youtube Video Downloader
Platform: Windows, OSX, or Linux
It is one of the most useful YouTube Video Converter available online. It supports all video formats to download (MP4, FLV, MO, MP3, M4V, 3GP, WMV, WEBM, etc.). In addition, it can download and convert videos from more than 800 popular websites, including YouTube, Facebook, Instagram, Vimeo, and much more.
After conversion, the online YouTube video to MP4 converter offers multiple types of download files. You can download with sound, without sound, and in different qualities.

Pros: 
Download large size videos
Subtitles download supported
No limitations on the number of downloads
Cons: 
No MP3 support because of copyright issues
> > > Enjoy the service by visiting this link.
 Notice:

Please note that download of any Copyright content and Music videos is restricted.
Conclusion
All said, EaseUS Video Editor looks like one of the best tools to convert YouTube Videos. It not only supports various formats that can be used online, and on mobile devices, but also offers multiple editing features that come at no cost. It works offline, and you can clip videos, add transition effects, add background music, cool effects, and more.