Top 6 YouTube Video Clipper: How to Trim YouTube Videos

Vanessa Chiang updated on Mar 22, 2021 to Video Editing Tips | How-to Articles
YouTube is one of the largest video-sharing platforms where you can watch a lot of amazing videos. Sometimes, you may want to trim and keep a part of the YouTube video, but how?
To trim YouTube video effortlessly, you may need a YouTube clipper. There is a built-in editor for YouTube itself, which helps you trim and crop a video. However, it is too cumbersome to use. Fortunately, there are a large number of YouTube clipper tools you can use on the market. We have tested many YouTube video clippers and choose the best 6 YouTube clippers to share with you. You need to read the post and find the best one based on your needs. 
Quick Navigation
Before we go ahead, make sure you know the aspect ratio of the video. Most of the videos are shot for 4:3, but using a video from Instagram or Portrait shot, then choose differently. So, here we recommend you a YouTube video editing software - EaseUS Video Editor. This software provides many video editing tools that can help you trim YouTube videos, reverse YouTube video, add effects in video, convert speech to text, and other more, which can enough to satisfy your editing needs. If you want to know more about this software, why not download this powerful video trimmer to try it yourself? 
Pros:
Easy to use interface
It offers free background, transitions, effects, and more
Supports trimming video
Option to create a video in the format of major social media platforms
Cons:
Available only for Windows
Step by step to trim YouTube video using EaseUS Video Editor:
Step 1.  Import the Video
Open EaseUS Video Editor and create a project based on the aspect ratio. Next, drop the YouTube video that you want to trim in the Media section. You should be able to see the thumbnail of each video. It is useful when you have a lot of videos, and you need to pick the right one. If you have confusion, select the video and click on the play button to preview it.
Step 2. Clip or Trim Video
Select the playhead, the blue line, and move it to the place where you need to clip the video. The playhead is usually at the start of the video, and you will need to hover your mouse over it, and then drag it.
Once you are sure that this is the part where you need to split the video, right-click and select "Split". You can also use Ctrl + B to cut it. Repeat this for any number of places and remove parts of the video which are not needed.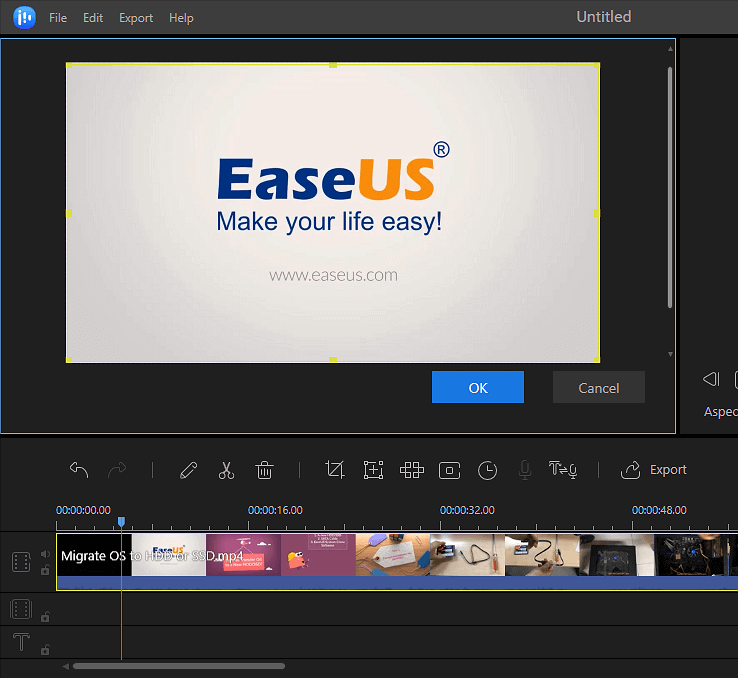 Step 3. Crop Video
Coming to the cropping part, right-click on the video and select the Crop option. You can also click on the drop icon, which is shown by a square with a diagonal inside it. It will open another video with a yellow frame on the margins. The margins will have small boxes. You can hold them and drag them to the size of the frame you need.
Once you are sure, click on the play button to preview how the video will look in the cropped frame. Resize if you do not like this until you are sure. Once done, click on the OK button to apply the changes.
Repeat until you are through. Anytime you want to revert the change, use Ctrl + Z to reverse the change.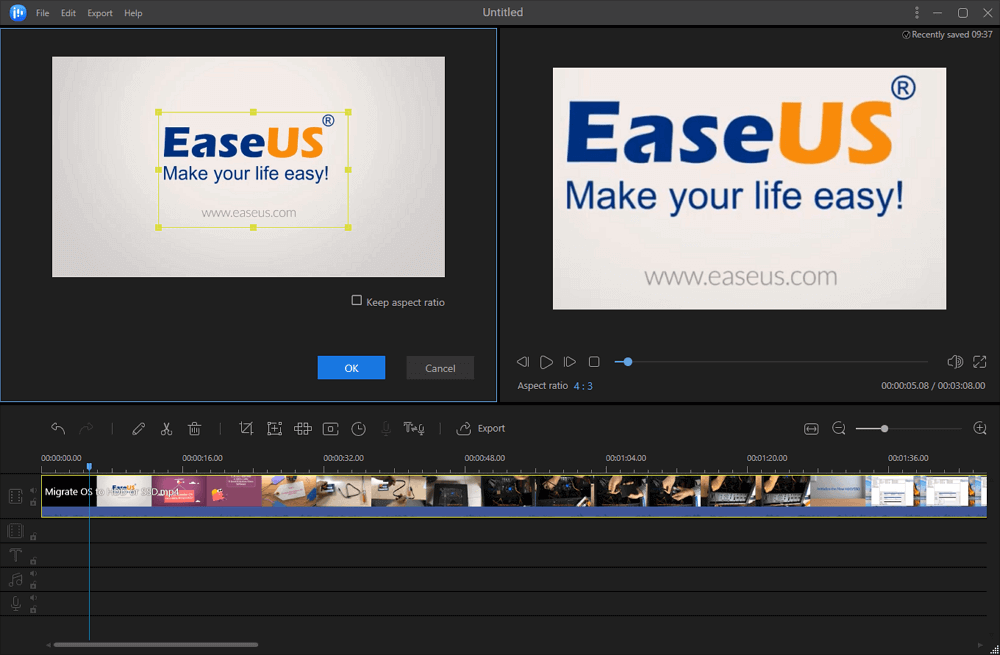 Step 4. Export Video
The last part is exporting the clipped YouTube video. You can export videos in various formats and for multiple formats. Choose an output format that can play on almost every device. Also, you can also change the quality of the output by changing the resolution here.
Best 5 YouTube Video Clipper
You will learn the top 5 YouTube clipper software for Windows, Mac, and even online users in this part. Keep on reading to find the best one for you to cut YouTube videos.
It is an online YouTube video clipper where you need to enter the URL of the video and then set the start and end time. You can then preview and download the file. The footage you download will be the clipped part of the whole video.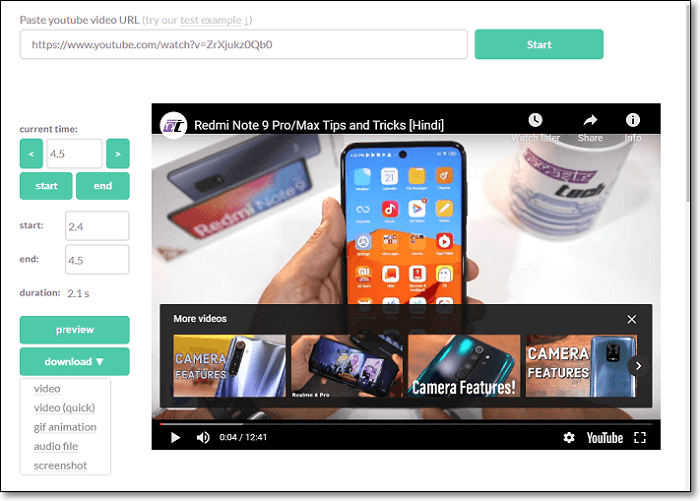 Pros:
You can download as audio, GIF, screenshot, or video
The tool offers high cropping precision of up to 0.1 seconds
You can download multiple times by changing the start and end times
Cons:
It only works online
A limited number of export formats
You cannot crop part of the video frame
Platform: Works on Windows, Linux, and macOS
Kapwing is another online free YouTube video clipper, which allows you to upload a video or enter a YouTube video URL to trim or cut a video. Once you do so, it will open a video editor to enter the start and end of the video. You can also choose to cut part of the video. Once you are through, download the file and play it on your computer.
Using this program, you also can cut your video online, trim MP4, create a mirror video, and other more. So, you need to create an account that you can free to use this software.

Pros:
The advance editor that allows adding text, images, scenes, audio, subtitles, shapes, and more
Set exact start and end timing
Combine multiple parts of the video as one
Cons:
It is an online tool only
It offers a limited number of export formats
Platform: Works on Windows, Linux, and macOS
It's a free YouTube video clipper for macOS users, which offers similar features as Movie Editor in Windows. You can quickly trim a YoutTube video to create a trailer or a movie. You can merge multiple YouTube video clips after downloading them into the software.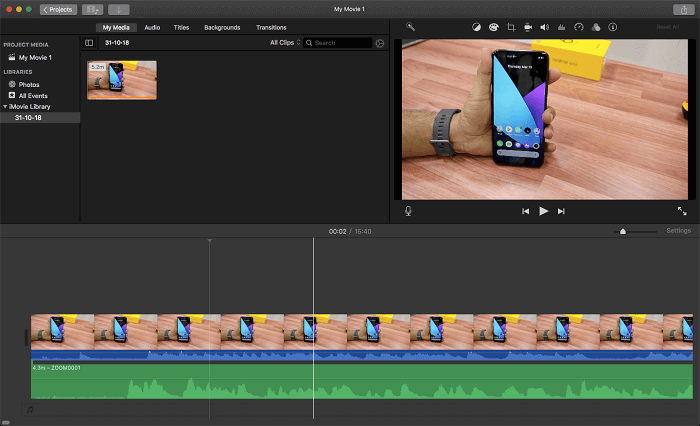 Pros:
Beautiful templates and storyboard to create trailers
Free backgrounds and transition effects
It offers all essential tools such as split, cut, crop, filters, and more
Share Projects directly on social media
Cons:
Platform: macOS and iOS only
If you want to trim multiple YouTube videos and create a mashup, it is a perfect YouTube video clipper. Add the URL of the video, add to recording after clipping, and then repeat. You can also choose to save the clipped video or the final mashup.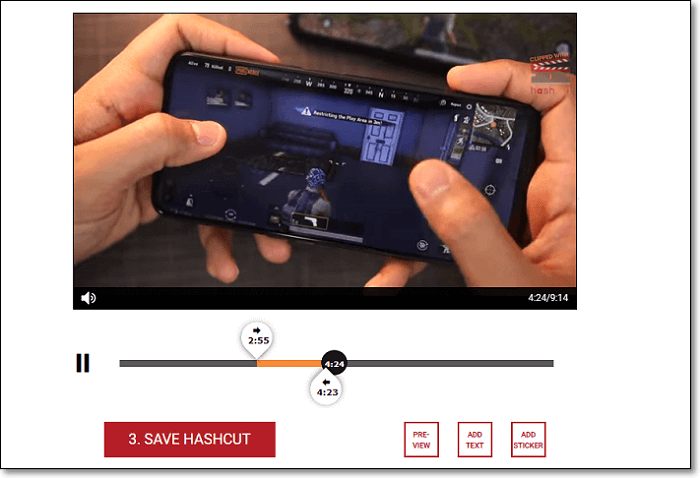 Pros:
Chrome extension allows you to clip, annotate, and share videos directly from YouTube
Add text and stickers, and create instant highlight rules
Cons:
Limited in terms of features compared to other tools
Sign-up is compulsory to create a mashup
Loads very slow when you access clippings and mashups
Platform: Works on all platforms
5. Video Editor (Windows)
Windows system also offers an inbuilt video editor, which can act as a YouTube Video clipper. Once you drag and drop the downloaded video on the timeline, you get access to all operations.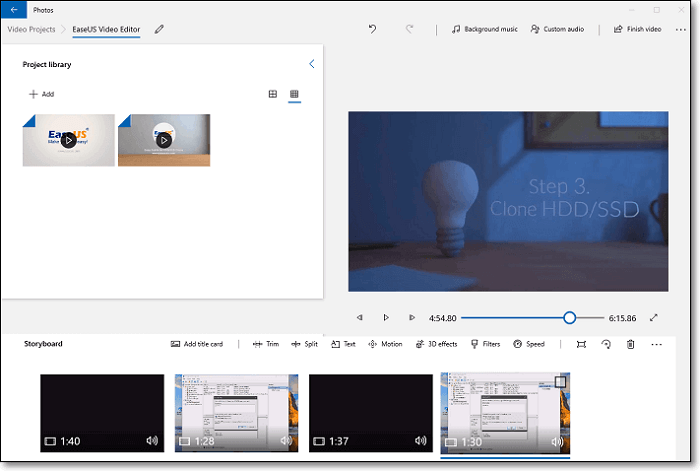 Pros:
Add motion effects, 3D effects, and filters
It offers operations such as trim, split, and speed changer
Remove or show black bars
Free background music
Cons:
No predefined templates
It works only on Windows
Platform: Windows 10 only
Conclusion
EaseUS Video Editor is an excellent YouTube video trimmer that allows you to trim a YouTube video even it is not yours. You can download the videos, drop them into the editor, and shorten them or add more videos to make an ultimate mix. It is also a lot better than online YouTube video clipper tools as they only reduce the video length. Moreover, with this software, you can add effects, transitions, and many more things.
Besides cropping or clipping a Youtube video, you can also use it to convert a Youtube video to MP3 or other popular formats as you need.