YouTube Logo & Intro Maker Free Download (2021 Design)

Vanessa Chiang updated on Jul 30, 2021 to Video Editing Tips | How-to Articles
Are you a UI designer already? Are you a YouTuber running your own video/gaming channel but still don't have a matched logo for it? The thing is, most of the YouTubers are neither logo designers nor having their particular YouTube logo and video intro by far.
Typically, branding your YouTube channel with a distinct logo and intro will help you stand out and urge people to remember you only with a glance. Here, try any one of the best YouTube logos & intro makers, and you can design appealing logos and intro for your YouTube channel without making an effort!
Related topic: Have a watermark on your logo? Learn how to remove watermark from video easily.
Part 1. YouTube Logo Maker Free Download
Here you will see some great YouTube logo makers on Windows and online. Have a try.
Maker 1. EaseUS Video Editor
EaseUS Video Editor is free and easy video editing software that will build you a YouTube logo easily! It's more like a customizable and free logo maker for YouTube rather than makes everything ready for you to mechanically apply. So, this is the most noticeable difference between such a YouTube logo maker from other online logo makers, giving you only off-the-shelf templates.
Hence, as long as you've outlined a logo frame and prepared the essential images, icons, and characters, download the logo maker for free and let it do the rest work for you to form the eventual version.
Pros:
Easy-to-use and cost-free logo maker for YouTube
Ensure an exclusive logo design that you won't find the same in other places
Remove logo from video
Free photo and video editor without watermark 
Cons:
It doesn't support any macOS version 
Maker 2. Adobe Spark
For some of the YouTuber beginners, they don't require much for their first logo appearance and its impact on their viewers. All they want is a logo that goes with their culture or industry. If this is the case similar to you, an online free logo creator should be a cost-effective choice.
There are quite a few online logo makers for you to add a profile picture for the YouTube channel, but most are paid ones. In comparison, we think Adobe Spark is very friendly to use. Most of all, it allows you to download the created logo for free!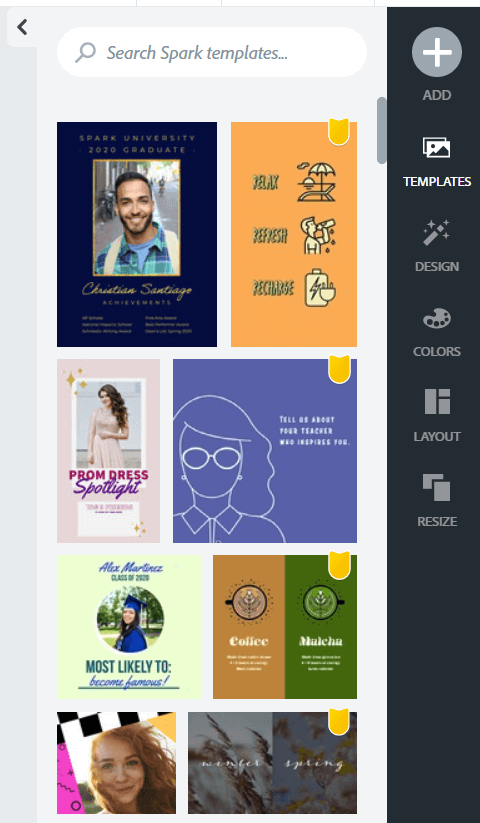 Pros:
Totally free throughout making the logo
Not too many, but some free-to-edit templates are provided
Cons:
Download for free but with a watermark in a small area
You must register and sign in to start creating the logo
Once login, you'll go through several questionnaires that may bother a little
Maker 3. Placeit
The other online logo maker for YouTube I want to mention here is Placeit, the most intelligent, impressive, and resourceful online logo maker website I've ever known and tried. Placeit offers no free trial, but it worths more than hiring a UI designer to come up with a logo idea and draw it out.
With Placeit logo maker, you can animate your YouTube logo like a pro without draining your brain to ponder what your ideal logo looks like because tons of delicately designed logo templates are there, waiting for you to apply!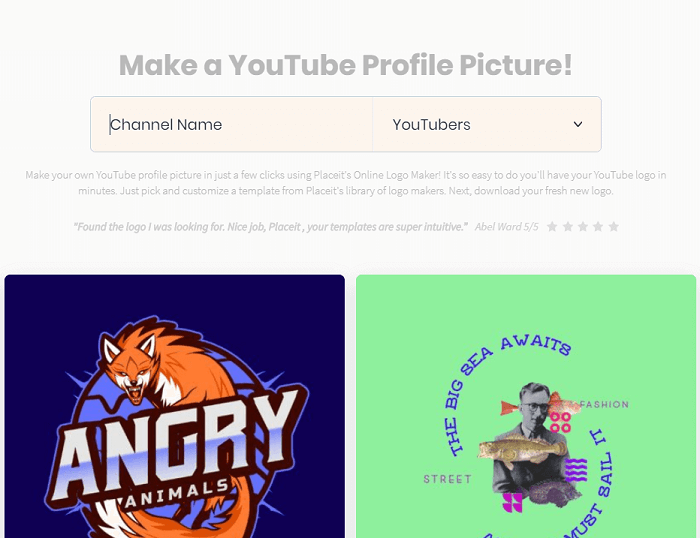 Pros:
Professional-level logo maker with the most templates available
Let you edit a template with different choices of color, fonts, background, shapes
Video editing features are available, too
Download the logo in the high-definition PNG format with no watermark
Cons:
Maximum 20 characters are allowed for a logo creation
Every feature is open to paid users
Part 2. YouTube Intro Maker Free Download
Intro Effect for YouTube is a small video that introduces your channel. Most YouTubers add a short intro video that describes their channel, displays effects, adds dramatic background music, and leaves a great impression on the subscribers and those who come for the first time. Intro videos are crucial for building a great YouTube Channel, even if you are starting fresh.
There are many YouTube intro makers you can use to create some fantastic b-rolls which suit your channel. 
1. EaseUS Video Editor
When using Windows 10 as the editing platform, EaseUS Video Editor offers a complete video and audio editing solution. The software has been designed to offer free video templates and aftereffects, which can be easily applied to the intro video.
Over 300 visual effects and transitions are categorized into Text, Filters, Overlays, Transitions, Elements, and Music. These effects are entirely free to use and come as part of the video editor.  You may have to download them and preview them before applying them to the intro video.
List of Effects & Music
Text: Create openers, subtitles, end style, low third, title motion, art post, and more.
Filters: You get access to 49+ filters which allows you to change the color of the video and image
Overlays: These can add effects on top of the video. Such as adding particle effects, the frame on top of the video, and so on. There are 55+ such overlays.
Transitions: These effects will smoothen any sudden change when you switch between two videos. There are 59+ transitions categorized into push, wipe, and replace.
Elements: This set is different from others as they can be used anywhere in the video. There are over 88+ elements.
Music: To add music to video without watermark, you can access over 100+ music categorized into Relaxing, Brisk, Fashion, Sound Effect, and Festival.
Features:
Complete set of editing utilities such as split, cut, trim, merge or join video and audio files
Offer a non-linear timeline that allows you to combine a lot of effects in the same video
Create Full HD quality intro video using Export function in MP4, AVI, WMV, MKV, MOV
Change contrast, saturation, and other color-related features
It is possible to reverse or increase the speed, zoom, blur the video
Audio files can get fade-in, fade-out effect control the volume
Download this great software and follow the steps to make your YouTube intro now.
How to create a YouTube Intro with EaseUS Video Editor
Step 1. Open the video editor and import the basic video on which the intro video will be created. Then drag it to the timeline to edit the video if needed. Do note that you should select the aspect ratio of the project according to the video.
Step 2. Switch to any of the effects tabs, move the playhead to the place where you want to add effects, and then click on the plus icon or right-click to add it to project.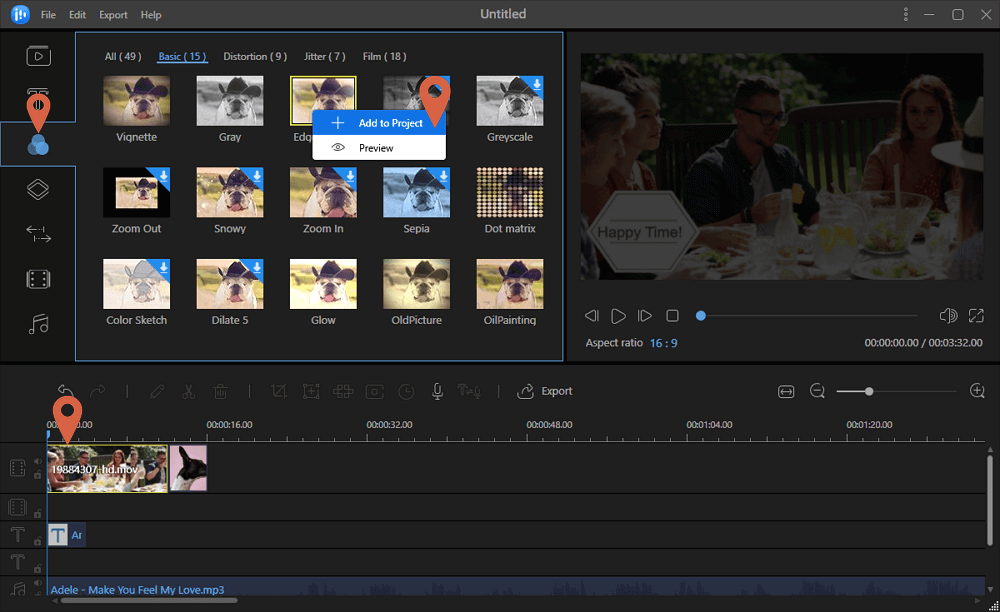 Step 3. Once you are done, click on the export button. Before the final step, make sure to set the export quality at the highest for both video and audio. Then click on the Export button to produce the video.
2. iMovie
Available for free to all macOS users, the software allows you to create incredible intro videos. Editing and mixing intro videos in iMovie are simple. Drop the video to the timeline, add effects and titles, and rendering them. iMovie offers high-quality filters, built-in sound effects, along extra-special effects. The best part of using iMovie is that if you have an iPhone or iPad, you can seamlessly carry over your project from your iPhone to your Mac and vice versa.
Features
Add titles, backgrounds, and transitions.
Add background audio
Slowdown or Fast forward videos
Instant replay, Rewind, and Freeze frame, and Stabilize videos feature
Adjust color to fix skin tone, brightness, and white balance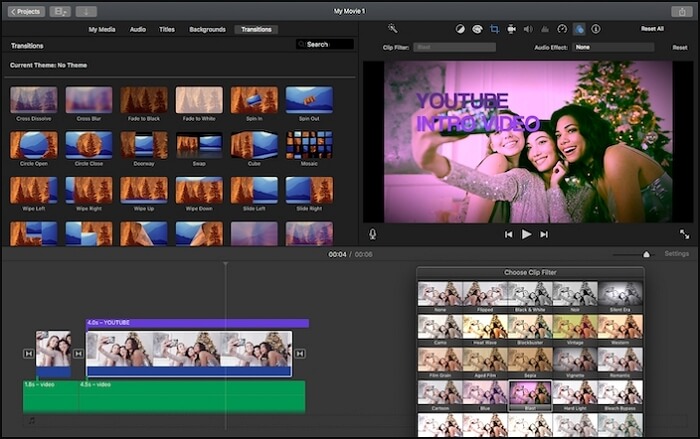 Step 1.  Add the video to the iMovie timeline and then select one or more videos. Then click on the clip filter button. You will get to see different filters that you can preview and apply. Similarly, to change color, select one more clip and then click on the color correction button to change.
Step 2.  The next step is to add elements such as audio, titles, backgrounds, and transitions. Select the clip, and then switch to the titles tab. There are many of them available, and all you need to do is double click on them to add them. Once it is on the timeline, you can adjust the length to what fits with the software.
Step 3: Once everything is complete, click on the file menu and then share it to export it.
3. Adobe Spark
It's a free online tool that anyone can use to create an intro video, and it's a good one. Once you signup, select the video section, and then you can choose to pick up a story template to get started quickly. The software is excellent for those who like to get started promptly. It is also available on smartphones, and all the projects are saved on the cloud. You can quickly switch between laptop and computer and continue editing the intro video.
Features:
Add text, images, videos, and voice-overs
Offers Theme style to enhance the video
Select for widescreen or standard screen
Add background music
 
Step 1. Sign in with your account and select a template. A modest preview is available so you can make a decision.
Step 2. Choose to add video, text, and choose between title, split-screen, and full screen.
Step 3. Once you are through, you can invite more people to get a second opinion of the video.
Conclusion
Each logo & intro maker recommendation here can generate a qualified YouTube logo and intro, and each has its advantages and disadvantages. But among all those tools, EaseUS Video Editor can be the most versatile one, and it will offer you enough effects to make your work perfect.