YouTube Logo Maker Free Download and Online Creation (2021 Design)

Vanessa Chiang updated on Mar 22, 2021 to Video Editing Tips | How-to Articles
Are you a UI designer already? Are you a YouTuber running your own video/gaming channel but still don't have a matched logo for it? The thing is, most of the YouTubers are neither a logo designer nor having their particular YouTube logo by far. Imagine what it'll be like if you stick an Apple-like logo to every of your YouTube video? Don't wait. Why not use some YouTube logo maker to automatically generate a logo for you?
Typically, branding your YouTube channel with a distinct logo will help you stand out and urge people to remember you only with a glance. Here, try any one of the best YouTube logo maker, and you can design an appealing logo for your YouTube channel without making an effort!
Three Capable YouTube Logo Maker You Can Use:
Related topic: Have a watermark on your logo? Learn how to remove watermark from video easily.
#1. YouTube Logo Maker Free Download
EaseUS Video Editor is free and easy video editing software that will build you a YouTube logo easily! It's more like a customizable and free logo maker for YouTube rather than makes everything ready for you to mechanically apply. So, this is the most noticeable difference between such a YouTube logo maker from other online logo makers, giving you only off-the-shelf templates.
Hence, as long as you've outlined a logo frame and prepared the essential images, icons, and characters, download the logo maker for free and let it do the rest work for you, to form the eventual version.
Pros:
Easy-to-use and cost-free logo maker for YouTube
Ensure an exclusive logo design that you won't find the same in other places
Free photo and video editor without watermark 
Cons:
It doesn't support any macOS version 
#2. YouTube Logo Maker Online Free - Adobe Spark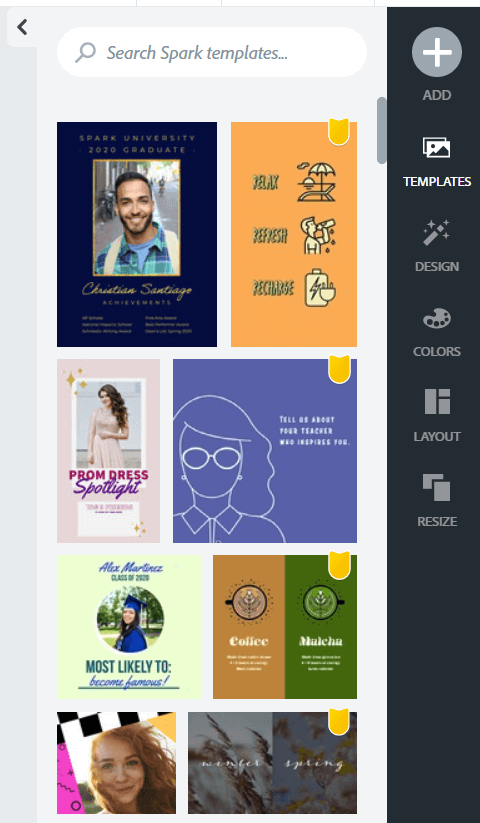 For some of the YouTuber beginners, they don't require much for their first logo appearance and its impact on their viewers. All they want is a logo that goes with their culture or industry. If this is the case similar to you, an online free logo creator should be a cost-effective choice.
There are quite a few online logo makers for you to add a profile picture for the YouTube channel, but most are paid ones. In comparison, we think the Adobe Spark very friendly to use, most of all, allow you to download the created logo for free!
Pros:
Totally free throughout making the logo
Not too many but some free-to-edit templates are provided
Cons:
Download for free but with a watermark in a small area
You must register and sign in to start creating the logo
Once login, you'll go through several questionnaires that may bother a little
#3. YouTube Logo Maker Online Paid - Placeit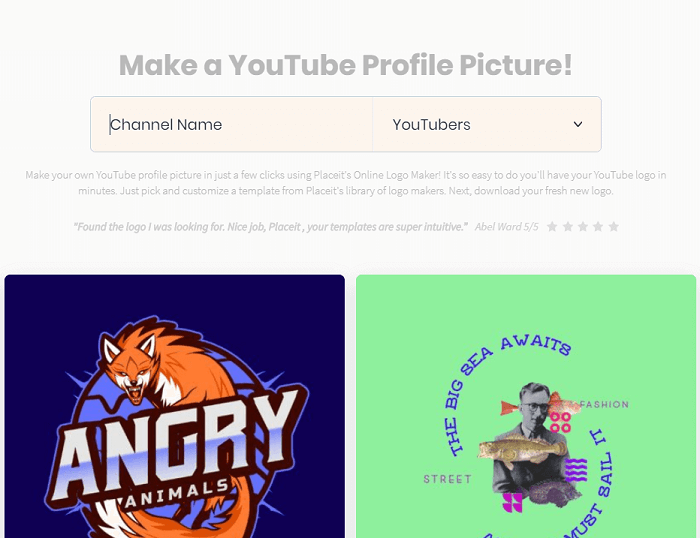 The other online logo maker for YouTube I want to mention here is called Placeit, which is the most intelligent, impressive, and resourceful online logo maker website I've ever known and tried. Placeit offers no free trial, but it worths more than hiring a UI designer to come up with a logo idea and draw it out.
With Placeit logo maker, you can animate your YouTube logo like a pro without draining your brain to ponder what your ideal logo looks like because tons of delicately-designed logo templates are there, waiting for you to apply!
Pros:
Professional-level logo maker with the most templates available
Let you edit a template with different choices of color, fonts, background, shapes
Video editing features are available, too
Download the logo in the high-definition PNG format with no watermark
Cons:
Maximum 20 characters are allowed for a logo creation
Every feature is open to paid users
Can You Make Your Own YouTube Logo Art Now?
Each logo maker recommendation here is capable enough to generate a qualified YouTube logo, and each has its advantages and disadvantages. To sum up, it's not hard at all the select one logo maker among the three, if you followed our advice here.
First, will you consider the paid program or completely free ones? If you prefer a free logo maker, the downloaded logo maker version of EaseUS Video Editor and online Adobe Spark are both good options. However, the downloaded software always comes with enhanced security configuration than that of the online ones.
Second, will you need to edit a logo after creation? For example, brighten color, resize, change the shape to a square/portrait/landscape, add elements or other effects to the logo. If this is the demand, turn to EaseUS Video Editor and Placeit, which enable you to create a logo and edit a logo as well.