Top 12 Video Rotator for Windows/Mac/Online/Mobile Phone

Jane Zhou updated on Dec 11, 2020 to Video Editing Tips | How-to Articles
By 2020, online videos will make up more than 82% of all consumer internet traffic, or 15 times higher than it was in 2017. Most of the videos play on mobile devices. However, you need practice and good operating techniques to make engaging and compelling videos. Among the common mistakes is shooting mobile video in a vertical position (Portrait), while the normal viewing mode on large displays and TVs is "Landscape". 
There are many video rotator tools to flip the recorded video so you don't get frustrated while watching it later. Take a look at the short review of the options, available across the four major operating systems - Android, iOS, Windows, and Mac, and the online-based tools as well.
#1. EaseUS Video Editor 
EaseUS Video Editor is one of the most popular video rotators. This video editing software provides advanced tools to change the video orientation by 90 degrees clockwise and counter-clockwise, as well to flip horizontally and vertically. 
Also, EaseUS Video Editor will help you to make movie reailer, adding astonishing filters, audio, music, subtitles, elements, and many more. Besides, it supports different input and output video file formats, so you can do some format conversions, like convert MKV to MP4, and many more.
Pros: 
User-friendly interface, perfect for beginners
Easily trim, cut, split, merge, rotate, mix video clips
A full range of free visual and audio effects
Change of contrast, exposure, brightness, and other video aspects
Using the voiceover function to add your comments to the video
Cons:
The software has no version for macOS
So follow the steps to rotate your video, using EaseUS Video Editor:
Step 1. Import wanted video
Launch EaseUS Video Editor. On the home screen, you can import the source file by either clicking the "Import" option or simply dragging the video to the appropriate area.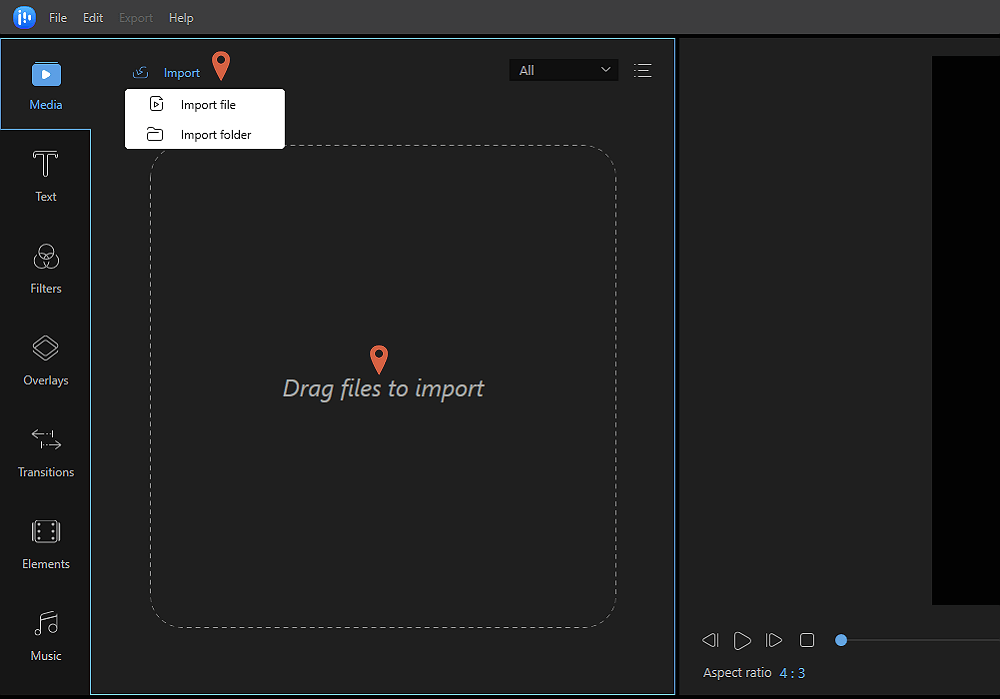 Step 2. Add to project
You need to add the imported file to the track by choosing the "Add to Project" option, or you can drag and place the video to the track as you want.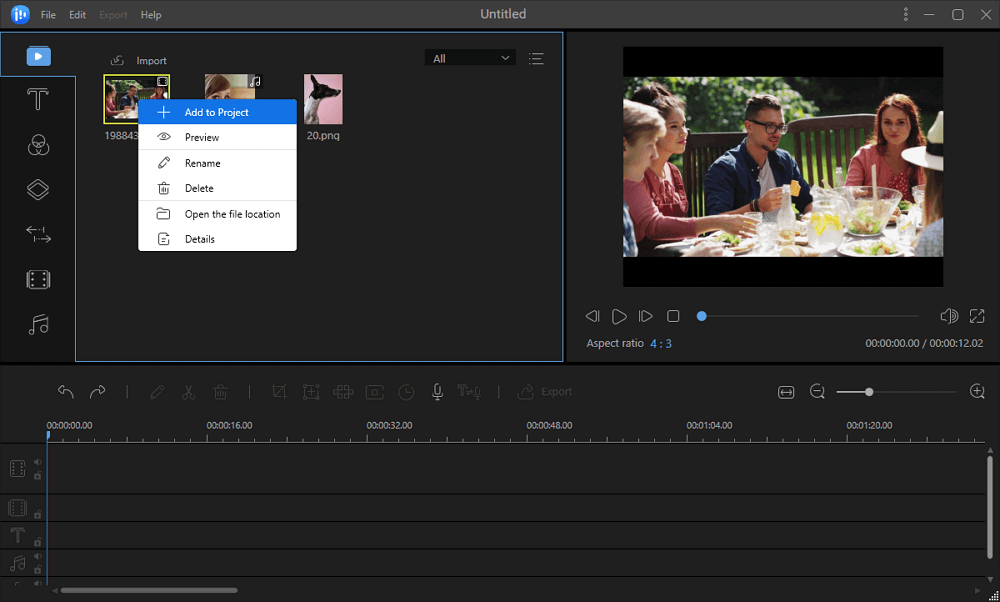 Step 3. Rotate the video
Right-click the video and select "Edit". Then, you can rotate the video by clicking the wanted effects. And according to your needs, you can rotate 90 degrees anticlockwise/clockwise, flip horizontal or vertical. Then, click "OK".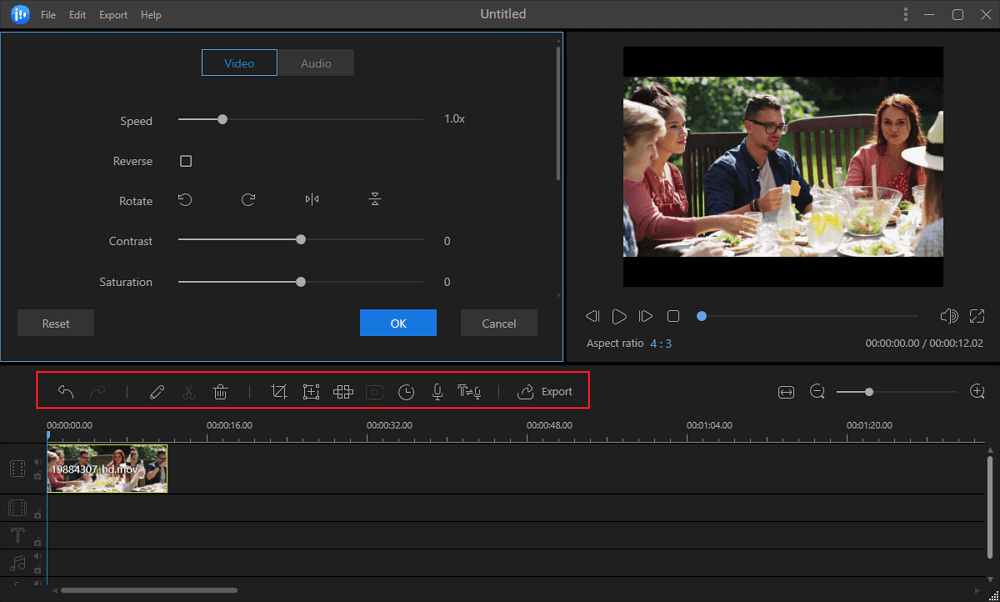 Step 4. Export the video
Click "Export" in the Toolbar to export the video to the wanted format.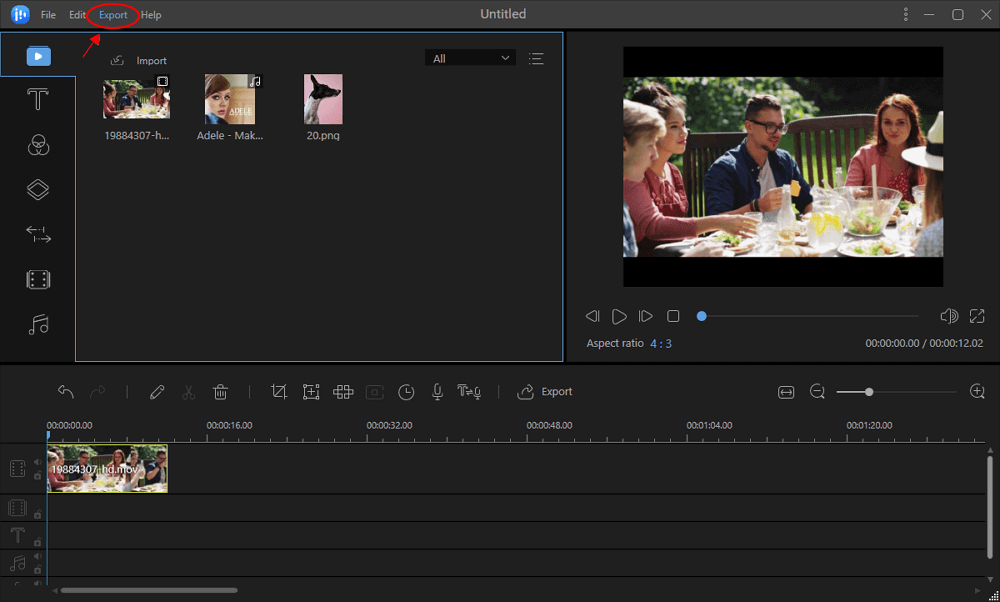 This is a favorite software for regular Windows users. The software has been tested on Windows 10 and Windows 7, 8, 8.1, XP. It offers capabilities to create and edit videos in addition to publishing them on OneDrive, Vimeo, YouTube, Flickr, and Facebook. You can rotate your clip by 90, 180, or 270 degrees, as well to flip it vertically or horizontally.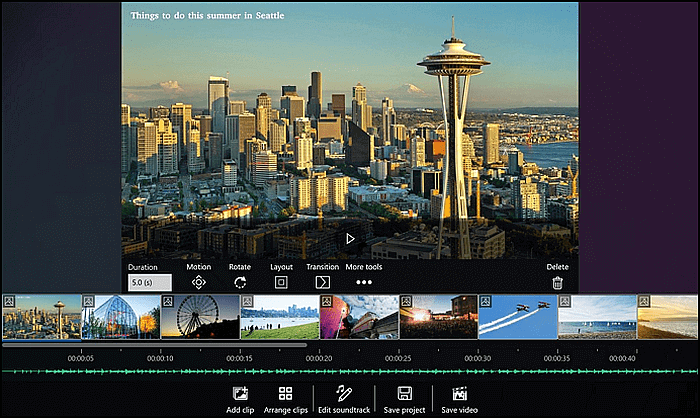 Pros: 
User-friendly interface and simple controls. 
A perfect free app for beginners
Automatic preview, so the effects can be seen before applying
Cons
Only available for Windows 10 or higher.
Users face frequent freezing and crashes 
Platform: Windows
VLC is a free media player, but you can use it to flip the video to the right orientation and save it that way. Recorded video can be rotated by clockwise 90 degrees, 180 degrees, and 270 degrees, but it offers also rotating by arbitrary angles (at step 1 degree). The player can also flip it and turn the video into a mirror image, or transpose it, (which means rotate and flip simultaneously) and makes it fit the screen.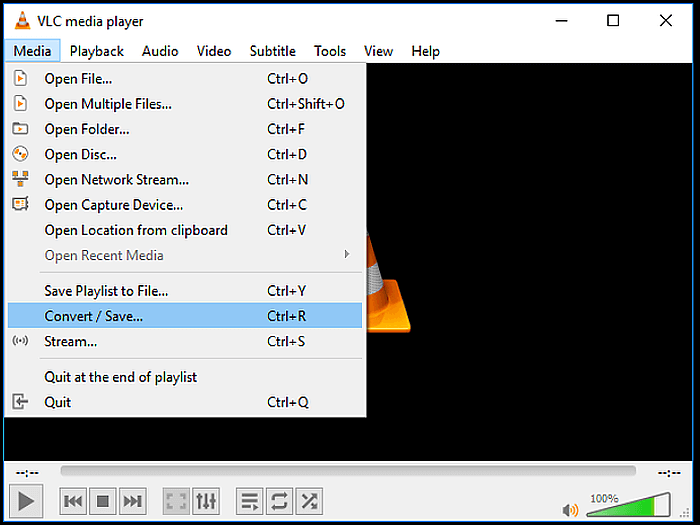 Pros: 
An open-source freeware, and no ads 
Supports all video formats without the need to install codecs
Compatible with different OS, including Windows, Linux, Mac OS X
Cons:
A simple interface, but looks very old fashion
It doesn't support tags, so it's difficult to find a clip in a huge library.
Cannot use VLC to create new video files.
Platform: Windows & Mac
If you are a Mac fan, iMovie is the easiest way to make basic editing operations on your video. You just click on a button and the video turns to 90 degrees. It supports 1080p HD video at 60 frames per second. You can create video clips using iMovie on iPhone, and import them on your Mac to add additional effects like speed up or slow down the action.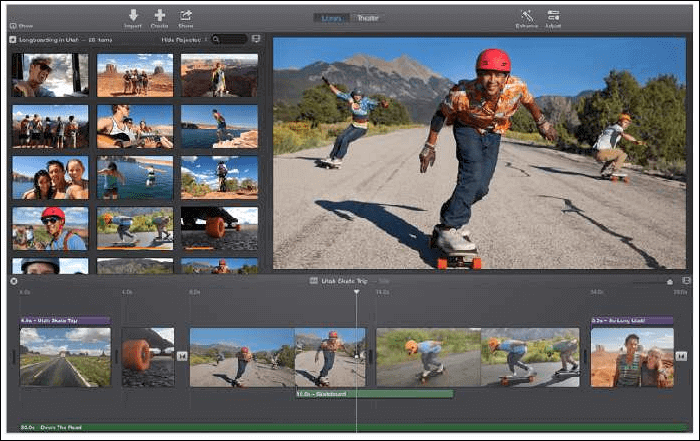 Pros:
Simple interface 
work fine with 4K and HEVC files
Great templates for the movies
Cons: 
It also doesn't support tagging
Limited to two video tracks
No 360-degree video editing
Platform: Mac
Movavi video editor has a free version, easy to use especially for beginners. It has many features like filters and you can add some texts and transitions. The freeware is enough for simple tasks like cutting, trimming, joining, or flipping. The maximum number of tracks on the timeline is 6. But if you want faster processing of Full HD and 4K videos, you have to buy the version Plus 2020. Then you'll enjoy frequent updates during the year, and frame-by-frame video preview on the timeline.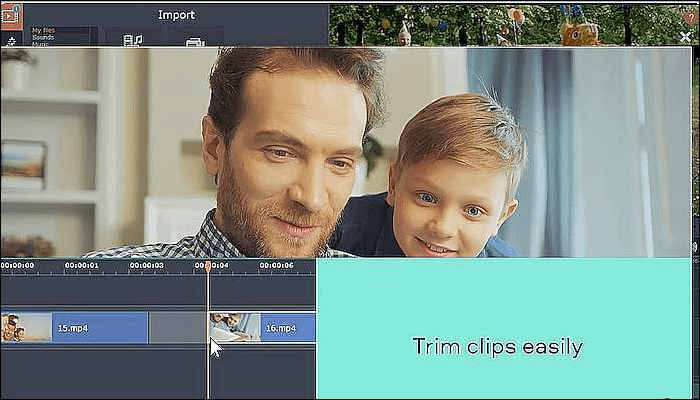 Pros:
It's suitable for novices and casual users 
A bunch of supported video formats, including .mov (QuickTime) 
Special effects like Chroma Key and Slow Motion 
Cons:
The advanced features are supported only by the paid version
The basic color grading tool
Platform: Mac
The main advantage of Apple's QuickTime is that this app is built into the macOS operating system on your Mac. It's powerful enough to rotate your clip; and it's very easy to do, even for starters. QuickTime can play and edit iTunes files. It exports a new video file after rotation, so the original clip remains on the Mac. The exported video will be compressed a bit, so the size of the rotated video file will be smaller than the original one.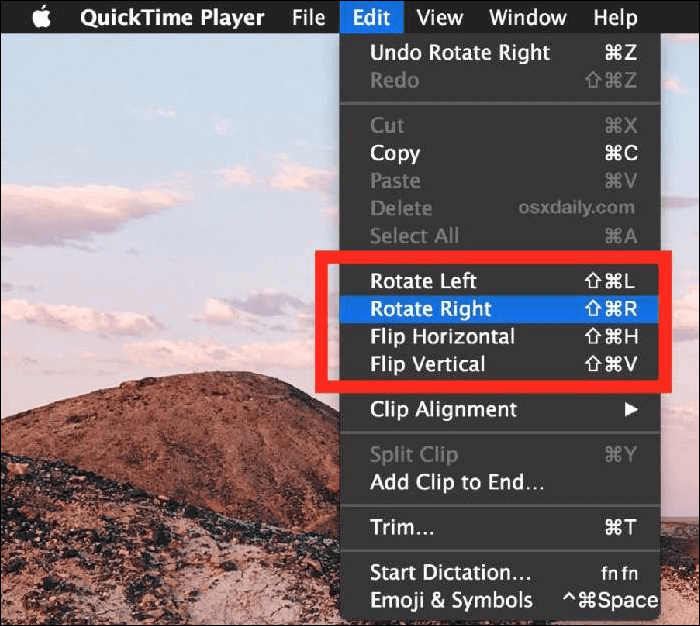 Pros:
Automatically included with macOS
Work with iTunes files
Zero-configuration streaming video player
Cons:
Unlocking the editing feature only with QuickTime Pro 7 
No more versions for Windows
It doesn't work with common subtitle files
Platform: Mac
#7. Online Video Cutter
This web application is very handy for quickly editing a small video file. It does not require installation, you can use it directly from your browser. You can rotate the clip only at 90, 180, or 270 degrees. It will be useful especially when you have shut the video in a portrait mode, and you want to watch on a large TV screen. The provider of this service claims a high level of security, as the files will be automatically deleted from the servers a few hours after finishing your task.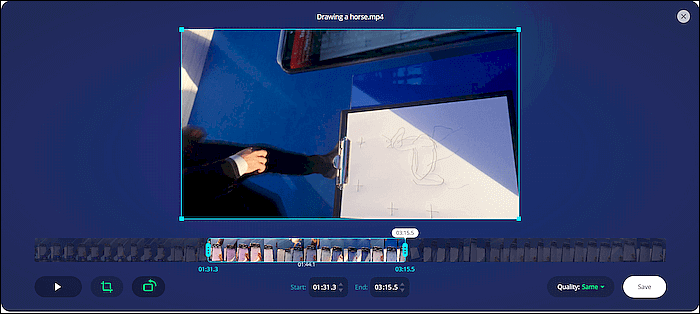 Pros:
Quite a simple interface 
Free to use, you don't pay for a license 
Supports almost every video format 
Cons:
Suitable only for small clips
Performing only basic tasks like rotate and crop 
Platform: Windows & Mac online
Try: https://online-video-cutter.com/
#8. EzGif
This special online service makes animated GIF, but it can be used also to rotate video. You simply select the clip from your local folder, but the maximal size of the file cannot exceed 100MB. A simple tool to rotate the video at 90 degrees, 180 degrees, and 270 degrees. You can also flip the video vertically and horizontally, and then export it in a different format and encoding.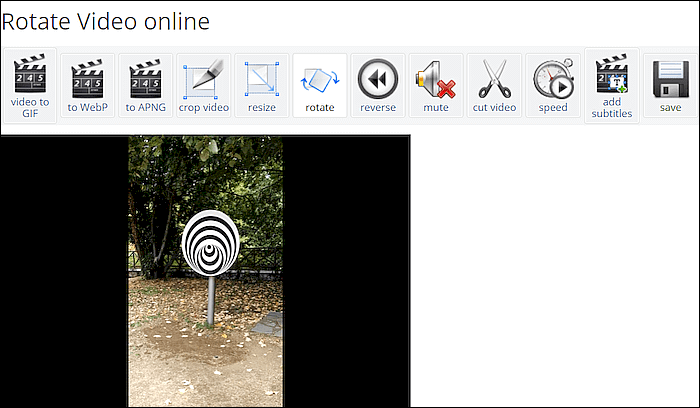 Pros:
Support lots of video formats, including MP4, WebM, AVI, MPEG, FLV, MOV, 3GP 
The rotating process is fast and easy-to-use
Provide preview function after rotating
Cons:
The max file size is 100MB
Only basic editing functions, no filters or transitions
Platform: Windows & Mac online
Try: https://ezgif.com/rotate-video 
#9. Videorotate
This is a simple and fast free video rotator online tool. Like the other online services, you can upload your video from the local folder, or import a recorded clip from popular cloud services like Dropbox, Google Drive and One Drive (there are buttons for each of them). You can rotate the clip left and right, or flip it. The site offers some other video tools to crop, stabilize, or slice your video. There is a quick tutorial for dummies and 3 languages to choose from (English, Polish, and Spanish).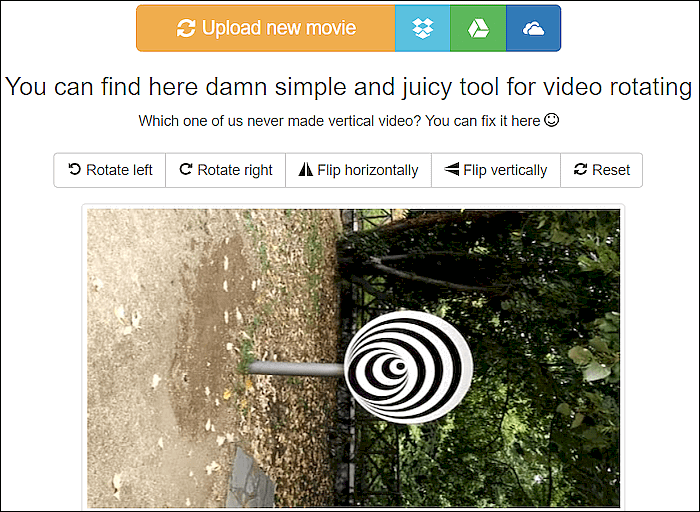 Pros:
Simple and easy to operate
Uploading clips from your Dropbox, Google Drive, and One Drive account
A special "Reset" button
Cons:
A service for novices for basic operations
Supports only a few video file formats
Platform: Windows & Mac online
Try: https://videorotate.com/
#10. Rotate Video
This free video rotator enables users to upload their videos on the web and to rotate them. You can also point out the URL with the video, or rotate it by 90 degrees clockwise or counterclockwise, or flip it. You can change the encoding, as universal will work on older devices, and high will provide the best quality, but requires only recent devices. The tool supports tons of video formats like MP4, MPG, MPEG, AVI, etc.. You can also save your rotated video in MP4, M4K, or MKV. But the maximum file size for uploads is only 16MB.
Pros:
Simple to use 
Several input and output video file formats
Fast uploading and rotating process
Cons:
The maximum size of the video file is limited to 16 MB
You cannot preview your video
Platform: Windows & Mac online
Try: https://www.rotatevideo.org/
As the name of the app suggests, it's an easy tool for iPhone users to rotate a video to the desired position. You can flip the video horizontally or vertically. Also, you can export straightly the rotated clip to your iPhone's Photos app.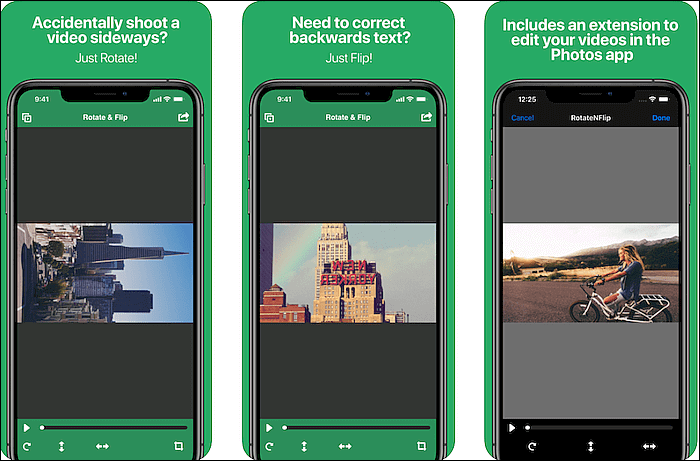 Pros:
Easy and fast rotating at a tap
Intuitive design for non-professional users 
Cons:
Very basic features
The output format is only AVI. 
It doesn't support slo-motion
Platform: iOS
You can use Google Photos directly to rotate a video, shut-in the wrong direction. But this special app provides an easy way to change the video, rotating all frames to 90, 180, or 270 degrees. You can choose a recorded clip from the gallery or directly from the camera. The rotation works on the desktop screen as well.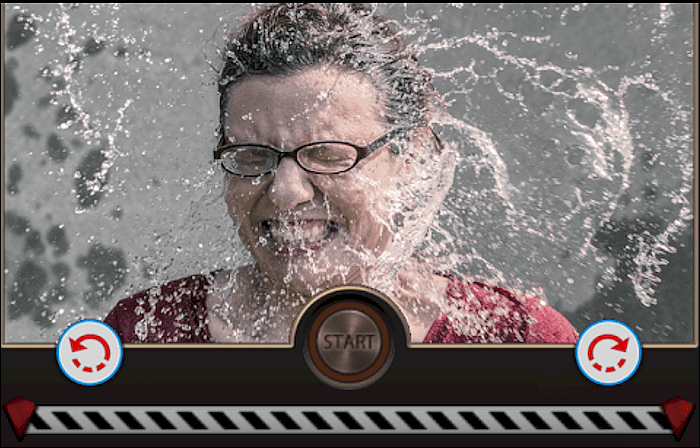 Pros:
Easy for end user perspective to tilt the video in any direction 
Rotate without lowering the resolution
Cons:
Too much ads, to rotate one video you have to watch up to 6 ads
There is no option to save the output file, only share
Platform: Android
Conclusion
This article provides you the best 12 user-friendly video rotator tools to rotate the video on different platforms – Windows and Mac computers, using online-based tools, or directly from your mobile device. If you want to impress your friends and colleagues with a crafted video, you will need feature-rich software like EaseUS Video Editor. You can apply animations, voice-over, numbers of effects, and you can export it in a particular format that is compatible with streaming websites like Youtube, Facebook, etc. 
Video Rotator FAQs
1. How do I rotate video?
Choose a video editing program, which is simple to use. Rotating is a straightforward task, even if you've never edited a video before. You can use also some media players.
2. How do I permanently rotate a video?
You can rotate your video and save it permanently in different ways, and this guide shows you exactly how to rotate video in Windows with EaseUS Video Editor.
3. How can I rotate a video online for free?
Rotating a video online is simple, and there are several web sites, providing online video rotator for free.
Videorotate
Ezgif
Online video cutter
...
4. How can I mirror a video online?
The web sites, supporting video rotation, provides also the feature to "flip" the video vertically and horizontally. Such a way you will have "mirroring" frames, it's like you're filming your friends in the mirror