Video Editor Effects: How to Add Cool Effects to Videos with EaseUS Video Editor

Vanessa Chiang updated on Mar 22, 2021 to Video Editing Tips | How-to Articles
Video Editor Effects: How to add cool effects to videos with EaseUS Video Editor
Videos have become one of the primary ways for information, education, and let's not forget about those funny videos. We now have a social media platform just for videos. What is so familiar about them apart from the creativity in the video? Effects! In this guide, we will show some video editor effects which you can add to your videos using EaseUS Video Editor. 
Why do you need to add special effects to videos?
Adding cool effects to videos is essential these days. Without them, it would look like a show of the 90s. So, if you want to make your video stand out, creatively add some information, add transitions, those sizzling effects in your videos, you need such effects.
How do you edit video with special effects?
What you need is a video editor that offers such special effects. While there are tons of video editors, most of the video editors only offer primary editing features. Only professional software like EaseUS Video editor offers so many visual effects for free. Moreover, you can add normal elements to your files with it. For instance, add pictures to a WAV file, etc. All you need to do is drag and drop those to your videos. The software is available for Windows and easy for beginners. The feature is available in both trial and paid versions of the software.
It is possible to make video effects, but they take a lot of effort, and its best to use what is offered by such video editors.
EaseUS Video Editor Offers the Best Types of Video Editor Effects
These are the six types of editing effects you can download and apply to your videos. While some of them come with the software, the rest you will need to download on the fly. 
1. Text: It can be used to add some extra information to a video in a readable format. If your video talks about a product, you can add details like specifications, price, and availability. Types of Text include openers, subtitles, end style, low third, title motion, art post, and more. 
2. Filters: These effects allows you to add filter to video. I am sure most of us have seen it on the phones. Similarly, here you get access to 49+ filters. Right from Vignette to Frosted glass to sketch. Some of them you may have never heard. 
3. Overlays: They apply the effects on top of the video. Some of them can add frames, while others apply particle effects, flower power, and more. These are pure visual effects. There are 55+ overlays which include Lens Flare, Frames, and VIP
4. Transitions: When you switch from one scenario to another in a video, and there is a cut or sudden jump, you should use transitions. It allows a smooth switch from one part of the video to another with added visuals. There are 59+ transitions categorized into push, wipe, and replace.
5. Elements: This free special effects video editor can be used to add amazing effects to your video to express special moments in a video. As an example, you can add a beating heart sticker when there is a romantic moment, or add a countdown clip at the start, or festive video clips in Picture in Picture mode. There are over 88 such elements.
6. Music: Cool effects without the right music is like good food without salt. The music section offers 100+ music samples, which you can add as background music with the effects to make it more effective. To mix it well with the video, you can configure Fade-in, Fade-out, volume, and speed of the audio files. Usually, the volume of the background audios is kept on the lower side. Types of music are relaxing, brisk, fashion, sound effects, and festivals.
Which video editor has the most effects?
It is virtually impossible to find which tops the list. As an example, Final Cut Pro offers over 200 types of effects. Similarly, iMovie alternate, EaseUS Video Editor, offers over 400 varieties of cool effects for videos.
How Do I Edit a Video with Special Effects with EaseUS Video Editor
Follow these three basic steps in video editing to add special effects. The editor offers a timeline for each of these effects so you can place them accordingly.
Step 1. Import videos
Launch the EaseUS Video editor and notice the Media Library section in the top-left section. It's a placeholder that lists all media files. You can drag and drop files directly into this, or if you have multiple files available in the folder, you can use the import folder option. Once you have all the files in one place, spend some time arranging them, and finalizing how your video will look without any special effects.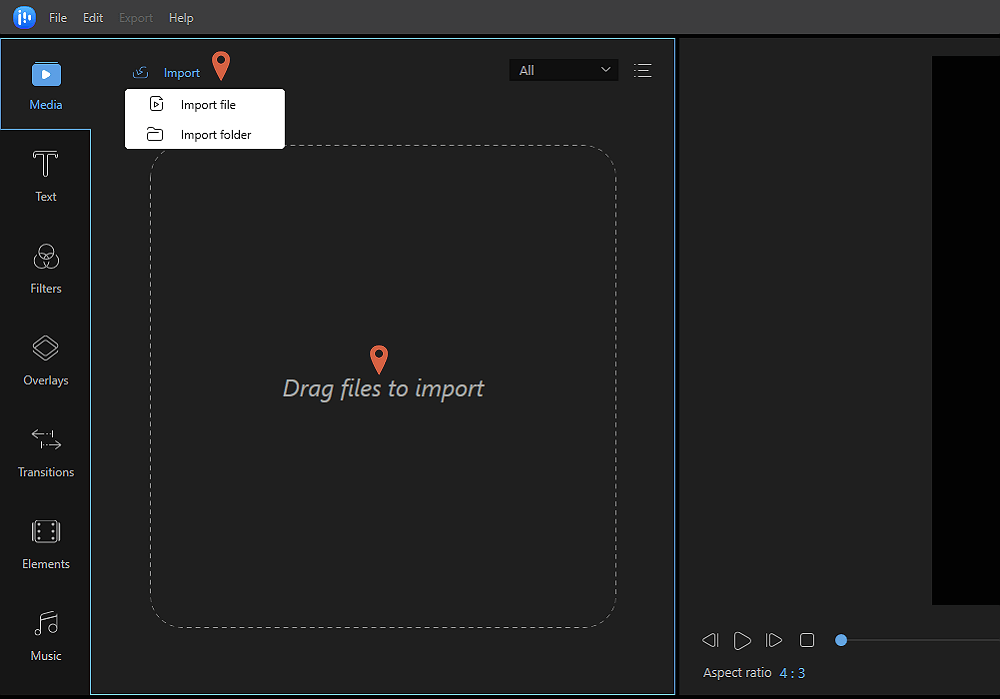 Step 2. Add Cool Effects to videos
Once you are done with the basic video editing, its time to add the visual effects to the videos. Since there are different types, and they act differently when used, you will have to experiment a bit to figure out what works best for you. I will take an example of how to use filters.
Select a filter, and click on the download arrow to save on the computer
Then select it and click on the Play button. It will give you a preview of how the effect works
To apply it to your current video, drag and drop on the timeline. It will arrange itself in the filter track automatically
Move the playhead to the start of the filter and press the play icon.
The video should now have the filter effect
You can then increase, and decrease the length of the filter by hovering the mouse on the end of the filter, and then dragging it left or right.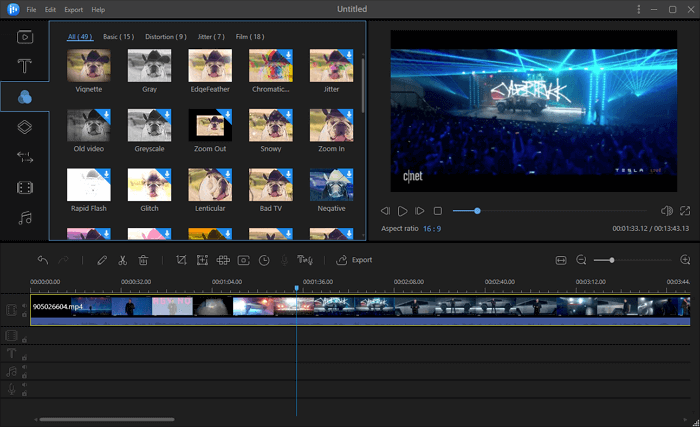 The same applies to Overlay, Transitions, and Elements. While you can use all the effects together, it is up to you to decide if they look good or bad. You can add multiple effects in parallel or place them one after the other.
Step 3. Export
The last step in this process is to export the video. We recommend you play the video from the start till the end and check if everything is as expected. Once everything is complete, click on export, and select the video format in which you want to export the video. If you are sharing this on social media, you can switch to the video platform.
The export option also offers you to select the quality for both audio and video. Make sure you configure that as well.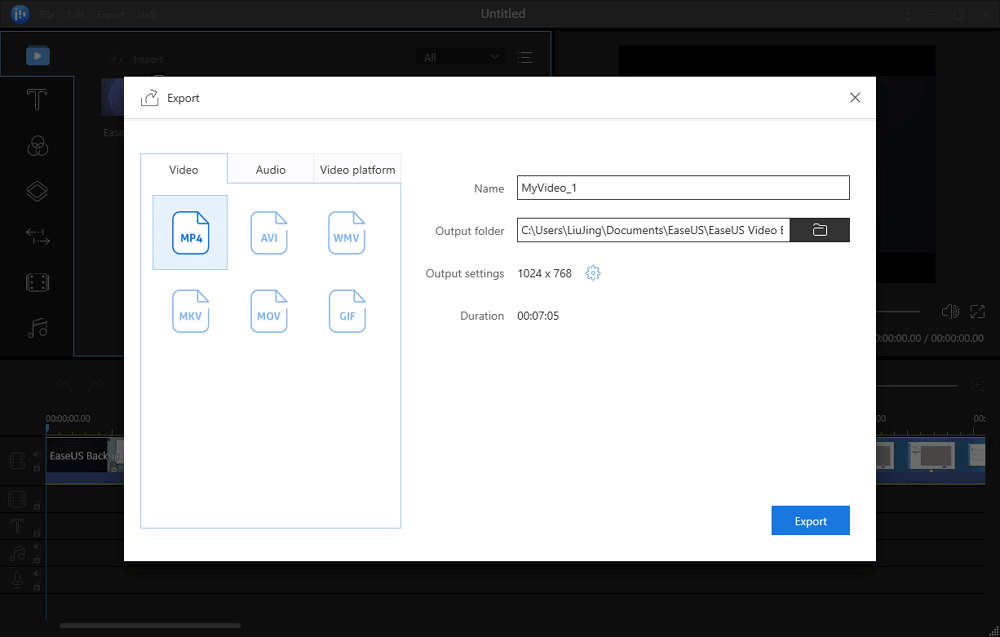 Conclusion
EaseUS Video Editor is an excellent software to add special effects in a video. These video editing effects are free to download, and as you play the video, you get a preview of how it looks like in the final video. Apart from these, the software offers professional video editing with the option to mix audio, music, and export in various formats.