Best 9 Video Clippers Recommends in 2021

Vanessa Chiang updated on Mar 22, 2021 to Video Editing Tips | How-to Articles
No matter how many times you shoot a video, there is going to be some imperfection. That's why you need to clip or cut a video. But how do you do it? If you are shooting from your phone, the inbuilt editor should help. If you shot using a DSLR or any video camera, then you need to use desktop software (Windows or macOS). On a basic level, it is easy to clip or cut a video. Almost all video editors offer this, and all you need to do is select the point at which you need to cut the video, and then choose to clip it. Once done, you should be able to remove unnecessary parts of the video.
Best 9 Video Clippers Recommends in 2021
Here is the list of some of the best video clippers that you can use in 2021. The list includes three software for Windows, two video trimmers for Mac, two online video clipper, and two mobile phone apps video shorter.
Make sure to choose the tool based on your requirements. If you need an excellent level of editing, choose software like EaseUS Video Editor, and if you don't like to install anything, use any of those online video cutters. We have categorized all the tools mentioned above into their respective platforms.
Free Video Clipper for Windows
This part, I will introduce three video clipper for Windows.
EaseUS Video Editor is one of the brilliant video editors for Windows. It offers a complete set of tools which one can use to edit video file of any format. Once you add the video in the timeline, all you need to do is use the keyboard shortcut to split the video or use the edges of the video to trim it. You can also choose to flip, rotate, and reverse the video to fix issues related to shooting videos. We have included a step by step guide at the end of the post.
Apart from clipping or trimming videos, it also allows you to enhance the video using effects like text, filters, overlays, transitions, elements, and music. Some of these effects add on top of the video, while others add in between. So, depending on how you want it, you can place it. If, after trimming the video, there is a sudden jump, you can use these effects to smoothen it.
Features:
Split, trim, cut, and convert videos to other formats, such as convert video to mp3
Over 300 plus video effects to produce quality video
Create subtitles or transcripts from the audio in the video. It is especially helpful if you want to reach massive audiences. You can use the Speech and Text converter for that, and it syncs with the video
If part of the audio in the video is not audible, you can use voice over to add your explanation
Moosic is a useful feature that allows you to hide part of the video, such as faces, crucial information
Pros:
Takes less resource to edit videos, and can process faster compared to other video editors
The interface is straight forward to use and easy for beginners
You can export videos in almost all formats, including only audio, video, and upload to social media formats
All the visual effects in the editor are free. Some come pre-installed, while others need to be download
To make the video stand out, you can use color correction, edit contrast, shadow, highlights
Blur video background, zoom part of the image and videos and add motion effects.
To reduce the size of the video format, you can choose the H.264 format, which takes less space.
Cons:
Only available for Windows
Best for beginners and amateurs
2. Windows 10 Photos App
It's the inbuilt app in Windows 10, which replaced the video editor that used to come in Windows. It offers both editing photos and videos. When it comes to trim or clip a video, it offers an easy to use interface with all essential required tools. Here is the list of features:
Offers options to trim and split which can help to remove unnecessary parts of any video
Add Effects such as Title card, Text, Motion, 3D Effects, and Filters
Background music, custom audio allows you to merge audio with video files when needed
To use it as a video clipper, select the video and click on the trim or split button. If you select Split, you can split the videos into multiple parts. Move the played to a different time, and then click on done. If you choose the trim, then only the selected part of the video will be in the timeline, and everything else will be removed.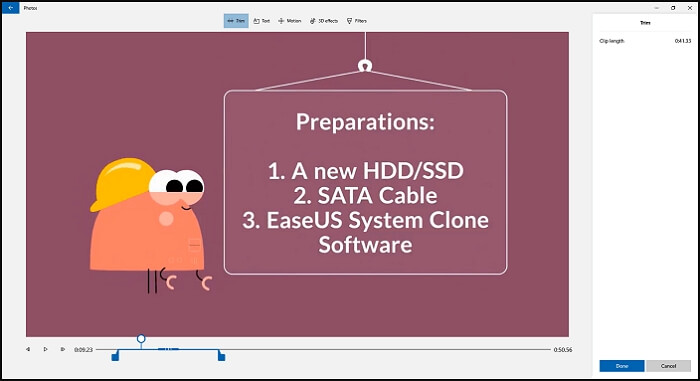 Pros:
Supports 3D effects and objects
Supports voiceover by adding external audio
Add stock images directly from the web using Bing image search
Cons:
Editing tools are limited, and many repeatings are required to achieve the same thing
No way to overlap videos as it doesn't offer a non-linear timeline
Transition effects, including 3D effects, are not very exciting.
Only one format to export videos
Best for basic editing and suitable for beginners
Download: Preinstalled in Windows 10
Do you like open source video editors? Then you are going to like Avidemux video editor available on Sourceforge. The app offers more features than the Windows Editor, but it is still complex to use. Once the video is imported, you can set starting and ending markers, and then add them to the Job queue or save as new video. You can then export only the clipped part of the video. Here is the list of features:
The editor offers several video outputs with configurations
Option to convert video into audio format
Filters, and scripts to automate video conversion.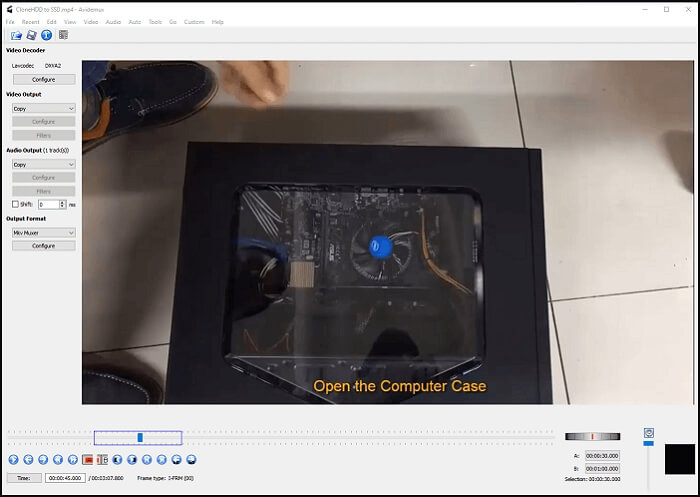 Pros:
Offers extensive filter control which for Colors, Interlacing, subtitles support, and more
Audio track configuration allows you to mute part of audio in the video files
Cons:
There is no timeline, which means you can only edit one video at a time.
No keyboard shortcut support
The interface is confusing for beginners,
Best for beginners
Video Trimmer for Mac
This part I will introduce two video trimmer for Mac
iMovie is an excellent video editor for those who use Mac and are looking for a video trimmer for free. It offers templates to create trailers, video clips with effects, and export in a format that is supported on all platforms. When it comes to video trimming, you can either use the keyboard shortcut (Command + B) or right-click on the video and choose to split. To trim part of the video, you can clip two different sections, and then choose to remove them. Here is the list of features:
Powerful video editor
Impressive processing time, even for longer videos.
Anyone can create some incredible trailers using templates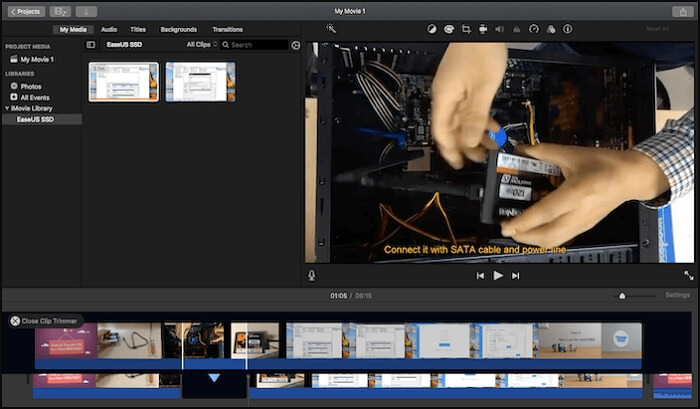 Pros:
Free for all macOS users
You can trim videos very quickly with almost zero learning curve
Supports almost all video formats and resolution up to 4K videos
Fix shaky videos
Green screen controls
Cons:
No way to export, and use it on another computer
Limited in terms of features compared to other editors on the platform
Some audio clips which are offers as part of package have copyright issues
Best for Amateurs and Professional
It is another open-source and free video editor that comes with some powerful features to edit the videos. The tool supports comprehensive video formats and offers all essential tools such as cut, trim, crop, split and merge video clips quickly. To trim a video, drop it to timeline, right-click, and then select Slice from the menu, and choose to keep both sides, only left or right. Here is the list of features:
Multilayered video timeline
Time, Slice, Animations, keyframes, 3D animations
Slow-motion, time effects, title effects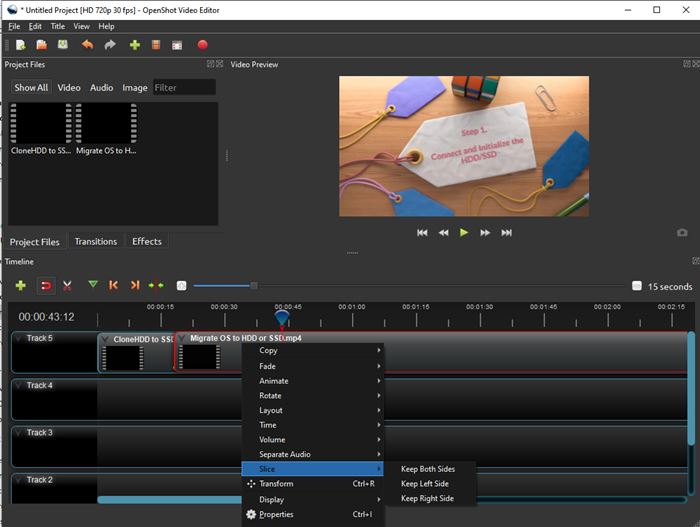 Pros:
An excellent number of features required for pro editing of videos
Open Source development
Cross-Platform editing software
Advanced video editing timeline 
Cons:
The learning curve to use the software just like iMovie
Hardware intensive makes results in longer video times.
Changing video effects, once added, is difficult to change. You can then remove it and add it again.
Best for Amateurs and Professional
Online Video Clipper
This part, I will introduce two online video clipper.
If all you want is to trim parts of the video, and nothing else, Video2Edit is an excellent video clipper. Once you upload the video, set the start and end time of the video. It will remove the rest of the video and convert it into the desired format. Here is the list of features
Multiple output format is supported
Supports cloud storage
Manually input timestamp without preview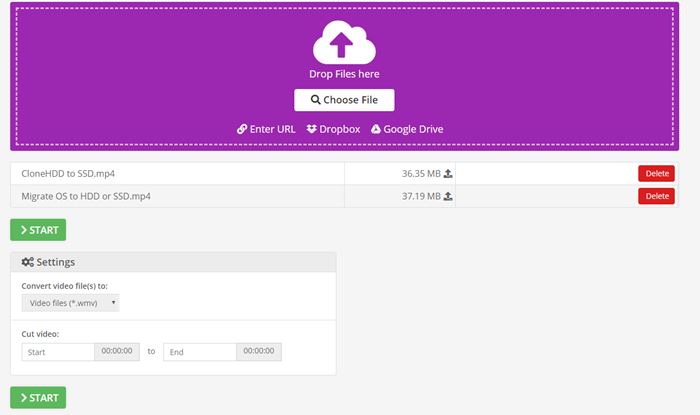 Pros:
Supports multiple videos
Can import, and save videos directly to cloud services like Dropbox, and Google Drive
Cons:
Enter the time manually at which you need to split the video
While multiple videos are supported, you cannot add a different timestamp to edit each of them.
Privacy issues
Best for beginners with minimum trimming needs.
Compared to the above tool, it offers a lot better editor as it offers a preview of the video along with option too trim and crop videos. Once the video is uploaded, set the start and end of the video by dragging the edge selectors, click on save, and by default, it saves the video in the same resolution. Here is the list of features
Trim, Split, Rotate videos
Change video resolution
Crop videos to different aspects such as 16:9, 21:9, 1:1 or any custom aspect ration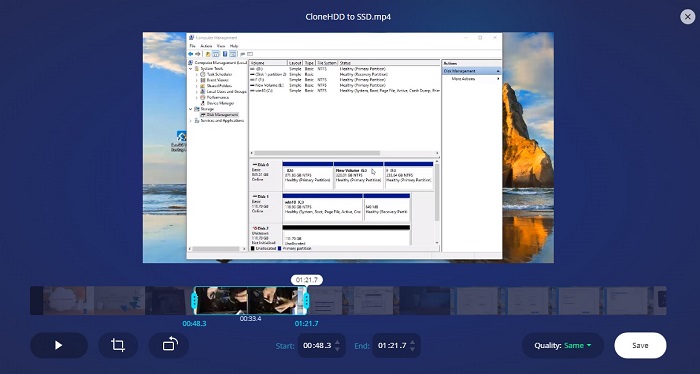 Pros:
Offers preview to trim video which makes it easy to understand about the final output
Custom aspect ratio to make it fit on any screen
Convert to 720P
Supports all video formats
Cons:
No multiple video support, which means each video needs to be processed separately
Export only on MP4 format
Limited to 500 MB size
Best for beginners
Mobile Phone Video Shorter
There are tons of mobile video editors available, and most of the phones come with their in-house video editor. They all offer trimming features, but if you want something more than trimming, use these. And this part, I will introduce two videos shorter in mobile phones.
Once you install the software, the video editor can import videos, and then instantly add it to the vertical timeline. To trim the video, tap on it to access trimmer. Here you can set the start and end of the edges. At the same place, you can adjust the audio level and then save it.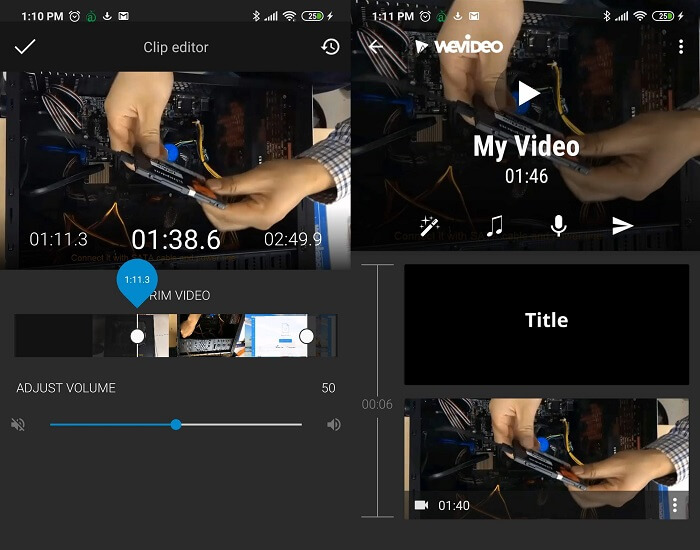 Pros:
Offer a vertical timeline which makes it possible to add multiple videos
Supports effects, music, and voice over
Any video you have trimmed earlier can be reedited to change the length
Cons:
If you delete a video section from the project, you cannot undo it.
Best for Beginners.
This video editor for smartphones allows you to add, merge, trim, cut, split, and add effects all from the mobile devices. Trimming any video is straight forward. Once you import it into the app, tap on the scissor icon, and it offers three tools—Trim, Cut, Split— to help you remove parts of videos that are not required. To trim, you need to set the start and end of the video, and then click on the tick mark to save the state. Here is the list of features:
If you are an Instagram user, you can make use of blur border effects or square videos which allows you to fit more in the same screen
Add external music file with your videos
Supports voiceovers
Sync sound and video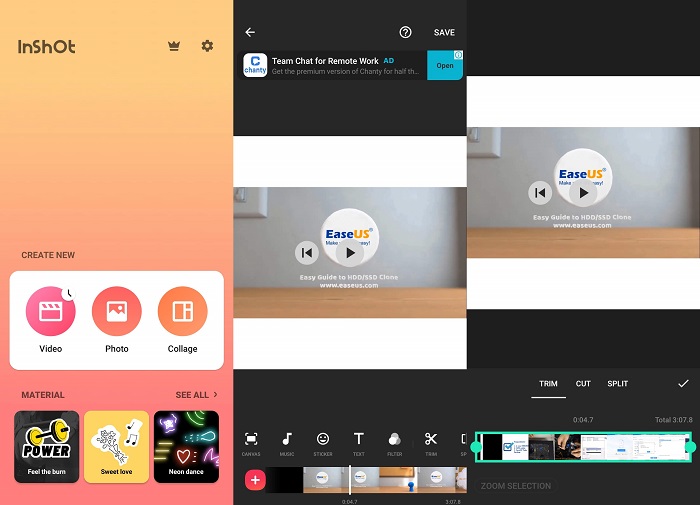 Pros:
Fully featured video editor
Add music, stickers, filters, effects, and more.
Add multiple videos
Cons:
While it is easy to use, and you can add as many vide you like, it gets confusing as you keep adding more effects
Editing long videos can be tedious.
Best for beginners and armatures
How to Trim or Clip a Video for Free Using EaseUS Video Editor
EaseUS Video editor is a full-fledged video editor that can efficiently trim or clip videos, and it's completely free. Let's deep dive into how we can clip large video files precisely to remove unnecessary parts from the video.
Step 1.  Import the Video
Open EaseUS Video Editor and create a project based on the aspect ratio. Next, drop the YouTube video that you want to trim in the Media section. You should be able to see the thumbnail of each video. It is useful when you have a lot of videos, and you need to pick the right one. If you have confusion, select the video and click on the play button to preview it.
Step 2. Clip or Trim Video
Select the playhead, the blue line, and move it to the place where you need to clip the video. The playhead is usually at the start of the video, and you will need to hover your mouse over it, and then drag it.
Once you are sure that this is the part where you need to split the video, right-click and select "Split". You can also use Ctrl + B to cut it. Repeat this for any number of places and remove parts of the video which are not needed.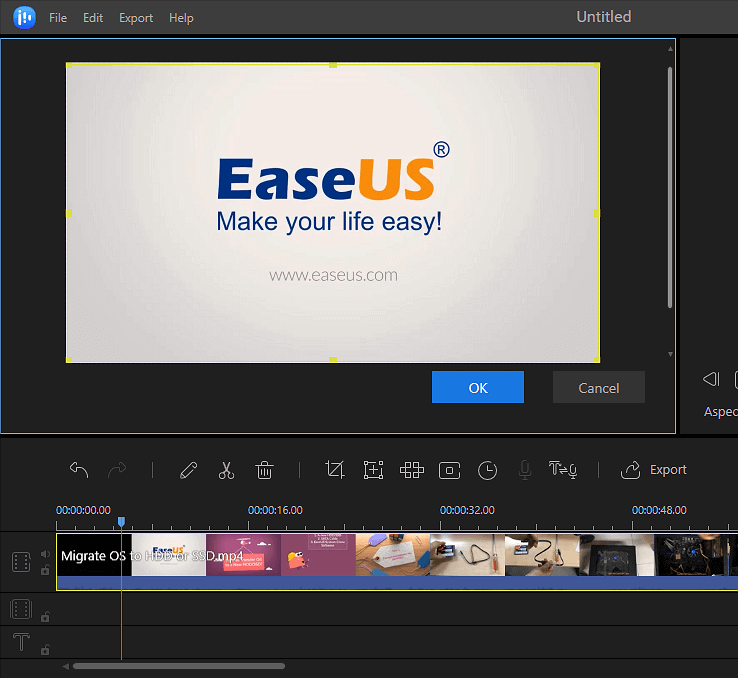 Step 3. Crop Video
Coming to the cropping part, right-click on the video and select the Crop option. You can also click on the drop icon, which is shown by a square with a diagonal inside it. It will open another video with a yellow frame on the margins. The margins will have small boxes. You can hold them and drag them to the size of the frame you need.
Once you are sure, click on the play button to preview how the video will look in the cropped frame. Resize if you do not like this until you are sure. Once done, click on the OK button to apply the changes.
Repeat until you are through. Anytime you want to revert the change, use Ctrl + Z to reverse the change.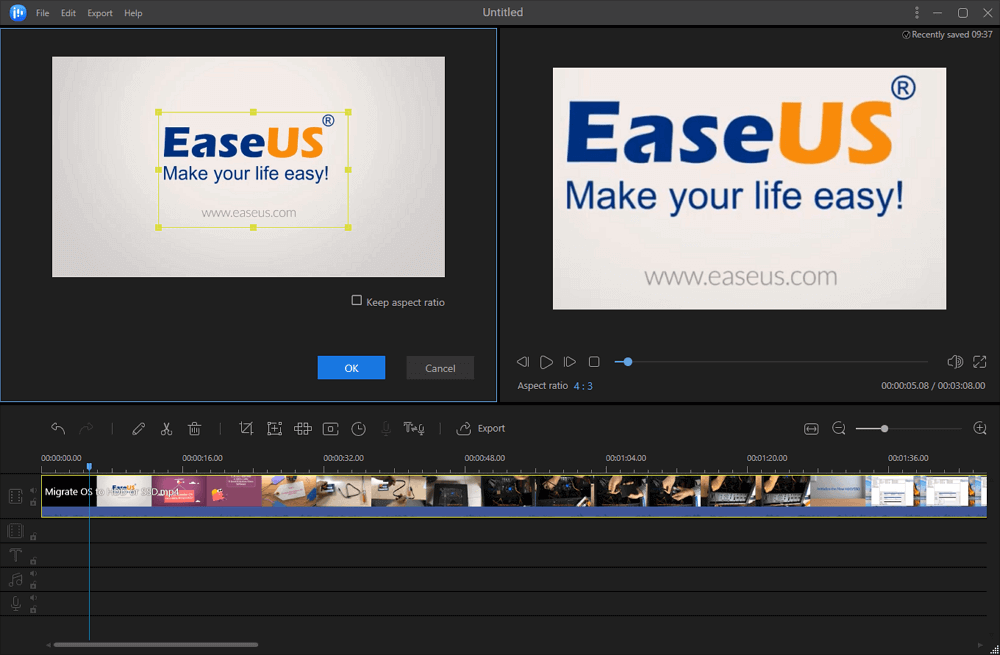 Step 4. Export Video
The last part is exporting the clipped YouTube video. You can export videos in various formats and for multiple formats. Choose an output format that can play on almost every device. Also, you can also change the quality of the output by changing the resolution here.
Conclusion
All the editors listed above have excellent features and are good at trimming and clipping videos. However, it is best to edit videos on a desktop for the best results. If you are using Windows, we highly recommend you try EaseUS Video editor, which is a feature-rich video editor to create cinematic videos.