6 Best Free Video Editing Software for Mac in 2021

Vanessa Chiang updated on May 26, 2021 to Video Editing Tips | How-to Articles
Videos play an increasingly important role in modern society. More and more people tend to record their lives, ideas, talents, and memories in the form of video. To produce a quality and pretty professional-looking video, they have to learn some video editing techniques. As a result, video editing software has blown up in the last few years. With so many video editing programs and tools out there for a variety of budgets and skill levels, how to choose the best video editing software for mac users? Is there any free Mac video editing software for enthusiastic amateurs or people who are merely trying to keep project costs to a minimum?
On this page, we have collected some of the best free video editing software for mac users. Now, you can choose one of them according to your video editing skill level!
Part 1. Top 3 Best Free Video Editing Software for Beginners
1. Apple iMovie
Apple iMovie, a software developed by Apple Inc. for Mac and iOS devices. It is a simple video editor and has all basic editing tools that allow you to make a good-looking video. With this powerful and easy program, you can rotate/trim/crop/split videos. It supports 50+ video formats and 300+ amazing effects. After you create a video, you can share your great masterpiece with your family or friends or post them online. All in all, iMovie is an ideal video-editor for people who are interested in doing some basic editing to movie clips.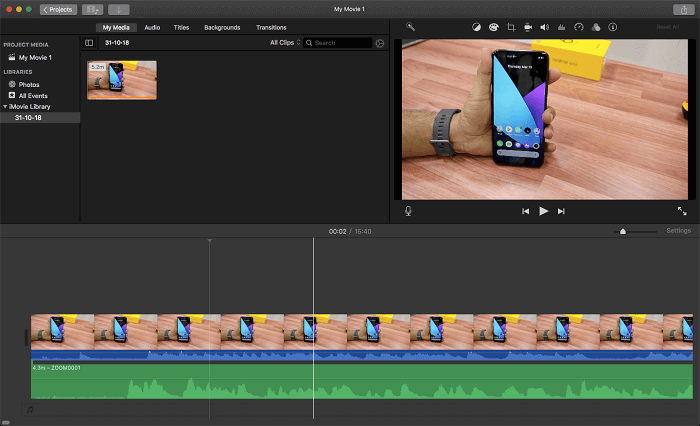 Features:
Supports 4k & HD video
Supports working together with iMovie for iOS
Supports open multiple projects simultaneously
Pros: User-friendly layout; Available on iPhone/iPad; Easy sharing; No watermark.
Cons: It doesn't have the full capabilities of a full video editor. 
2. OpenShot
OpenShot is a simple and powerful video maker for Mac, Windows, and Linux. With this editing software, beginners can easily create an excellent video. If you are an amateur and want to do some basic editing, OpenShot is what you need. Apart from doing basic video editing, this application also contains many other amazing features, including an unlimited number of layers, no watermark, 70+ languages, and more.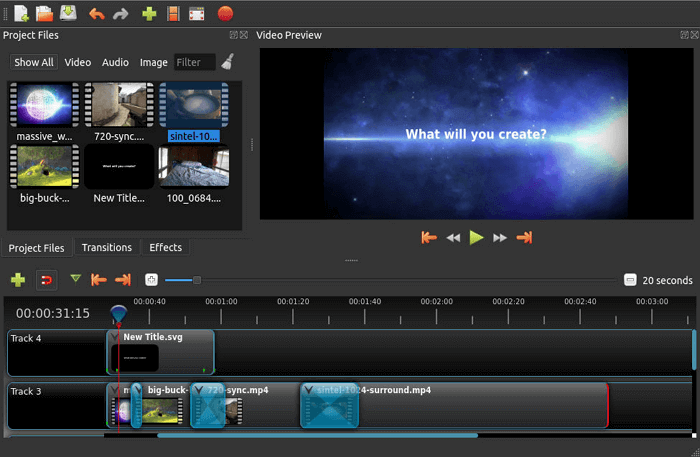 Features:
Supports for many videos, audio, and image formats
Supports scaling, trimming, rotation, alpha, snapping, and adjusting X, Y location
Video transitions with real-time previews
Supports 70+ languages
Pros: Powerful curve-based keyframe animations; unlimited tracks/layers; Supports 3D animated titles (and effect); No watermark.
Cons: Crashes very often; Video rendering speed is not very fast.
3. Shotcut
Shotcut is an open-source free video editor that can be used to turn video clips into a fantastic movie. Similar to the free video editors we introduced above, Shotcut also allows video with no watermark, free trial, and necessary editing tools. Although Shotcut is not as professional as its competitors, it has a robust framework behind its simple layout. Moreover, this editing software boasts many other impressive features, such as video and audio effects, wide format support, codec, and cross-platform independent, etc. If you are looking for a simple free video music maker that can make the editing process smooth and easy, Shotcut is a good choice worth considering.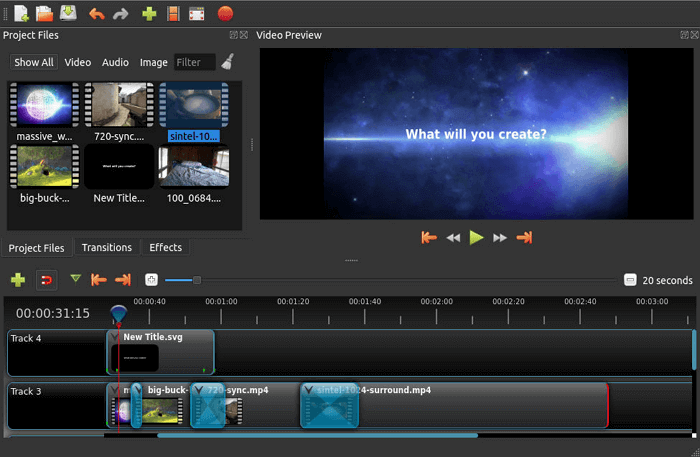 Features:
Support a variety of format
Multiple audio features
Editing features and video effects
Cross-platform
Pros: Support edit and render 4K videos; Contains advanced features like multiple track editing timeline; Video rendering is fast.
Cons: Can't preview filters; Unstable.
Top 3 Best Free Video Editing Software for Semi-Professionals/Professionals 
1. HitFilm Express
HitFilm Express is a free all-in-one video editor that aims at indie filmmakers with great tools and powerful features. This free program allows users to create realistic shotgun effects, import and animate complex 3D Models, recreate and enhance the iconic head-up displays, etc. It is an ideal free video editor for semi-pros.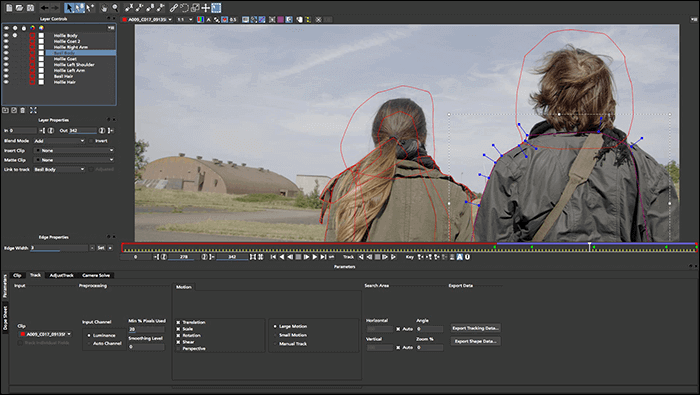 Features:
Zoomable preview window
A separate trimmer
Easily export
Advanced tracking and screen simulation
Pros:  Excellent effects and transitions; Support 3D models.
Cons:  Users have to share a link to social media to download the video; Limited export formats; Need a powerful processor to run it.
2. Blender
Blender is considered as one of the best free video makers for Mac, thanks to a wide variety of editing tools and advanced features. It has some basic editing features like rendering, rigging, editing, masking, compositing, modeling, etc. Beyond the basic features, it also boasts many advanced features like volumetric, subsurface scattering, screen-space reflections, and refractions, etc. Besides, it is a free 3D graphics program that can be used for modeling, UV unwrapping, rigging, skinning, animating, texturing, water and smoke simulations, and rendering. If you are looking for a professional video editor that can do some complex editing tasks, this excellent editing software for Mac is the best option for you.
Features:
Rendering, rigging, editing, masking, compositing, modeling
Game creation
Integrate with pipeline tools
It is excellent for animation
Pros: Free and open-source; Contains many advanced features; Allows to export blender files to different file formats; Allows to render with GPU instead of CPU.
Cons: Painful animation management when you have over 15 animations; Lack of proper motion capture support; Unintuitive layers system.
3. Adobe Premiere Pro CC
Adobe Premiere Pro CC is one of the best professional non-linear video editing programs for mac users. Currently, it has been widely used in various video platforms. If you have basic knowledge of editing and want to make your video look like a Hollywood film without spending a fortune, don't miss free and powerful this video editor.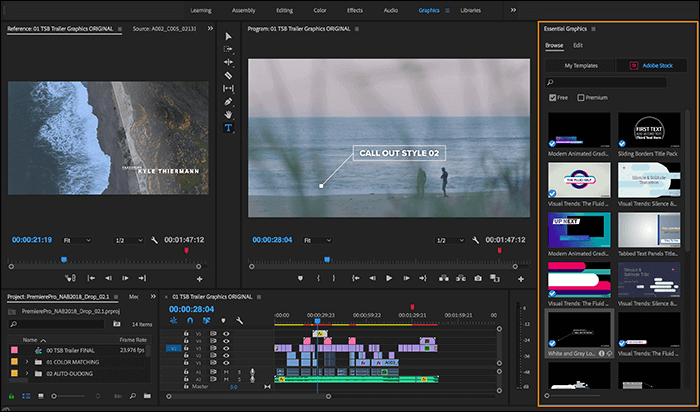 Features:
Multiple video types
Multiple formats support
VR rotate sphere/editing
Pros: High-quality video and audio editing; Built-in non-linear video editing; Support Flash video, HD, HDV, and many other formats; Advanced tools; Plenty of built-in effects.
Cons: Complex interface; Works for free only 30 days
Part 3. Extra Recommendation: EaseUS Video Editor - an Excellent Free Video Editor for Beginners and Professionals
As we introduced above, there are a lot of free and creative Mac video editors for you to choose from. However, most free video editor without watermark is a trial version with limited features. If you want to get full functions, you have to purchase it. However, as we all know, Mac apps are more expensive than PC. If you have a limited budget for your project, we recommend you use a video maker for Windows, such as EaseUS Video Editor, which costs you less for the same features. EaseUS Video Editor is a powerful video maker created by EaseUS Inc., which is an internet company committed to data recovery, computer backup, and disk partition. This free application supports a variety of effects and allows you to export the video to MP4/MP3, actually to any format. It is easy to use and simple to learn. 
With this free video editor, you can:
Clip footages with video shoots, images, audio files, and text files
Multi-tracking edits with advanced clipping features like trim, split, rotate, mix audio, zoom, mosaic, etc
Use 50+transitions, 40+filters, and 30+ overlays
Share videos with your family or friends with only 1-click or post it on YouTube, Facebook, Vimeo, RecCloud, Dropbox, etc., platforms
 Notice:

 It charges for exporting videos with no watermark. Besides, there are many other features you need to make a quality movie, now you can download one to make a unique video.
 
The Bottom Line
On this page, we collected 6 free Mac video editing software for beginners, semi-professionals, and professionals to create great movies. You can choose the perfect one based on your editing skill level and demands. If you don't want to pay a fortune to buy its full version, just choose EaseUS Video Editor to help you make a perfect video.