Best Way to Make a Slideshow on Mac/Windows 10/Online

Cedric Grantham
updated on Dec 11, 2020 to
Video Editing Tips
|
How-to Articles
Instagram, TikTok, and YouTube are so trendy all around the world that no one can resist the temptation of sharing wonderful moments on those platforms. It's a good idea for people who want to attract their friends' attention to make a fancy slideshow and post it to those social platforms.
But how to make a slideshow on Mac? Many Mac users may ask themselves this question. 
Don't worry, read this post. The best ways to make Mac slideshows are here.
How to Make a Slideshow on Mac
As nearly most Mac users know, there is an excellent pre-installed application, iMovie, on Mac computers. It can enable people to turn their source videos and photos into meaningful short movies. 
Besides these basic video editing functions like cropping, splitting, cutting, and merging, iMovie can also be used to add some special effects to your video. This application has ten filters users can choose from and eight themes and music and sound effects.
And it's extremely convenient for users to share their short movies with families and friends through AirDrop, iCloud Drive, social media, and video sharing channels. 
Features:
Automated video editing
Support HD & 4K video
Support Real-time titling
Open multiple projects simultaneously
Steps to Create Slideshow on Mac:
Follow this simple tutorial, and you can create a slideshow by yourself right away.
Step 1. Launch iMovie and create a new project. Select Movie to combine photos, videos, and music to make a slideshow.
Step 2. Import your materials, such as photos, audios, and videos.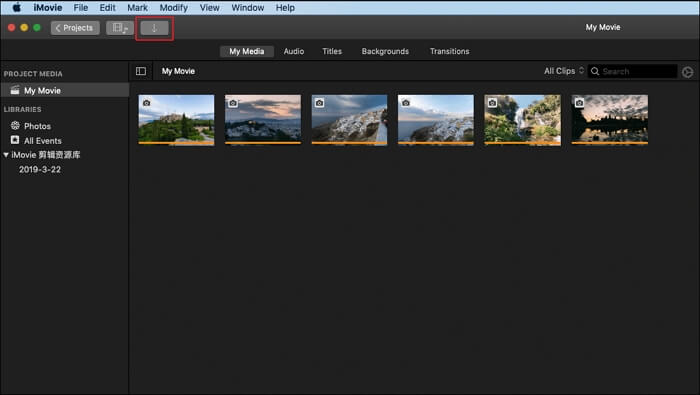 Step 3. Arrange your materials in the timeline. If you want to decorate your slideshow, you can add transitions and effects to your videos and photos now.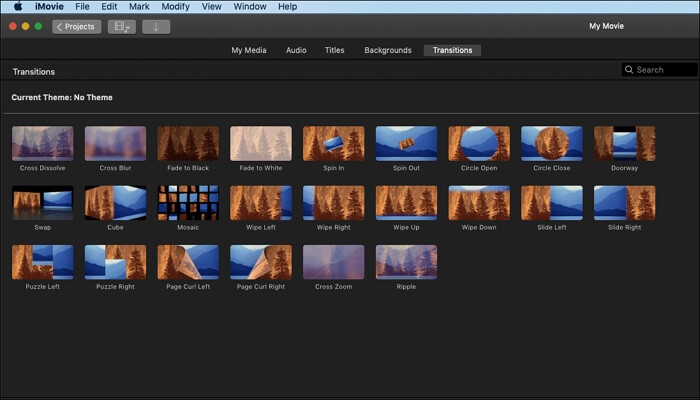 Step 4. Add other elements to your slideshow. For example, you can add the title and subtitles to it, then change the background music to a suitable one.

Step 5. Export and share your slideshow.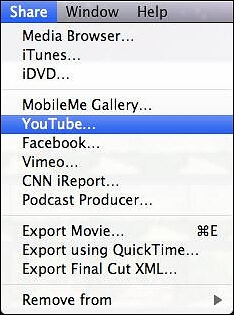 Best Way to Create a Slideshow on Windows 10
Although the system is different, creating a slideshow on Windows 10 computers has much in common with Mac. But, the software people can use the critical difference. That is why people need to choose the most appropriate application.
Among numerous slideshow makers that Windows 10 users can select, EaseUS Video Editor is the most versatile and user-friendly one.
This software is designed for beginners so that everyone can make the most personalized slideshow on their own. Except that, there are plenty of effects for you, you can add filter to video as well as transitions, and overlays. 
If you want to cut, crop, split, reverse, and rotate your material photos and videos, it's also a powerful tool for you. 
Stunning Feature of EaseUS Video Editor:
Free background music
Convert audio to text and use it as the subtitle
The user interface is amicable
Add multiple photos to the software at once
Don't hesitate to have a try. This software is worth attention.
Steps to Create a Slideshow with EaseUS Video Editor:
Step 1. Create a project and add images
Keeping the size of the photos in mind, make sure to select an aspect ratio for the project. Next, import the pictures and audios from which you want to create a slideshow. Next, add them to the timeline and arrange them the way you want them to appear in the final video.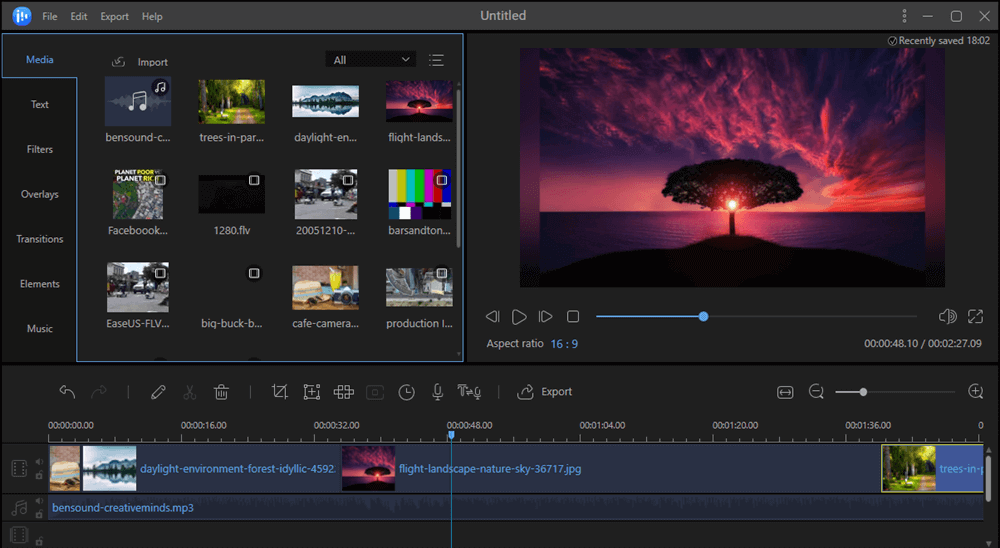 Step 2. Edit and add effects to images and edit
Make sure to remove or resize the images accordingly. You have access to crop, trim, split, and blur features. Then you can apply the effects. You have access to over 300+ effects that can be applied to images and videos.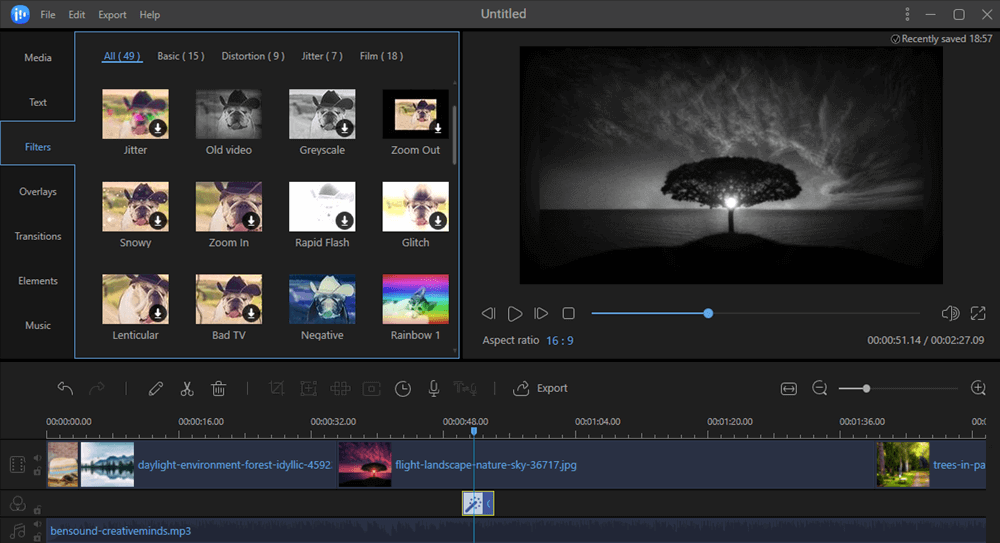 Step 3. Add background music
Switch to the Music section, and then you get access to the built-in music library. You can download and add the audio track to the timeline. You can also add your audio to the timeline using the add background music option.
Step 4. Export slideshow
Once done, you can then export the slideshow in a format like mp4, AVI, WMV, MKV, MOV, and GIF. You can also directly upload to video platforms such as YouTube.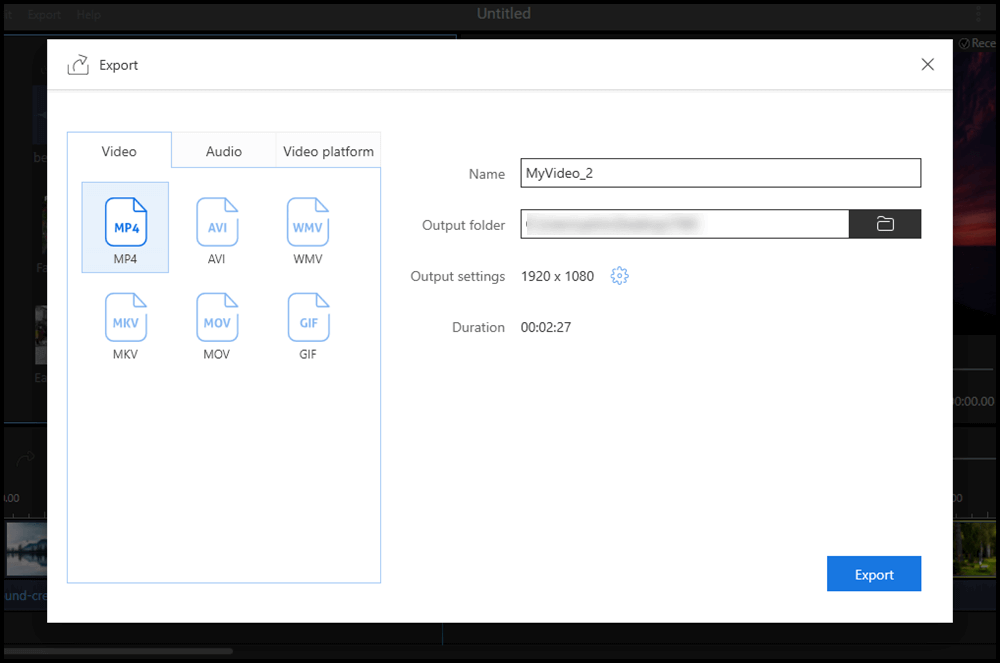 Create Slideshow with Other Makers
Those two tutorials above can be applied to other situations. When you are using other slideshow makers, you can refer to them. 
The Apple Photos app on the iPhone, iPad, and Mac may be simple on the surface, but it's hiding many cool and clever features. 
This is a full-featured application for users to deal with their photos. For instance, the filter function allows you to add a colored or black and white appearance to pictures. The effects, including looping, bounce, and long-exposure in photos, can add new life to Live Photos.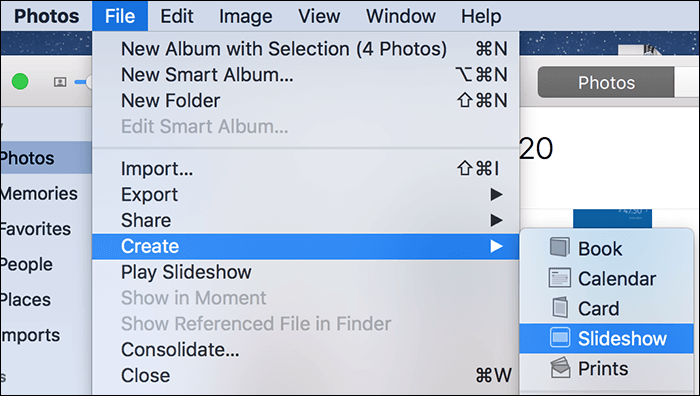 Features:
Edits sync between your iPhone and Mac
Large libraries 
Auto Crop tool rotates the image to be in perfect harmony with the rule of thirds
Step 1. Launch the Photos app, select your photos, click on the "File" menu, and choose "Create" followed by "Slideshow."
Step 2. Click on the first icon in the right-sidebar to choose a theme for your slideshow. It defines how your photos are to be displayed in your slideshow.
Step 3. Click on the music icon to add music to your slideshow.
Step 4. Select the timer to define timing options for your photo slideshow.
Step 5. Finally, hit "Export" at the top-right corner to save your slideshow file.
 DVD Photo Slideshow for Mac is an excellent slideshow maker application that lets you create fantastic slideshow movies and burn slideshow DVD with ease. 
With this software, you can make lively slideshows of your favorite photos, videos, and audio in only a few steps. It provides many transition effects, theme styles, and DVD menu templates for you to choose from.
To make your slideshow more meaningful, it also allows you to add text, bubble text, arrows, lines, etc. to each photo slide. 
Features:
Encode slideshow to MP4/MOV video for playing on iPad, iPhone, Android, etc.
Support video to DVD burning
Personalize slideshow with transitions, themes, menu templates, effects
Step 1. Drag photos and videos from iPhoto or other folders to the timeline.
Step 2. Add songs from iTunes, GarageBand, or other folders to the timeline.
Step 3. Choose a theme style.
Step 4. Press the Play button to preview your slideshow.
Kapwing Slideshow Maker
Those who are looking for an online-only tool can't miss using Kapwig. It's a popular website that offers a lot of small utilities. One of them is the Slideshow Maker. It provides text overlays, images, timeline, screens, audio, subtitles, and shapes. The best feature is the option to duplicate the image set you import into the editor.
It includes mage editing tools, sequence setter, option to duplicate slide, and settings. However, accessing the timeline is different here as it opens another section to visualize it.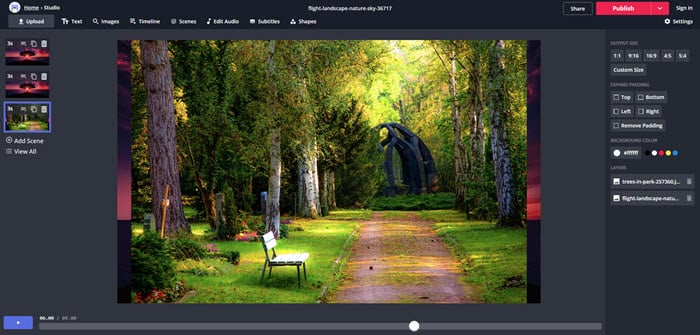 Features:
The tool offers a lot, so you will have to spend some time learning all the features
Close to professional editing features
Micromanage all elements of edit images and creating a slideshow
Supports subtitles
Step 1. Open the page and click the "Get started" button.
Step 2. Upload your video, photo, and audio files by clicking or dragging and dropping.
Step 3. Use the options on your left side to adjust the aspect ratio and background color. Click the "Edit" button on your right side to edit your video clips.
Step 4. Select "Export Video" and wait for the processing procedures.
Website: https://www.kapwing.com/tools/slideshow-maker
Conclusion
In this post, we talked about so many wonderful slideshow makers on Mac and Windows. 
The powerful tools are too numerous to count, but EaseUS Video Editor is absolutely the best one.
Slideshow Maker FAQs
1. What is the best free Slideshow Maker?
EaseUS Video editor tops the list because of its versatility. It offers easy to use UI, which allows you to add effects, background music, an unlimited number of images, and more.
2. Is there a free slideshow maker?
Yes. EaseUS Video Editor is a free slideshow maker. You have no restriction on the length of the video you can create using the software.
3. How do you create a slideshow?
You can create a slideshow using any of the software on the list. If you are using Windows, use the EaseUS video editor to add images, music in the background and create the slideshow.
4. How do I make a slideshow with music for free?
Tools like EaseUS Video Editor, Adobe Spark, VivaVideo allow you to create slideshow for free.