How to Edit Music on Windows PC and Other Devices with Top 15 Music Editors

Jane Zhou updated on Mar 22, 2021 to Video Editing Tips | How-to Articles
In this new age, inundated with all kinds of information, it's growing more difficult to find the most appropriate songs and videos from the ocean of media files.
Some people realize that they can edit the audio files by themselves and compose the most satisfying songs. However, there are not many people who are professional in editing music. Some of them even never download a music editor.
How to edit music on Windows PC, MacBook, and mobile devices? Which is the best music editor we can get on those systems? Is there any detailed tutorial that we can follow?
This post is for everyone curious about those questions. No matter you are using what kind of device, it will benefit you.
How to Edit Music on Windows
If you plan to edit music files using a computer with Windows 10/8/7 system, EaseUS Video Editor must be the best editor you can get.
This powerful and versatile music editor can offer you a robust environment to produce your music. You can cut intact music file into some audio fragments and rearrange them according to your preference, and finally splice those pieces all together.
After the processing, you can export the edited music to your computer or directly upload the file to many kinds of platforms, including YouTube, Vimeo, Facebook, and GoogleDrive. 
Sometimes, we have to create a music video to attract people's attention and make them willing to enjoy our song on those platforms. EaseUS Video Editor can also be helpful when you need to add music to video without watermark.
To further process your music video, some other functions can also come into use. For instance, you can remove logo from video, extract subtitles from mp4, and add vocieover to video.
Key Features of EaseUS Video Editor:
Support loading source files in almost any format
Add hundreds of music files to the app at once
Selectively add your music to the timeline
Change speed and volume of the music
Convert video to audio with a few clicks
There are some other beneficial functions that can be used in your music editing. Download it now!
Unlike many other apps that require a huge upfront investment on a good PC to run the apps, you do not need to do anything like that. This app will work just fine on your current machine and provide you with the same experience you can get on any other high-end computer.
How to Edit Music on Windows with EaseUS Video Editor:
Editing your music with this tool is fairly easy, as all the tools you need are clearly marked and strategically placed on the user-friendly interface. The following steps will teach you how to use this app to edit your music.
Step 1. Import Your Files Into the App
The second thing you will need to do is add your audio file to the app. Click on "Import" followed by "Import file" to your add file to the app. Then, right-click on the added file and select "Add to Project" to add it to the timeline.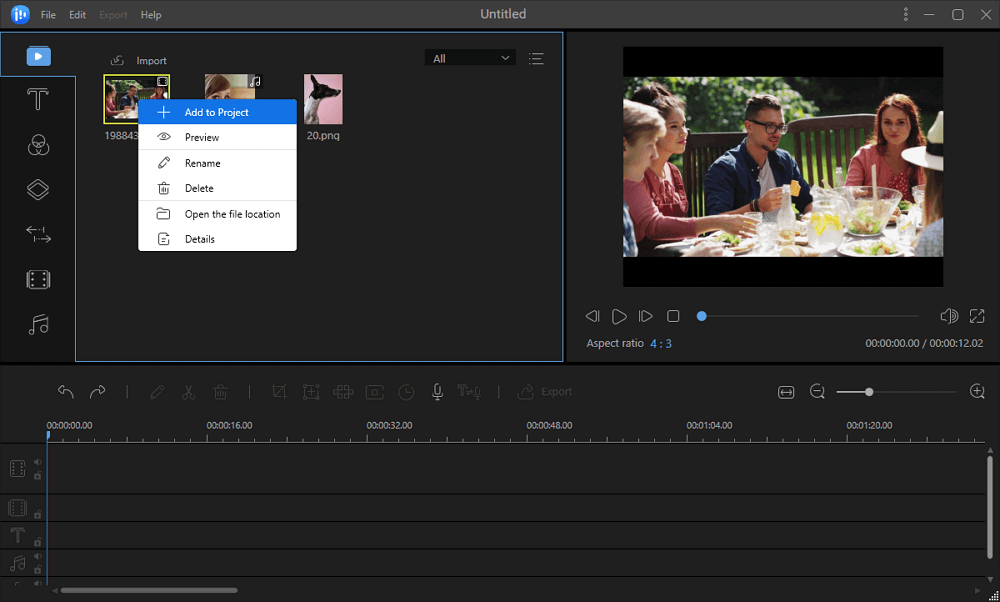 Step 2. Edit Your MP3 or other  File
Editing audio files means changing the speed and volume options. To do it, click on your MP3 file in the timeline and then click on the "Edit" icon. You can then adjust options like speed, volume, fade-in, and fade-out for your file.
Click on "OK" when you are done editing your file.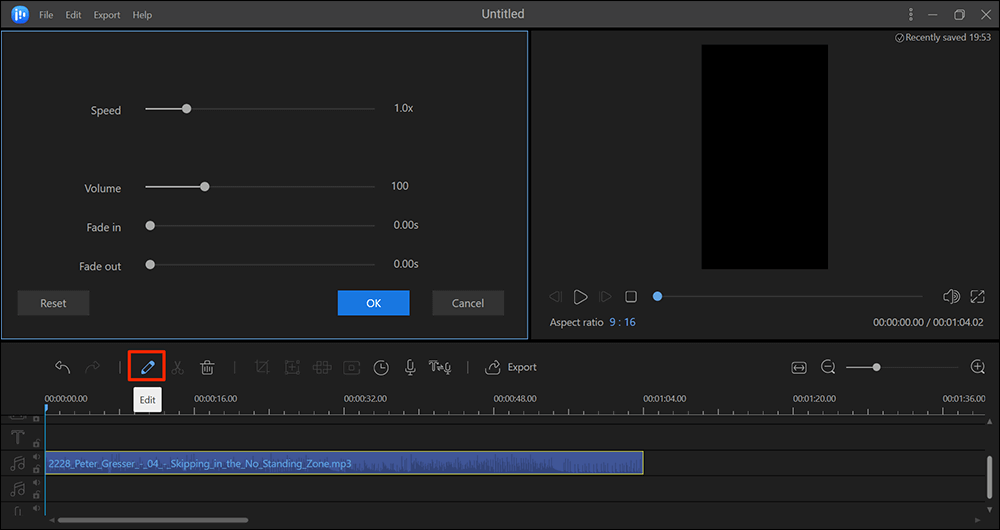 Step 3. Split/Cut Your Audio
You may want to change the duration of your MP3 file and it can be done by splitting it into multiple parts. Drag the pointer to where you want to split your file on the timeline and click on the "Split" option. You can then remove the other part from the timeline to cut your file.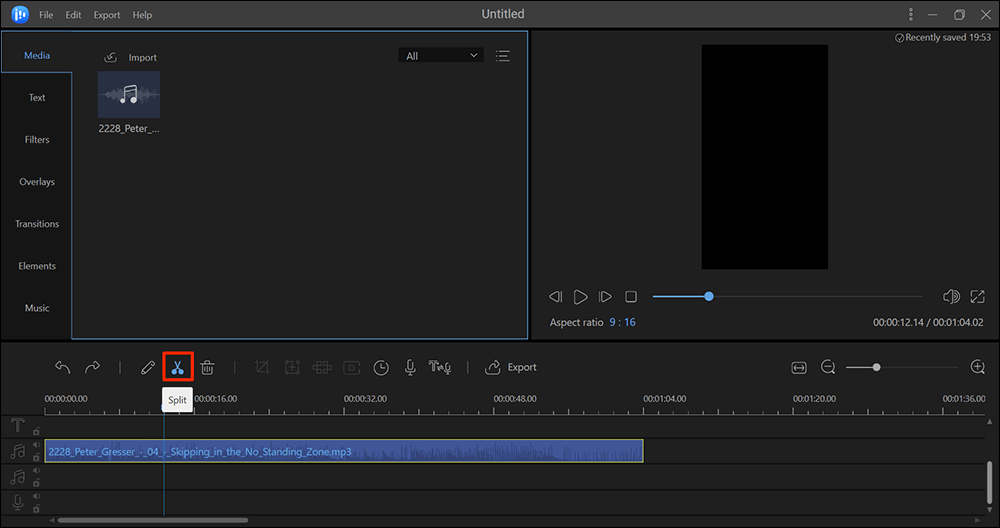 Step 4. Export Your Edited Audio File
Finally, click on "Export" at the top to save your edited MP3 file. The formats you can save your file in include MP3 and AAC, which you can choose from on the Export screen.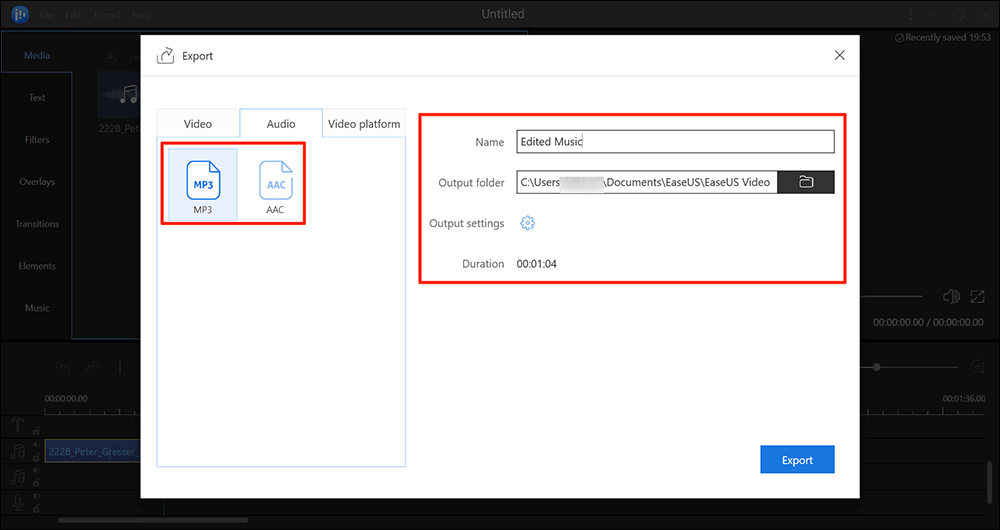 How to Edit Music on Mac
For Mac users, QuickTime Player is the best music editor among numerous alternatives, for it's easy to get and versatile. Apple Inc produces this classic multimedia player. Its multifunctionality makes it capable of handling videos, audios, and images in various formats. In other words, QuickTime can work as a music editor when you need to edit your music files.
If you get bored with your phone's default ringtones, you can customize a high-quality and unique ringtone for yourself with this music editor. QuickTime offers you a function to trim your audios freely and quickly, and you can remove the unnecessary sections and splice the most wonderful parts together to get the music file you need.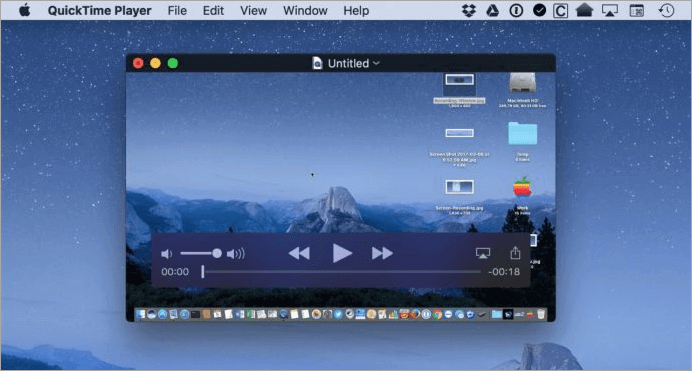 Features:
Edit music files flexibly 
Direct upload to social networks
Support playing and editing high-quality videos and audios 
Steps to Edit Music with QuickTime:
Step 1. Download and open the program.
Step 2. Clip sections of audio by setting your "in" point, i.e., where you want to start your edit. Click "i" on your keyboard to set your "in" point. Repeat for your "out" point or where you want to end your edit.
Step 3. To combine separate music files, copy your file section ("Apple-C"). Open the other music file in QuickTime. Set your cursor at an "in" point for your copied audio and paste ("Apple-V").
Step 4. Save your files by selecting your QuickTime window and choosing "Apple-S." Set a file name and location. Click the "Save" button.
How to Edit Music on iPhone
As to music editors for iPhone users, Hokusai Audio Editor is worth noting. This multitrack audio editor gives you the ability to record or import a track and make it sound the way you want it. You can trim the end of the music your imported and cut, copy, and paste audio clips. Besides that, some special sound effects are also available. 
Fade-in and fade-out must be the most common sound effects widely used by both novices and experts. Using this application, you can add them between your audio clips as the transitions. Hokusai Audio Editor can help you normalize volume levels and reverse time, too. 
If you need to process many music files simultaneously, you can edit many tracks side-by-side, mix them, and export to Wave or MP4 format — then transfer them to your computer, send them to another app on your device, or upload to the cloud services.

Features:
A simple, uncluttered interface
Support standard pinch/swipe gestures to zoom and scroll your tracks
Cut, copy & paste, delete or trim selections
Steps to Edit Music with QuickTime:
Step 1. Open the program and import the music files you want to edit.
Step 2. Add your materials to the timeline. 
Step 3. Pinch to zoom in and out, and get right to that moment. Tap on the timeline, and you can easily drag and drop the two ends of a selector to pick the right length of what you want to trim. Add fade-in and fade-out effects. Normalize the audio and so on.
Step 4. Click on the settings button on the top right and select the "Share Audio" option. You can send your creation to nearby devices via AirDrop, send via Apple Message, Mail, import to iMovie, or other compatible apps. You can also easily save the file to iCloud Drive.
How to Edit Music on Android 
WavePad Audio Editor is an excellent audio editor that can deal with your music files on Android devices. 
Unlike other apps, this tool focuses on helping you get more done with minimum and simple efforts. It proves its simplicity by offering a neat and clean interface and a set of options that will never confuse you.
You can use the tool to perform some basic tasks like splitting, trimming, and cutting your audio files. If you are into advanced music editing, it has features like an amplifier, equalizer, sound effects, and so on. 
In addition to that, you can send audio to yourself or others to share or continuing editing on another device. This function is really efficient to reduce the time you have to spend on transferring the project files to other phones or computers. You can complete your tasks in a much more convenient way.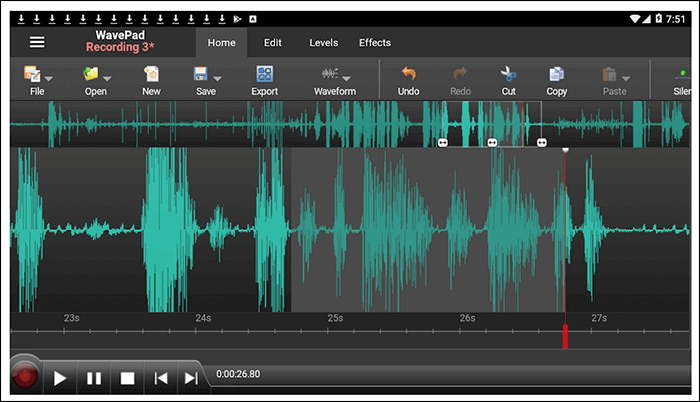 Features:
Supports many file formats, including wave and AIFF
Share with others and post directly to social media
A free version of excellent tools is avaliable
Normalize the level of audio files
Create ringtones from music files or recordings
Steps to Edit Music with WavePad Audio Editor:
Step 1. Launch the application and load the music files you want to edit.
Step 2. Edit your music by trimming, cutting, and merging. Add the effects you need for your music. 
Step 3. Export your project in the audio format of your choice and share your finished work.
How to Edit Music Online
There are so many available options when you are searching for a suitable online music editor. If you feel it's hard to distinguish the differences between an editor and another, try to use the online audio cutter provided by 123APPs.
As we all know that most online editing tools have fewer functions than paid software, but this tool is exceptional. For example, it supports over 300 different formats, which means you don't have to worry about finding a practicable tool when you get a file in an unfamiliar format. 
If you want to edit the music in a video and turn it into a ringtone for your phone, this tool allows you to extract the soundtrack from a movie or a music video without much effort. 
Another characteristic feature of the online tool is its speed of processing and stability, while there are always freezes and crashes in using some editing software.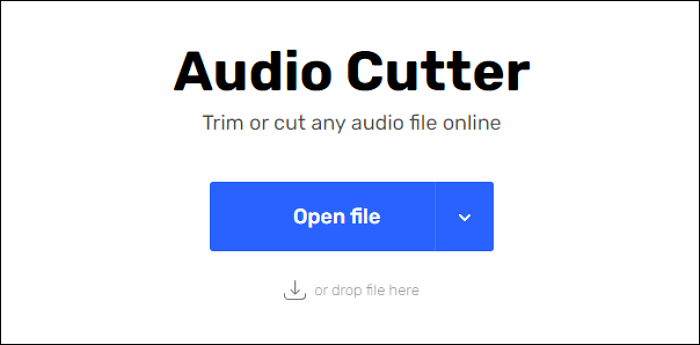 Features:
Trim audios without special skills
Make your audio track to fade in and fade out smoothly
Directly cut an audio track online in a few clicks
Support changing audio bitrate
Steps to Edit Music with Online Music Editor:
Step 1. Start the online editing tool.
Step 2. Select the music you want to edit. You can drag and drop your file or upload it from your hard drive or cloud storage.
Step 3. Drag the cursor to choose which part you want to keep. Click the "Trim/Cut" button to remove unnecessary parts. 
Step 4. Choose the format you want to export your file, then click the "Save" button.
Website: https://mp3cut.net/
Other Music Editors on Windows/Mac/iPhone/Android/Online
Those following music editing tools can also be helpful for those who are willing to have more choices. 
Audacity has been around for quite a long time, and it is still used by millions of users to edit music files on their computers. It is a cross-platform app meaning it runs on multiple operating systems, including Windows and Mac.
Once you get the app, it is then just a matter of learning a few things and getting started with your music editing tasks. If you are already into music editing, then you are just a few clicks away from creating that very best music file of yours.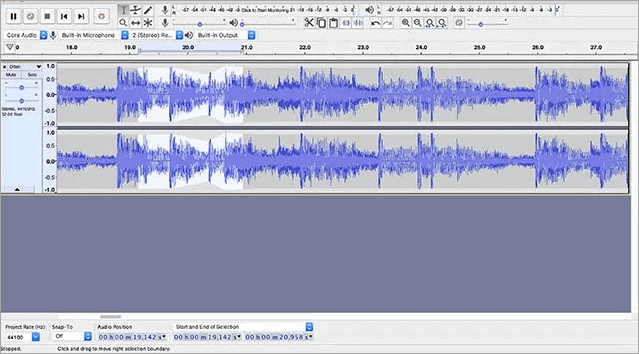 Pros:
Free and open-source
Easy to use
Most basic tools are available
Cons:
The interface is not modern
Lacks some of the modern tools
Compatibility: Windows 10/macOS 10.07-10.15/Linux
Powerful and easy usually do not go hand in hand, but Ocenaudio proves that wrong. It is a compelling yet straightforward app you can use to edit your music files. It comes preloaded with tons of tools so that you are never short of anything to produce some nice music tracks.
It has an interface where you can see live previews of your effects. This way, you know exactly what you are producing and better control of your editing task. When you are happy with the results, you can then save the file to your computer.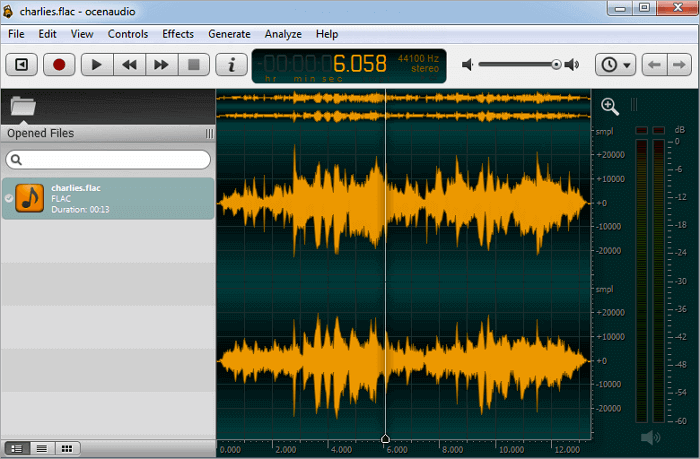 Pros:
Lots of options to edit music files
Cross-platform support
Multiple selections
Efficient
Cons:
Compatibility: Windows 7 or higher
Apple has always given some high-quality apps to its Mac and iOS users, and GarageBand is one of these apps. It is a fully-featured music editor and music creation tool for Mac, iPhone, and iPad users. Once you get it installed on your Mac, you do not need any other apps to edit your audio files.
You can use it to make music with and without instruments, record voices, use virtual instruments and use many tones from the existing music library in the app. There are so many editing options that it is easy to get overwhelmed.

Pros:
Support for various instruments
De-cluttered interface
Fully-featured music editor
Connects with your iCloud account
Integrates with your iPhone and iPad
Cons:
Uses your resources intensively
Not great for learners
Compatibility: macOS 10.13.6 or later
Avid Pro Tools First helps you magnify the skills that you already possess by letting you retouch your music files using both hardware and software tools. With this software on your Mac, you can give a shape to your imaginations and create and edit the very much that you have always dreamed of.
The software is built for students, musicians, and podcasters to help them bring their voice to their audience. You can attach up to four devices at a time, use many of the plugins available in the software, and there is a good-sized library for you to choose music files from.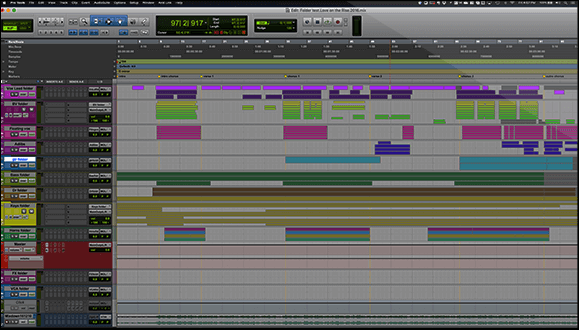 Pros:
Quick music editing
Metering features
Productive audio editing workflow
User-friendly interface
Cons:
No presets
No pitch-correction option
Compatibility: Windows/macOS
Ferrite Recording Studio is more of a recording and vocal editing tool, but it can be used to edit your music files as well. Since it is already equipped with the features to work with audio files, you can use those features to improve and enhance your music files.
It is a full studio app that lets you record your audios and edit them without using a separate app. It has a fully-featured editing track to perform both basic and advanced editing tasks on your files.

Pros:
Multi-track editing
Perform basic operations pretty quickly
Automatic ducking
Automation features to save time
Cons:
A limited number of features are available for free users
Compatibility: iOS 13.0 or later
Music Editor contains various modules to help you perform each of your music editing tasks separately. If you are looking to cut your music files, you can use the cut option on the main interface, and so on. This division of modules makes the app extremely easy to use, and you can quickly jump onto the feature you want to use.
With the app, you can load your music from various sources, cut your music, trim your music, and even convert your music files. The great thing about this app is there is not much clutter on the interface, so finding options is easier than other similar apps.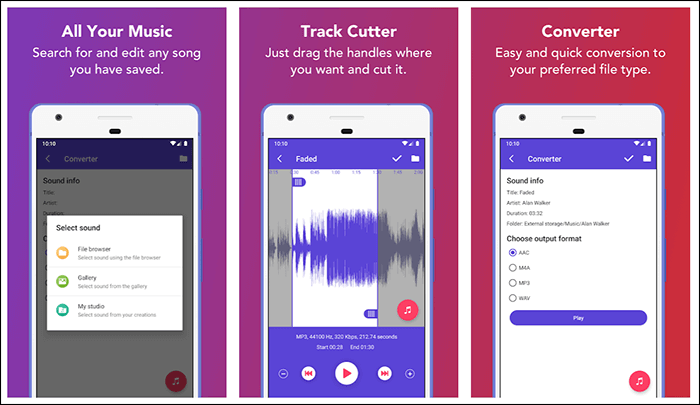 Pros:
Essential features divided into several modules
Easy to perform many basic music editing actions
Modern interface
Record your music if you do not already have any
Cons:
Lack of advanced music editing features
Compatibility: Android 4.4 or later
Bear Audio Editor
Bear Audio Editor may not have the best user interface on the web, but it works great to help you edit your audio files. With this web-based music editor tool, you can edit your audio files no matter where they are located. You can upload files from both your computer as well as web URLs.
You can then select custom parts of your audio file and apply various effects to it. These items include fade-in and fade-out effects, high and low pitch, and so on. You can also completely mute the file if you want.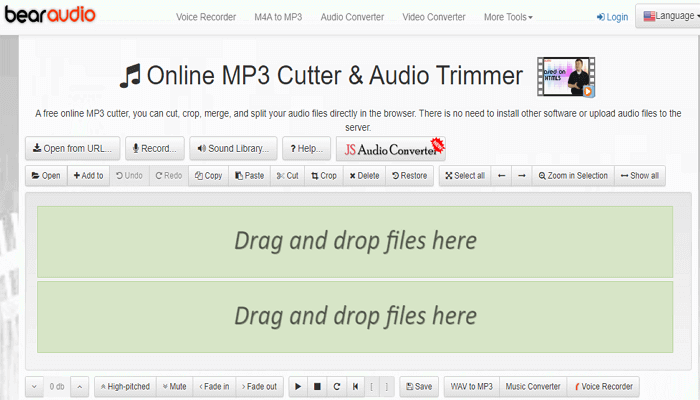 Pros:
Import files from multiple sources
A large sound library
Dual-channel editing
Convert music
Cons:
The interface is full of ads
Website: www.bearaudiotool.com/
Conclusion
Those are some of the best music editors you can use in 2020, and you are certainly going to increase your productivity and throughput with these tools. EaseUS Video Editor wins the race hands down as it provides some beneficial features with ease of use like splitting audio files, merging audio, changing their speeds, and so on.
FAQs about How to Edit Music on Windows
Many of you might have questions about editing music on your devices. The following are some of your questions that we try to answer for you.
1. Where can I edit music for free?
You can edit music for free using a tool like EaseUS Video Editor. It lets you edit your files using various options, and the following is a quick guide on how to do it.
Step 1. Open the app and select any aspect ratio.
Step 2. Click on "Import" and choose "Import file." Load up your music files in the app.
Step 3. Right-click on your music file and select "Add to Project" to add it to the timeline.
Step 4. Right-click on your file in the timeline and select "Edit." You can then edit the track.
Step 5. Use the options available in the toolbar like split to play around with your file.
Step 6. Click on Export at the top to save your file.
2. What is the best app for editing music?
The best app for editing music is no doubt EaseUS Video Editor. It comes preloaded with many features that let you edit your music exactly the way you want. There are no complicated interfaces and options, and everything in the app is easy to use.
3. How do I edit audio files?
You can edit audio files by using software like EaseUS Video Editor. There are many tools to play around with this software, and you can produce some nice music with it. The following is a brief guide on how to use this tool to edit your audio files.
Step 1. Launch the software and choose any aspect ratio.
Step 2. Select the "Import" option and click on "Import file" Add your audio files to the software.
Step 3. Right-click on your audio files and choose "Add to Project" to load them on the timeline.
Step 4. Click on your audio files in the timeline and select the "Edit" icon. You can then start editing.
Step 5. Select "Export" at the top to export your audio files.
4. How do I download music from edits?
You can download music for your edits from many free sites on the Internet. Some of these sites include Pixabay, Free Music Archive, and HookSounds.