How to Easily Make MP3 Louder for Free

Vanessa Chiang updated on Mar 26, 2021 to Video Editing Tips | How-to Articles
When the download MP3 music volume is too slow, how do you do it? The best way is to find a powerful volume increasing software to help you solve this problem. Basic in this case, this post will tell you the best five ways to make MP3 louder.
Part 1. How to Make MP3 Louder on Windows
If you are a Windows user or want to find a powerful video volume booster. Lucky for you, here comes a powerful software that can help you - EaseUS Video Editor.
EaseUS Video Editor is an all-in-one video editing software, which supports users in doing a lot of video editing operations. You can use this software to corp video, add music, zoom in on video, convert speech to text, increase video or audio volume, and other more functions. And this software is easy to use, whatever you are a beginner or professional that you can easily create a perfect video. For increasing volume function, this program has two methods to boost the MP3 audio louder. That means using this software, and you have two chances to increase the audio volume louder, to make your low volume video or music became louder.
Key Features:
Support increasing video or music volume
Support importing or exporting a lot of video or audio file formats
Offer 300+effects and transitions
Allow you to add music to video without watermark, text, filters, overlays, elements, and transitions
System Requirements:
System Requirements
Windows 7/8/10
Supported video formats&audio formats

Video Formats: Avi, mpeg, WMV, MP4, MOV, and a lot more
Audio Formats: Wav, MP3, mid, FLAC, aac, WMA, au, AIFF, Ogg, and a lot more

Supported image formats
Bmp, jpg, png, gif, heic, tif, and more
Supported playback devices

Portable Devices: Apple, Samsung, HTC, SanDisk, Sony, LG, Huawei, BlackBerry, Amazon, etc.
Windows Media Player 11 or higher for WMV video playback.
DirectX: Microsoft DirectX 9.0c or later.
How to boost MP3 sound volume using EaseUS Video Editor:
Method 1:
Step 1. Import Video
Choose the desired aspect ratio to begin. Click the "Import" function to add your video to the Media area.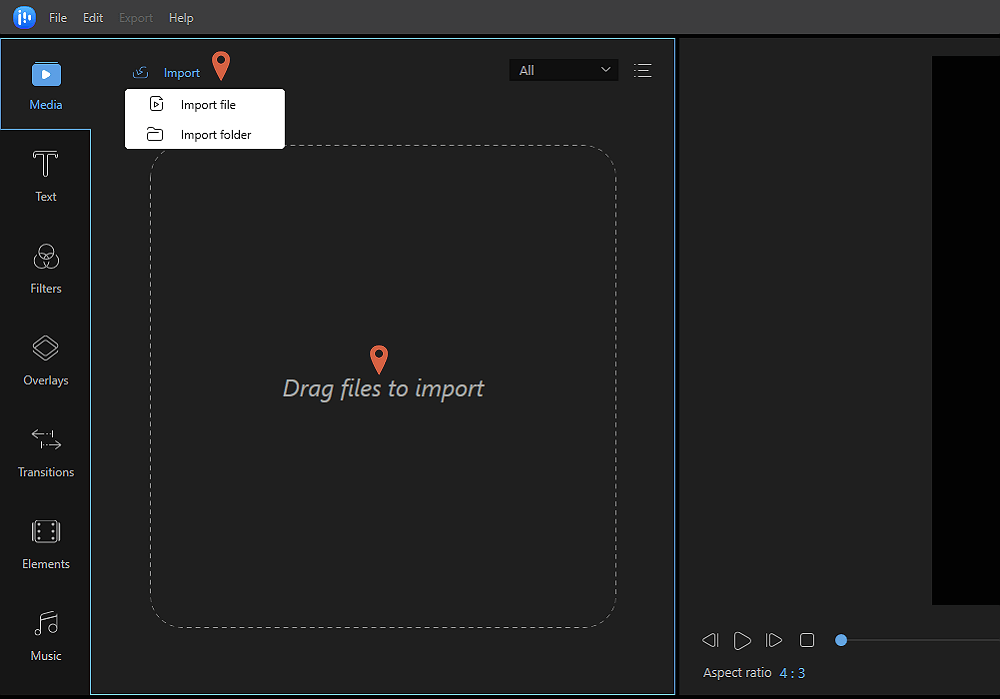 Step 2. Adjust Video Volume Louder
On the right side of the main screen, you can see a Volume button, click it, then you can adjust the video volume louder.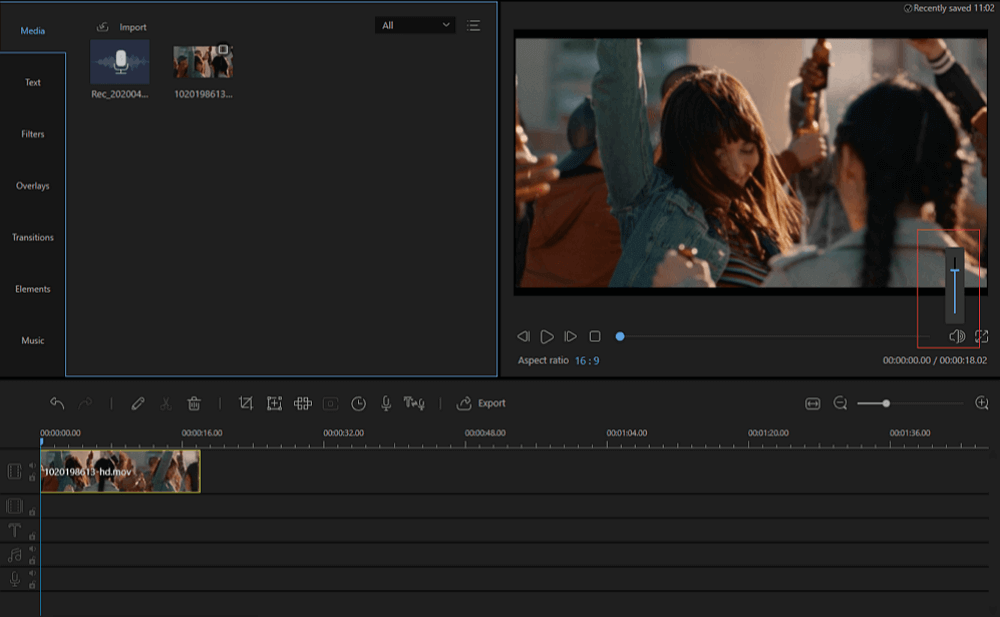 Step 3. Edit Background Volume
If you want to increase your background volume when you are editing your video. First, you need to add background music to your video, and then repeat step 1 to adjust lower video volume. In the end, select music and click "Edit" button, you can see a volume button in the top, adjusting louder or lower you want. When you finish your operation, click "OK" to save you edit.
Step 4. Export Video
After editing your video, save and export your video. You can export your video to any popular video format. And you also can choose TikTok, YouTube, Facebook, Vimeo, and many others and directly upload the ready-made vlog video to the vlogging platform.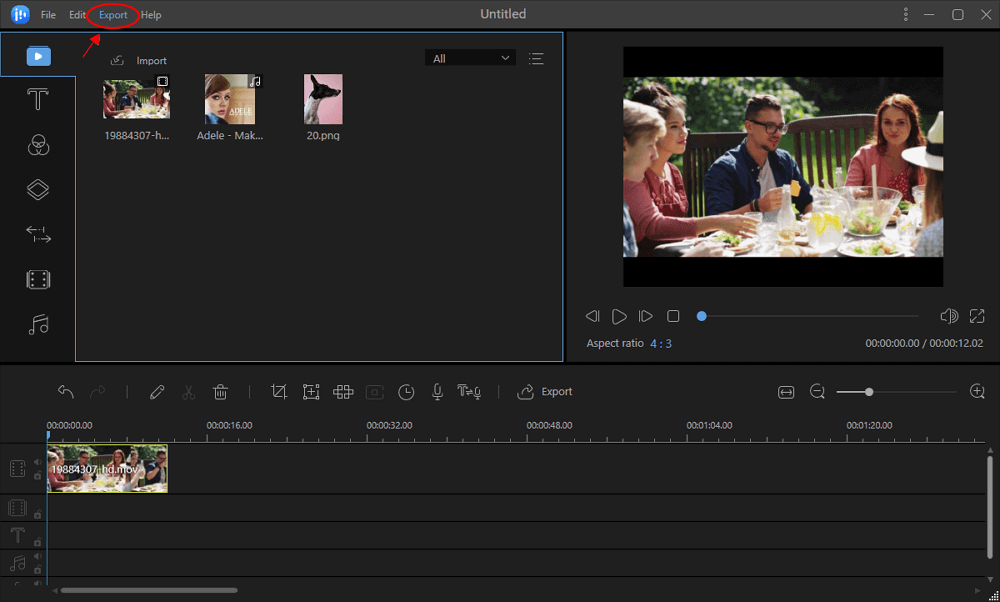 Method 2:
Step 1. Open this software, import the video file, or drag the video into the timeline.
Step 2. Click the "Volume" button on the right side of the main screen to increase the video volume.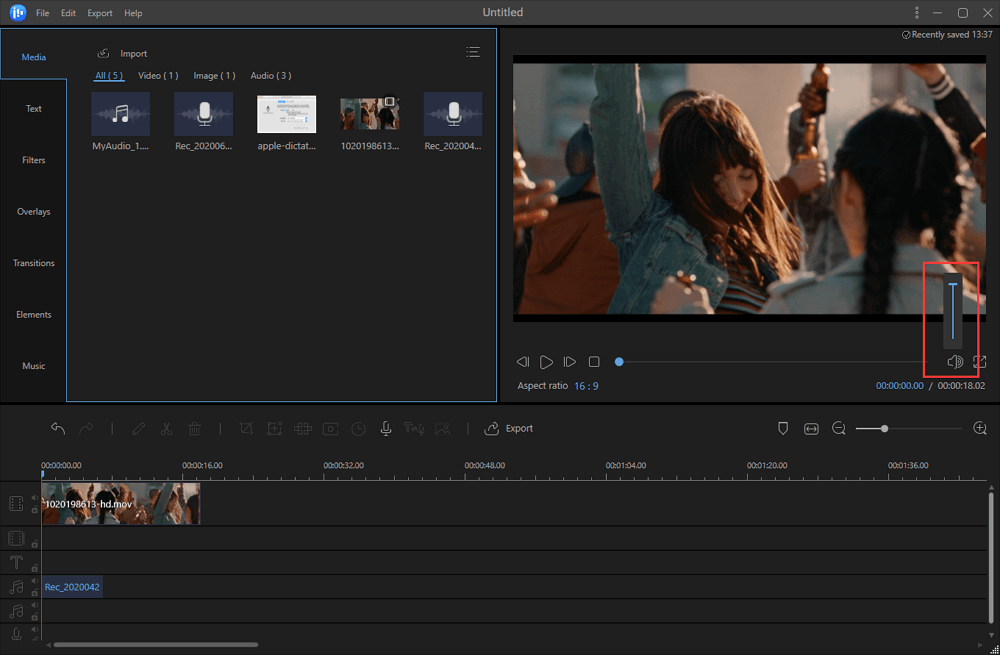 Step 3. When you finish editing, click the "Export" button to export and save your mp3 video.
Part 2. How to Increase Volume of MP3 on Mac
Having introduced a useful MP3 volume changer for Window, we will give you 2 methods to make MP3 louder on a Mac computer in the following part.
Method 1. Make MP3 Louder with Audacity
Audacity is a free, cross-platform, and open-source software for multi-track recording and editing. It supports Windows, macOS X, GNU/Linux, and other operating systems. To increase the volume of mp3,  Audacity has an amplifying effect feature that can adjust the volume of your selected audio. You can also apply other effects such as tempo, speed, pitch, and bass to enrich the contents of your audio.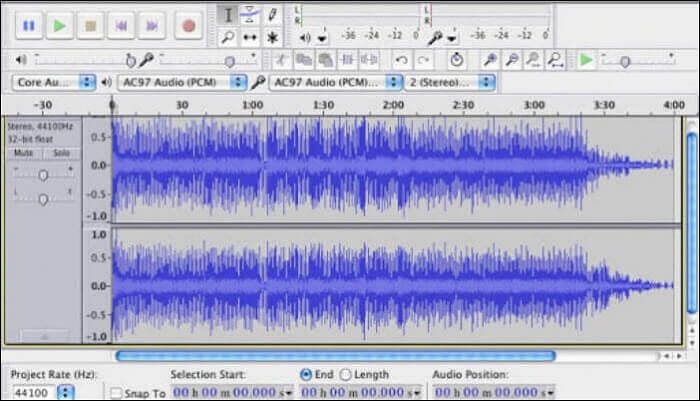 Features
Support 16-bit, 24-bit, and 32-bit audio files
Support for LADSPA, LV2, Nyquist, VST, and audio unit effect plugins
Support basic editing functions like cutting, copying, pasting, and deleting 
Record live audio through a microphone or mixer
Steps to increase the volume of mp3 with Audacity:
Step 1. To increase volume with Audacity, import the audio file and click and drag inside the waveform to select the portion of the audio track.
Step 2. From the top navigation pane, navigate to "Effects" > "Amplify".
Step 3. Here, adjust the sound level until you are satisfied. Make sure not to allow it to go beyond the edges. We do recommend you to start with small increments of amplification such as 5 or 10 dB.
Step 4. Once done, move to "File"> "Export" and choose the file format to export it.
Method 2. Make MP3 Louder with VLC
As one of the hugely popular and utterly free applications, VLC Media Player supports almost all file formats so that users don't need to download additional codecs. If a video or audio is too quiet, you can manually increase the film's volume up to 200% and more. The application processes file blazingly fast, and it does everything flawlessly without spyware, ads, or anything else unnecessary.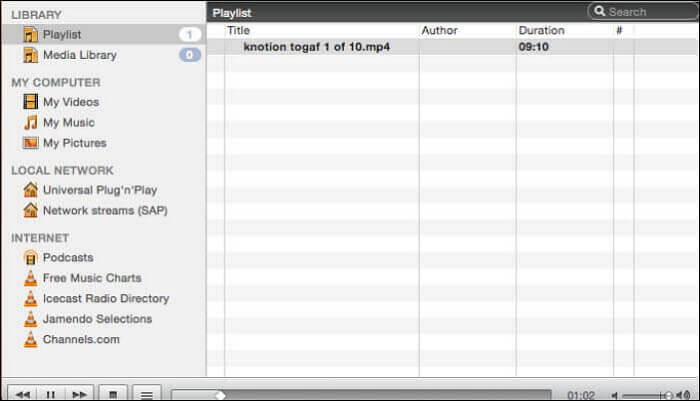 Features
Support a variety of formats
Can be used as a format conversion tool
Download videos from the web
Add effects to audio files, edit sound levels, and more
Steps to increase mp3 volume with VLC:
Step 1. Import the mp3 file into VLC and navigate to "Tools" > "Preferences".
Step 2. Select the "All" button under the Show Settings at the bottom of the window.
Step 3. Under "Audio"> "General Audio Settings", you will find an option for "Audio Gain." You can increase it up to 8 levels, set a value according to your needs. 
Part 3. How to Boost MP3 Volume Online
If you do not want to download or install any software on your computer, why not try some online MP3 louder tools? In this part, we recommend you 3 online tools to increase the volume of MP3.
1. Make MP3 louder with FileConvert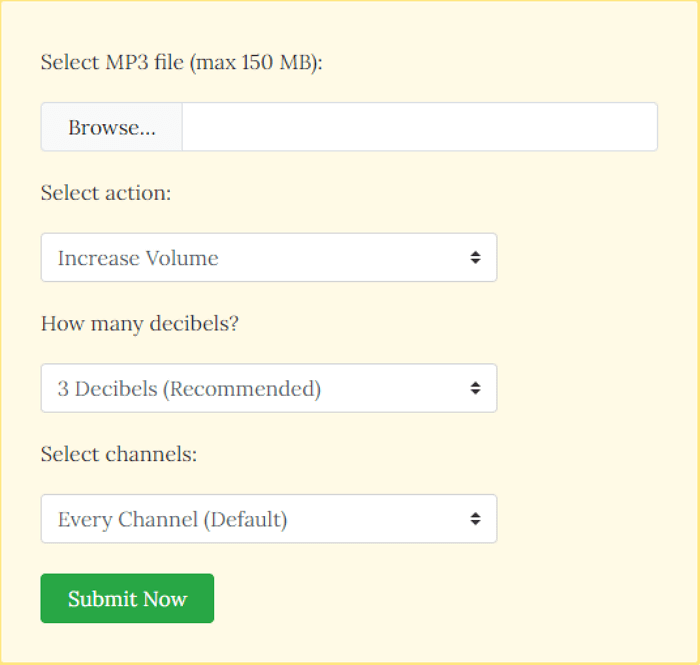 FileConvert is an online MP3 audio increasing tool, which you can this website to convert, compress and edit multimedia files, such as MP3, MP4, MOV, WAV, and other more file formats. And this program is very easy to increase MP3 audio volume, you just import your files from your computer to this website and click some simple buttons, that you can easily to increase MP3 audio online. But, its online tool only allow you to upload 500MB MP3 files, if your MP3 audio files are bigger than 500MB, maybe this software can not help you a lot.
How to increase MP3 volume:
Step 1. Click the "Browse" button to upload your MP3 files to this software.
Step 2. And then, you can set the decibels and the left or right channels of your audio file.
Step 3. When you finish editing, click the "Submit Now" button to boost the audio volume.
2. Increase Audio Volume via MP3 Louder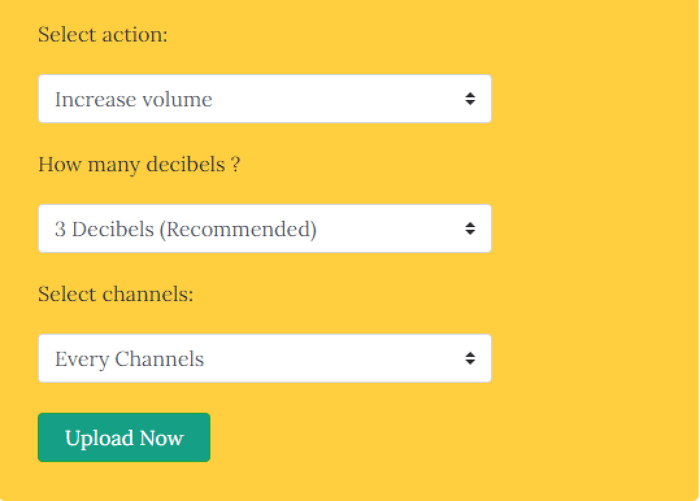 MP3 Louder is a free web service that allows you to increase the volume of MP3 audio files online. And you even do not need to create an account that you can free to use. This software is easy to use, when you launch this website that the increased audio function will appear on the main screen. You just need to follow the steps that you can easily online boost your MP3 sound louder.
The steps to boost MP3 music online:
Step 1. Click "Browse" to import the MP3 sound files from your computer.

Step 2. Then, under the "Select action" setting to select the "Increase volume", and you also can edit the MP3 audios' decibels and channels.
Step 3. When you finish editing, click the "Upload Now" button at the bottom of the main screen to apply to boost audio volume operation.
3. Use Audio Trimmer to Make MP3 Louder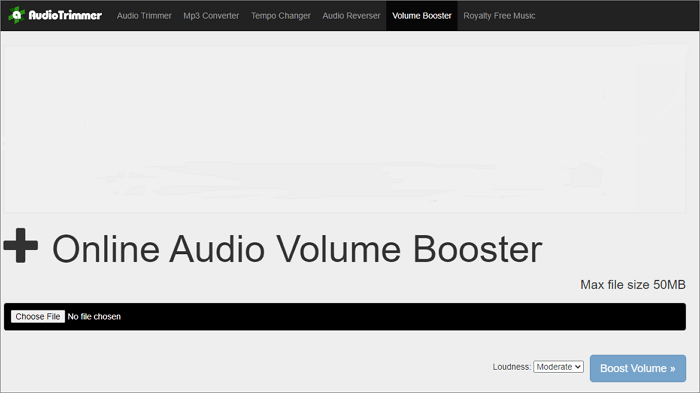 Audio Trimmer is a free online tool, which can help you to increase the loudness of your MP3 files. Except for the MP3 file format, this program also supports many other commonly used file formats, such as WAV, WMA, AAC, M4R, and others more. And this website allows you to upload 50MB file size, if your files bigger than the limited max size, this program may not help you a lot.
The steps to boost MP3 music online using Audio Trimmer:
Step 1. Open this website, and click the "Choose File" button to import your MP3 audio files.
Step 2. Click the "Loudness" button to choose the audio types.
Step 3. Click the "Boost Volume" button to increase your MP3 sound louder. When it finish increasing, click the "Download" button to download and save your boost audio files.
Part 4. How to Make MP3 Volume Louder on Phone
If you usually use the phone, here we list an MP3 sound louder app on the Android phone, may it can help you. That is MP3 Amplifier.
MP3 Amplifier is an MP3 music louder app for the phone. This app supports increasing your music orMP3 files up to eight times louder. And using this app, do not worry about the MP3 booster will change your original audio files, and it will all save on another music folder on your phone. And this app also supports setting the increase files as your phone's ringtone.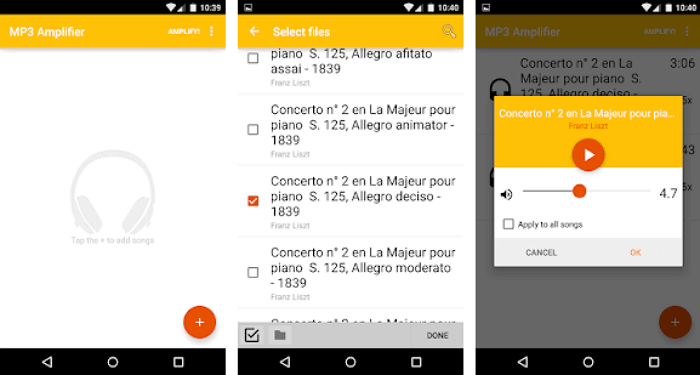 The steps to boost MP3 music online using MP3 Amplifier:
Step 1. Open this app, and click the "+" button on the right top of the main screen to select and import the MP3 files you want to increase.
Step 2. And then, set the amplification factor, if the audio volume to fit your need, click the "OK" button to apply it.
Step 3. When you finish editing, click the "Amplify" button to increase the MP3 volume, and then the booster file will save on your phone.
Conclusion
While on this page, we are talking about the five best software for increasing MP3 file volume. You can choose the one according you need. If you are a Windows user, we suggest you choose the EaseUS Video Editor. Because, compared with the online and phone tools, EaseUS Video Editor supports editing the MP3 audio files while increasing the audio volume, and also can change the file formats after your editing. So, this multifunction software is a worthy choice, and you do not miss it!