[Tutorial 2021] How to Use a Green Screen in Your Videos

Jane Zhou updated on Feb 05, 2021 to Video Editing Tips | How-to Articles
If you want to add some interesting effects to your video, the green screen may be a good choice. This special effect is commonly used in replacing the original background of a video or a picture. You can change the background to anything you like. However, before adding this effect to your videos, you need to know what exactly it is, how to add it properly, and what tools you may need. And these are what we offer you in this tutorial.
Quick Navigation
Part 1. What is Green Screen Effect?
Also known as chroma key, green screen technology has been around for about as long as talkies, but it is often seen as a relatively new technology for some reason. Green screens allow video editors to remove the background in place of a graphic, photo, or video. Its most practical use is in the news, specifically used for weather reports. Of course, this technology is also used in movies and TV series. But don't think it is too complex to be used in ordinary video editing because of this.
There are other colors to use apart from green. You can use either a red or blue screen for background removal. However, this may cause problems in editing. Since the color of the background is meant to be removed, if the color you choose for the background is often used in, let's say clothing, then it will be difficult to remove it when editing the video. Red is not recommended because it matches the skin tone. Blue may not work because it is often used in clothes, specifically jeans. Therefore, people usually choose green as the background color.
Get more information here:
Part 2. How to Get Prepared?
Before adding a green screen effect to a video, you need to get a piece of material first. You have two choices. The easier one is downloading a video with green background from the website, which could save you much time and energy. The other one is shooting a video by yourself, which allows you to customize the video content.
Solution 1. Download a Video with Green Background from the Website
Maybe you don't want to film a video by yourself because you don't want to appear in the picture, you don't have an appropriate device for shooting, or because of some other reasons. Then you can just download a video that meets your satisfaction. If you don't know where to download suitable video clips, we recommend VideoBlocks and Shutterstock to you. With these two libraries, you can select images and videos that are suitable for your video subjects.


Solution 2. Shoot a Video by Yourself
If the video has to meet a high standard of yours, it is better that you film the video by yourself. This way, you can customize the light, color, filter, etc. based on your needs. Light is very important in shooting a movie or making a video. Therefore, if you want the most natural effect for your videos, we suggest you shoot a video in the daylight. However, it requires a certain level of professional skills. If you are in lack of this kind of experience, you'd better film the video inside a room. Thus, you can make sure the light wouldn't change, and you can shoot for a rather long time. Still, there are some tips we would like to give you in order to make sure that you can film a video suitable for the green-screen effect.
Tips 1. The background, which could be a piece of green cloth, must be placed properly to make sure there is no wrinkle shows in the picture. Otherwise, it will become difficult to remove it when editing the video.

Tips 2. The costume you wear can't be green since all the green color will be removed from the picture eventually.
Part 3. How to Add Green Screen Effect to Your Video?
To add a green screen effect to your video, you will need EaseUS Video Editor. This video editing software can make different kinds of videos, such as making a slideshow with music and images, making instructional videos, and making slow-motion videos, etc. Moreover, it can edit a video according to a user's needs. For example, you may crop, mix, split video clips. Or, you may add text, music, subtitles, filter, sticker, opener, ending, etc. to a video.
To show you how to use it, we give you a tutorial below.
And you can also read the steps in detail:
Step 1. Launch EaseUS Video Editor and import the source file (with green background) from your computer.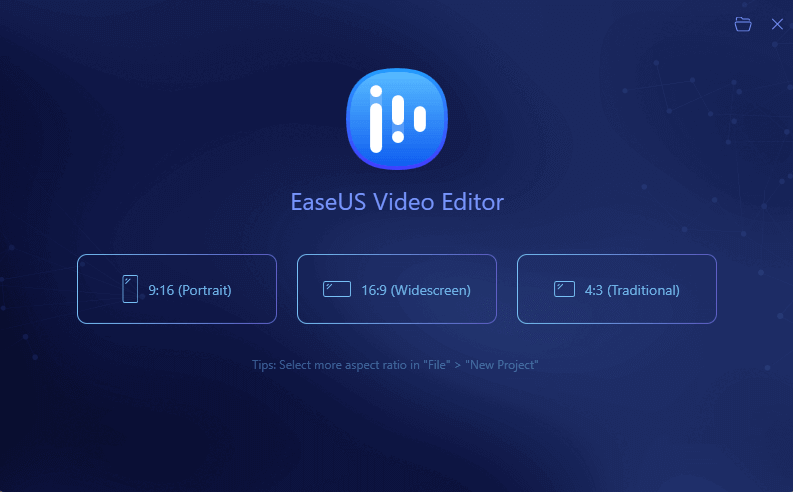 Step 2. Right-click the file and choose "Add to Project" to place it to the timeline. You can also drag and drop it to the timeline.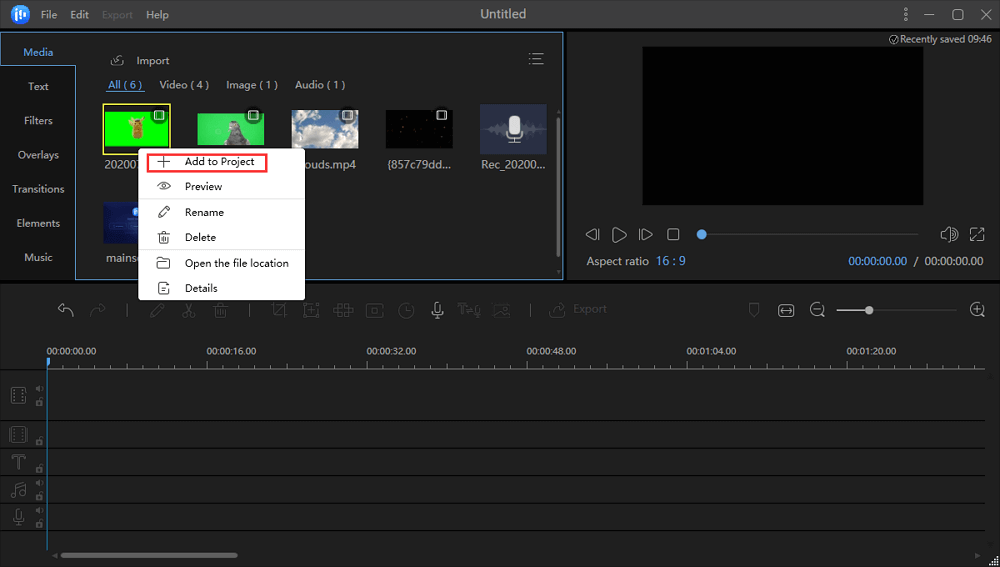 Step 3. When the file appears in the timeline, right-click it and choose "Green Screen Cutout" to apply the green-screen effect. You can also add a filter, text, music, and other elements to the file.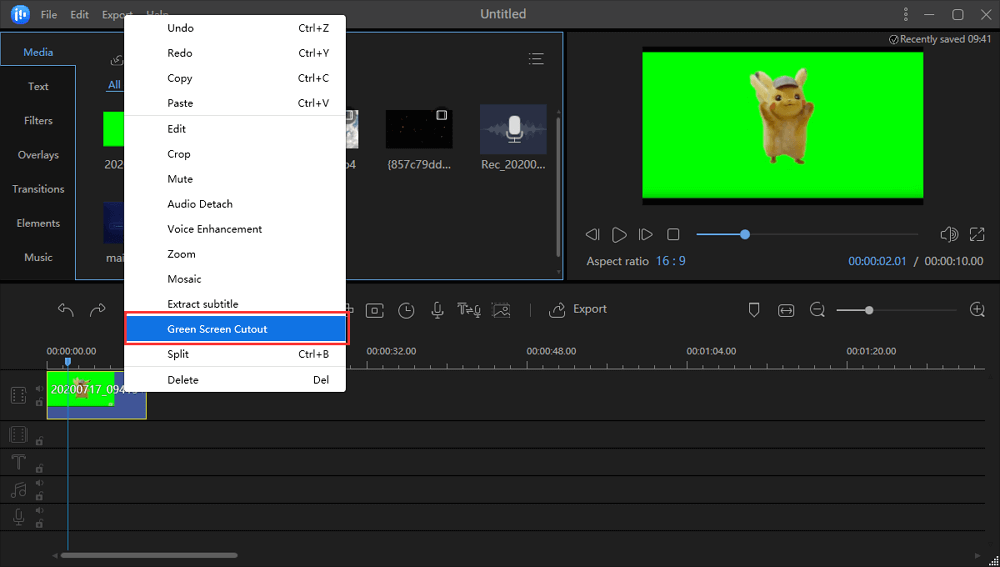 Step 4. Single-click the painting brush and click the area you want to remove from the original picture. The software will remove the original green area after you hit the "OK" button.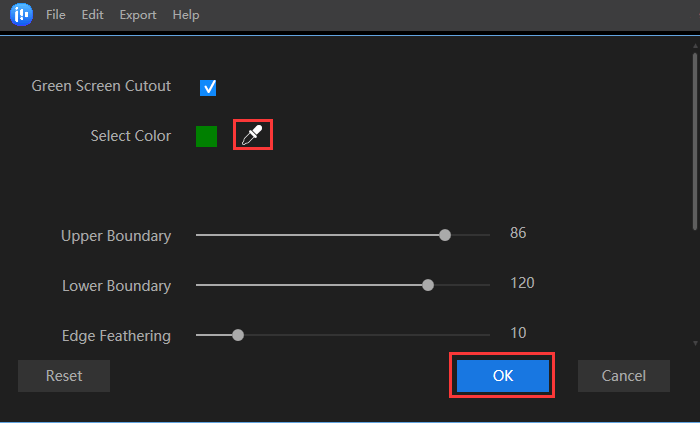 Step 5. After removing the green background, you may add a new background to your file. Put the new background (video or image) to the timeline, and you will find the original file and the background file are played together. Note that the background should be placed above the timeline of the original file, just as we show you in the image below.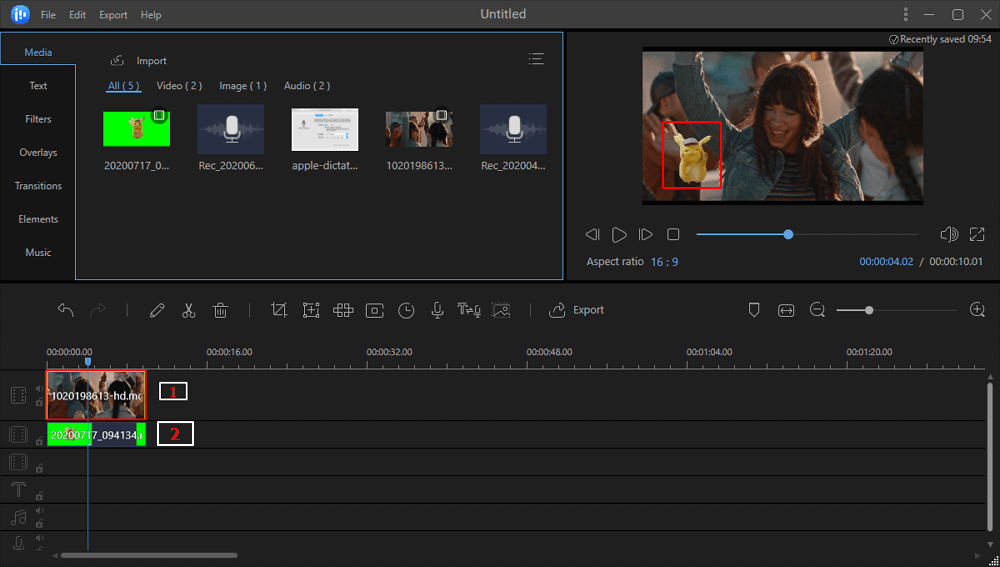 Step 6. Trial play the video you made. If it meets your satisfaction, click "Export" to save it to your computer. There are six video formats you can choose from.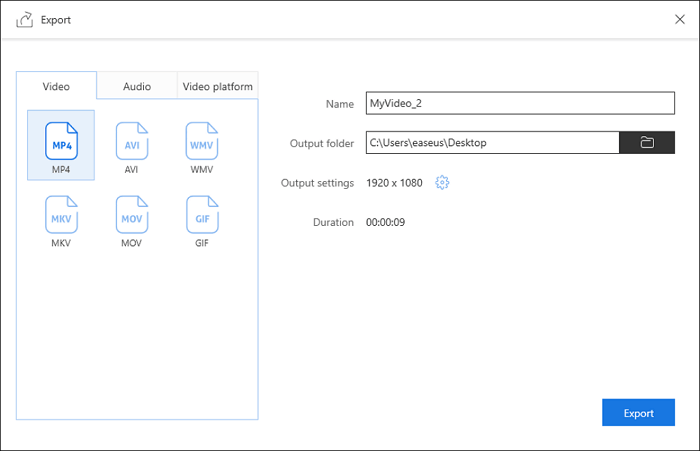 Part 4. Effective Green Screen Makers
Apart from EaseUS Video Editor, there are three video editors who can help you add a green screen to your videos. Let's have a look at them.
iMovie is known to almost every Mac user. As an effective video editor, it provides not only the basic video editing functions like crop, rotate, trim, split, etc., but also provides a simplistic timeline, built-in sound and animations, and various easy-to-use special effects including green-screen effect. We give you the features, pros, and cons of it to help you gain a better understanding.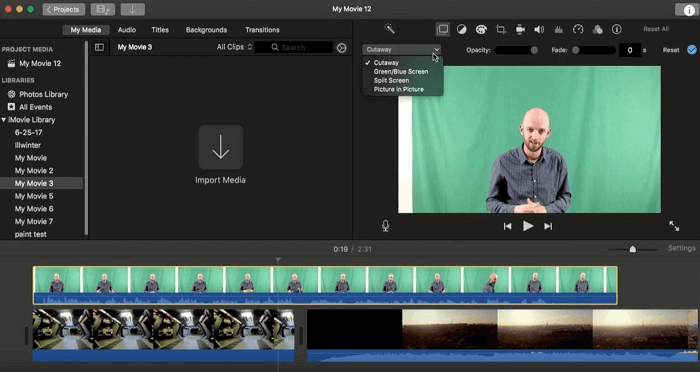 Features:
It is a popular green screen editor on Mac
You can use it on iPhone since it works on cross-platform
Pros:
It is easy to use as a green screen software
Make animated titles and credits from iMovie
Cons:
It demands high version of OS
Compatible with: Mac/iOS
Virualdub is a free and open-source green screen editing software designed for fast processing. Although it is not as professional as video editing programs, it helps you deal with the basic video editing like add filters, trim clips, and adjust audio files. It also includes a basic green screen option. If you want to add a green-screen effect to your video, you may choose this program. The extra information we offer below may give you more clues about this software.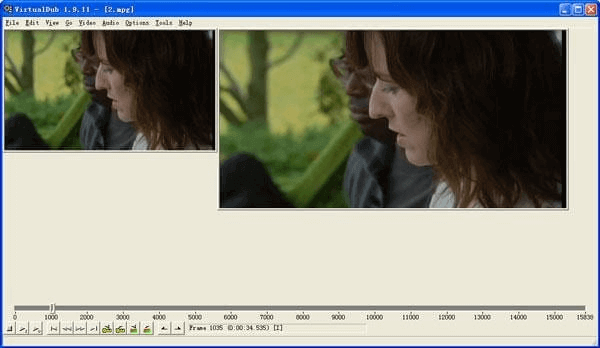 Features:
You can add a plug in to make green screen video
It is stable to use
Pros:
Compatible with all Windows devices
Support various formats to make a green screen video
Cons:
The function is too basic for professionals
Compatible with: Windows
OpenShot is also a free and open-source chroma key/green screen software. It supports FreeBSD, Linux, Mac, and Windows, and it is cross-platform. With this program, you can make a green screen video quickly and easily. You can also combine 3D animation with chroma key effects, which makes your video more stunning. Besides, the interface is quite easy to understand. To get more information, you may read the features, pros, and cons listed below.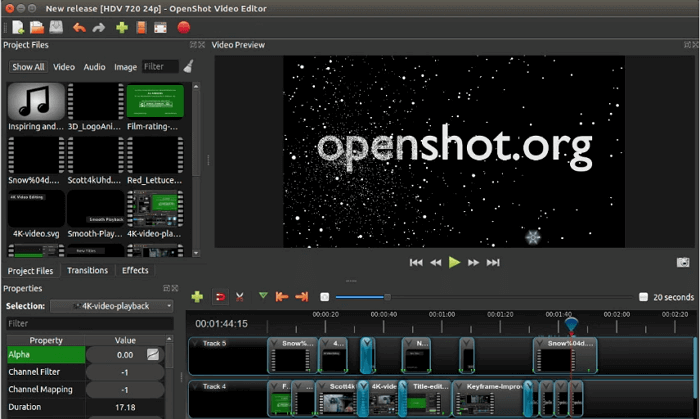 Features:
It is cross-platform
Built-in video effects are rich
Pros:
It is effective to use
It supports slow-motion and time effects
Cons:
It is not friendly for beginners
It may sometimes crash while editing
Compatible with: FreeBSD, Linux, Mac, and Windows
Conclusion
To sum up, adding a green screen to a video is not a difficult task if you learned how to do it. We have given you a comprehensive tutorial in this article. All you have to do is read the tutorial carefully. For iOS and Mac users, iMovie is a steady hand in making a green-screen effect. For Windows users, EaseUS Video Editor is definitely the best choice for adding this kind of special effect. You may download it from the blue button below.