How to Share a Video on Instagram Story With Music

Jane Zhou updated on Feb 05, 2021 to Video Editing Tips | How-to Articles
Instagram may have started as a photo-sharing platform, but videos are more prevalent nowadays on the app. If your social media strategy is more picture-based, it could be good to surprise your followers by adding a video or two. From many bloggers' experiences, posting videos is a great way to keep your followers engaged. In this article, we will show you how to share a video on Instagram after editing it.
Main Content of This Page
Part 1. The Requirements for an Instagram Post
Instagram is very strict about the size of your Instagram stories. If you upload a video that doesn't fit the required dimensions to your Instagram story, it will crop and sometimes zoom your video, which would cause a loss in quality. Therefore, it is necessary that you get to know what kind of videos will be posted on Instagram without unwanted altering.
Videos posted to your Story can be up to 15 seconds per clip. However, you can post as many 15-second clips as you want to create a longer video. Moreover, the Instagram story dimensions for video are 1080 by 1920 pixels, and the video file size needs to be under 4GB. Moreover, the only two accepted video file formats are MP4 and MOV.
Part 2. Edit the Video Before Sharing It
Before sharing a video on Instagram, it is likely that you need to edit it in order to make it more attractive. In this part, we give you some effective video editors and show you how to edit a video with these software tools on different devices.
When it comes to editing a video, you cannot miss EaseUS Video Editor. This video editing software for PC is designed especially for beginners. Therefore, it is very easy-to-use. This video editor can do almost anything that is needed for editing a video. For example, you may cut, trim, mix video clips, or you can add elements like music, picture, and subtitles, etc. to a video. Moreover, it can convert file formats, for instance, convert MKV to MP4.
Moreover, it can make a video out of the elements you have, such as video clips, music pieces, and pictures or photos. This video editor meets the satisfaction of different groups. For instance, a video uploader can make a slow-motion video, and a businessman can make a slideshow with this program. To show you how to operate this software, we list the operation steps below.
Step 1. Open EaseUS Video Editor
You'll see there are 4:3 and 16:9 modes for your choice. Select the correct mode based on your original video aspect ratio or the websites that your video will be uploaded to.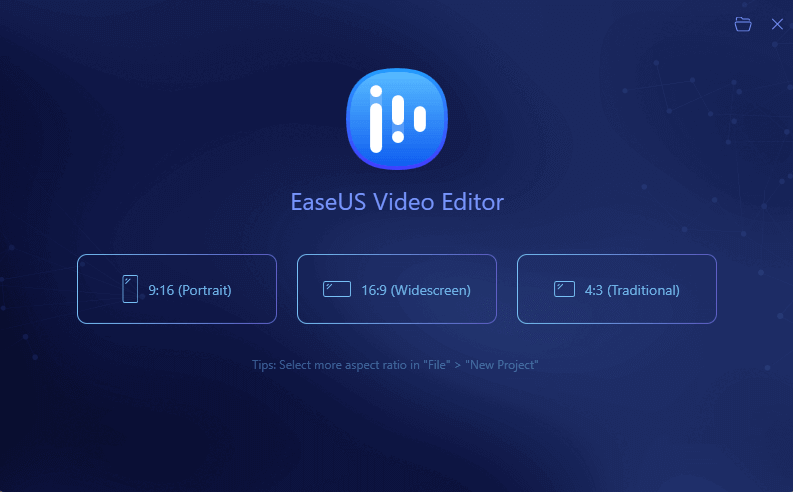 Step 2. Import Videos
You can import the media that you are going to edit, apply texts/filters/overlays/transitions to the video clips. If you install and run the program for the first time, you can learn how to use the basic editing functions step by step via the prompts.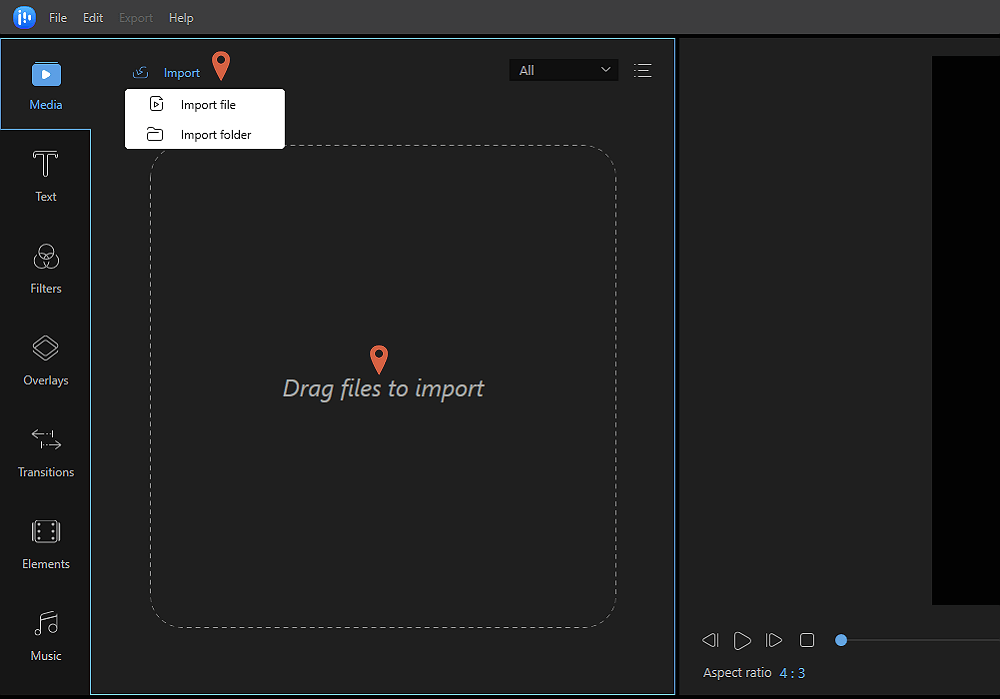 Step 3. Add to Project
Add video clips to the timeline panel by dragging and dropping from the Media Library. You can also right-click the clips in the "Media" and choose "Add to Project" to load them to the timeline.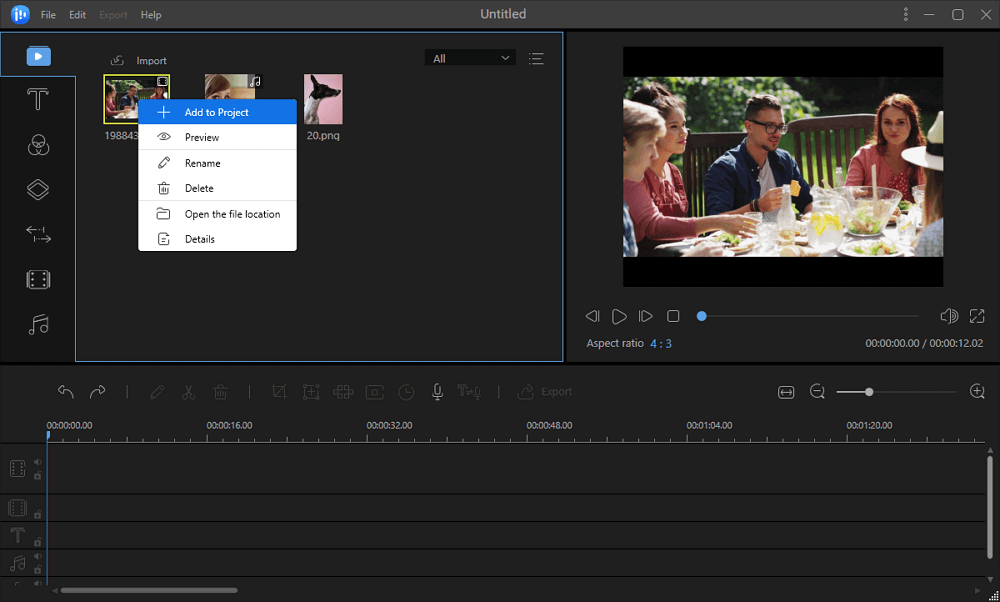 Step 4. Edit Videos
Right-click the video and select "Edit".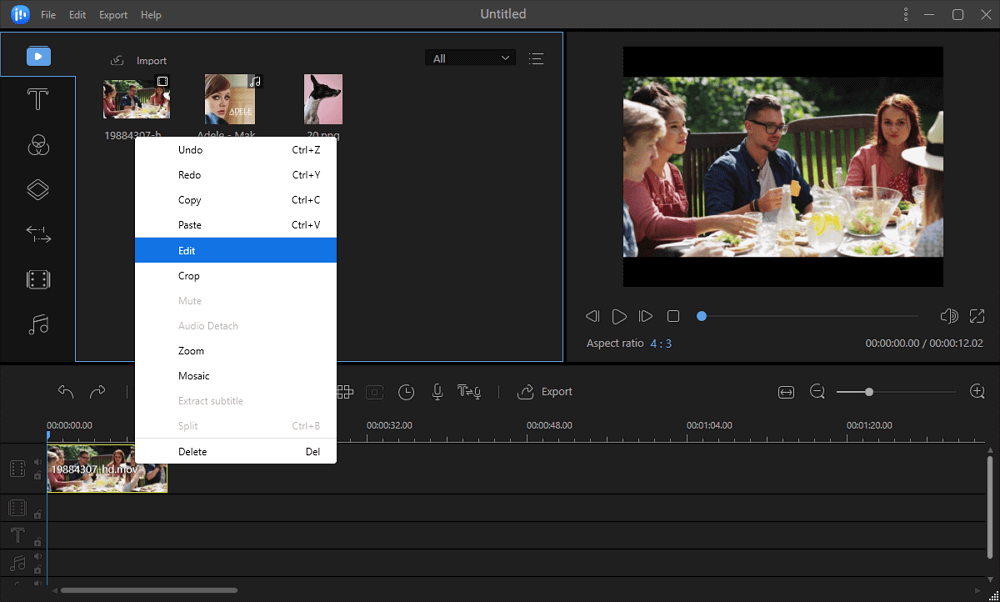 Then, you can split, trim, speed, rotate, add watermark or enhance video clips.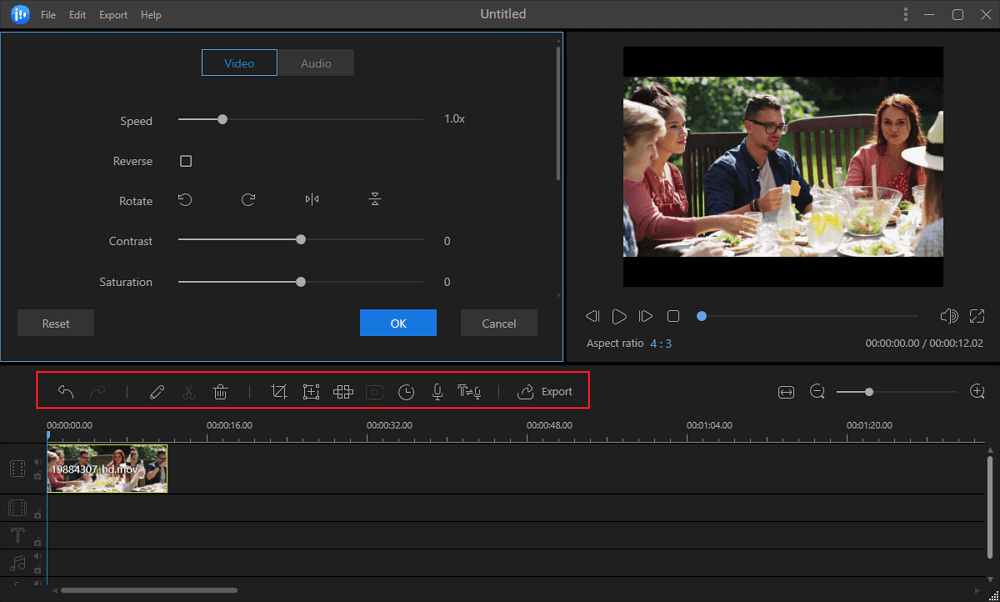 Step 5. Export Projects
Click "Export" in the Toolbar to export the project. There are four available ways to save the project.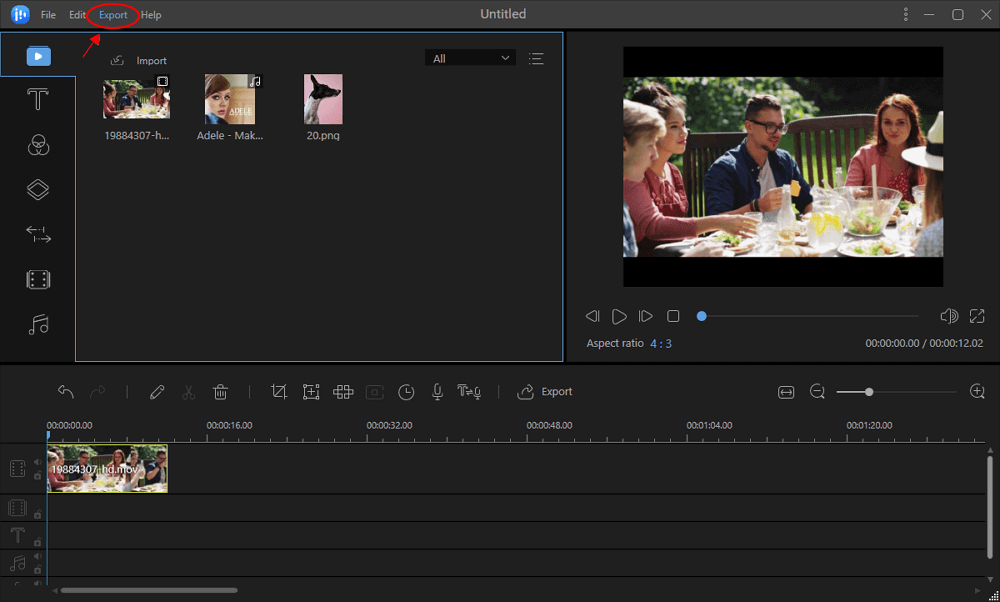 Tool 2. iMovie (for Mac)
The latest iMovie 11 is a great and free video editor for Mac with many great features such as movie trailer, one step effect, audio editing, etc. However, iMovie is only free if you buy a new Mac. And when getting started with iMovie, you will find it is full-featured but a little bit hard to master. All in all, iMovie is one of the best free video editing software for Mac users and receives a good reputation. You can learn some iMovie video editing tips and tricks at how to use iMovie.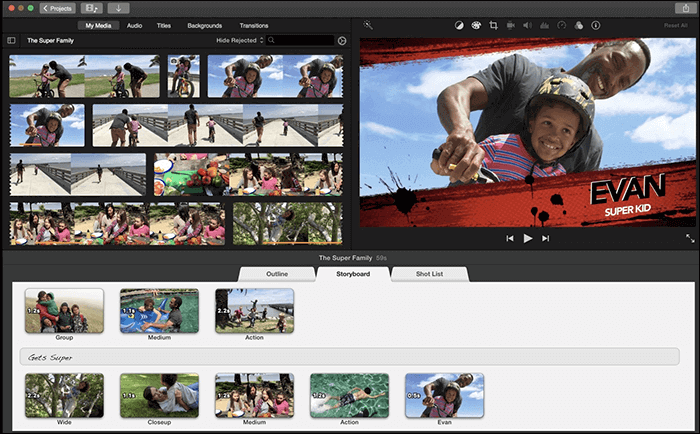 Main Features of iMovie:
Supports editing 4K video
You can also use it on iPhone/iPad
Ten video filters for you to use
Tool 3. VivaVideo (for Android)
VivaVideo is thoughtfully designed to help you create professional-looking videos directly from your Android. You can choose from hundreds of user-friendly effects that range from stickers and filters to animated clips and subtitles. It has an inbuilt slow-motion video maker and a slideshow maker. You can easily cut, trim, and merge video clips with this application. After editing the video, you can directly share your work on different social networking sites.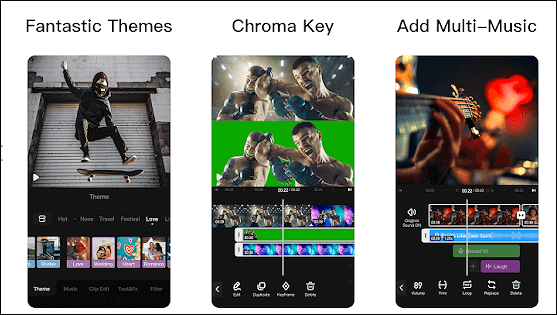 Main Features of VivaVideo:
Built-in slow-motion video editor
A wide variety of collage templates and themes to choose from
Video collage maker for merging video clips
Download link: https://play.google.com/store/apps/details?id=com.quvideo.xiaoying&hl=en
Tool 4. Splice (for iPhone)
Splice is a video editor for iPhone users. You can import your photos and videos into the app and edit them to make them into a movie. The way the app works is simple: users just need to import the videos that they want to edit and mark the important parts of the video, and the app will do the rest for them. They may also add music to the video, crop, add effects and text to the video, or change the transitions between two video clips.
Once you're done with the edits, you can share the video with links, or the video itself directly to popular services such as YouTube, Facebook, Instagram, etc. You can even save the video to your camera roll. The app is a simple yet powerful video editor that you should have a go on your iPhone.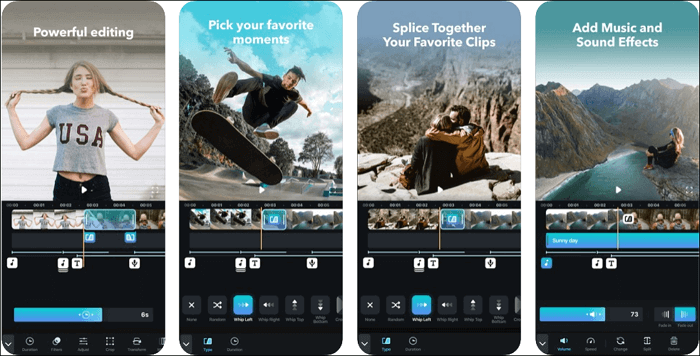 Main Features of Splice:
Apply filters and adjust background colors, orientation and more
Add title slides, text overlays, and a custom outro
Adjust playback speed for fast or slow motion
Download link: https://apps.apple.com/us/app/splice-video-editor-maker/id409838725
Part 3. How to Share a Video on Instagram
To show you how to upload a video on Instagram, we give you a step-by-step tutorial below.
Step 1. Tap the "+" tab at the bottom of the screen.
Step 2. To upload a video from your phone's library, tap Library (on iPhone) or Gallery (on Android) at the bottom of the screen and select the video you'd like to share.
Step 3. Select "Share" to add the video to your Story.
Conclusion
In a nutshell, it is easy to upload a video on Instagram. The tough part is to edit the video so that it can attract more attention for you. In order to show you how to edit a video for Instagram, we give you the detailed tutorial of editing a video with EaseUS Video Editor. If you are interested in video editing, you may download this software to help you. Just click the blue button below to download and install the application on your Windows PC.