[2020] How to Make a Slideshow with Music on Your Devices

Jane Zhou updated on Mar 22, 2021 to Video Editing Tips | How-to Articles
A slide show is a presentation of a series of still images on a projection screen or electronic display device, typically in a prearranged sequence. However, it is useful for making a good memory or telling a story. Many a time you need to create a form of presentation which you can show to your elders or in office or maybe you took some photos which will make the kids smile. So how do you make a slideshow with music and pictures for free? That's where the video editing software - EaseUS Video Editor comes into the picture. Except for EaseUS Video Editor, there are some other useful tools that can help you make a slideshow on different devices.
You May Choose One from the List Below:
NO.1 Slideshow Maker on Windows - EaseUS Video Editor
EaseUS Video Editor is definitely the best slideshow maker for Windows users. It is professional yet easy-to-handle. It can create a perfect slideshow with choice of your music, and any number of pictures. The best part is you can create the slideshow in multiple formats, and if you want to share it on social media, this has you covered. Not just making slideshows, with EaseUS Video Editor, you may convert file formats. For example, you can convert video to MP4, convert AVI to MOV, etc. Apart from that, you may also use it to extract subtitles from MP4, to crop, rotate, cut, trim, mix your videos. In this article, we will show you how to make a slideshow the operation steps below.
Step 1. Add images to the video track
Open EaseUS Video Editor, click "Import" to choose the source file you need. After that, drag and drop the image into the timeline.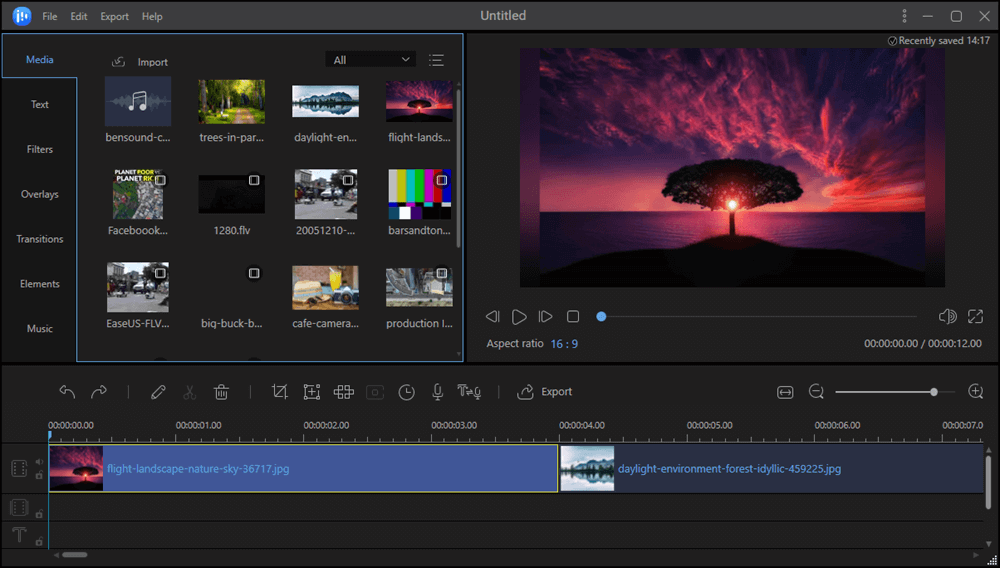 Step 2. Set image sequence and duration
You can drag the image to change the sequence for the images. For the duration, you just need to select the image and click on the timer icon in the toolbar to change it. 

Step 3. Crop, zoom, add mosaic
Click the button in the toolbar, You may crop, zoom the images, and you may also add mosaic to the images to cover part of the image.

Step 4. Change image orientation
Here you can rotate the image to left or right, and flip the image up or down.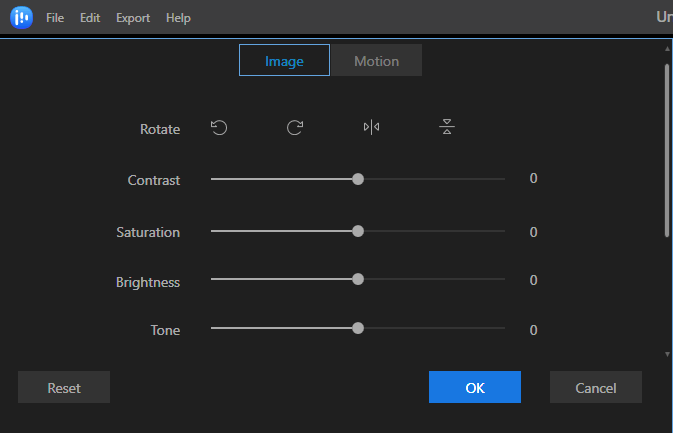 Step 5. Adjust Image color profile
You can change Contrast, Saturation, Brightness, Tone, Highlight, Shadow settings using the slider. If the image is not in full screen, the editor adds a black background to it. And that's changeable.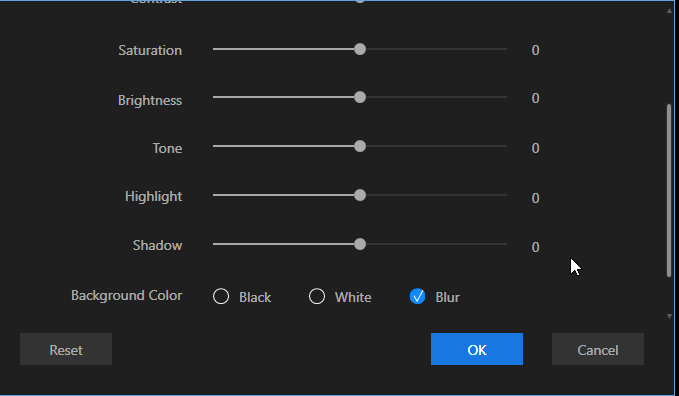 Step 6. Apply image (s) motion
The motion section helps you add some cool effects to your pictures. You can add effects such as Move Left, Zoom In, Zoom Out, and more.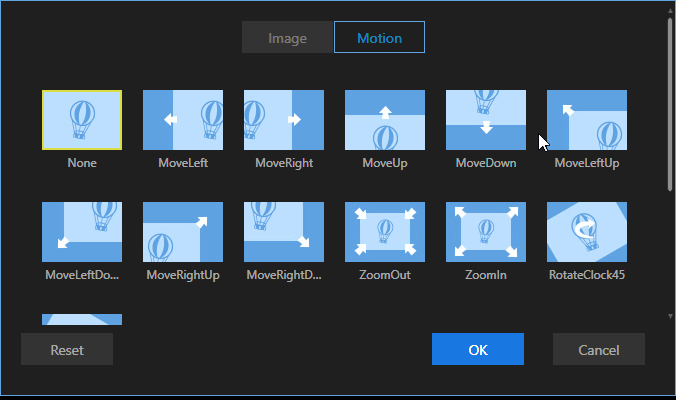 Step 7. Add music to the slideshow
Now you may import the music file and drag it to the timeline. You may add several music clips here, and change the sequence as you like.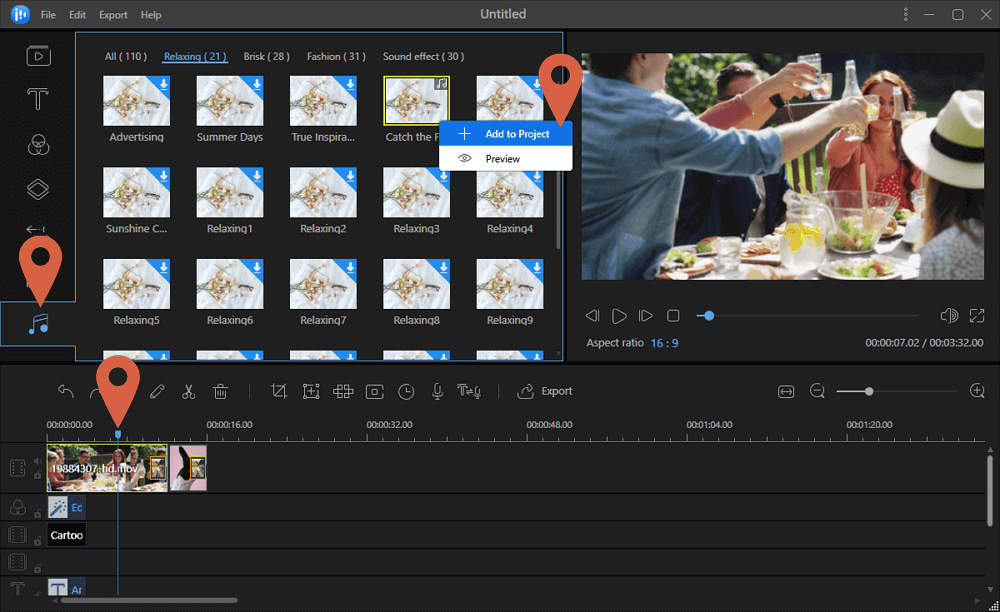 Features
Free background music
Set timing for each image
Zoom and Crop makes sure you can set the focus for individual images
Image Profile and Motion effects
Output in multiple formats
Pros:
Easy to use interface
It offers a lot of background music, effects, transitions, and more
Multiple ways to produce slideshow including support for social media format
You can also add videos to the slideshow
Cons:
Recommended Slideshow Maker for Mac - iMovie
When it comes to editing videos on Mac, many people would think of iMovie. It's true that iMovie is the best slideshow creator for Mac users. This APP supports 1080p HD video at 60 frames per second for smoother, more life-like action shots. You may import movies and trailers created using iMovie on iPhone or iPad to finish them on your Mac. Besides, it will enhance your movies by adding titles, transitions, and 3D globes and travel maps. You can also use it to speed up and slow down the action with fast-forward and slow-motion effects. After making and editing a slideshow, you may share it with your families and friends. However, not all people know that iMovie is also an effective free slideshow maker. With a streamlined design and intuitive editing features, iMovie lets you create Hollywood-style trailers and beautiful movies like never before.
Download link: apps.apple.com/us/app/imovie/id408981434?amp%3Bls=1&amp%3Bv0=www-us-mac-imovie-app-imovie&mt=12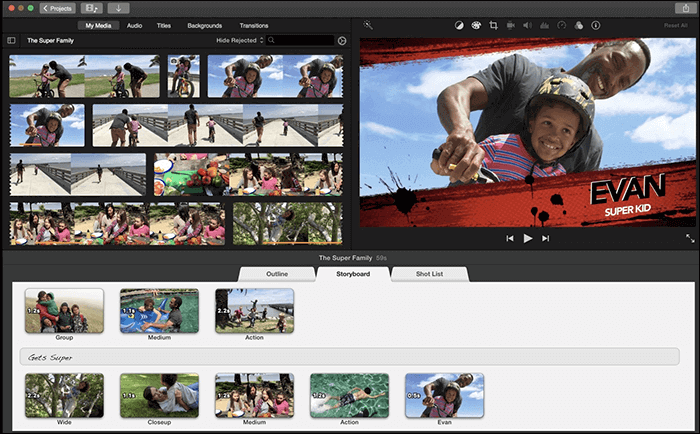 Features
Instantly improve the look and sound of your video using one-click "Enhance"
Share any video frame as an image
Create sophisticated picture-in-picture, side-by-side, and green screen effects
Enhance your movie by adding titles, transitions, and 3D globes and travel maps
Give your video a boost with easy-to-use color controls
Pros:
Make Hollywood-style trailers
Create beautiful 4K and HD movies
Email videos with Mail Drop when signed in to iCloud
Import iPhone and iPad screen recording videos captured with QuickTime Player
Customize movie studio logos, cast names, and credits
Cons:
Requires high levels of HDD space
MP4 files must be converted to H.264 codecs for best results
Best Choice for Android - Adobe Spark Post
Adobe Spark Post is one of the best slideshow makers on Android devices. It offers multiple social media formats with the option to create a video with music and transition effects. That said, if you want to use it for personal purposes, it is good enough, but professional users should by subscriptions. That enables branding, premium themes, and more. To make a slideshow, all you need to do is to pick your images, add text on photos, and apply "Design Filters" to instantly create stunning, thumb-stopping graphics. It can promote your work and your brand online and make flyers, ads, collages, and invitations for free. After editing, you may easily share your designs via your favorite platforms to wow your followers. Thus, it can successfully add flair to social media posts and upgrade your Instagram stories with video.
Download link: play.google.com/store/apps/details?id=com.adobe.spark.post&referrer=utm_campaign%3Dadb_acq_v3%26utm_source%3Dadb_acq_v3%26utm_content%3D686eec94291d490d7d10527561ee0feba95d0a77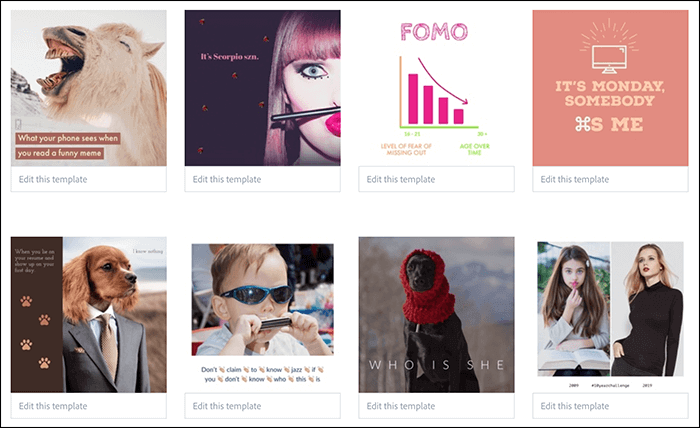 Features
Pre-designed layouts
Text on screen, theme, soundtrack, and more.
Create a link to social media or save as MP4 format in your computer
Multiple device access as all projects are stored on the cloud
Pros:
Available for Desktop and Mobile
It offers free background music, effects, transitions, and more.
Combine multiple types of media format
Collage support
Cons:
It takes time to learn all the features
No way to set time for each slide
Best Slide Creator for iPhone - Slide Maker
Among all the products, Slide Maker is the best choice for iPhone users. This slideshow making app has a built-in photo editor that you can use to add amazing filters, crop images, rotate, and zoom your photos. There is no need to worry about the background music-Slide Maker includes royalty-free tracks that you can add to your movie. Alternatively, you can upload your own songs. This APP is perfect for Vine and Instagram users since it can automatically adjust the length of your slideshow for these social networks. Here we provide you with the features, pros, and cons of this APP to help you gain a clear understanding of it.
Download link: apps.apple.com/us/app/slide-maker-add-music-to-photos-make-slideshow/id828255345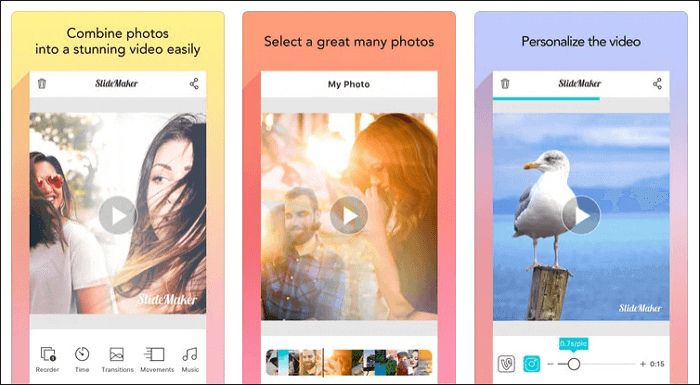 Features
Stunning filters to polish photos
Various awesome transitions to choose from
Select free built-in music or your own music
Photos can be kept as original without cropping
Photos can be filled into the square automatically
Pros:
Zoom, crop, rotate and flip the photo easily
Auto adjust the length in accordance with Instagram & Vine
Adjust the start point of music freely
Cons:
Importing multiple images doesn't work well as they overlap each other
High demand for device running system
Effective Online Slideshow Creator - Kizoa
Kizoa is a well known online video editor tool that allows easy access to impressive features even without registration. The advanced editor supports animations, transitions, effects, and also offers loads of music options to develop interactive videos. Users can easily customize timing, duration, size or position, etc as needed. However, it can do more than that. It is also good at making amazing slideshows. Moreover, since it is an online tool, no downloading and installation is required. This online slideshow APP will tell you how to make a slideshow with music with a simple yet clear guide on its website. All you need to do is to follow the guide.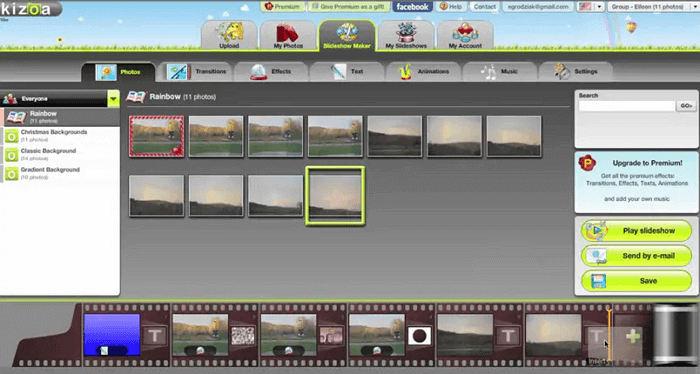 Features
Make a slideshow in 7 different formats (16:9, 4:3, 3:2, 1:1, 9:16, 2:3, 3:4)
Directly share your slideshow online
Download in a variety of video formats (MP4, AVI, MOV, MPEG2, GIF)
Save onto a USB flash drive, or burn onto a DVD for a lifetime keepsake
You'll find everything you need for any occasion including slideshows for weddings, graduation, birthdays, holidays, and more
Pros:
You can immediately get started even without doing registration
Offers a much higher level of customizations
Provides easy control over aspect ratio
The free package also contains lots of impressive features
Cons:
The user interface appears a little frustrating
Cheaper plans offer limited features
Full HD is supported only with a professional plan
Conclusion
Most of the tools get the job done nicely without an issue except for those who put up advertisements. Since creating a slideshow with music is as good as creating a video filled up with images, choosing a video editor is a wise choice. Not only you get the slideshow, but EaseUS Video Editor offers 300+ templates for free; it is easy to use and supports multiple outputs including social platform.