[FREE] How to Convert Video to MP4 Easily

Jane Zhou updated on Dec 22, 2020 to Video Editing Tips | How-to Articles
MP4, also known as MPEG4, is mainly a video format that is used to store video and audio data. Also, it can store images and subtitles. Normally it is used to share videos over the internet. This file format can embed any data over private streams. The MP4 format is universal for video files and mobile media content. It is a container for audio and video files, compressed and encoded. Since MP4 format is capable of keeping reasonable file size and high quality at the same time, many people want to convert videos of other formats to MP4. To help you with converting videos to MP4, we introduce seven file converters to you. And they are categorized by the system used on your device.
Main Content of This Page
Part 1. How to Convert Video to MP4 on Windows
When it comes to converting video files on Windows, we must bring about EaseUS Video Editor. This video editing software is capable of converting over 50 types of files, including MPV, AVI, WMV, FLV, etc. to MP4 format. The operation is quite simple; all you need to do is to put the video file you want to convert into this Application and export it as MP4. For example, you may convert FLV to MP4, convert AVI to MP4, etc.
Moreover, as a video editor, EaseUS Video Editor can help you edit video files. With this software, you can use it as cctv video edititng software, and use it to add mosaic to a video, cut, crop, mix, rotate, speed-up, slow down a video, and do much more than that as you like. If you want to know how to run this tool specifically, you may need to take a look at the operation steps below.
Step 1. Import the source file
Launch EaseUS Video Editor. On the home screen, you can import the source file by either clicking the "Import" option or simply dragging the video to the appropriate area.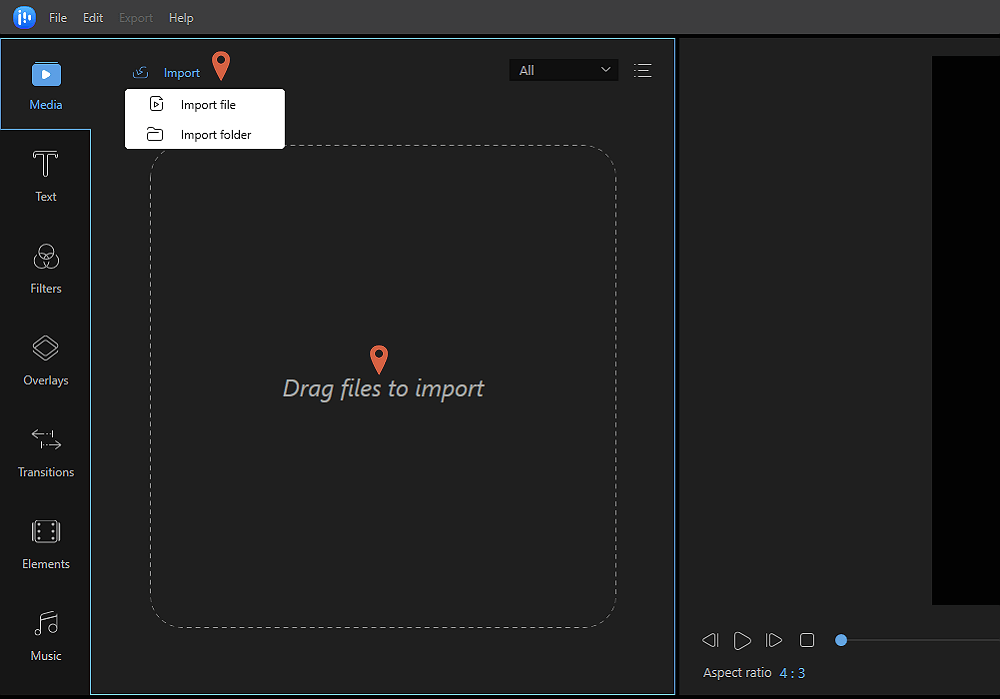 Step 2. Add to project
You need to add the imported file to the track by choosing the "Add to Project" option, or you can drag and place the file to the track as you want.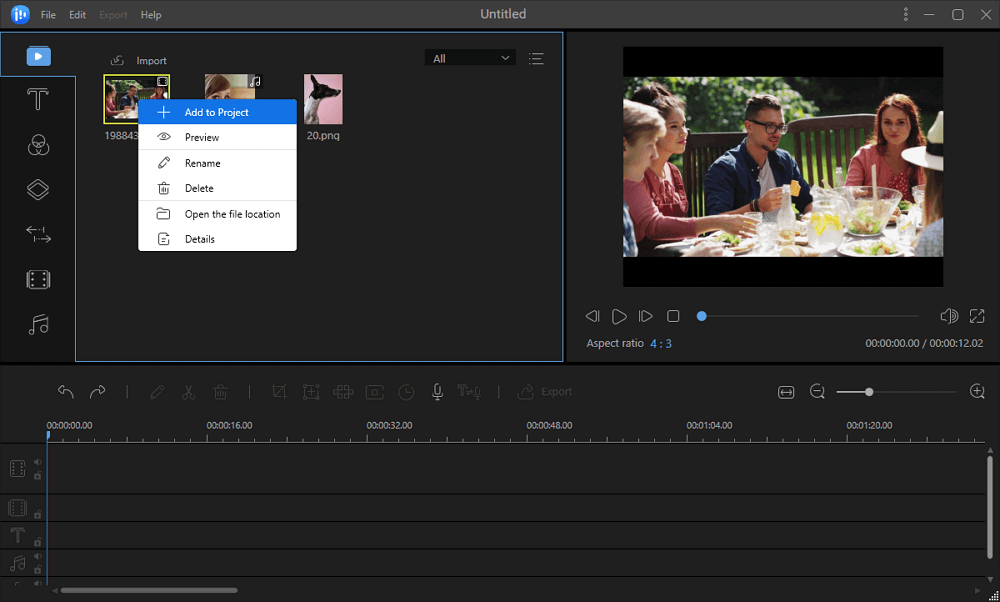 Step 3. Export the source file
Now you can click "Export" on the main menu on the top.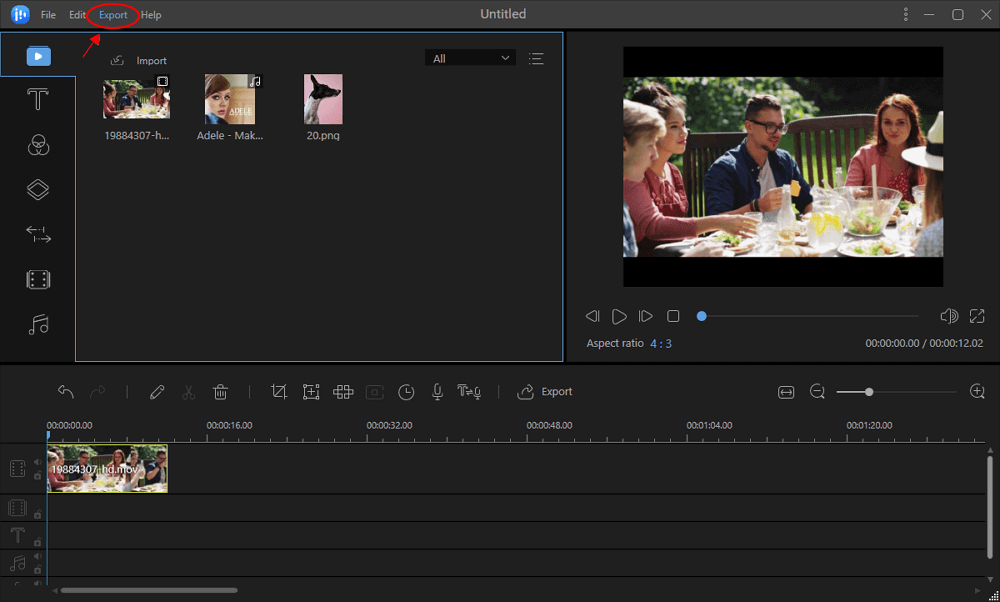 Step 4. Save as MP4
Under the "Video" tab, choose MP4 as the desired video file format.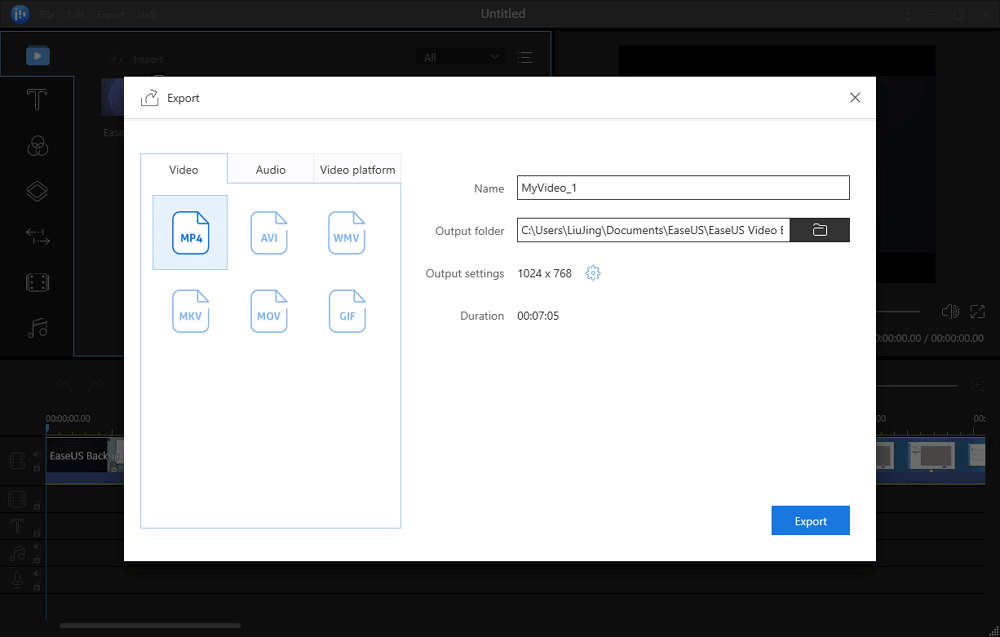 On the right pane, you can edit the file name, customize an output folder and settings, and then click "Export".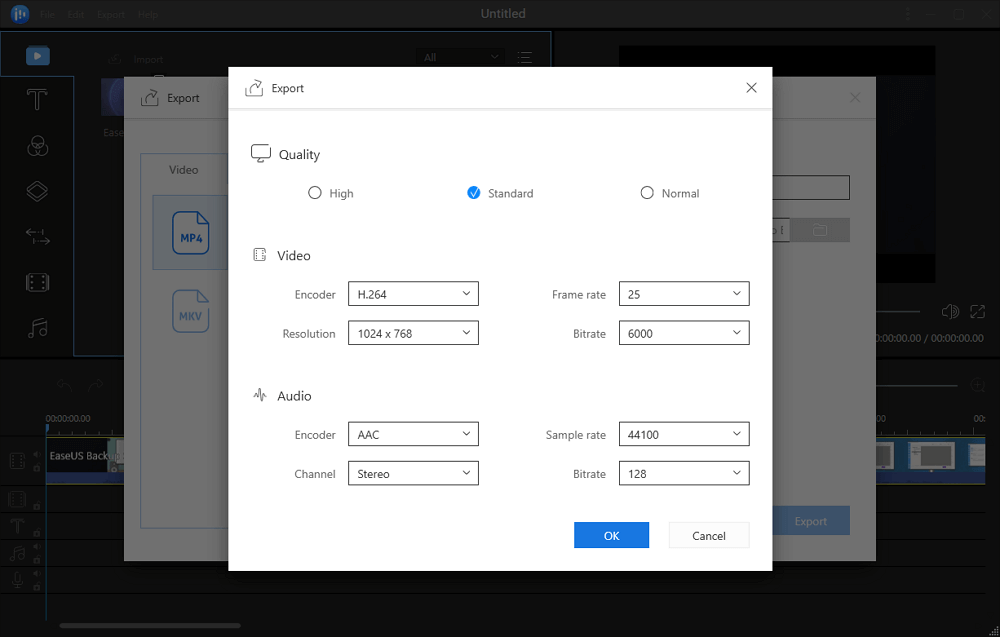 Part 2. Convert Video to MP4 on Mac
Free MP4 Converter is a professional MP4 Video Converting software. It helps you convert any video format to and from MP4 video for playback on Mac OS X 10.7 or later. It also supports converting video to HD MP4. Free MP4 Converter makes it easy to convert 4K/HD videos and common videos like MOV, MTS, MKV, FLV, AVI, WMV, F4V, WebM, WTV, etc. to MP4 formats in batch.
Try: https://apps.apple.com/us/app/free-MP4-converter/id693443591?mt=12
Besides, this APP supports multiple output formats, including 4K/HD format. More than that, Free MP4 Converter provides you with various video editing functions, too. For example, you can cut, merge video clips, or you can adjust video brightness, saturation, hue, and other parameters as you like. If you are interested, check the tutorial below. It will help you run this APP smoothly.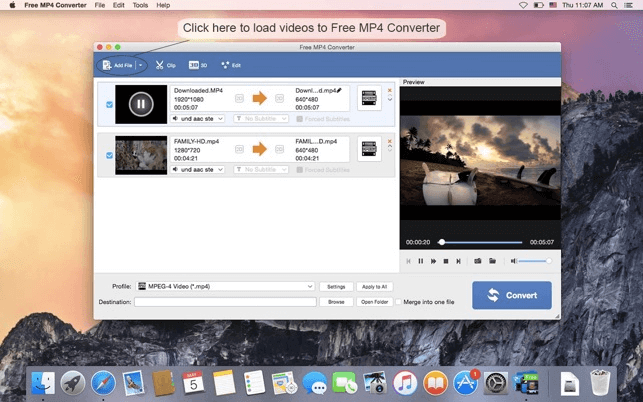 Step 1. Click "Add File" to import a video file you want to convert to MP4.
Step 2. (Optional) Click "Edit", you may rotate, cut, crop, add 3D effects freely.
Step 3. Click "Convert" to start conversion. Remember to choose MP4 as the output format.
Step 4. Wait for the conversion. You can pause or stop the process at any time before it is completed.
Part 3. Convert Video to MP4 for Android Users
Video Converter Android can convert to MP4 or H.264 or MPG from most commonly seen video formats. It can also help you extract audio from videos in MP3 or AAC format. Reducing video file size to make it suitable for sending out through SMS is just a piece of cake. You don't even have to worry about the file quality since this APP converts video while keeping the original video quality.
Try: https://play.google.com/store/apps/details?id=roman10.media.converter&hl=en
This APP will scan the entire device for video files for conversion. After locating the video that you want to convert, you may extract part of a video by specifying the start time and end time and export it as an MP4. Thus, you can convert both a complete video and a part of a video to MP4. Note that it requires a system of Android 2.3 and up.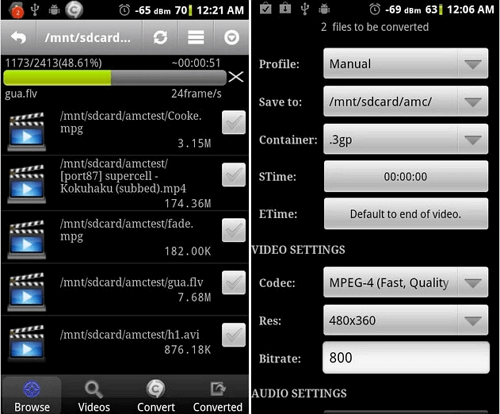 Step 1. Launch Video Converter Android and click "Browse" to import the video file you want to convert to MP4.
Step 2. Click "Convert" to convert the original file. You can choose to use the recommended settings and click the "Start" button.
Step 3. If you want to customize settings, you may change the file location, container, codec, bitrate, and others before click "Start", by clicking the triangle symbol.
Now, you just need to wait for the conversion process.
Part 4. Video to MP4 Converter for iPhone
The Movavi software supports most of the popular video formats, so you can easily convert your videos to AVI, MP4, and almost any other video files. This Application is known for lightning-fast conversion. It converts your favorite films and clips to MP4 in no time. Using this tool, you may convert it without quality loss, even with 4K videos. It can even fix the video quality if needed. Now let's see how you can operate this Application without setbacks.
Try: https://apps.apple.com/US/app/id1226251139?mt=8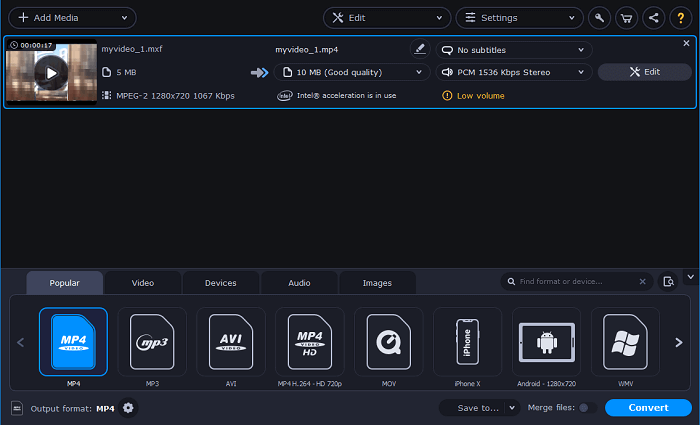 Step 1. Download and Install Movavi Video Converter.
Step 2. Run the program. Click the "Add Media" button and then click "Add Video" to select the videos you want to convert.
Step 3. In the lower part of the Video Converter window, go to "Devices", click "Apple", and select the preset for your device model. Here you can choose MP4 as the output format.
Step 4. Click the "Save" button to specify the folder in which to place the files converted for your iPhone. Click the "Convert" button to start conversion.
Part 5. Online Tools Help You Convert Video to MP4
If you don't want to download any application, you may convert video files to MP4 with the tools below.
Tool 1. Online-Convert
Online-Convert lets you easily convert files to the MP4 format. All you need to do is to upload your video file or provide a link to a video file to convert your video online to MPEG4. This high-quality MP4 conversion tool is free to use.
This file converter can convert from over 50 source formats to MP4, for example, MPEG-2 to MP4, MKV to MP4, AVI to MP4, MOV to MP4, 3GP to MP4, FLV to MP4 and much more. And it provides additional features like subtitle conversion (subtitles are preserved during conversion) or the conversion from a presentation format like PowerPoint to MP4. Let's check how you can make full use of it.
Try: https://video.online-convert.com/convert-to-mp4
Step 1. Upload a video (file or file link).
Step 2. (Optional) Change the screen size, video bitrate, audio, and video codec, and more in the optional settings.
Step 3. The conversion to MP4 begins after clicking on "Start Conversion".
Tool 2. Cloud Convert
CloudConvert converts your video files online. There is no need to download and install any software. You can use the options to control video resolution, quality, and file size. On average, it processes five files per second. CloudConvert does support nearly any audio, video, document, ebook, archive, image, spreadsheet, or presentation format.
CloudConvert is trusted by its users and customers since 2012. One of the reasons is that no one will ever have access to its customers' files, except the customer himself (herself). After a brief introduction, we will now talk about the operation steps.
Try: https://cloudconvert.com/mp4-converter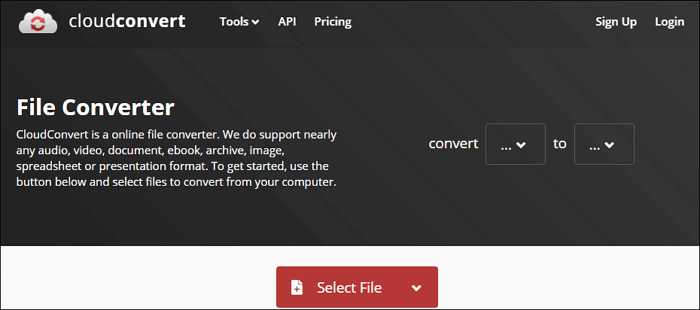 Step 1. Choose the file formats you want to convert from and to on the front page. For example, you can choose "Convert MOV to MP4".
Step 2. Click "Select File" to choose a file you want to convert to MP4 from your device. You may also choose a file by URL, from Google Drive, Dropbox, or OneDrive.
Step 3. (Optional) You can then customize settings here. For example, you may change Video Codec, Preset, Width, Height, Aspect Ratio, Subtitles, and Audio Bitrate, etc.
Step 4. Click "Convert" to start conversion.
Tool 3. Video Converter
Video Converter is a free web APP that converts video files, allowing you to change the video format, resolution, or size in your browser. The APP supports more than 300 video formats, and the number keeps growing. Moreover, this APP has no limit on the number of files you can convert. Convert as many as you want. But note that you can upload files no more than 2Gb in size.
Uploading speed depends on your internet connection speed. In most cases, the process takes less time than it would take if you used your computer. Your files are automatically deleted from its server a few hours after you are done working with them. Nobody has access to them except you. You don't have to pay anything. Now let's take a look at the tutorial.
Try: https://convert-video-online.com/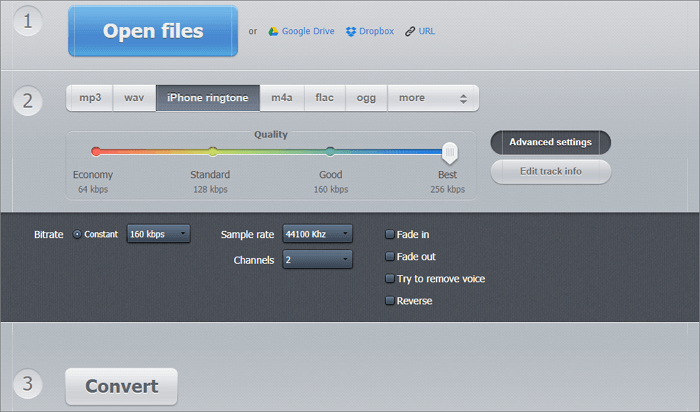 Step 1. Click the "Open file" button to import the video file that you want to convert to MP4. You can also import the file from Google Drive, Dropbox, and URL.
Step 2. Click "Video" to choose MP4 as the output format. You can change Resolution and other Settings below.
Step 3. Click "Convert" and wait for the conversion to complete.
Conclusion
In this article, we introduce seven useful video converters to you. Each of them can convert video files into MP4 format, but not necessarily on your device. That's because every one of them needs to run on a system that is compatible. So, the suggestion we give you here is: choose the one compatible with your device carefully. Of course, you can consider the online tools if you don't want to download software. But for Windows users, we strongly recommend you to download and install EaseUS Video Editor because it is user-friendly, and at the same time, more stable than online tools.