[Users Guide 2021] How to Add Text on iMovie Videos

Jane Zhou updated on Feb 05, 2021 to Video Editing Tips | How-to Articles
When making a video, you may want to add narration or subtitles in it to describe or explain something. Or, you may simply want to make your videos more resourceful. Whatever the reasons are, the purpose remains the same. It's true that adding text to a video has become a fixed need. Thus, many people wonder what they should do to add text to their videos. Since many Mac users use iMovie to make and edit their videos, in this article, we give you a detailed tutorial on how to add text on iMovie video. Moreover, we give some iMovie alternatives that can add text to a video, in case that you need to complete this task on other systems like Windows.
Main Content of This Page
Part 1. How to Add Text to a Video with iMovie Alternatives
In case you need to add text to a video on other systems, like the Windows system. We give you two useful iMovie alternatives that can do the job for you. Both of them can add text to a video on Windows. However, EaseUS Video Editor can do a better job for beginners. If you don't have much experience in editing videos, this program may be your best choice.
iMovie Alternative 1. EaseUS Video Editor (for Windows 10/8.1/8/7)
When it comes to editing a video on the Windows system, EaseUS Video Editor is the first program that comes into my mind. This video editing software for PC is designed especially for beginners. Thus, it is extremely user-friendly. If you are not a specialist in computers and video editing, this application is undoubtedly the best choice for you.
With EaseUS Video Editor, you may add text, background music, stickers, subtitles, and filters to a video quickly. Moreover, you may use it to make a slow-motion video, an instructional video, and make a slideshow with music, etc. Besides, it is also good at converting file formats. For example, you may convert FLV to MP3, convert text to speech, etc. Now, let's take a look at the operation steps.
Step 1. Import Media - Video, Audio, Pictures, etc.
Launch EaseUS Video Editor on your PC, select the desired aspect ratio. Click "Import" or drag to import video, audio, pictures, etc., media files.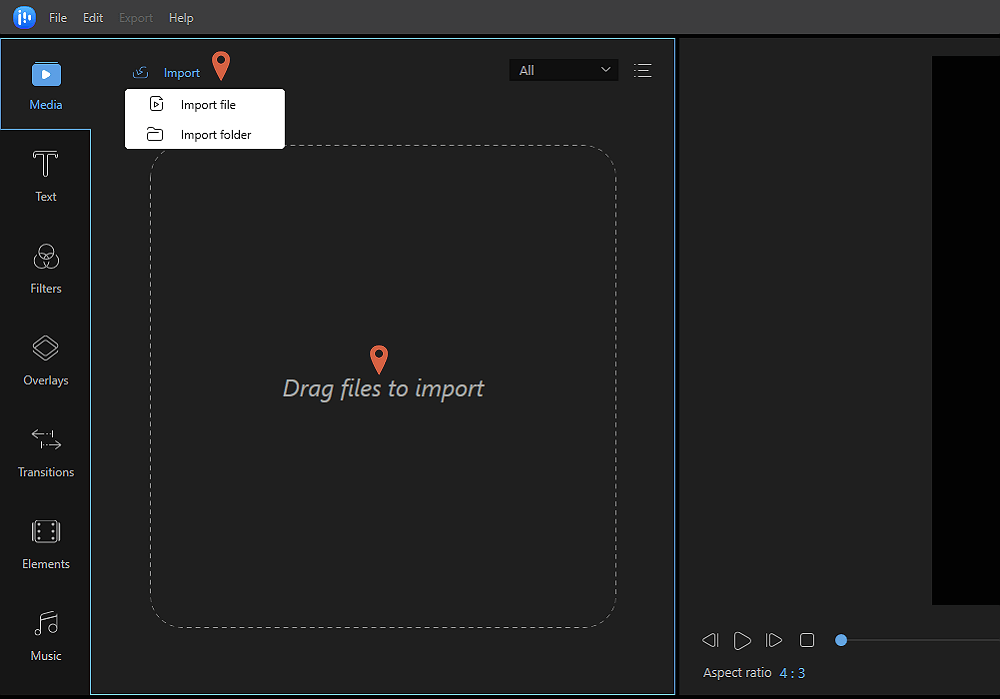 Step 2. Add to Project
Right-click the imported video files and select "Add to Project", or you can drag and place the video to the video track.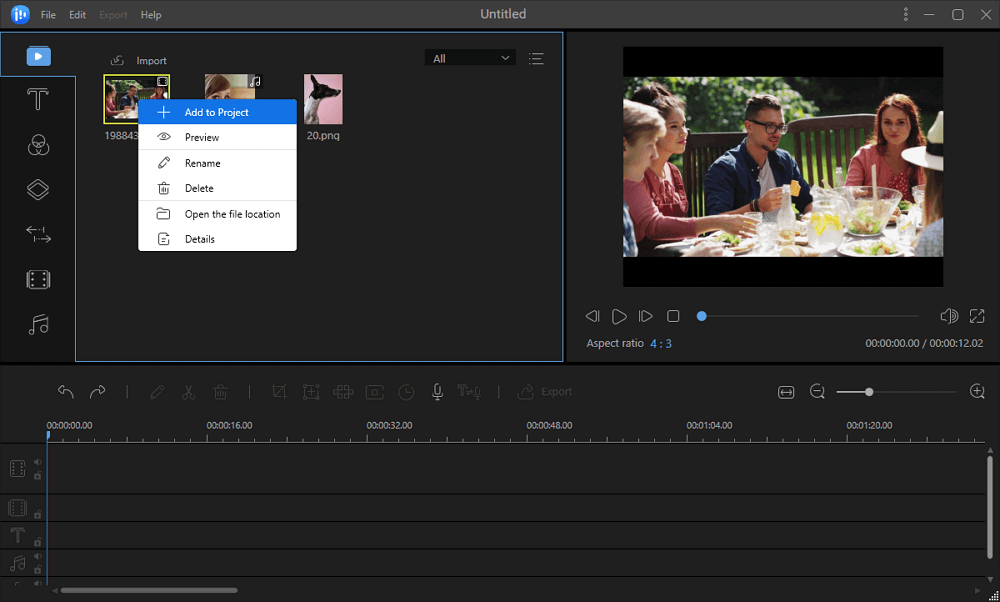 Step 3. Add Text to Video - Opener, Title, Subtitle
Click "Text" > Click "Opener", "Title", or "Subtile" > Right-click the desired text template and select "Add to Project". 
Move the timeline to the exact position where you need to add a Text effect.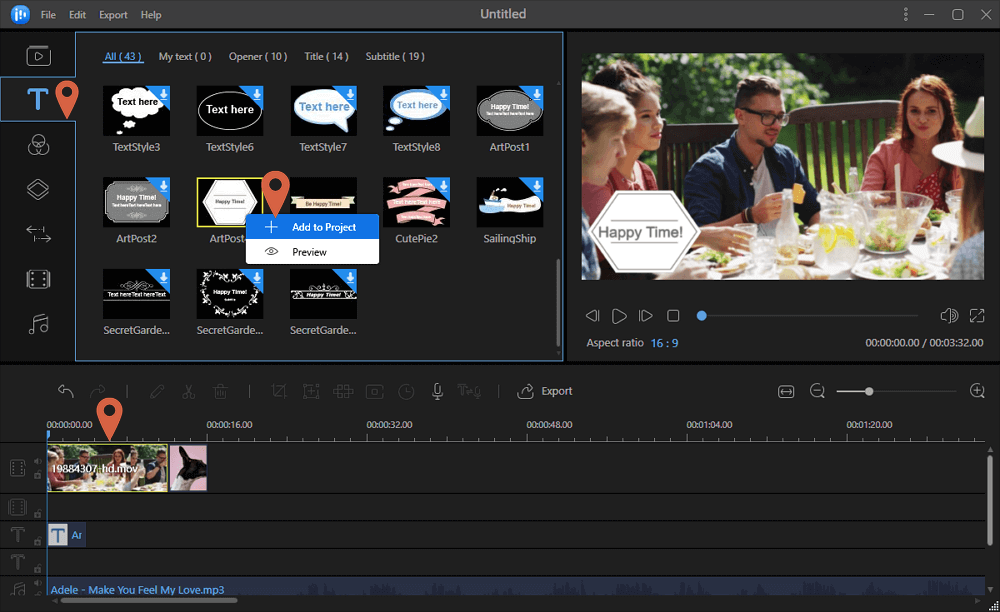 Step 4. Export Videos
After adding text and desired visual effects to your video, you can click the Export button to export the video with a wanted format.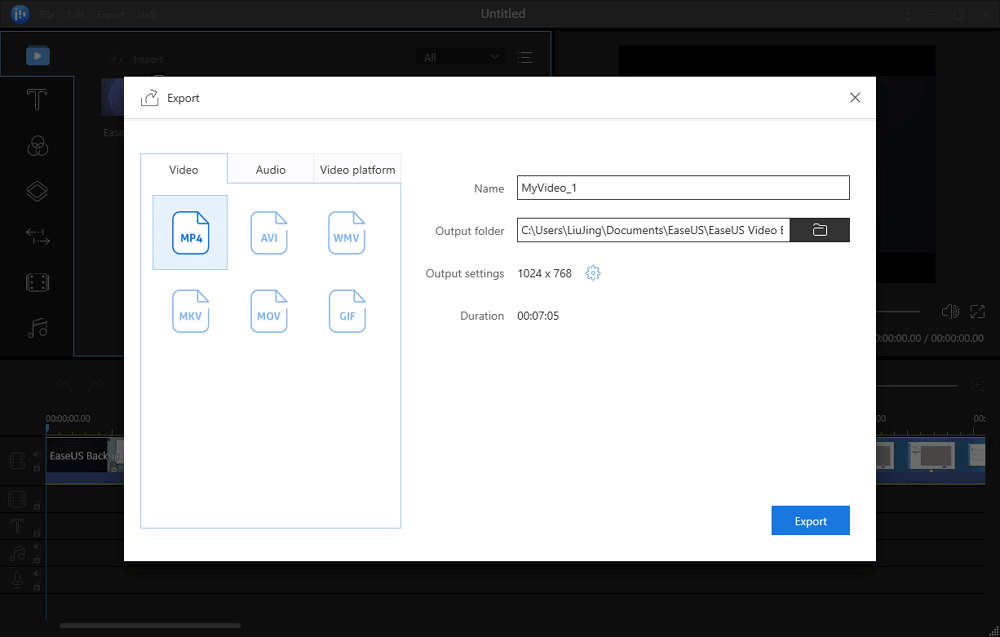 iMovie Alternative 2. Adobe Premiere Pro (for Mac and Windows)
If you are looking for an effective iMovie alternative on the market to work with various types of multimedia files, Adobe Premiere Pro should be a good choice for you at a professional level. It can help you to add text to a video at a personal or even professional level. Besides, since it is experienced in editing videos, you don't have to worry about video quality. Only three steps are needed in adding text to a video in Adobe Premiere Pro. Let's have a look at them.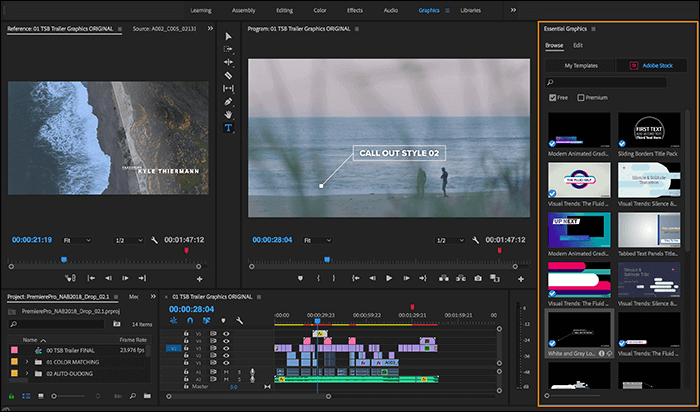 Step 1. After loading the video that you want to add text to, click the "T" button on the toolbar.
Step 2. When the text box shows on the screen, you may write whatever words you want in it.
Step 3. Change settings like text style, color, etc. from the panel shows in the up-left corner.
Part 2. How to Add Text on iMovie Video for Mac
You can add title text to any clip in your video using one of the many title styles available in iMovie. You have various choices, for instance, you may place text directly over a video clip, over a solid-color background, or over an Apple-designed graphic background or animated background clip. There is an operation tutorial below.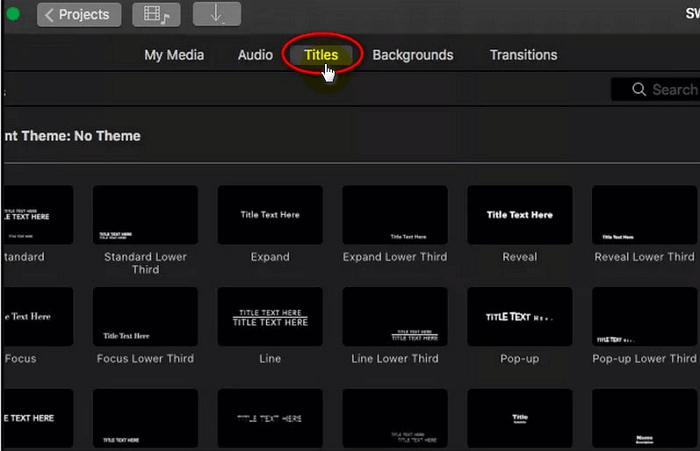 Step 1. Place your video in the timeline, select "Titles" above the browser. You can see the available title styles appear in the browser. If you've set a theme for your video, titles related to the theme will appear at the top of the browser.
Step 2. Browse the titles to find the one you want to use, or use the search box to search for the name of a particular title. Many titles are animated, which means they move on the screen in an interesting way.
Step 3. In the timeline, position the play-head where you want to add the title, and then double-click the title in the browser. You can also drag the title to the timeline, just above the clip where you want the title to appear.
Step 4. Select the title in the timeline, or move the play-head over the title. To change the title's appearance (its font, color, size, style, etc.), use the font controls above the viewer.
Step 5. When you're finished, click the "Apply" button above the viewer. The text is successfully added to your video.
 Tip

After adding text, you are also allowed to customize your text. All you need to do is double-click the text box to make the text editable type you text. Then you can adjust the font, text size, text alignment, character formatting, and color with the toolbar above the browser.
Part 3. How to Add Text on iMovie Video for iPhone
You can add a title to any video clip or photo in your project. Each title style animates onto the screen and remains onscreen for the entire duration of the video clip or photo to which it's added. The operation is simple: all you need to do is to follow the detailed tutorial below.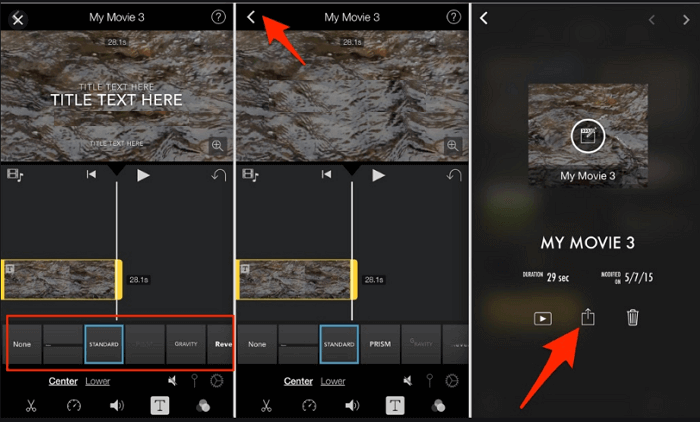 Step 1. Open the iMovie APP, and choose the video in the timeline.
Step 2. Tap on the "Text" button marked with a T.
Step 3. Select the appropriate text style.
Step 4. You can drag the text to change its position appearing on the interface.
Step 5. Tap on "Done" on your phone keyboard to save the changes.
 Tip

Like adding text on Mac, you can also edit the text on your iPhone. Now, we will show you how to do this. Firstly, you need to tap the title in the viewer. Then, you may erase the entire title by tapping the "Clear" button, then type a new title. Or, you may edit part of a title by typing new text in the text field. Lastly, tap "Done" on the keyboard to save the changes.
Conclusion
To sum up, you may add text to a video in iMovie on both Mac and iPhone by following the tutorial we offer you above. However, if you want to do this on other systems like the Windows system, for whatever reason. You may need to choose an iMovie alternative from part 1 of this article. Among the alternatives, we strongly recommend beginners to choose EaseUS Video Editor because it is quite easy-to-use. Go to the official website and download it.