Top 10 HD Video Converter to Try in 2021

Jane Zhou updated on Mar 22, 2021 to Video Editing Tips | How-to Articles
An HD video converter is a software that can upgrade or downgrade videos into HD format. When you shoot video in a very high resolution, the time to upload video also increase because of the size. Similarly, if your video is not in HD format, it may look bad. Converting it into an HD video that can make sure there is no loss in quality is helpful. Below is a list of the free HD video converter programs that are simple and straightforward to use. You can use them to downscale your HD videos to a lower resolution.
Top 10 HD Video Converter (Free & Paid)
EaseUS Video Editor is a professional video editor that can convert to FULL HD video. It offers fantastic tools and quality effects that will help you edit videos and create a polished video you can use for your projects. That's said, it is also an efficient video converter. It supports a lot of formats, both as input and output.
Using the editor, you can convert HD footage shot from any phone or gadgets like DSLR, GoPro into popular formats like MP4, MOV and others.
How to Convert HD Videos Using EaseUS Video Editor
Step 1. Select an aspect ratio for your project
Depending on the final version and quality of the video, make sure to set an aspect ratio though you can change it any time you wish. The option will appear when you create a new project.
Step 2. Import videos to convert to HD
Next, you can either drag and drop the videos on to the timeline or in the media time. If you are converting multiple videos, they will all merge into one video, which is excellent if your videos were shot in part.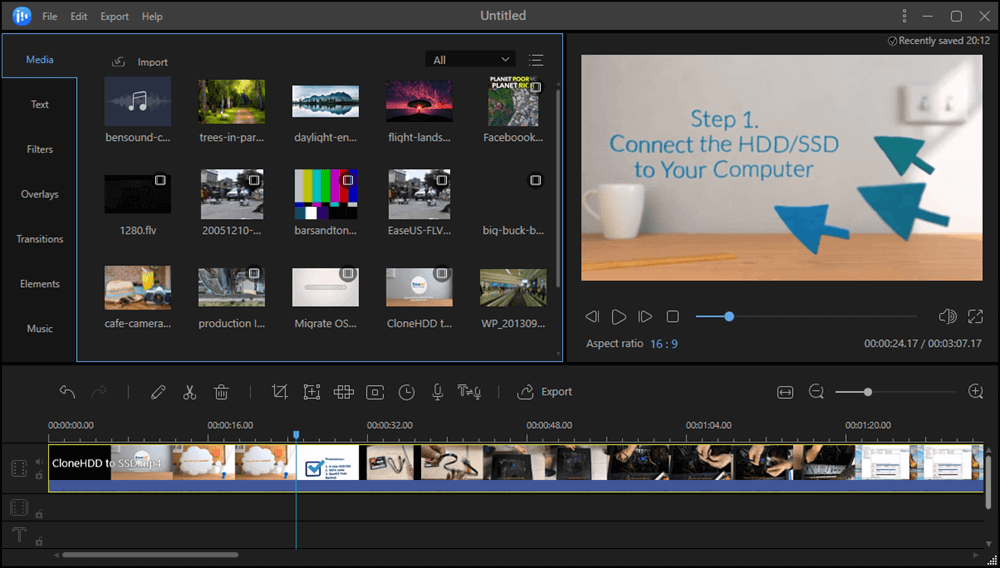 Step 3. Apply effects to videos
It is not compulsory, but if you plan well, you can create quality HD video using the effects available in the editor. They are entirely free, and you can download them one by one and apply them to videos.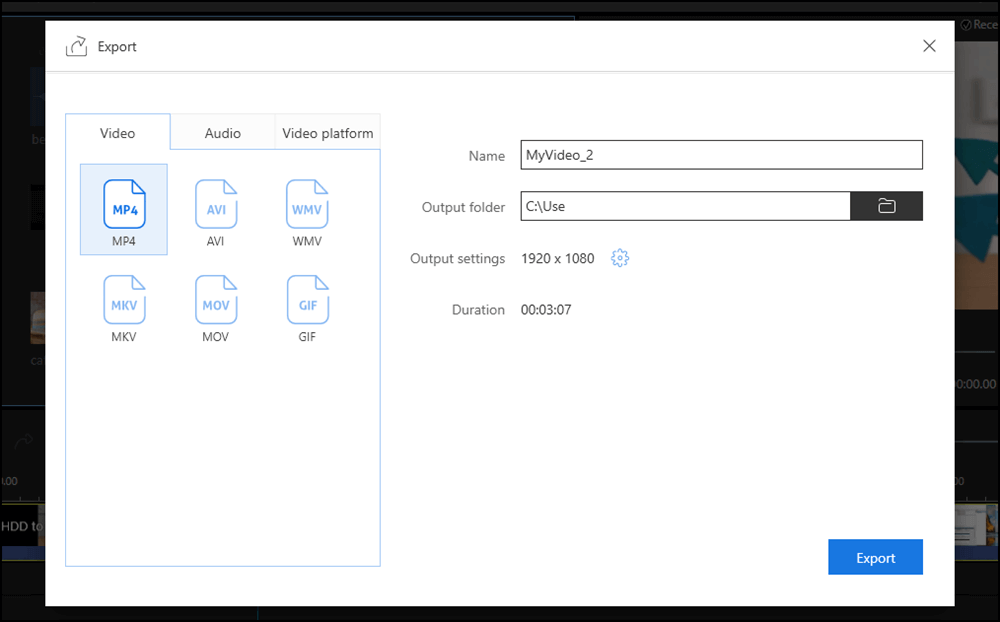 Step 4. Configure Export Settings, and convert into HD
The last option is to click on the export button and then configure video quality settings. The first thing you should do is to select the video format. You can choose from MP4, AVI, MKV, MOV, etc. Done that, click on the cog icon, i.e., settings icon, and then select 1080P. It will make sure the final video is rendered into HD quality. Finally, hit the convert button to start the process.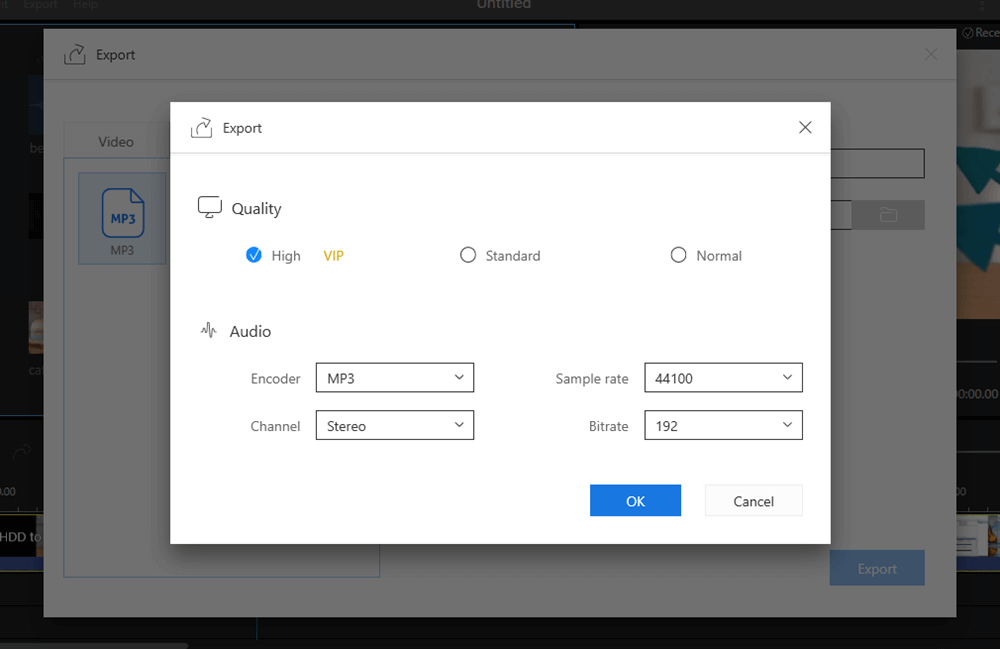 Pros:
Conversion presets for iPhones, YouTube, Facebook, and other social networking sites
Over 300+ visual and transition effects
Works even on a lower hardware configuration device
Cons:
The app is only available for Windows
2. Handbrake
Download: https://handbrake.fr/
Those who love to use free but powerful software, Handbrake has its fame. It is an extremely powerful video converter that is available for all major platforms, including Windows, Mac, and Linux. However, it is overly complicated for regular users, and hence only appeals to tech users.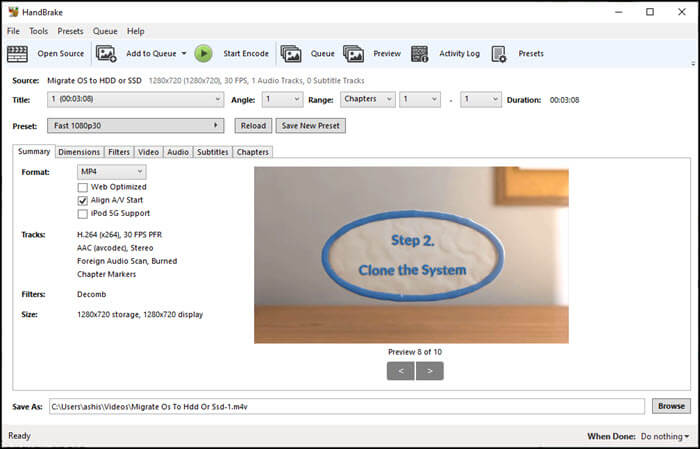 Pros:
A detailed set of options such as video filters, frame rate, codecs and formats
Reduce the size of high resolution or the same resolution video without compromising on the quality
Batch Scan and Queueing of encodes
Chapter Markers
Cons:
Too many options are confusing for regular users
Needs a powerful computer to process videos
3. VLC Media Player
Download: https://www.videolan.org/vlc/
Those who find it tough to use Handbrake would love to use VLC. It is another open-source media player that is capable of recording, and also converting videos. You can use it to convert HD videos for free. Since it is available for Windows and macOS, it makes a versatile converter. VLC supports a large number of format or codex, and can even convert 4K videos to HD videos.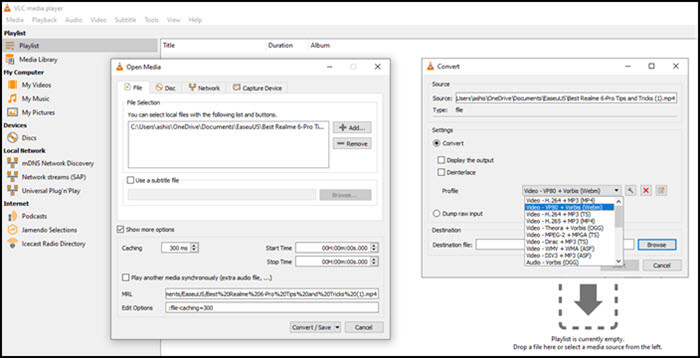 Pros:
Supports all formats, and resolutions
Hardware Decoding is available
Conversion also includes video and subtitle synchronization and filters
Cons:
Complex menu layout and options are buried deep inside
4. Prism Video Converter
Download: https://www.nchsoftware.com/prism/index.html
When looking for basic editor along with convertor software, Prism Video Converter fits well. It supports conversion of AVI, MP4, WMV, MOV, MPEG, FLV and other video file formats. Along with conversion, it can also reduce the file size to save space.
Pros:
Universal video converter
Batch conversion of videos
Add text overlay, watermark, change brightness, and color correction
Split, trim, merge videos
Cons:
No preview option when you apply any effect
5. Movavi Video Converter
Download: https://www.movavi.com/videoconverter
Similar to Prism, Movavi video converter offers basic editing, but a feature-rich HD video converter. It includes the ability to stabilize shaky footage, which makes it useful for home videos. That said, it is available on all platforms, including Windows and macOS.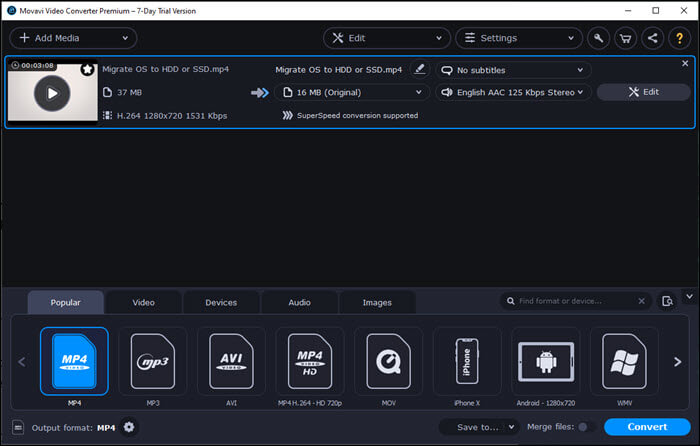 Pros:
Compress 4K videos to HD videos to save space
Find subtitles online, and then add to the video
Extract audio from video
Rotate, crop, and merge video fragments
No Quality loss during conversion or compress
Cons
Audio bitrate is restricted to 125 Kbps
No way to multiple split files
6. Video to Video Converter
Download: https://www.videotovideo.org/
It is a free HD video converter tool that can convert almost any video format to another. You can convert video for any devices right from mobile to HD and 4k devices. You can also convert video and audio files to DivX or XviD format which works on TVs.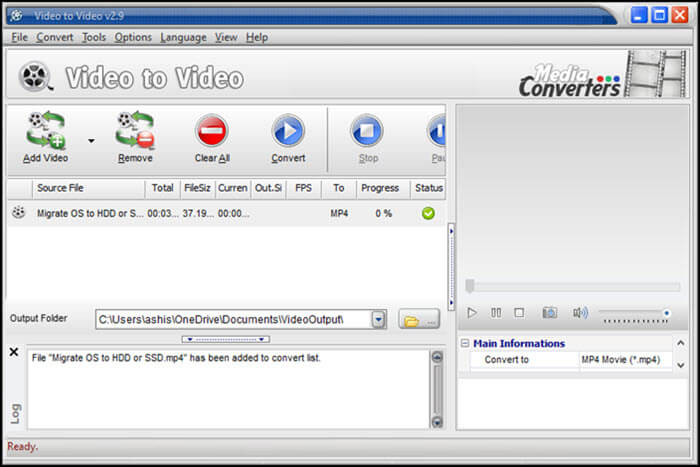 Pros:
Supports over 200+ video formats
Built-in DVD ripper and ISO file support
Add watermark
Join multiple audio and video file
Cons:
The user interface is inferior and outdated
Controls are not easy to use
7. FFmpeg
Download: https://www.ffmpeg.org/
If you are really into tech and command prompt, then you are going to love FFmpeg. It is a command-line tool that you can integrate with other apps. It uses libraries and dependencies, which are very powerful and convert videos up to 4K resolutions. You can select buffer size, frame rate, stream selection, and more.

Pros:
Powerful utility which can convert videos at a high speed
Video scaling and pixel format converter
Muxers and demuxers
It can capture and encode in real-time from various hardware and software sources
Cons:
No UI means regular users will not be able to use it
Batch conversion is not easy
8. Convertio
Website: https://convertio.co/
Let's talk about some online tools which can help you convert videos into HD format without installing software. The first in the list is Convertio. Once you launch the app, all you need to do is upload the video file, select the format into which you want to convert, and then configure the quality. Make sure you use the highest quality possible by clicking on the configuration icon.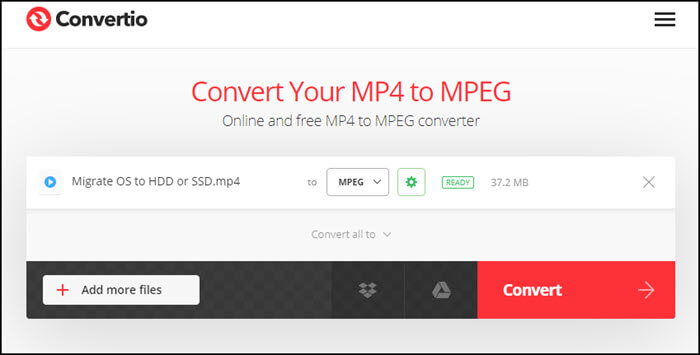 Pros:
Supports all kinds of video formats
Convert Multiple videos
No Editing feature available
Cons:
You can only convert videos up to 100MB in size
No presents for iPhones and PCs
9. Zamzar
Website: https://www.zamzar.com/
It is another online file conversion service that can convert into HD and 4K videos.  While it supports online URLs, but YouTube is not supported. Once you upload the video, select the output format, and then click on convert. Video conversion takes a maximum of 10 minutes, which is decent enough. The best part of the transformation is that if you want to close the windows and leave, you can do it. An email containing a link to the converted video will be shared with you.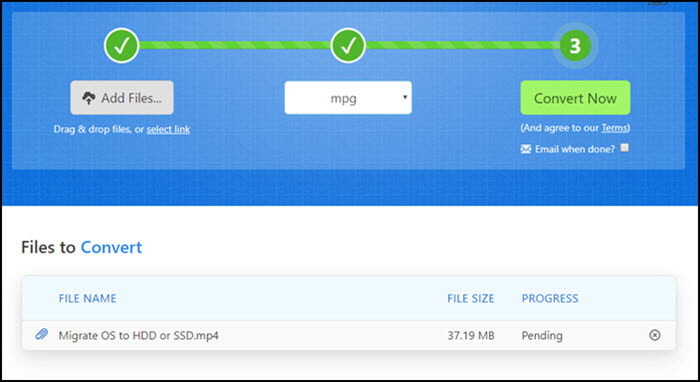 Pros:
Supports almost all popular input formats and resolutions
You can use direct links of video files hosted on Dropbox, Google Drive, or any website
Cons:
Output formats are pretty limited
Upload Size is limited to a maximum file size of 200MB
10. HDConvert
Website: https://hdconvert.com/
Looking for a converter with no limits on the size of the upload file? HDConvert is a straightforward web-based HD video converter. You can convert any high-resolution video to 720p or 1080p resolution with no worries of codecs and transcoding settings. However, it leaves a watermark on the final video.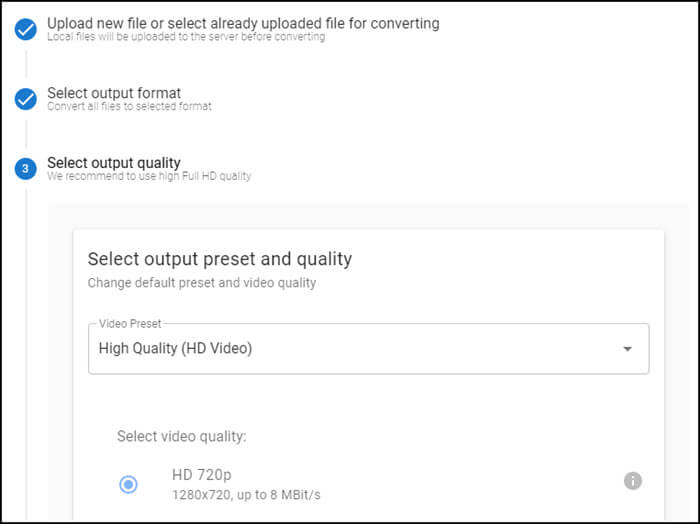 Pros:
Convert to 4K and HD video
Reduce the size of the video
Supports MP4, AVI, MOV, MP3, and many others
It can convert up to 900 frames/sec
Cons:
You will have to pay to remove watermark
HD Video Converter Conclusion and FAQs
Now that you have gone through all the video editors, it's clear that if you are using Windows, it is best to use the EaseUS Video editor. The software offers a lot more than convertor and is a one-stop solution for all your editing need on Windows. If you are looking for an online took, then all of them work equally well.
Is HD video converter factory safe?      
HD video converter factory is software from Wonderfox, and it's completely safe. It is a free video converter software like all the software mentioned above.
How do I make my video HD better quality?        
There are two parts to it. First is the hardware part where you need to use the right camera or smartphone, which can shoot in HD or 4K. Second is the software like EaseUS Video editor, which can add effects to the video and compress without any loss in the quality.
How do I convert a video to 1080p HD?
You can upgrade or downgrade your video to 1080P HD or Full HD using a software. However, when you upgrade a 720P video into 1080P, there will be black bars added. When converting from 4K to 1080P, use software like EaseUS Video Editor, which makes sure quality remains unchanged.     
How can I convert HD videos online?
Online tools such as Zamzar, Convertio, and others can convert HD video to an online format.