How to Edit Green Screen Background For YouTube

Vanessa Chiang updated on Jan 28, 2021 to Video Editing Tips | How-to Articles
At present, YouTube has become the most popular video playing platform around the world, which has attracted millions of people to watch it every day. The video makers on YouTube who aim to create novelty videos to attract audiences love and get the fans, thus they will get money from their novelty videos. But shot some special scene may need to spend a lot of money, as for a YouTube beginner, this way is not good. So, it would be best if you found another low-cost way to achieve video shooting. That green screen technique will be a great choice. If you want to try green screen, you may know what is the green screen at first.
What is the Green Screen
In generally speaking, green screen (also called Chroma key compositing) is a visual effect and post-production technique for compositing two images or video streams together based on color hues.
And now, the green screen technique widely uses in film-making. Plenty of incredible special effects in the film are shooting with the help of the green screen technique.
 Tip

If you want to know more about the green screen, you can follow the below video to learn a lot.
Part 1. Top 3 Green Screen Background Software Online
We already have to know what green screen is and how the green screen work. Do you want to try this video editing technique on your video? If you answer yes, here comes another problem: how can I get the green screen background for my video? Shooting a green screen may need to cost plenty of money and a professional tool. In this part, I will show you the top five green screen background websites to help you solve this problem.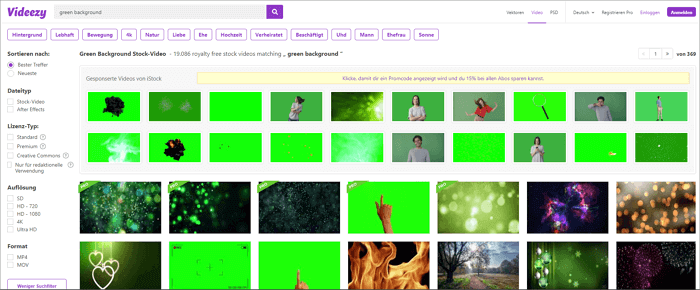 Videezy is a free online video resource website. This program provides a lot of HD quality video resources that you can free to download. Choose the background you need and use it to edit in your YouTube video.
Key Feature:
Support sharing free green screen background
Support 4k video
Support different video themes, such as Nature, Wedding, Marriage, and so on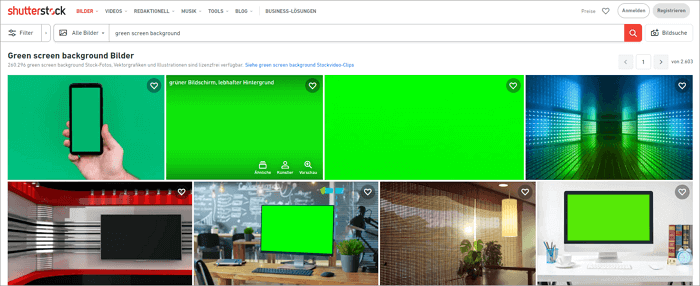 Shutterstock is a powerful online picture and video website. On this website, you can use the searching box to search for every different type of picture and video to fit your needs. Especially the green screen background, on this website, which has plenty of types, such as the character of people, animals, and other more. Before you use this website, you may need to create an account. But this website has a free use time limit, and you allow free use in thirty days.
Key Feature:
Support over 1 lakh stock videos and video clips
Support download the green screen background
support adding music to your free green background video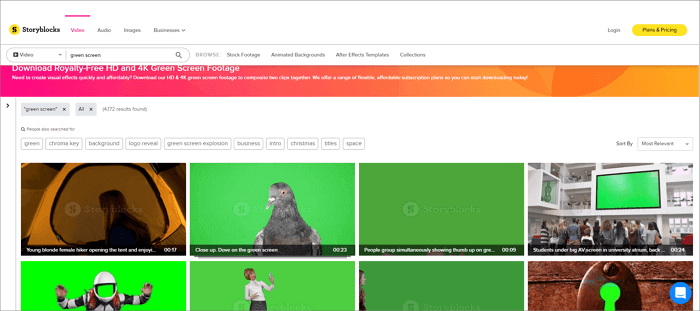 Storyblocks provides a lot of HD and 4K green screen footage to composite two clips together. In this program, you can find a lot of types green screen videos by searching box. But using this program, you need to pay for and use it. The price of this website is $8.25 per month.
Key Feature:
Support download green screen video background
Support 4K quality video
Part 2. The Best Green Screen Background For YouTube Editor - EaseUS Video Editor
We have to know what the green screen is and have green screen resource, and the next step is to make and apply the green screen background.
EaseUS Video Editor is an all-in-one video editing software. In recent weeks, this software has published the latest version; in this version, EaseUS Video Editor adds a new function - Green Screen. Through my test, the green screen function of this software it's compelling. And this software also built-in plenty of video editing tools. With the green screen function, I'm sure whatever you are a beginner or professional, you can easily create perfect videos. When you finish editing, you can use this software directly to share on YouTube, Facebook, and other video platforms.
How to edit green screen background for YouTube using EaseUS Video Editor:
Step 1. Launch EaseUS Video Editor and import the source file (with green background) from your computer.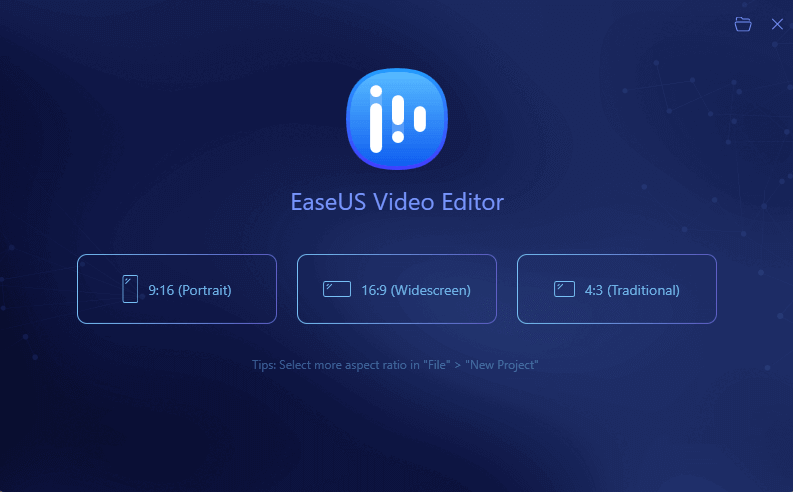 Step 2. Right-click the file and choose "Add to Project" to place it to the timeline. You can also drag and drop it to the timeline.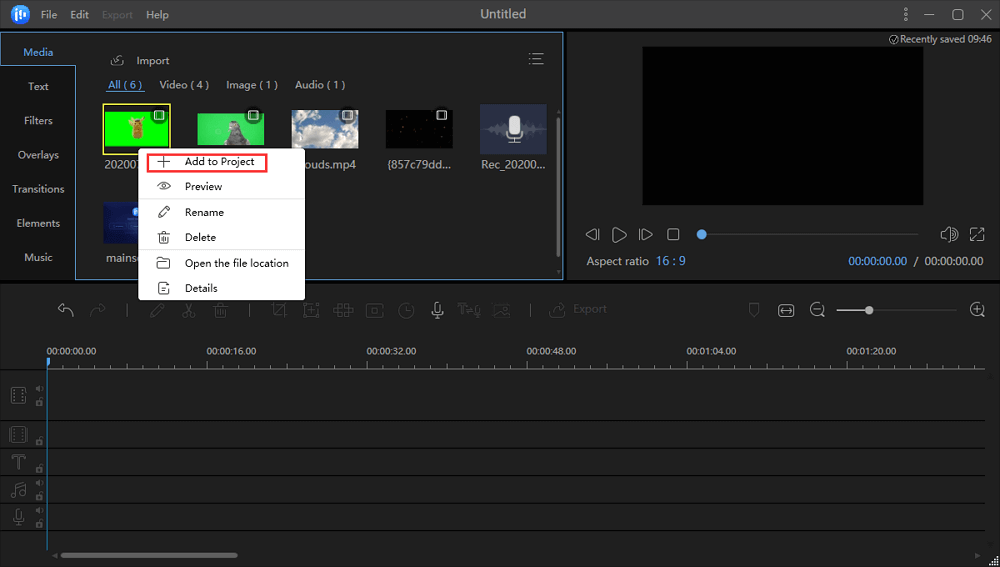 Step 3. When the file appears in the timeline, right-click it and choose "Green Screen Cutout" to apply the green-screen effect. You can also add a filter, text, music, and other elements to the file.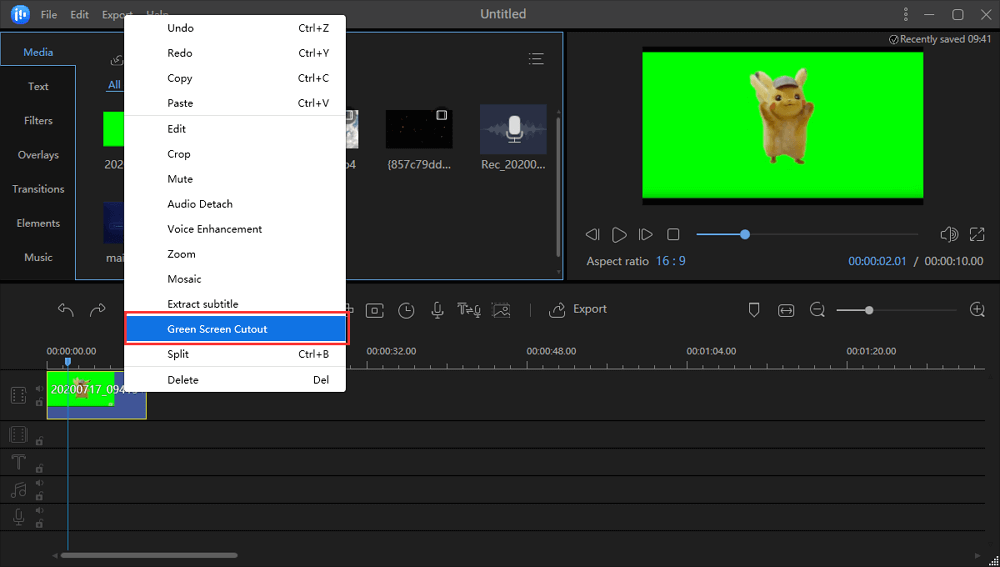 Step 4. Single-click the painting brush and click the area you want to remove from the original picture. The software will remove the original green area after you hit the "OK" button.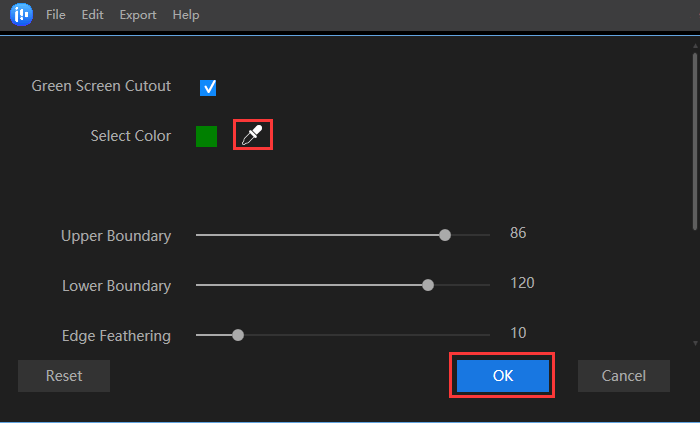 Step 5. After removing the green background, you may add a new background to your file. Put the new background (video or image) to the timeline, and you will find the original file and the background file are played together. Note that the background should be placed above the timeline of the original file, just as we show you in the image below.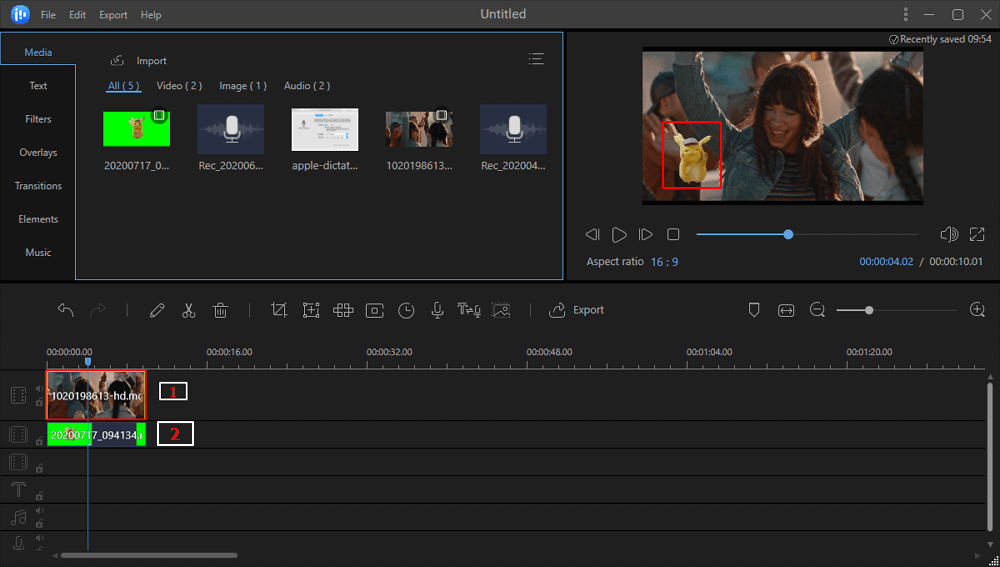 Step 6. Trial play the video you made. If it meets your satisfaction, click "Export" to save it to your computer. There are six video formats you can choose from.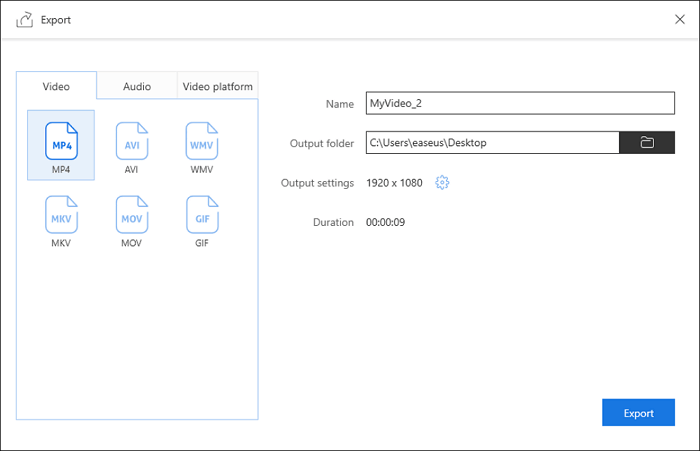 When you finish editing, you also can click the "Video platform" button and share the video you edit on YouTube or other platforms.
Part 3. Conclusion
To sum up, on this page we are talking about what is green screen and how to edit green screen background for YouTube.
Although they have massive green screen software in the market, and these software more or less has some problems, hard to use, not friendly for beginners, or need to cost a lot of money to pay for it. The green screen function for EaseUS Video Editor not only that you can free to use and also easy to operate. Trust me, EaseUS Video Editor is a worthy choice, and you may not miss it!
And this software also has plenty of special functions wait to discover. If you want to know more, why not download it and have a try?