Funny Video Maker: Create a Funny Video in a Few Simple Clicks
Daisy
updated on Dec 11, 2020 to
Video Editing Tips
|
How-to Articles
Thanks to the funny videos uploaded every day, a lot of time spent on social media. But for an ordinary user, it's not easy to make such videos. The primary reason is the lack of proper tools and experience in creating videos. Even if you have a script in mind, the final execution needs more than that. That said, even if you have a great phone which offers a built-in tool to add effects, it doesn't cut the deal. They are always limited, and that's why you need a dedicated, funny video maker who can get the job done. It will be able to add cool effects to video, as well as stickers, sound, and more to add humor.
Funny Video Maker: Create a Funny Video in a Few Simple Clicks
Let's take an example of a standard video editor available on the phone. It lets you cut part of the video, add filter to video, and that's about it. You will always have to rely on a third-party app, but most of them do not offer a complete set of features. In the end, you end up using multiple tools which is not only cumbersome but also limited here and there.
A desktop tool, on the other, not only gives precise editing features, but it also offers tons of effects, filters, and clips that help deliver a great video that can make everyone laugh. You can mix multiple videos, place them on top of each other, add text, run background laughs, add voice over, and more. There is almost no limit to what one can do.
According to statistics, 95% of the message passed by funny videos are retained than the standard videos which only offer text or information. If, as a standard user, you want to make a family trip memorable, a birthday unforgettable, a funny video maker can help you achieve it. It may take more time, but the outcome will be everlasting. 
What Is the Best Free Funny Video Maker - EaseUS Video Editor
But with so many funny video makers out there, it can be a struggle to find the best software that works for you. Not anymore! If you would like to begin the task of creating a funny video as a fun exercise, EaseUS Video Editor comes across as the right tool to tell the story you want. The video editing software can transform simple clips or footage into hilarious funny videos.
Which features of EaseUS Video Editor can help you create funny videos?
#1. Text
It is one of the best ways to add humor to your videos. Imagine two characters having a conversation, one can text bubble, which shows their inner thoughts represented by funny text. You can also use them to start or end the video and title each character with their nicknames and add talk about their funny habit.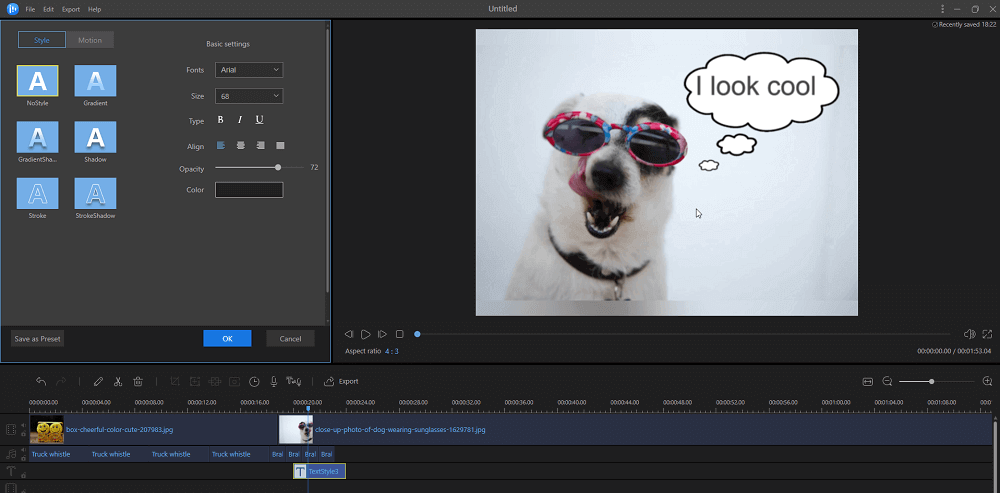 #2. Sound Effects
A crucial aspect when you're scoring a comedy is to make the viewers care about the characters and the action in just the same way that you would with a drama. The right music tempo can keep things under check. EaseUS Video Editor's 'Sound Effects' sets the tone of each funny scene, the right way. Just analyze how and where they should work, so you can use them in any way you deem fit. Who knows? The funny video may inspire viewers to spread content who might not otherwise advocate for a specific brand.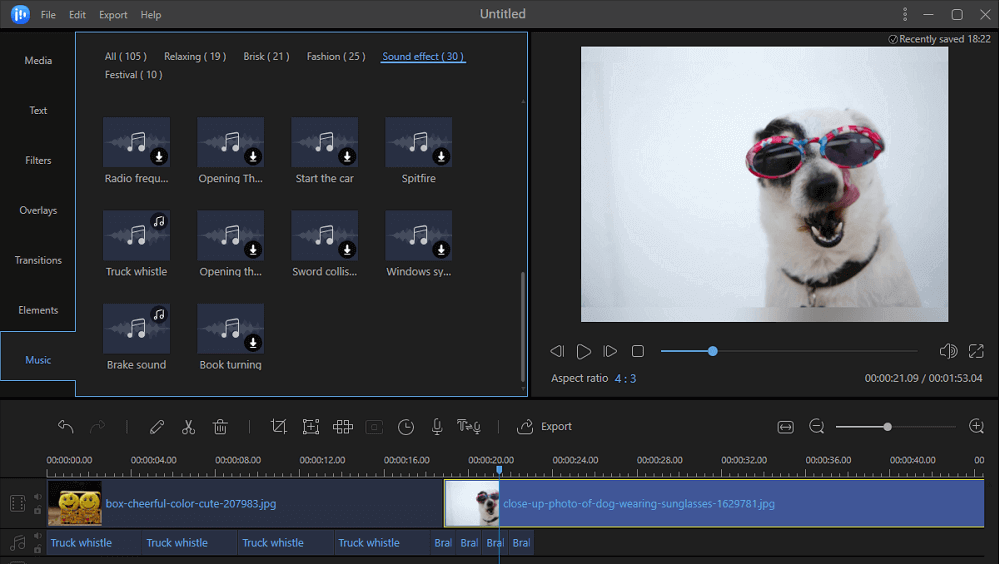 #3. Stickers
Moreover, the videos can create a more substantial impact on viewers if you put some images or stickers in it. Adding a sticker to the video will make it more refreshing and more amazing. You can create unique content in several subjects such as birthday, party, etc. EaseUS Video Editor offers a range of stickers that one can choose to add to the videos.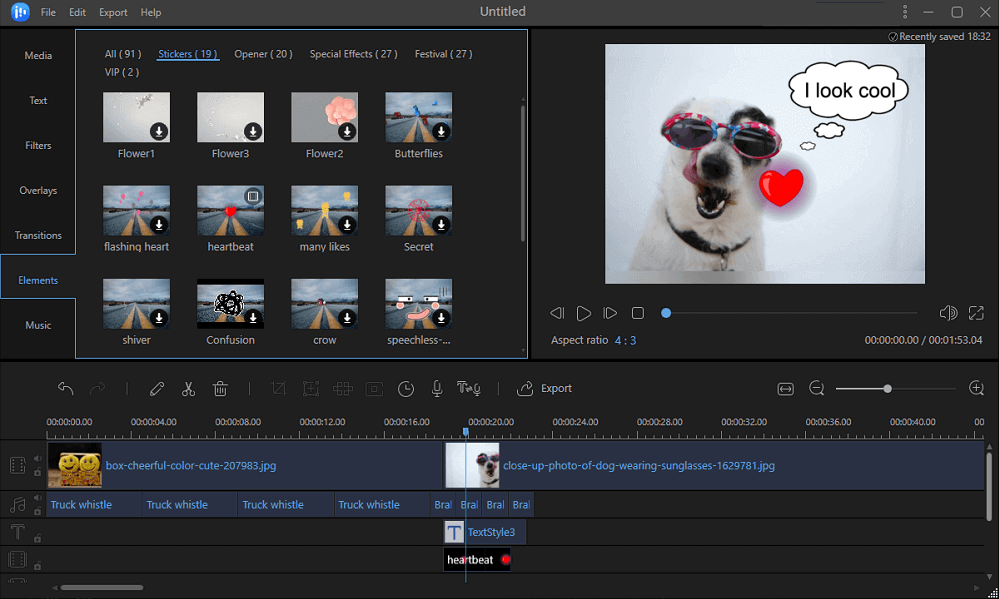 #4. Record Voiceover
Do you have someone who can do some mimicry? You must have seen videos where there is a guy who makes running commentary about what characters are doing hilariously. You can do say using the Voiceover feature, which lets you just add them. 

EaseUS Video Editor advantages in a nutshell
Easy to use for beginners because of simple and accessible interface
Edit videos by trimming/splitting/merging/rotating/mixing
Support for multiple simple or complex transitions
Support for filters/titles/subtitles
Non-linear timeline allows you to mix and place the effects to create professional-level videos.
Accelerate or slow down video speed.
Record Voiceover to record your story in the form of narration
It supports direct upload of social media websites such as YouTube, Facebook, Twitter, etc.
Freeze Frame feature allows you to stop a moment and add fun to it.
Mosaic lets you hide faces or part of the video for privacy
Cropping makes sure you can get rid of the unnecessary parts of an existing video.
Tutorial: How to Create a Funny Video in a Few Simple Clicks
Whether you're a weekend GoPro shooter or a full-time vlogger, you can use a powerful yet easy video editor like EaseUS Video Editor to create impressively funny videos.
Step 1. Import the desired file and add to timeline
Launch EaseUS Video Editor software select a desired aspect ratio on the main screen. Import the desired file by hitting the "Import" button or simply dragging it into EaseUS Video Editor. You can then arrange it on the timeline and perform some basic editing to reach to a point where you can add all visual and funny effects.
Step 2. Add Text, Sound Effects, Stickers, and more
Depending on your script, you can then choose the effects to use in the video or images. It is the place where you have to spend more time editing which one to use, and how they should appear.

Step 3. Export Target File
After you have finished editing, click 'Export' to start converting the target file. Select the desired output format, quality before finally converting it.
Conclusion
Thus, in a few simple steps, you can create a funny video. You do not necessarily need a fully equipped professional software to make your subjects look fantastic on screen. After all, videos appear funniest when the audience can relate to the content in a personal way, and people are more likely to laugh if they can see themselves in the scenarios. So, go ahead and create hilariously funny videos with photos and music with the help of EaseUS Video Editor. Download it for free from the official website.