Top 10 Best Video Trimmer for Free on Windows/ Mac/Online

Jane Zhou updated on Mar 22, 2021 to Video Editing Tips | How-to Articles
Sometimes a video is too long and needs to be trimmed, or there are unnecessary parts in the video, which are supposed to be removed. If you want to upload a video to a social networking site with a limitation on the videos' length, you have to cut or trim your videos. 
You will learn how to trim a video on different platforms with the best free video trimmer. Read on to get details.
Best Free Video Trimmer on Windows 10/8/7
Although there are countless video trimmers on Windows, EaseUS Video Editor can be considered as the best one for many reasons. As the most powerful Windows 10 video editor offers various video editing tools ranging from basic ones to professional ones.
If you are a beginner who only wants to edit video clips with the essential tools, you can rotate, reverse, split, trim, and crop video without watermark. But if you want some advanced functions to make your videos more eye-catching, try to edit them using some special tools. For example, you can add transition to video. Besides that, some other effects are also available in EaseUS Video Editor, such as filters, overlays, and sound effects.
Key Features of EaseUS Video Editor:
Download EaseUS Video Editor to obtain all those tools at once. 
Steps to Trim a Video Using EaseUS Video Editor:
This video trimmer is powerful, but it's not difficult to utilize. Follow this guide to trim your videos now.
Step 1. Import videos and add to timeline
You must select the right aspect ratio for the video when you create the project. Then import the videos, drop them on the timeline. You can add one or multiple videos.

Step 2. Trim videos
Select the playhead (vertical line) on the timeline and then drag it to the point from where you want to trim the video. First, split, and then drag using the mouse to the position where you want to cut the video. Later split again to finalize the video clip. You can trim video without splitting as well. All you need to do is grab the start or end part of the video and then drag it to the required length.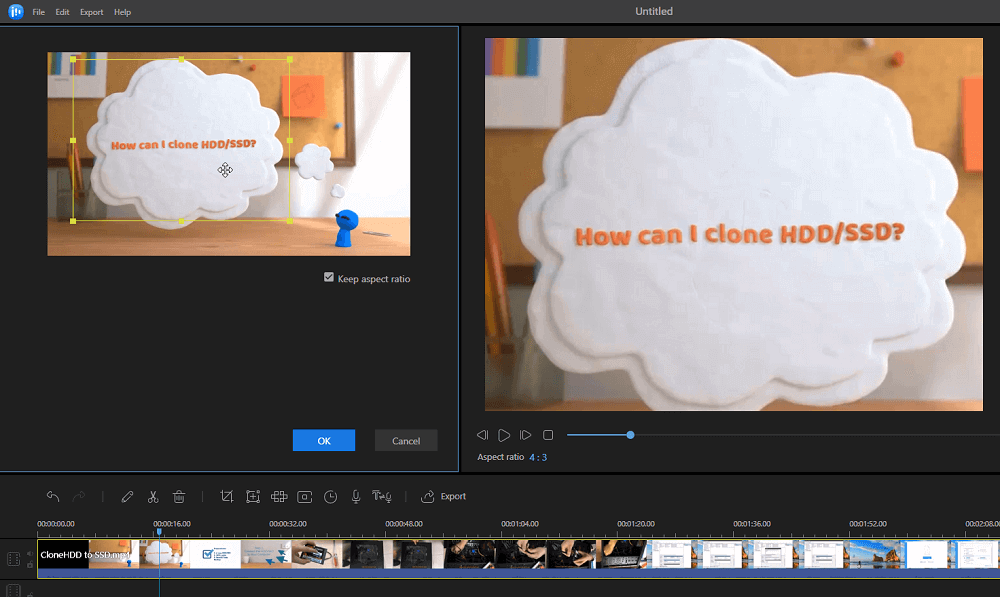 Besides, you can also add required effects, transitions, voice-over, and other features to the video.
Step 3. Export Video
Now that you are ready, its time to export the video in the video, audio, or upload to the social platform. Make sure to configure the quality and resolution of the video. EaseUS Video Editor is easier to use and offers professional video editing features. Not only can you split, edit, but you can also trim and crop the videos. Not to forget the visual effects you get for quality video production.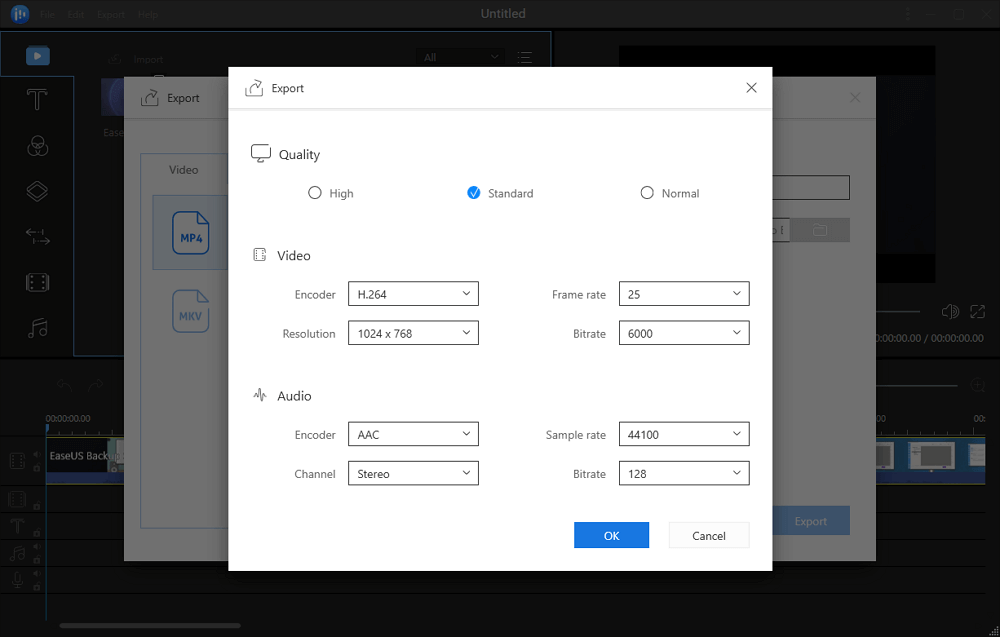 Recommended 3 Free Video Trimmer on Windows
In addition to EaseUS Video Editor, you can also choose from some other video trimmers on Windows. Since different people have different demands, you can make your choice based on your actual needs.
Windows 10 Photos App
Windows offers the Photos App as the default editor to help you edit photos and videos for free for all Windows users. The editor provides an easy way to trim videos using all the essential tools available in the software.
Apart from being a video trimmer, it can also add effects, title cards, text, motion, 3D effects, and folders. It's also possible for you to add a personal touch to your favorite moments by drawing on your photos and videos.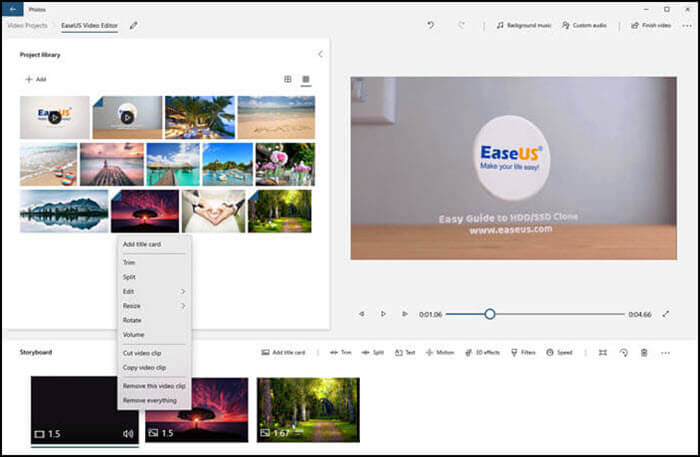 Pros:
Easy-to-use interface
Support 3D effects and objects
Add external audio if needed
Add stock images directly from the web using Bing image search
Support background music and custom audio
Cons:
Editing requires a lot of repetition of doing the same thing
A non-linear timeline means you cannot overlap videos
Export only in MP4 format
It is an open-source video editor that comes with a somewhat outdated user interface. However, it offers more features compared to modern editors like the Windows Photos app.
You can trim a video by adding the video, adding the start and endpoint, and then exporting it as a clipped one. Ensure to configure output video settings, audio settings, and add filters if needed before the final export.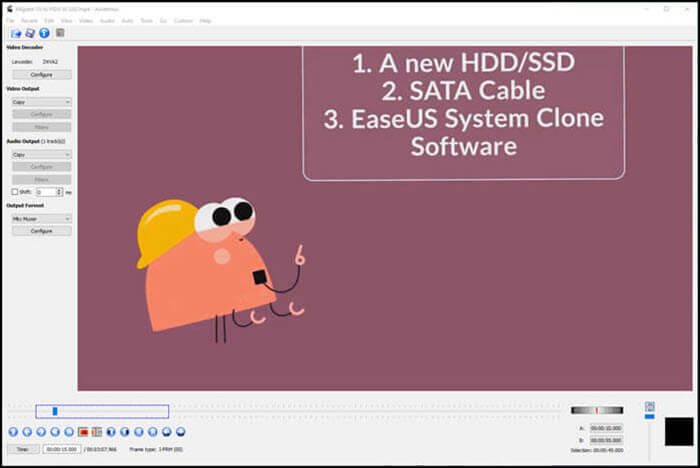 Pros:
Many video output formats
Automatic video conversion using scripts
Filter control for colors, interlacing, subtitles support, and more
Option to mute part of audio in the video files
Cons:
The missing timeline restricts video editing
You can only edit one video at a time
No keyboard shortcut
The interface is confusing for beginners
OpenShot is a free video editor that provides powerful functions to edit videos. However, the effects and transitions are elementary. Once the video is on the timeline, all you need to do is right-click, and all the editing tools will be available. To trim the video, you should use the slicing feature to split and remove the video's left and right parts.
What users will love about the editor is that it is straightforward to use, and the option of multiple tracks makes it possible to edit multiple videos in batch.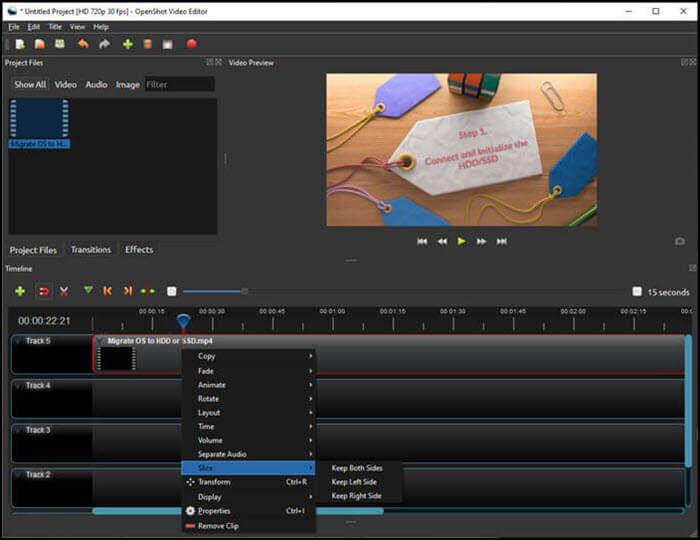 Pros:
Slow-motion, time effects, title effects
Cross-platform editing software
Advanced video editing timeline 
Cons:
Hardware intensive
Undoing video effects are painful
Top 3 Best Video Trimmer on Mac
For Mac users, there are many built-in programs on their devices. Among those options, two applications can work as good video trimmers: iMovie and QuickTime Player. But if you want to find a professional video trimmer with more advanced editing tools, we can also introduce another software called Hitfilm Express.
When using macOS, iMovie is an excellent video editor to trim videos. It offers templates to create trailers, video clips with effects, and export in a supported format.
You can use the mouse or keyboard shortcut along with markers to trim videos quickly. Once the videos are on the timeline, you can overlap them and merge videos after removing what is not required.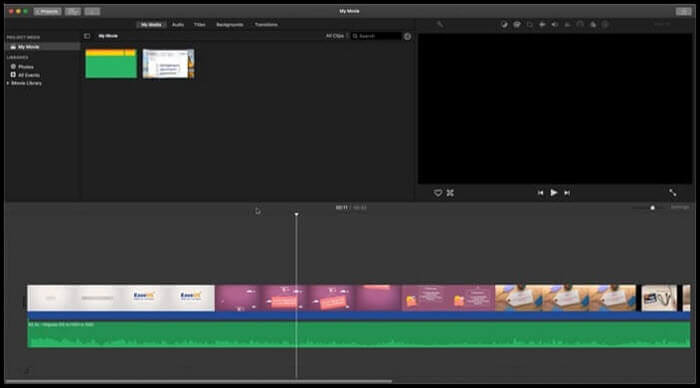 Pros:
Provide templates to create trailers
Faster processing speed even for an extended video
No learning curve to edit videos
Support almost all video formats
Video stabilization
Support the green screen effect
Cons:
Limited features compared to other editors
Free audio clips have copyright issues
QuickTime Player is the default video player for macOS, which is capable of splitting and trimming videos. If you do not need a massive video editor, and all you want is to remove parts of the video, it should suffice the need.
Once you open the player's video, use the Command + Y on the keyboard to open in editing mode. You can then adjust the video's length and split the video. Make sure to save the part of the video as part of the final output.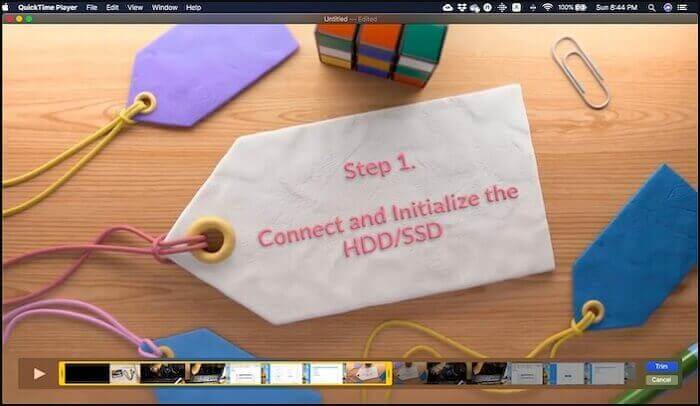 Pros:
Faster processing time
Directly share videos on YouTube, Facebook, and other services
Supports the editing of multiple videos and trimming them in one export
Export in resolution as high as 4K
Cons:
No timeline
Editing a large number of videos is cumbersome
Free for macOS users but paid for Windows
Hitfilm Expression is a professional video editor. When it comes to trimming video, it offers a dedicated video trimmer where you can change length, remove part of the video using keyboard shortcuts, and more.
Motion blur effects to smoothen the transition further and more. The software is available for macOS and Windows. So if you are editing, you can jump between systems.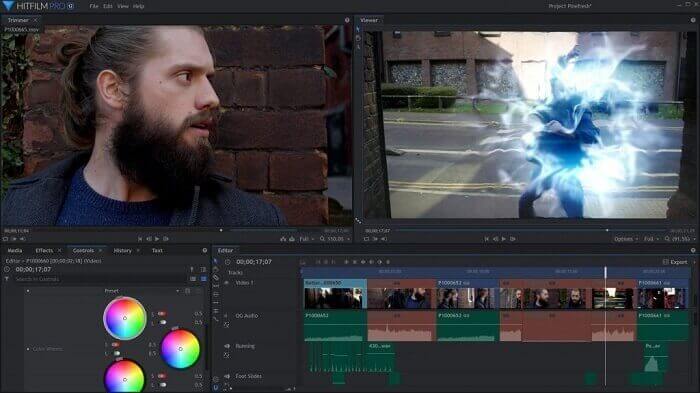 Pros:
Extensive support for effects, presents, and tool (400+)
Combine multiple video stream, and add PIP mode
Revolutionary workflow
Color correction & grading tool is available
Cons:
The free version is limited
Top 3 Best Free Video Trimmer Online
If you only need the most simple trimming videos and don't want to waste time downloading the video trimming software above, using the online tools can be the best choice for you.
Video2Edit
For those who do not like complicated software, and all you want is to remove part of the file, Video2Edit is an excellent video trimmer.
You can upload videos or add links from Google Drive or Dropbox. Once the file is uploaded, you can enter the start and end times. It means you will have to preview the video on the computer and note down the timing.
Pros:
Support editing multiple videos
Multiple output formats are supported
Directly save videos to Dropbox and Google Drive
Cons:
No preview when editing the video
Manually entering the time is cumbersome
Not possible to edit multiple videos with different timestamp
Try: www.video2edit.com/video-cutter
Online Video Cutter          
Online Video Cutter is one of the best online video trimmers and it offers an excellent interface and provides tons of features. Once the video is uploaded, you get a timeline to drag the playhead to trim videos. The tool also offers you to change the orientation of the video.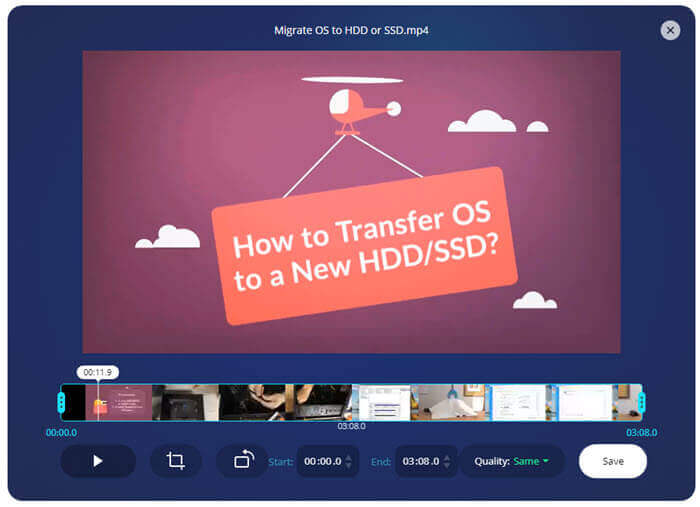 Pros:
Trim, split, rotate, and crop videos
Change quality or video resolution
Support custom and predefined aspect ratio
Support all video formats
Cons:
No way to trim multiple videos
Export only in MP4 format
Limited to 500 MB size
Try: online-video-cutter.com/
Kapwing
Kapwing is another excellent online editing tool that comes with a dedicated free video trimmer. The tool allows you to trim multiple parts of the video and then merge them into one. The tool offers a playhead and range selector. Once done, click on the "Add Cut" button to add it to the list.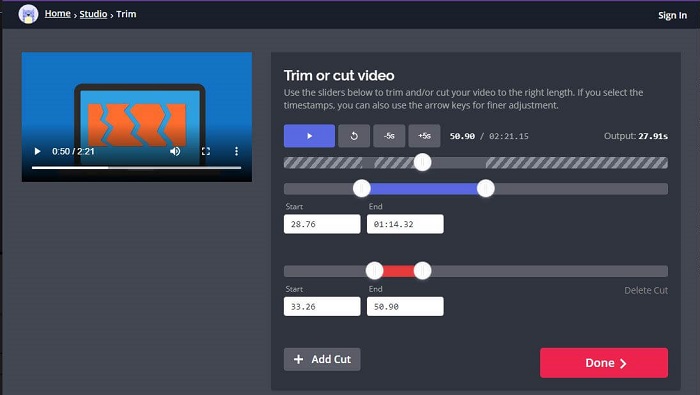 Pros:
Merge parts of the video into one
Add effects such as text, images, subtitles, and shapes
Support online video links
Cons:
No support for trimming multiple videos
Can only export in MP4 format
Try: www.kapwing.com/
Conclusion
All the editors listed above have excellent features and are good at trimming videos for free. However, if you want to edit videos with full control, you need to use a desktop tool instead of the online ones.
If you are using a Windows PC, EaseUS Video Editor is highly recommend. It's a feature-rich video editor to create cinematic videos. With it, you can split, trim, add effects, and even compress the video using codecs like H.264 and HEVC. Don't hesitate to download it.