Most Efficient Ways to Turn Photos into Videos on Windows/Mac/iPhone/Android

Jane Zhou updated on Mar 22, 2021 to Video Editing Tips | How-to Articles
In this digital era, more and more people get accustomed to sharing things interesting with others on various social platforms. 
As the media to pass on messages, videos are much more vivid and impressive than the still images. That is why many people are seeking ways to turn the image to video. 
If you are wondering how to turn pictures into videos, we prepared some efficient methods for you.
Ways to Turn Photos into Videos on Windows 
In general, the key method for people to turn pictures into videos is putting them together, then adding background music and some effects to them, and finally exporting all those elements as a file in a video format. 
Thus it can be seen that everyone can easily make his own videos as long as he has an excellent video editing tool. We selected two of the best video editors on Windows for you. They are EaseUS Video Editor and Windows Photos.
EaseUS Video Editor is a versatile tool that can be considered as the best Windows 10 video editor. It offers nearly all the basic video editing functions you may need to create your videos. For instance, you can use it to trim, crop, split, rotate, and merge videos.
In addition to that, you can add cool effects to video to improve it. Filters, transitions, overlays, and some other elements are all available for you in this application. That ensures you get the ability to make the most wonderful videos by yourself. 
What's more, its user-friendly interface enables everyone to use it effortlessly, no matter you are a beginner or a professional. This picture movie maker will walk you through the whole process and automatically convert images to videos.
Key Features of EaseUS Video Editor:
Support more than 50 types of file formats
Convert files to other formats effortlessly
Can work as free green screen software
Share your videos directly on social platforms
Download it and make your own videos.
Steps to Create Videos from Photos:
Follow this tutorial, and you can become good at making videos quickly.
Step 1. Import pictures
Launch the program and then add desired image files and music by clicking "Import" or dragging them into EaseUS Video Editor.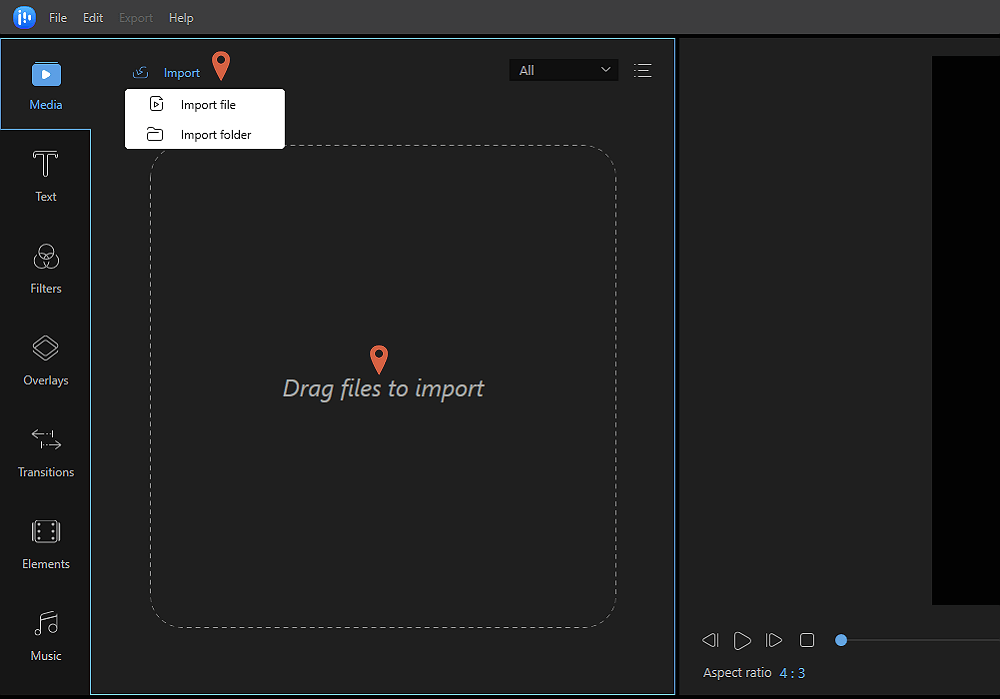 Step 2. Add to project
Select all pictures and right-click them and then choose "Add to Project".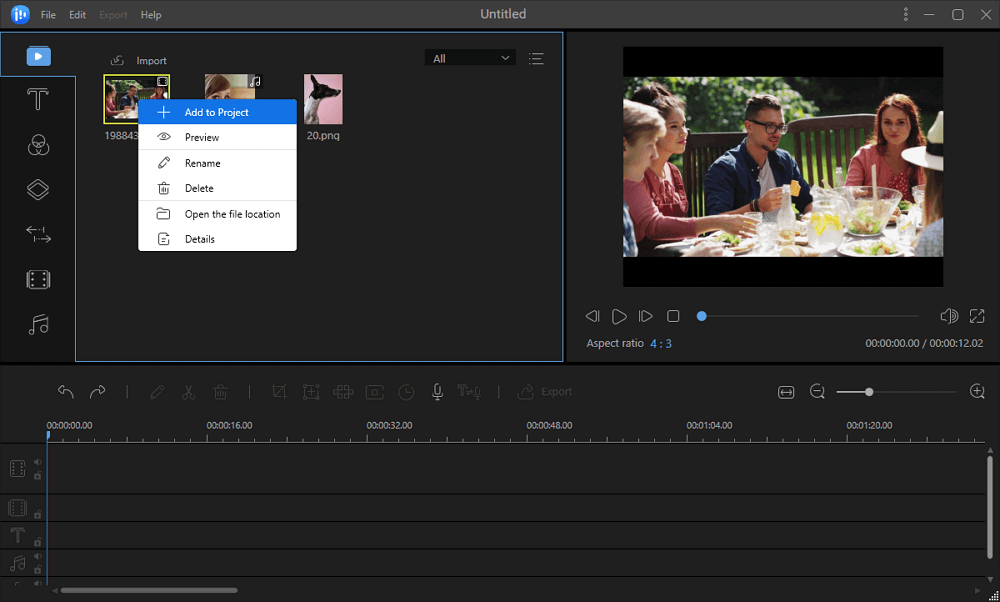 Step 3. Edit the pictures
Customize the media project by adding text, transition, filter, etc.
Double-click the texts and transitions to customize fonts, color, duration, and motion.
Drag the music to the soundtrack and then adjust it to fit the media file.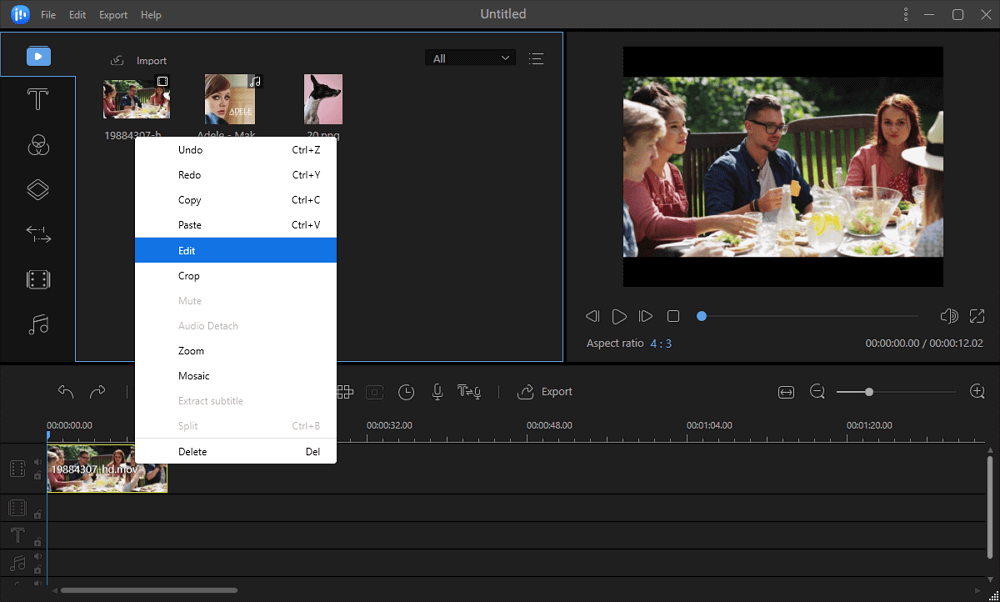 Step 4. Export the video
Click "Export" in the Toolbar to generate the video.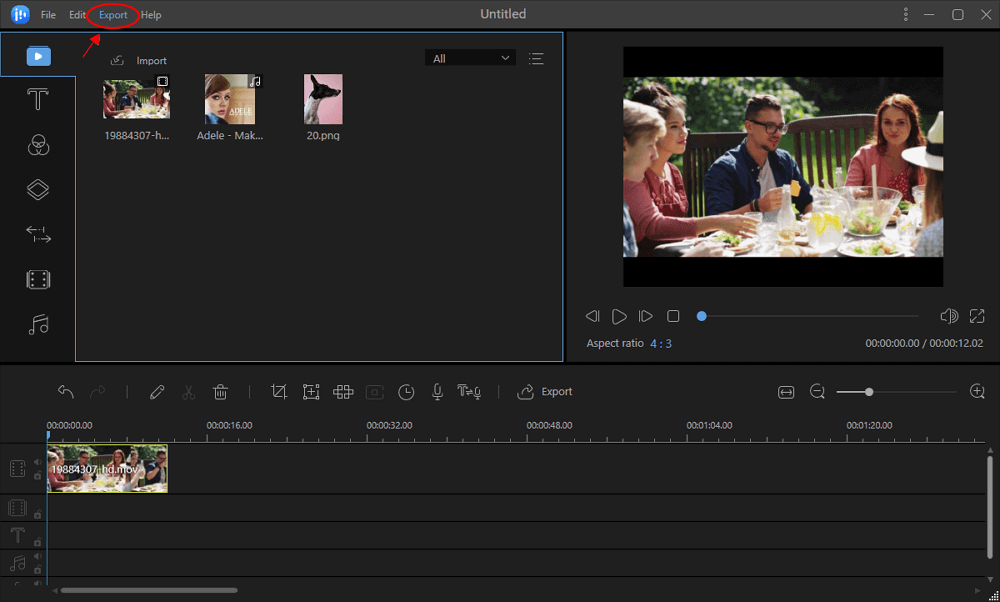 Most Windows users perhaps know that there is a free built-in video application named Photos on your computer.
Besides solid image editing and photo enhancements, it offers video editing a touch-friendly interface. Besides that, the automatic object tagging function enables you to mark up images with drawings, add background music and 3D effects to videos.
As an excellent tool for working with digital images, Photos can help you turn your photos into videos with only a few clicks and save you a lot of time. 
Features:
Automatically create albums
Good photo browsing and searching features
Solid selection of image-correction tools
Cool video editing effects
Steps to Make Videos from Pictures:
Here we prepared a detailed guide for you.
Step 1. To get started, open "Photos" and select "New video > Automatic video."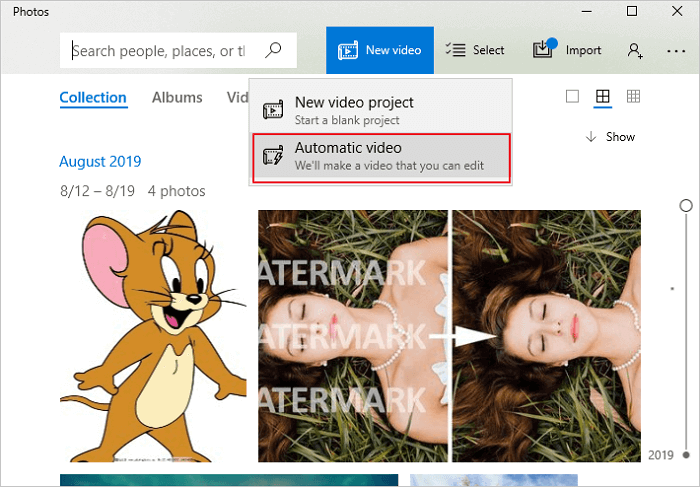 If you don't see the pictures, click on "Import" at the top-left corner to import wanted images.
Step 2. Select the photos from which you want to make a video. You can either select the photos individually by clicking on them or use the Select all feature. Click "Create."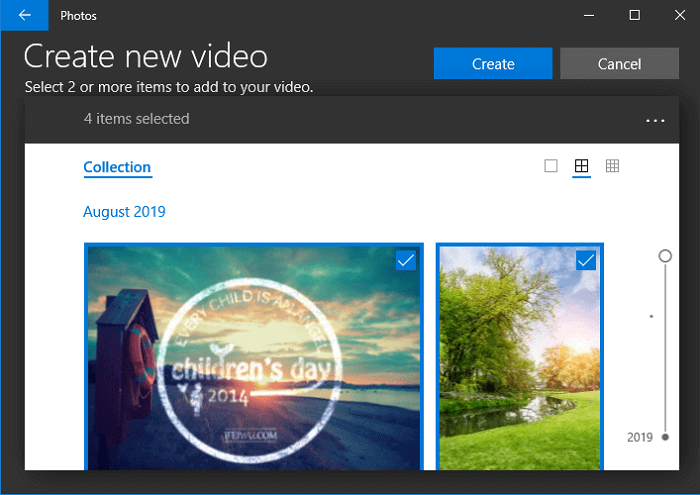 Step 3. Once you have selected the photos, you will be asked to name your video. Give it an appropriate name. Your video with music will be ready.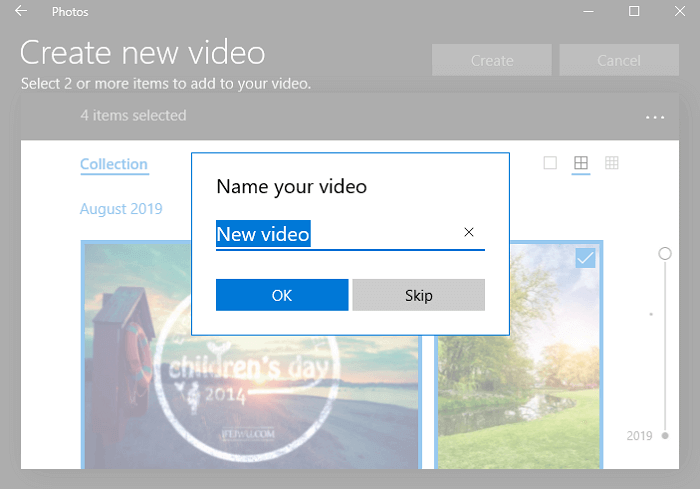 Step 4. If you are satisfied with this video, press the "Export or share" button to save the video. If you still want to edit it, click "Edit video."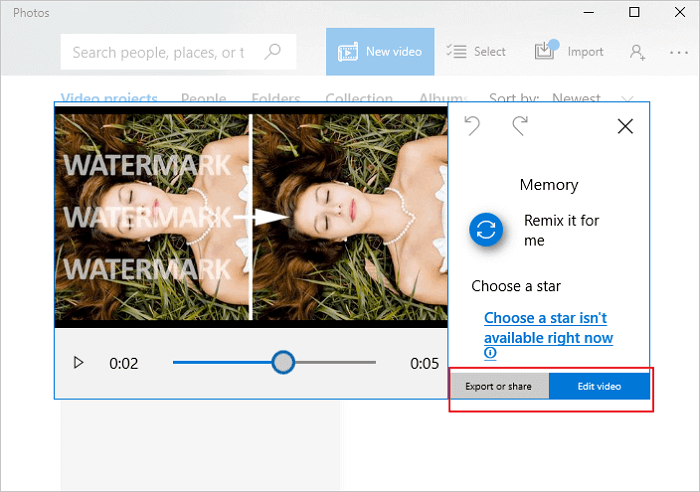 How to Turn Pictures into Videos on Mac
Photos is a photo-editing and sharing tool for macOS and iOS. This application offers some basic editing functions like cropping, lighting, and red-eye flash correction.
Its latest version adds a whole new level of intelligence. Now, it can automatically create more kinds of albums or Memories and let you search with powerful AI-assisted object recognition. 
Furthermore, the Photos can also help you create a video with music from photos on Mac. 
Features:
Adjust light, color, and auto-enhance easily
Change a single color in your photo
Editing features for live photos
The Way to Make Videos from Pictures:
Follows the steps below to create a video from photos using the Apple Photos tool.
Step 1. Go to the Launchpad and select the Photos app. In the top toolbar, select "File," then "Create," then "Slideshow," and finally "Photos." Navigate over to Photos to add them to your slideshow.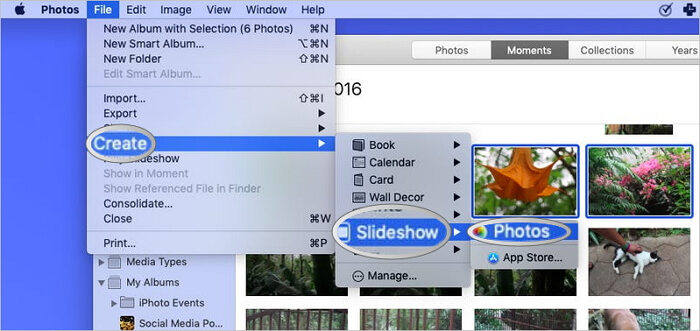 Step 2. Select "Create Slideshow." A prompt with a default name for the slideshow will pop up. If you need it, you can customize the name of a slideshow. Click "Upload Photos" to import the photos used to make the slideshow.
Step 3. Click "Projects" and double click the slideshow thumbnail to open it. All your slideshows will be displayed in the left pane under the Projects tab.
Step 4. Click the "Play" icon to play the slideshow. You can also adjust the video by the following measures.
Clicking the "Themes" button to set the theme. 
Pressing the "Music" button and select a song that you prefer from the library 
Clicking the "Duration" button to set for how long each slide shall be played.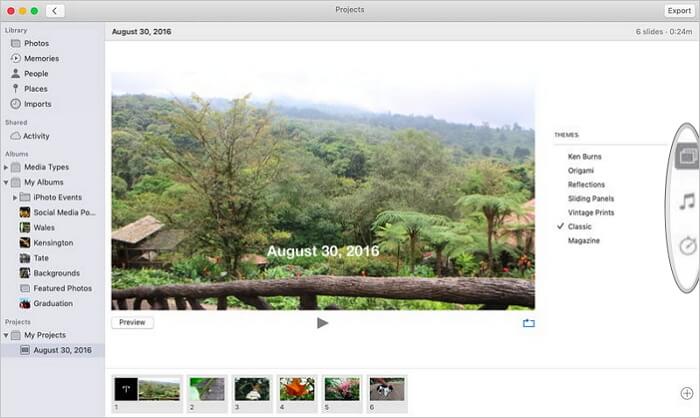 Step 5. When you're ready, click "Export" to change the saved location of your new slideshow. Otherwise, you'll be able to access it through the "My Projects" section of Photos.
Best Way to Turn Image to Video on iPhone
As we talked above, the application Photos can also be used on iPhones. Therefore, we will give you some advice about making a video from pictures using Photos on iPhone.  
In the last part, we mentioned that Photos are capable of automatically creating Memories. Memories are montages that combine your photos and videos. Therefore, you could use this feature to make a video or add photos to make a beautiful video that you can share with families and friends.  
How to Create a Video from Pictures: 
To help you better, we prepared a guide for you.
Step 1. Open Photos. Tap "Select," tap on all the images and videos you want to include, tap on "Add To," Tap "New Album," Choose a name, and Tap "Save."
Step 2. Go to the Albums to view the Album you just created. 
Step 3. Tap on the ">" beside your Album name. This will take you to the Memory that Apple has compiled for you. 
To edit your Memory, tap on "Edit," you will see a Dialog box asking you to add the memory to Memories. Tap on "OK."
The next screen gives you options to edit the Title, Music, Duration, and Photos & Videos. 
Once you have finished editing, tap the < on the top left to go back to the Edit screen.
If you felt that the music wasn't really in keeping with your video montage, tap on "Music."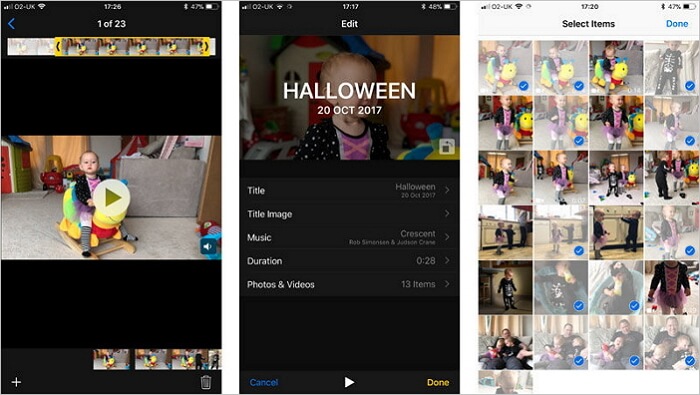 Step 4. You can see how the video will look if you view it in Portrait or Landscape mode. Then, tap on "Done." Tap on the play button to view your masterpiece.  Then, you can export your video.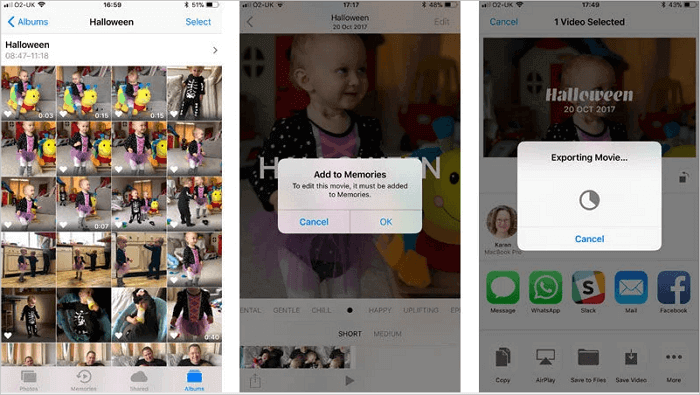 Best Trick to Make a Video from Pictures on Android
For Android users, there is a freeware that is offered by Google; it's Google Photos. 
This application gives users unlimited storage for photos up to 16 megapixels and videos up to 1080p resolution. It can help you analyze and arrange your photos and videos automatically so that you can share these contents easily and conveniently. 
It can recognize the contents of photos to generate albums automatically and animate similar photos into videos quickly. 
Steps to Make a Video with Pictures:
Now, let's talk about detailed information.
Step 1. On your Android phone or tablet, open the "Google Photos" app. Sign in to your Google Account.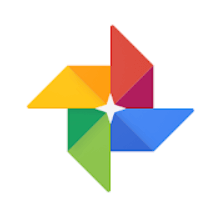 Step 2. At the top, tap "+."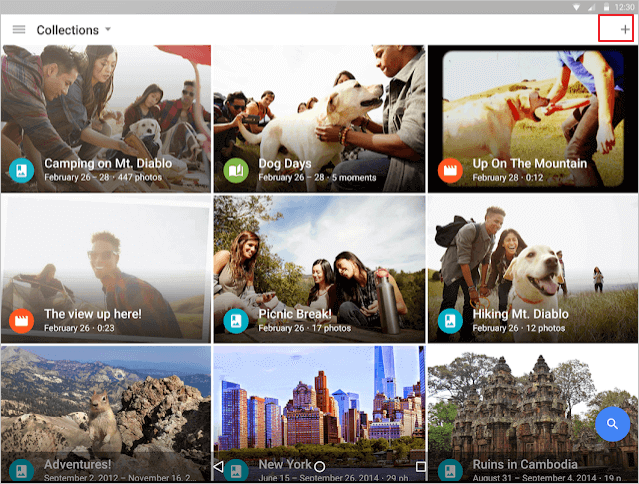 Step 3. To choose the photos and videos that you want in the movie, tap "New movie." Select your photos or videos. At the top-right, tap "Create." When you've finished, tap "Save."
To use a theme, tap the movie that you want and follow the instructions.
To see your movie, tap "Play."
Conclusion
When you are using different types of devices, there are different operations for you to turn the image into video. Among all the video editing tools we introduced above, EaseUS Video Editor is the most powerful and user-friendly one. 
After you create your own videos, it's also easy to add any effect you like with this software. Download the best video editor on Windows now.