Convert MP4 to GIF on Windows Without Losing Quality

Cedric Grantham updated on Feb 18, 2020 to Video Editing Tips | How-to Articles
GIF(Graphics Interchange Format) is a bitmap image format, which comes into widespread usage on the world wide web due to its full support and portability between many applications and operating systems. As real-time communication has grown, so has the use of GIF images. When we chat on WhatsApp or other software, we often use GIF images instead of text to make chatting more interesting. What if you want to use a fragment from an MP4 or a video but can't find the corresponding GIF on the Internet, how to create one by yourself? Actually, a simpler way to make it is to convert MP4 to GIF. On this page, we will show you how to convert MP4 to GIF on Windows in three quick ways.
PAGE CONTENT:
Method 1. How to convert MP4 to GIF on Windows in high quality
Method 2. How to convert MP4 to GIF with Photoshop
Method 3. How to convert MP4 to GIF with online converter
Method 1. How to Convert MP4 to GIF on Windows Using a Video Editor
Converting MP4 to GIF is easier than you imagine. All you need is the source video and EaseUS Video Editor, a user-friendly and professional video editing program that enables you to convert MP4, AVI, WMV, MKV, MOV videos as well as pictures to high-quality GIF animation fast.
Except for format conversion, this YouTube video editor also supports all the basic video editing functions, like adding texts/special effects/metadata/filters, cropping, rotating, merging, and more. It still allows you to extract audio from video and save in MP3 and AAC.
The guide below explains how to convert MP4 to GIF step by step. You can also follow the instructions to transfer other video formats to GIF. Download EaseUS Video Editor for Windows and start creating GIFs right away!
Step 1. Import the source file
Launch EaseUS Video Editor. On the home screen, you can import the source file by either clicking the "Import" option or simply dragging the video to the appropriate area.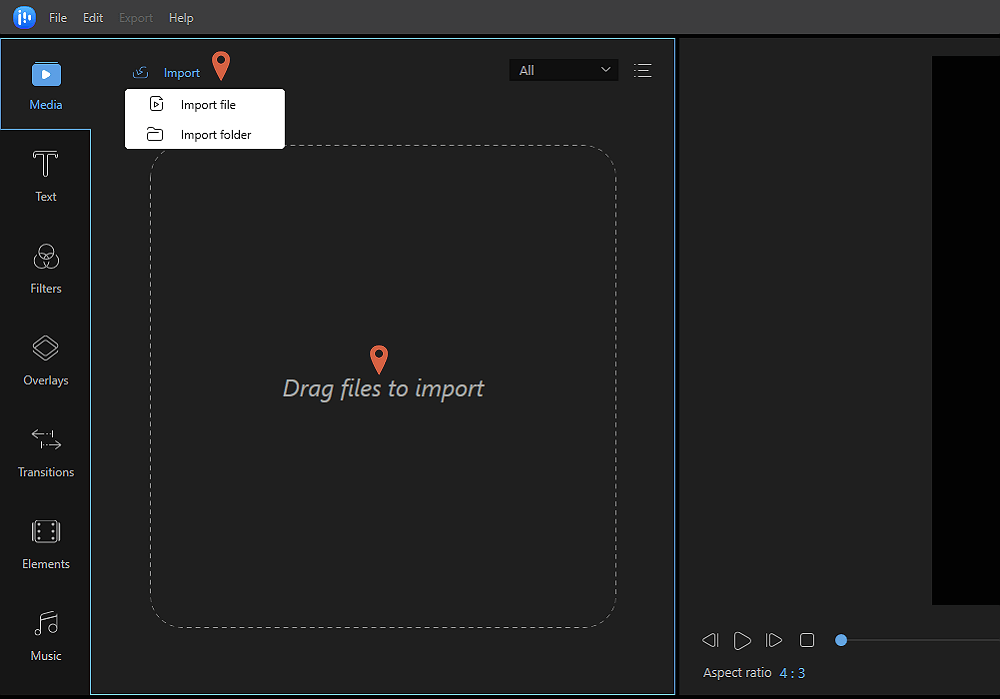 Step 2. Add to project
You need to add the imported file to the track by choosing the "Add to Project" option, or you can drag and place the video to the track as you want.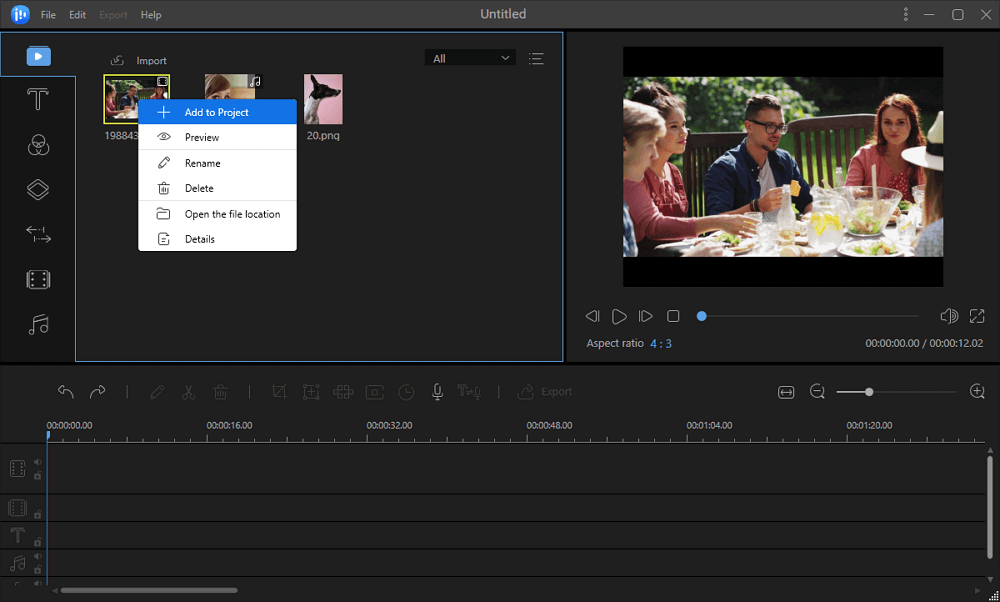 Step 3. Export the source file
Now you can click "Export" on the main menu on the top.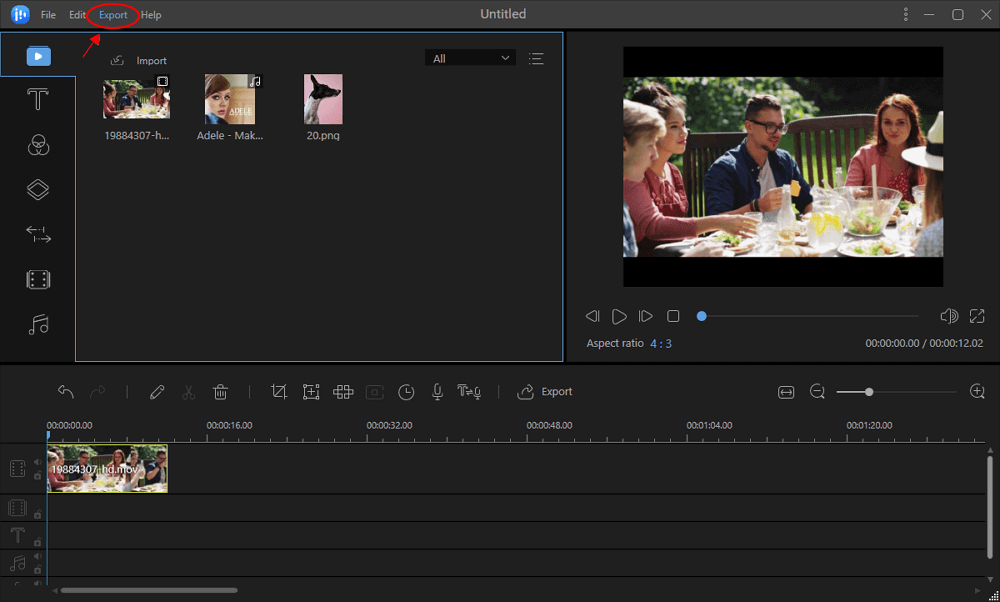 Step 4. Save as MP4/AVI/WMV/MKV/MOV/GIF
Under the "Video" tab, choose a file format among the available options as the desired video file format.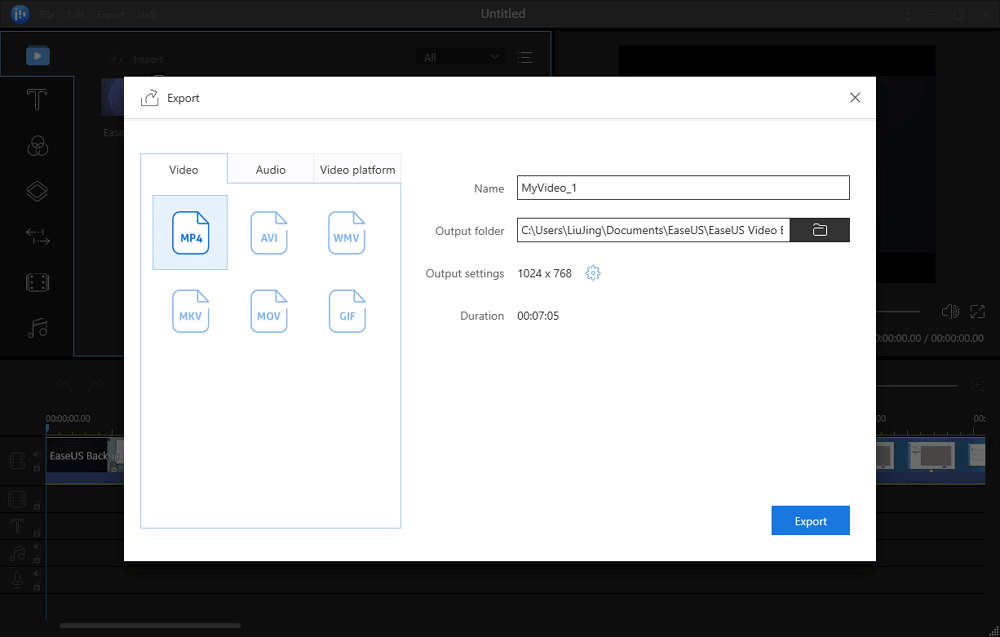 On the right pane, you can edit the file name, customize an output folder and settings and then click "Export".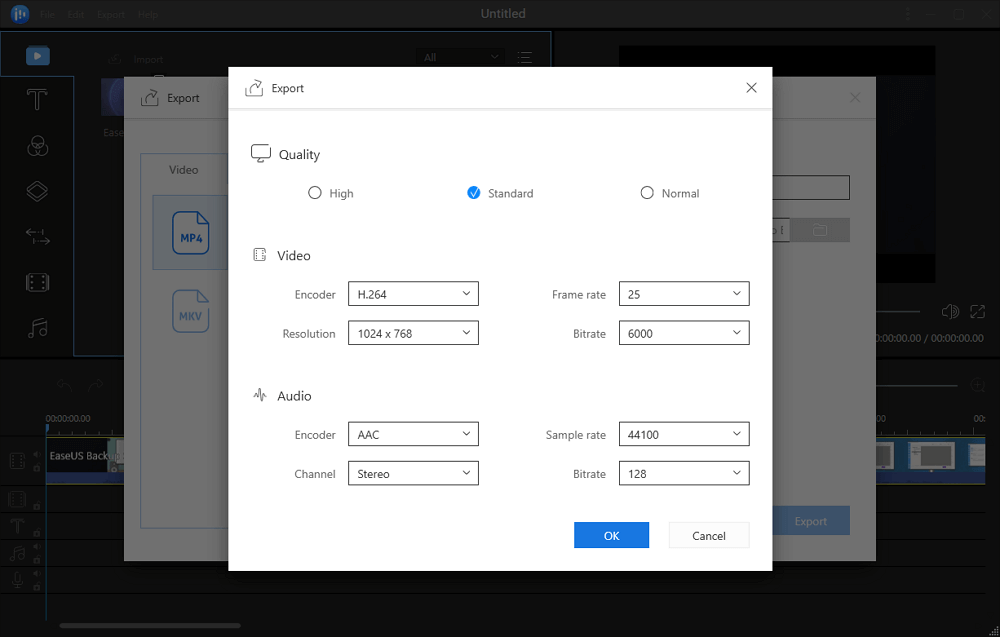 Method 2. How to Convert MP4 to GIF Using Photoshop
If you don't want to use a third-party video editor, another way to convert MP4 to GIF is by using the Photoshop program. You can use it to convert MP4 to GIF on both Windows and Mac computers. The program supports many formats for GIF conversion, including MP4, AVI, M4V, MOV, AVI, and MPEG.
Step 1. Download and open Photoshop on your computer. Drag the MP4 video file directly to open it. Of course, you can also click "File" > "Import", and browse to the location of the video file to open it.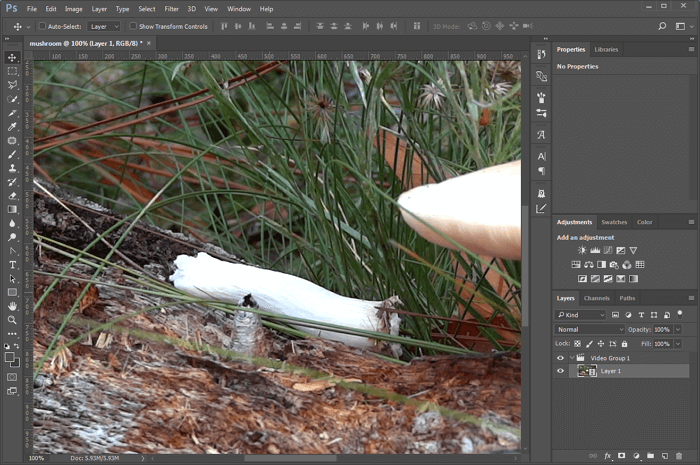 Step 2. After opening the video file, PS will automatically open the "Timeline" editing interface below. Here you can perform operations such as cropping, resolution setting, frame rate setting on the video.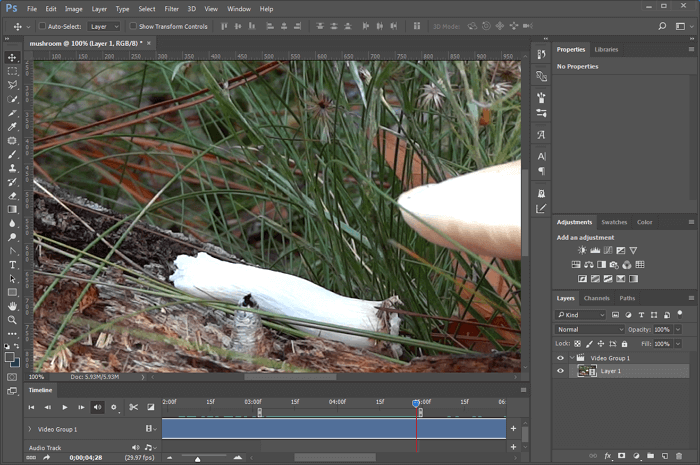 Step 3. After setting, click "File" > "Save as web format", then click "Preview" at the lower left of the pop-up window, and below there will be information about the size of the GIF animation. If the GIF image is too large, you can adjust the pixel value under "Image Size". Under "Animation" is the loop option. Generally, we set it to "forever".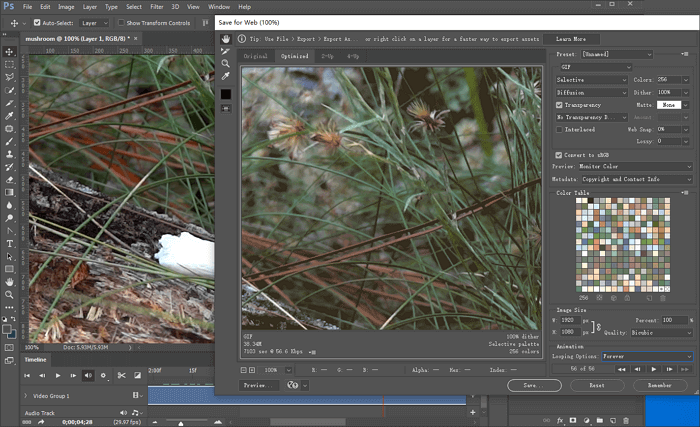 Step 4. After all the items are set, click "Save" to convert MP4 to GIF.
If you are familiar with Photoshop, this method is also relatively easy to convert MP4 to GIF. If you've never used Photoshop before, we recommend you try the video editor to change the video format.
Method 3. How to Convert MP4 to GIF with Online Converter
Except for the above two methods to convert MP4 to GIF, there is another great choice to help you out by using a reliable online converter. This type of MP4 to GIF converter typically lets you do the conversion in three steps. Here, let's take "MP4 to GIF Converter" as an example.
Step 1. Upload MP4 files. You can select target video files from a computer, Google Drive, Dropbox, URL, or by dragging it on the page.
Step 2. Choose convert MP4 to GIF or any other format you need as a result.
Step 3. Let the file convert, and you can download your GIF file right afterward.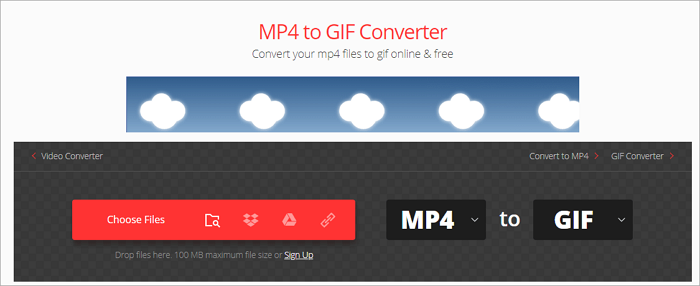 Although some online tools are simple and free to use, some oblivious limitations are using these programs.
First, the biggest inconvenience is the file size limit. Like this one, if you don't register, you can only upload files up to 100M. But video files are usually huge. If you want to use this tool, you need more complicated operations.
Second, online conversion tools don't work as well as the video converter installed on your computer that can convert MP4 to GIF in high quality. Also, they have limited functionality and do not give you a comprehensive video processing solutions.
Last but not least, with online tools, you need to pay more attention to data security.
Wrap Up
We've explained three ways for you to convert MP4 to GIF in this tutorial. If you know Photoshop very well, you can operate it without too much effort. If your files are small, you can use online conversion tools to help you, but be careful about data security. If you are not familiar with Photoshop and the file size is too large, then your best choice is applying an ultimate PC video editor, like EaseUS Video Editor here. This video editing software not only provides powerful capabilities but also allows you to upload the edited video directly to popular video websites, like YouTube, Facebook, Vimeo, etc.
Page Content
Using a Video Editor
Using Photoshop
Using Online Converter