How to Convert MP4 to GIF on Mac/Windows/Online/iPhone/Android Without Losing Quality

Jane Zhou updated on Mar 26, 2021 to Video Editing Tips | How-to Articles
GIF(Graphics Interchange Format) is a bitmap image format, which comes into widespread usage on the world wide web due to its full support and portability between many applications and operating systems. As real-time communication has grown, so has the use of GIF images. When we chat on WhatsApp or other software, we often use GIF images instead of text to make chatting more interesting.
What if you want to use a fragment from an MP4 or a video but can't find the corresponding GIF on the Internet, how to create one by yourself? Actually, a simpler way to make it is to convert MP4 to GIF. On this page, we will show you how to convert MP4 to GIF on Mac, Windows and online in several quick ways.
Method 1. How to Convert MP4 to GIF on Windows in High Quality
Converting MP4 to GIF is easier than you imagine. Here we offer you two methods to finish this task.
1. Convert MP4 to GIF on Windows with EaseUS Video Editor
All you need is the source video and EaseUS Video Editor, a user-friendly and professional video editing program that enables you to convert MOV to GIF, convert MP4 to MP3,  and many more conversion. You can get high-quality GIF animation fast and export the files in 1080P. 
Except for format conversion, this YouTube video editor also supports all the basic video editing functions. You can add subtitles to video, add texts/special effects/metadata/filters, crop, rotate, merge videos, and more. It still allows you to extract audio from video and save in MP3 and AAC.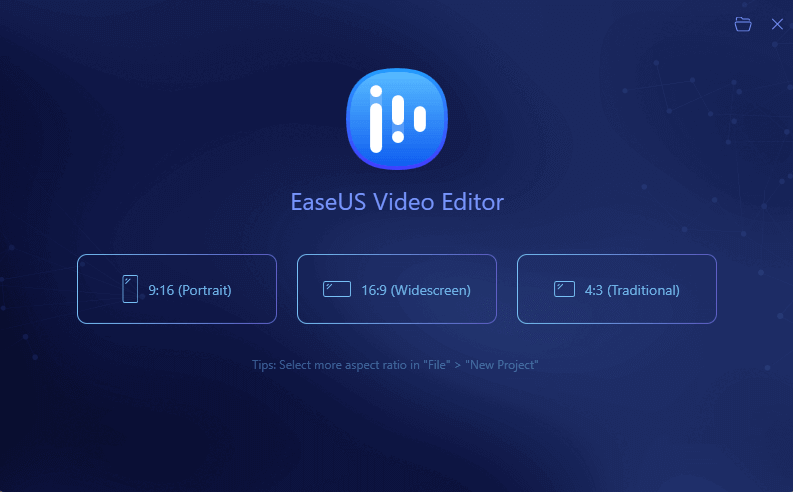 The guide below explains how to convert MP4 to GIF step by step. You can also follow the instructions to transfer other video formats to GIF. Download EaseUS Video Editor for Windows and start creating GIFs right away!
Steps to convert MP4 to GIF on Windows in 1080P with EaseUS Video Editor:
Step 1. Importing Video File
After starting EaseUS Video Editor first thing to do is simply dragging the target file to the media library. You also can right-click on the file and left click import video to do the same thing.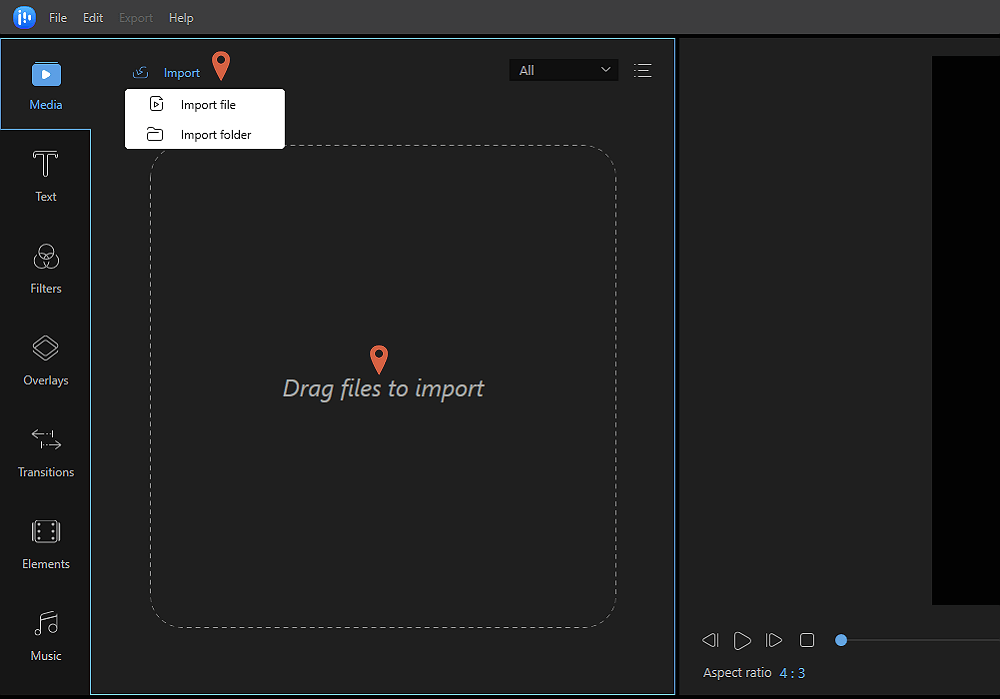 Step 2. Add to Project
The next step is adding video files to the project. After adding source file to media, you can either left-click on "Add to Project" or you can drag and place it.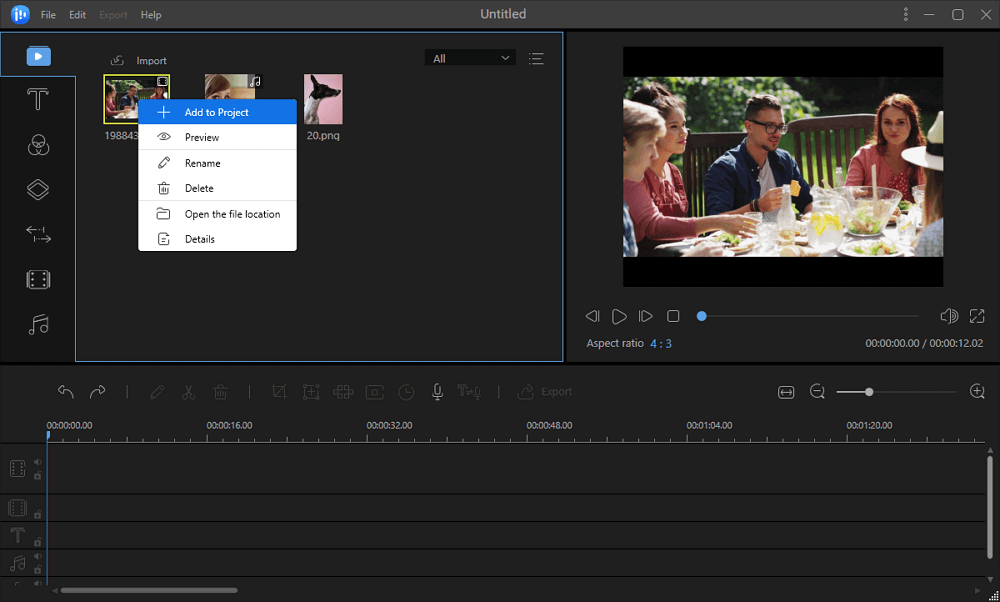 Step 3. Exporting the File
After adding a source to Project it will appear on the timeline. Then you can export the video file, it will direct you to another window.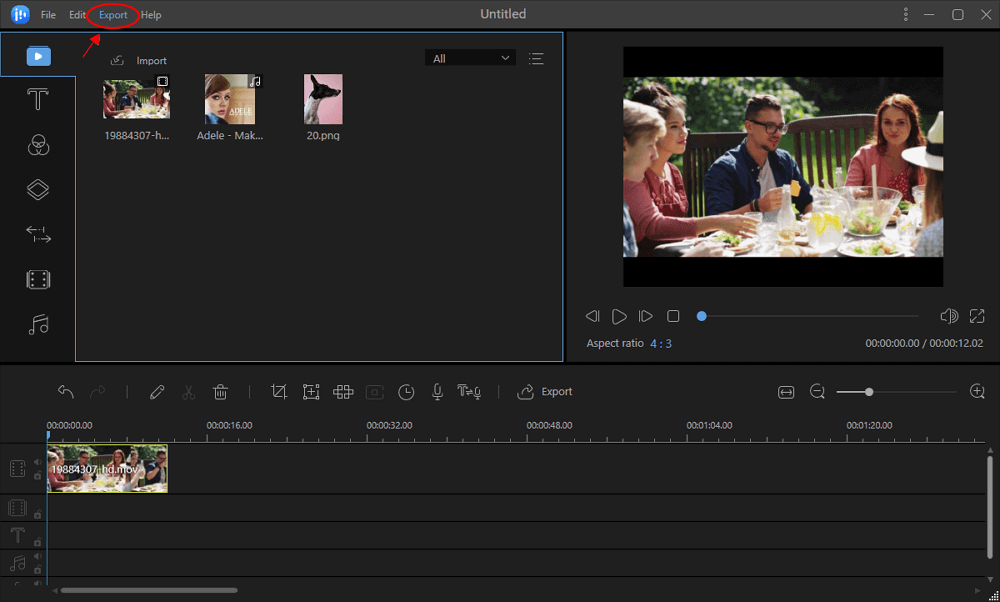 Step 4. Save as GIF
In this window, under the video tab, you can select GIF to change its format. There are also AVI, MP4, WMV, WKV, MOV options. On the right pane, you can customize video name, output folder, output settings, and duration as you wish, and you click export after you finished.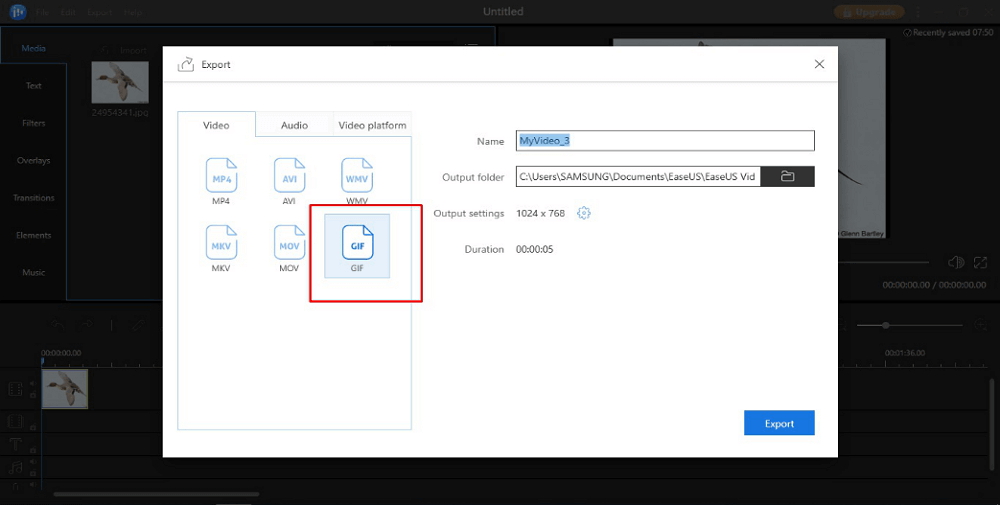 2. Convert MP4 to GIF on Windows Using Photoshop
If you don't want to use a third-party video editor, another way to convert MP4 to GIF on Windows is by using the Photoshop program. You can use it to convert MP4 to GIF on both Windows and Mac computers. The program supports many formats for GIF conversion, including MP4, AVI, M4V, MOV, AVI, and MPEG.
Step 1. Download and open Photoshop on your computer. Drag the MP4 video file directly to open it. Of course, you can also click "File" > "Import", and browse to the location of the video file to open it.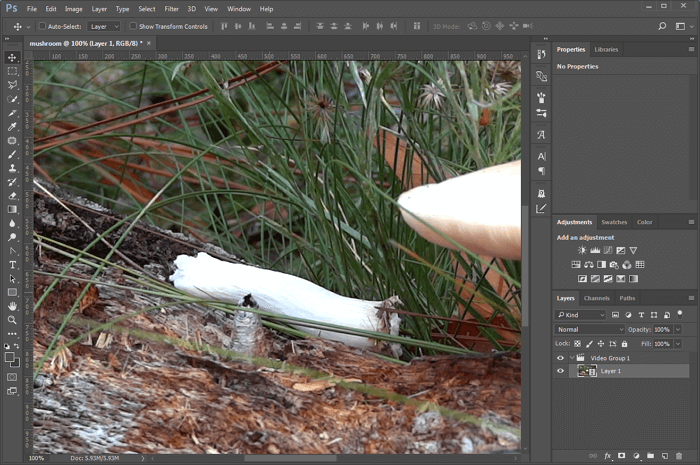 Step 2. After opening the video file, PS will automatically open the "Timeline" editing interface below. Here you can perform operations such as cropping, resolution setting, frame rate setting on the video.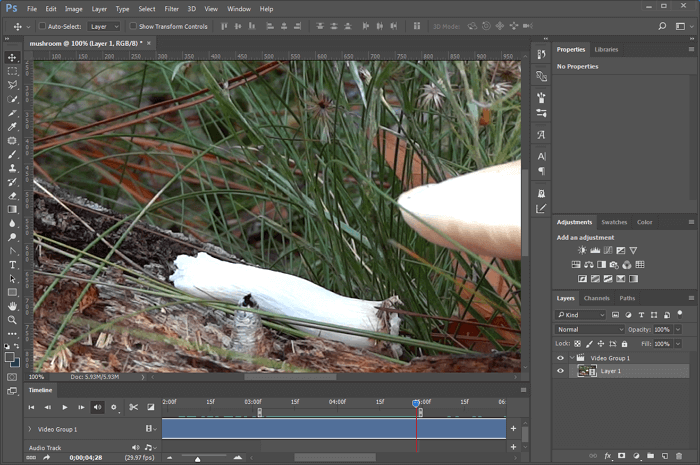 Step 3. After setting, click "File" > "Save as web format", then click "Preview" at the lower left of the pop-up window, and below there will be information about the size of the GIF animation. If the GIF image is too large, you can adjust the pixel value under "Image Size". Under "Animation" is the loop option. Generally, we set it to "forever".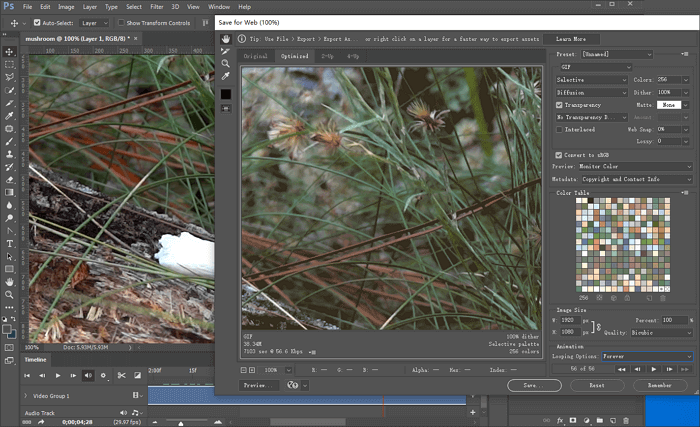 Step 4. After all the items are set, click "Save" to convert MP4 to GIF.
If you are familiar with Photoshop, this method is also relatively easy to convert MP4 to GIF. If you've never used Photoshop before, we recommend you try the video editor to change the video format.
Method 2. How to Convert MP4 to GIF on Mac without Losing Quality
When you want to convert MP4 to GIF on Mac, we recommend you use Giphy Capture. This free app is simple, powerful, and easy enough for you to create an animation from a video in high quality. You can download this tool on Apple Store and have a try.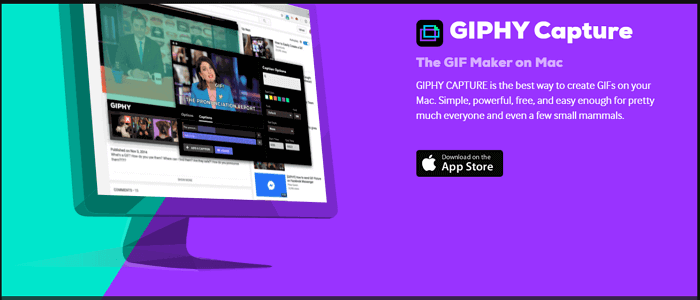 The guide to convert MP4 to GIF on Mac with Giphy Capture:
Step 1. Download Giphy Capture on your Mac and open it. You will see a green square on your screen.
Step 2. Upload your MP4 into Giphy Capture and adjust the square for fitting the video.
Step 3. Click "Start Recording" to capture a GIF from your video.
Step 4. Once done, click the GIPHY Capture logo in the Menu Bar and select your GIF. You can simply edit your GIF and export it or share it as a URL. 
Method 3. How to Convert MP4 to GIF with Online Converter
Except for the above two methods to convert MP4 to GIF, there is another great choice to help you out by using a reliable online converter. This type of MP4 to GIF converter typically lets you do the conversion in three steps. Here, let's take EZGIF.COM as an example.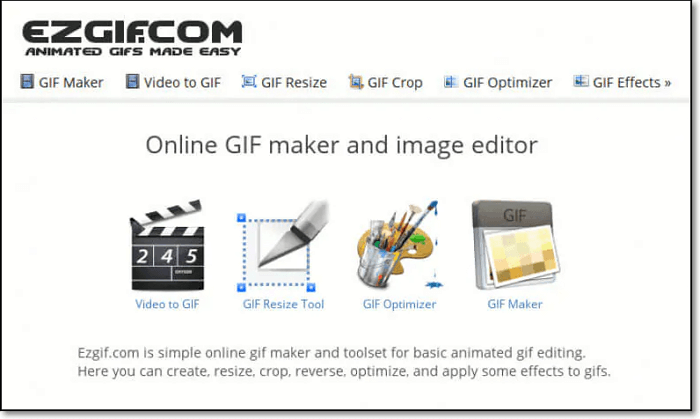 Steps to Convert MP4 to GIF Online with EZGIF:
Step 1. Open the website of EZGIF, and select your MP4 file from your computer or you can paste the URL of the video. And then click "Upload video!".
Step 2. When your mp4 is uploaded, a new page will pop out. Here, you can choose the duration, size, frame rate, and formats for your GIF.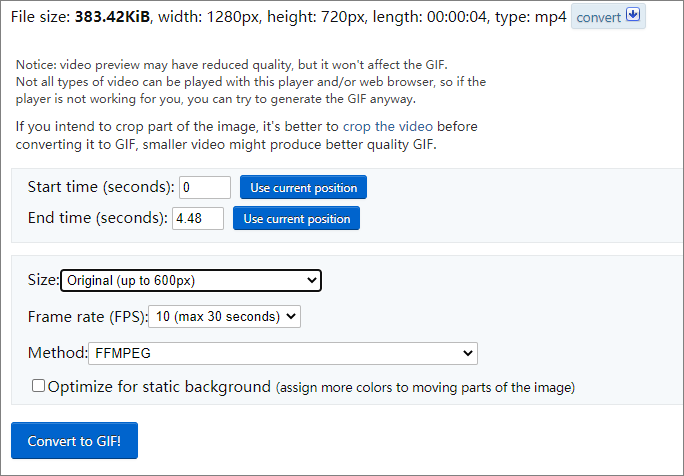 Step 3. After choosing these options, click "Convert to GIF!" and then your GIF will be saved on your computer.
Method 4. How to Convert MP4 to GIF on iPhone
If you are an iPhone user, and you want to convert MP4 video to GIF on your iPhone, I recommend you use the shortcut of iPhone. That is Video to GIF.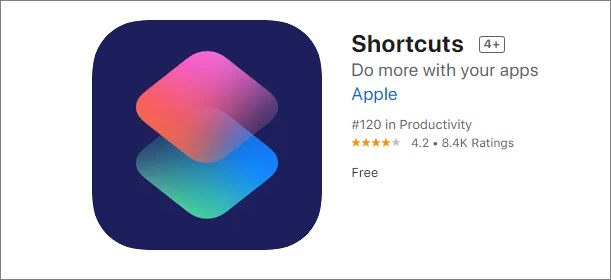 Here's the step to use the shortcut to convert MP4 to GIF on iPhone:
Step 1. Grab this Video to GIF shortcut and launch it.
Step 2. You'll be presented with a list of qualifying videos on your iPhone.
Step 3. An editing window will pop up. Then trim down your MP4 video to just the part you want to make a GIF from.
Step 4. Press "Save". You can press the share button at the top of the screen to save the image or send it to a social media app.
Method 5. How to Convert MP4 to GIF on Android
When you are using an Android phone to convert MP4 to GIF, we suggest an app named GIF Maker. This is an all-in-one free GIF application to enables you to make/edit animated GIFs.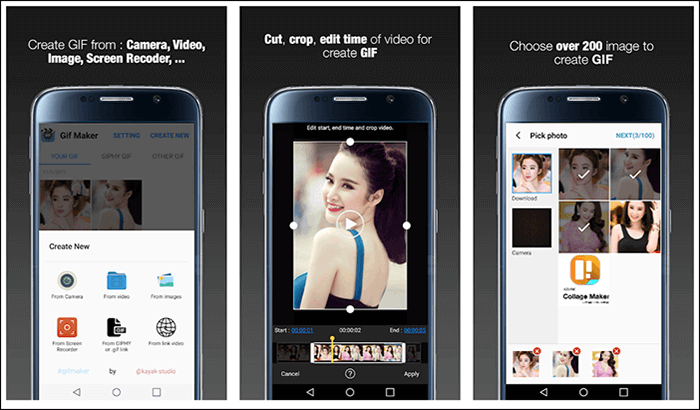 Follow the steps below to convert MP4 to GIF on Android:
Step 1. Download and launch GIF Maker and choose MP4 files from your local file or an URL.
Step 2. A square will appear on your video, you can drag the border to adjust the size of GIF.
Step 3. Customize speed by slide the line on the screen.
Step 4. After everything is done, you can save it to the local file or click "Share via" to share the GIF on your social platform.
Wrap Up
We've explained three ways for you to convert MP4 to GIF on Mac, Windows, online, iPhone and Android without losing quality in this tutorial. If you know Photoshop very well, you can operate it without too much effort. If your files are small, you can use online conversion tools to help you, but be careful about data security. If you are not familiar with Photoshop and the file size is too large, then your best choice is to apply an ultimate PC video editor, like EaseUS Video Editor here. This video editing software not only provides powerful capabilities but also allows you to upload the edited video directly to popular video websites, like YouTube, Facebook, Vimeo, etc.