How to Convert AVI to MP4 Windows 10 for Free | 4 Ways

Jane Zhou updated on Apr 13, 2021 to Video Editing Tips | How-to Articles
MP4 is the most popular format for playing movies and videos. Sometimes, you cannot play AVI videos on your devices. Then, you need to convert AVI to MP4 for its popularity and broad compatibility. This post shows four practical ways to help you convert AVI to MP4 on Windows 10 and online with ease.
Part 1. How to Convert AVI to MP4 Windows 10 with EaseUS Video Editor
Stop wasting time looking for a free AVI to MP4 converter on Windows 10. EaseUS Video Editor is your best choice. It is a free and easy-to-use free video editing software no watermark. This video editing software supports to export many popular audio and video file formats, to some degree,  and it is a useful video/audio converter, which can help you to change video format without any difficulties. 
EaseUS Video Editor
Convert movies files to optimized preset for almost all devices
Edit, enhance, and merge videos to make a movie
Versatile toolbox combines video metadata, video compressor, and more
Support all the common and popular video or audio formats
30X faster conversion speed than any conventional converters
How to convert AVI to MP4 in Windows 10 with EaseUS Video Editor:
Step 1. Import the source file
Launch EaseUS Video Editor. On the home screen, you can import the source file by either clicking the "Import" option or simply dragging the video to the appropriate area.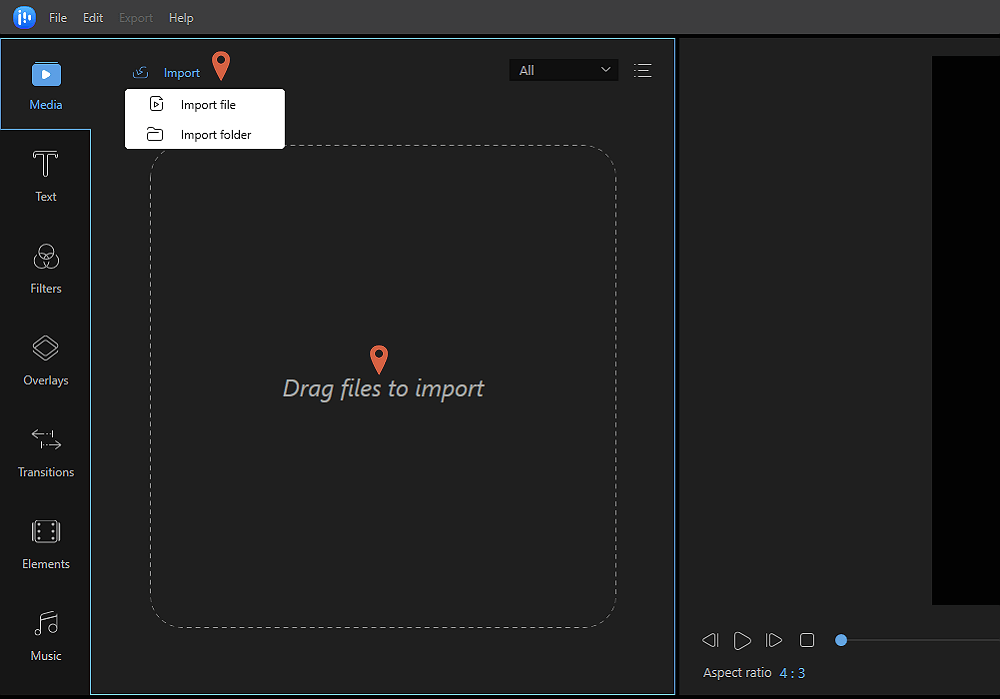 Step 2. Add to project
You need to add the imported file to the track by choosing the "Add to Project" option, or you can drag and place the file to the track as you want.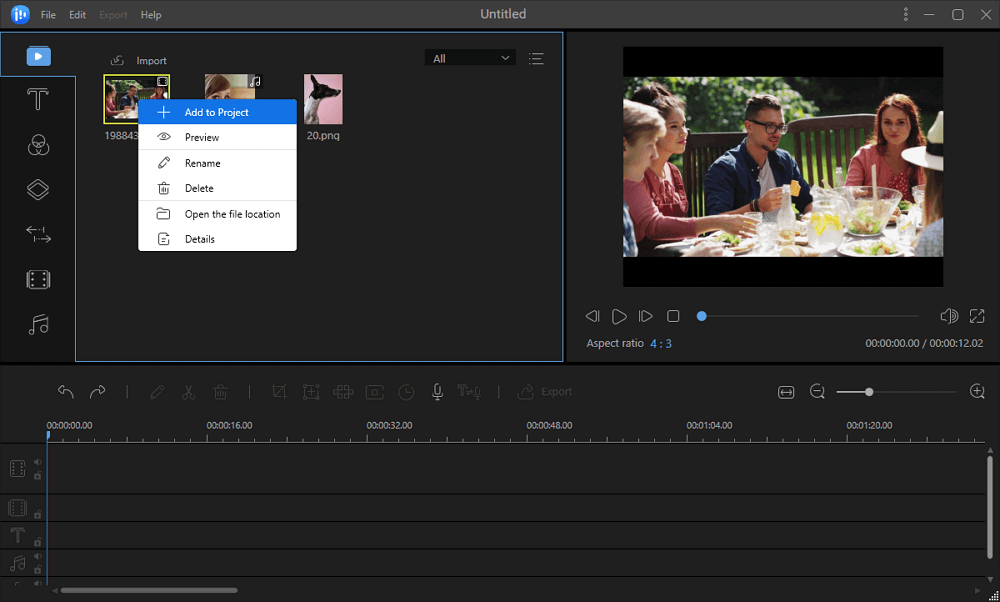 Step 3. Export the source file
Now you can click "Export" on the main menu on the top.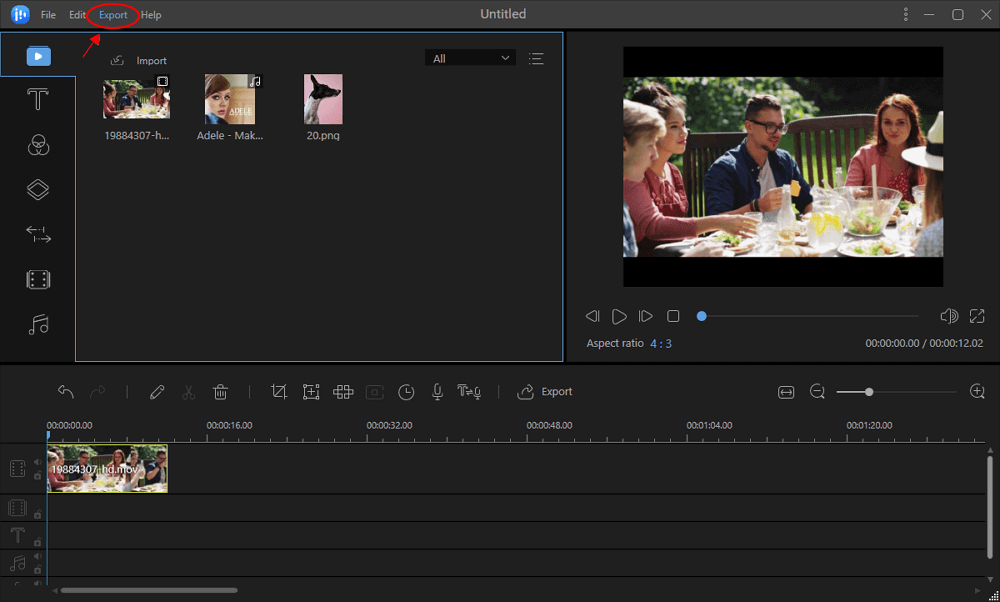 Step 4. Save as MP4
Under the "Video" tab, choose MP4 as the desired video file format.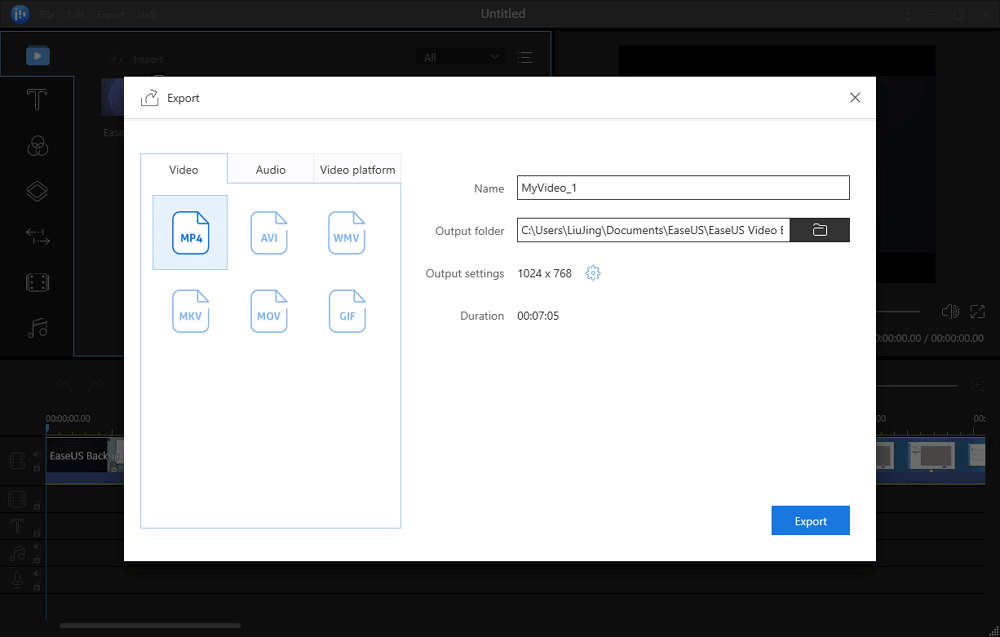 On the right pane, you can edit the file name, customize an output folder and settings, and then click "Export".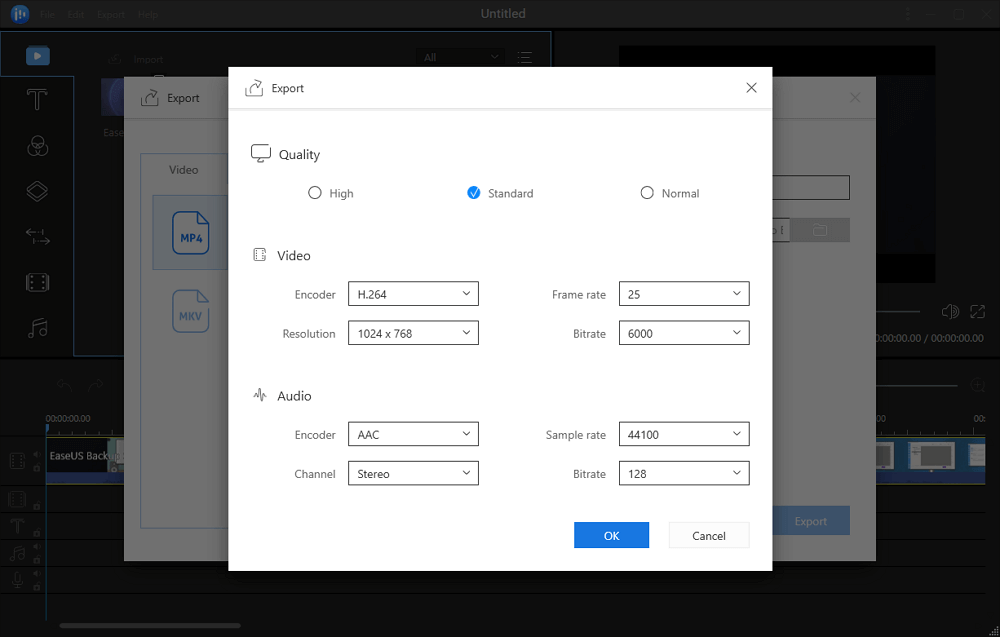 Part 2. How to Change AVI to MP4 in Windows 10 with VLC
Another freeware for converting AVI to MP4 is VLC Media Player. It is not only a media play but also a cross-platform, free, and open-source tool for universal use on all digital devices. To convert .avi to .mp4, you just need to check the following steps.
Steps to convert AVI videos to MP4 format with VLC Media Player:
Step 1. From the VLC menu bar, click on "Media > Convert/Save".
Step 2. The Media dialog box will open. Click on the "Add" button to browse for the AVI files that you want to add. Then click "Open".
Step 3. Click on "Convert/Save" at the bottom. In the Convert box, select the destination folder and the name for the new video file. 
Step 4. Click "Start" to begin the conversion. Under Profile, select MP4 video format from the list of formats. Click Start to convert.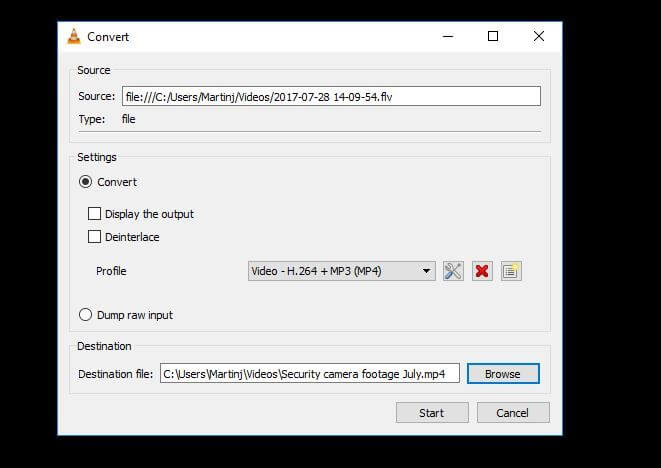 Part 3. How to Create MP4 from AVI with Video Converter Any Format
Video Converter Any Format is a good choice for you to change your AVI files into MP4. It supports lots of input and output formats, like MP4, MOV, AVI, FLV, etc., which means you can almost convert any format in seconds. If needed, you can even select multiple files and convert them at once. 
Moreover, it provides simple editing tools, including cutting, trimming, and compressing, so that you can edit and convert your video files at the same time.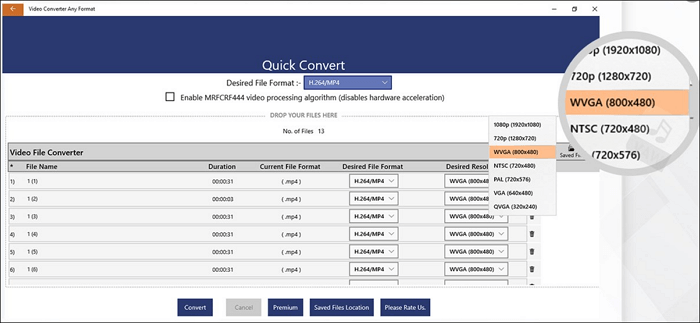 Step 1. Launch the app, then click on the "Quick Convert" option to choose a video.
Step 2. Select your desired resolution and output format you wish. Once done, click the "Convert Button" to start the conversion.
Step 3. After the conversion, you can click files Location Button to play your converted videos.
Part 4. How to Turn AVI into MP4 on Windows 10 Online
If you want to upload your AVI to Chrome or Firefox, you can choose to convert AVI file to MP4 online. No matter what kind of device you are using, a Windows laptop, or a MacBook, you can easily switch to MP4 online. I have tried several online AVI to MP4 converters. Among them, ZAMZAR works perfectly. All you need to do is select your file, pick a format to convert to, and away you go.
Step 1. Choose the AVI file that you want to convert.
Step 2. Select MP4 as the format you want to convert your AVI file to.
Step 3. Click "Convert" to convert your AVI file.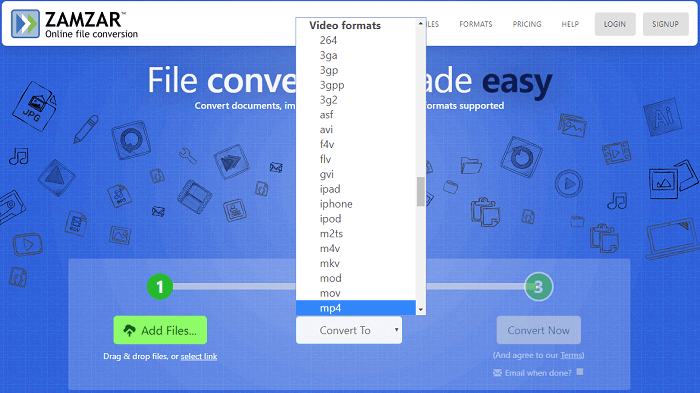 Part 5. Comparison Between AVI and MP4 Format
AVI, also known as Audio Video Interleave, is a multimedia container format introduced by Microsoft. This file format can contain both audio and video data in a file container that allows synchronous audio-with-video playback. An AVI file uses less compression to store files and takes up more space than many other video formats—like MPEG and MOV. How to open an AVI file? Here are the answers:
Windows users: use Windows Media Player or other supported applications.
Mac/Linux/Android/iPhone users: use VLC player.
MP4, specified as MPEG-4 Part 14, is also a multimedia container format used to store video, audio, subtitles, and images into one single file. MP4 is an embodiment of the QuickTime format of 2001 and has a standard .mp4 extension. So if you're looking for a standard video format that's acceptable on all devices and websites, MP4 is your go-to option. You can also know more differences between AVI and MP4 in the table below:
| Feature | MP4 | AVI |
| --- | --- | --- |
| Proprietor | MPEG | Microsoft |
| Supported Video Formats | MPEG-2 Part 2, MPEG-4 ASP, H.264/MPEG-4 AVC, H.263, VC-1, Dirac, others | Almost all |
| Supported Codecs | MPEG-4, H.264/AVC, H.265/HEVC, also MPEG-1, MPEG-2, WMV/VC-1, Real Video, Theora, VP8, VP9, MVC | DivX, Xvid |
| Supported Devices | PC, Mac, all kinds of mobile devices as iPhone iPad Android, etc. | PCs and Game Consoles. Not supported by Macs. |
| Supported Media Players | All media players | Windows-based media players |
The MP4 format is widely used for all the video players or portal devices, but also used for compression of AV data for web and stream over the Internet. But AVI can only be used for Windows-based media players or other devices with related codec. 
Conclusion
You can perform an AVI to MP4 conversion on Windows 10 with simple clicks. Among those AVI to MP4 converters, we highly recommend EaseUS video converter. It not only can help your change your video and audio formats but also offers lots of advanced editing tools to make your videos stand out. Just click the below button to get it now!
AVI to MP4 Conversion Frequently Asked Questions
You have learned about how to convert AVI to MP4. You might want to know the frequently asked questions about AVI and MP4. Read on, and you can get extra help.
Can VLC convert AVI to MP4?
Yes. VLC can convert AVI to MP4. Here is how:
In the VLC menu on the top bar, click Media > Convert or Save.
In the Open Media window, click on Add to select videos you want to convert.
Click on Convert or Save at the bottom.
In the Convert box, select the destination folder and the name for the new video file.
Under Profile, select MP4 video format from the list of formats.
Click Start to convert.
The converted video files are saved at your designated location.
Is MP4 smaller than AVI?
AVI is closely associated with DivX codec, which is notable for compressing video into small size with high visual quality. MP4 is based on MOV as a lossy format using MPEG4 AVC codec. It is the reason why many people believe AVI is better in quality than MP4.
How do I convert files to AVI?
To convert files to AVI:
Step 1. Download and launch EaseUS free AVI editor. Import the source file.
Step 2. Add to project.
Step 3. Export the source file.
Step 4. Save as AVI.