Top 10 Birthday GIF Makers in 2021 - How to Make?

Vanessa Chiang updated on Dec 22, 2020 to Video Editing Tips | How-to Articles
Birthdays are one of the most celebrated events in our lives, and we all love to capture those to revisit them in time. While there are videos and images, but there is GIF format as well, and they are fun to watch as they keep repeating themselves. Imagine eating a cake, and it fell. Now repeat this in a loop, and you have a funny moment.
The only problem is that you cannot capture a GIF file using any camera. You need to create it using software which allows you to capture those perfect moment. It is more of a post video and photo editing work than doing it right away. So if you have the right tool, you can scroll through the video, move it back and forth to see how it plays, and precisely cut at the exact location. Similarly, for images, you can combine them, and run it into a loop. Only a right birthday gif editor can do this job.
The Best Birthday GIF Maker on Windows
EaseUS Video Editor is one of the best editors you can find to edit and create professional videos out of raw videos. If you need to edit videos often, remove anything which is not necessary, and need to customize it with filters, transitions, background music, text, and more.
The editor also offers you to create a GIF file from a video you import into the editor. The best part of using the tool is you can even customize it further by changing speed, adding more reaction GIFs, filters, and more. Here is the list of features when it comes to making a GIF from the videos.
Features:
Support a large variety for video format so you can import video from anywhere
Option to change frame rate, bitrate, and resolution of GIF file to improve quality
Add text effects if you want to add a message as there is no audio in GIF files
Filters added to GIF file at the right moment can create an impact
Elements are small video reactions that appear as part of the GIF
Transitions are also useful if you are combining multiple GIF files
How to make a birthday GIF using EaseUS Video Editor:
Step 1. Importing Video File
After starting EaseUS Video Editor first thing to do is simply dragging the target file to the media library. You also can right-click on the file and left click import video to do the same thing.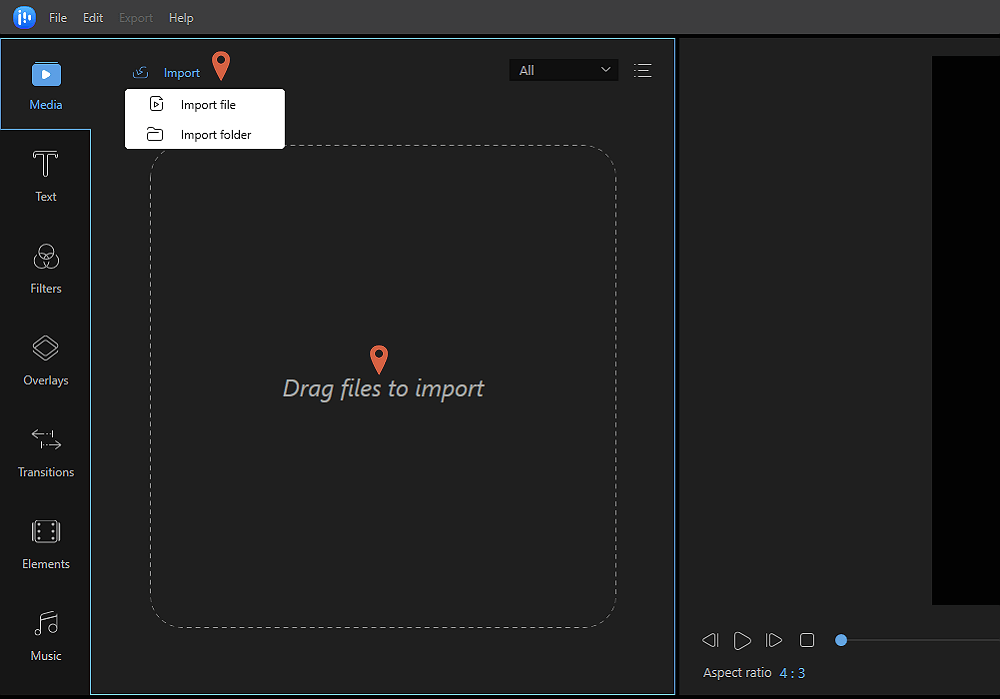 Step 2. Add to Project
The next step is adding video files to the project. After adding source file to media, you can either left-click on "Add to Project" or you can drag and place it.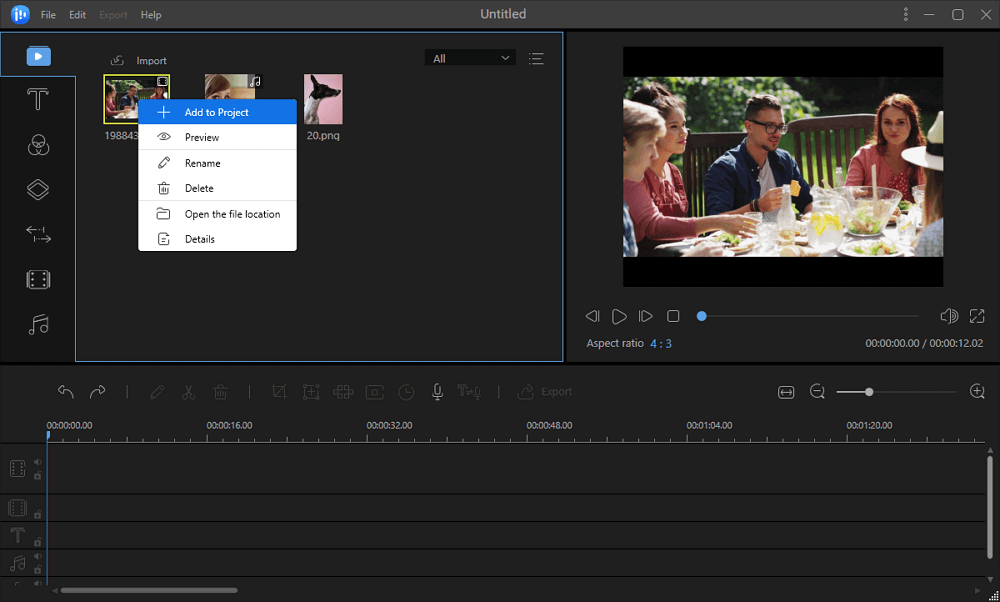 Step 3. Exporting the File
After adding a source to Project it will appear on the timeline. Then you can export the video file, it will direct you to another window.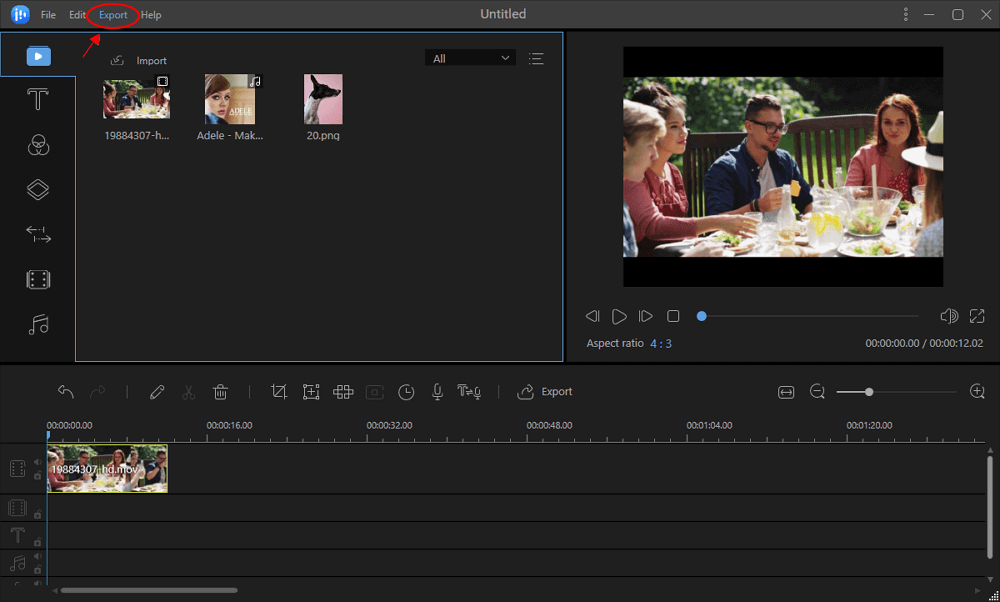 Step 4. Save as GIF
In this window, under the video tab, you can select GIF to change its format. There are also AVI, MP4, WMV, WKV, MOV options. On the right pane, you can customize video name, output folder, output settings, and duration as you wish, and you click export after you finished.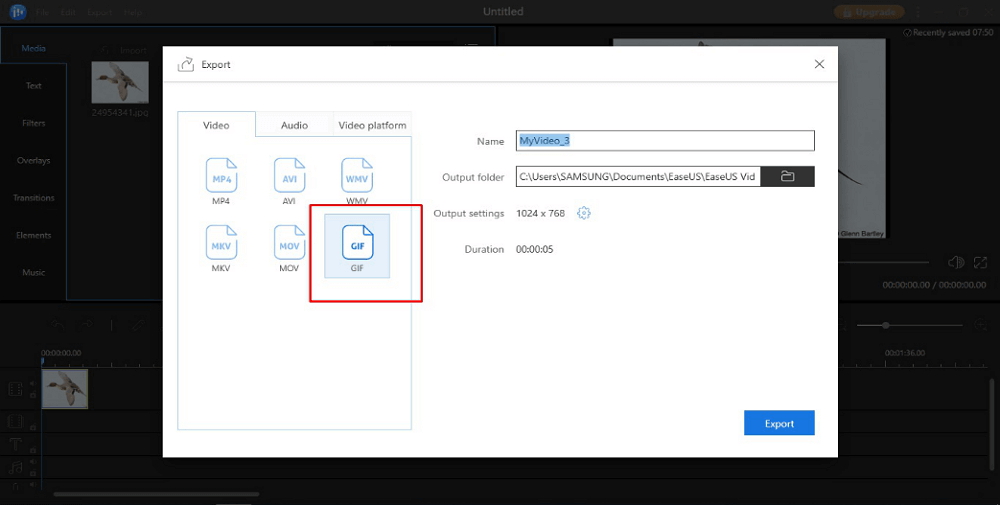 Top 7 Birthday GIF Makers Online
These are online-only tools where you can upload images, and then create a GIF image using various options available. 
It offers a GIF maker tool where you can upload all the images and then convert it into a GIF file. You can upload formats like JPG, PNG, BMP, TIFF, HEIC, and even a ZIP archive with images. It also offers a video to GIF tool where you can upload birthday video, and then choose to create GIF from it.
The tool offers tons of options so you can manage any size and differently sized.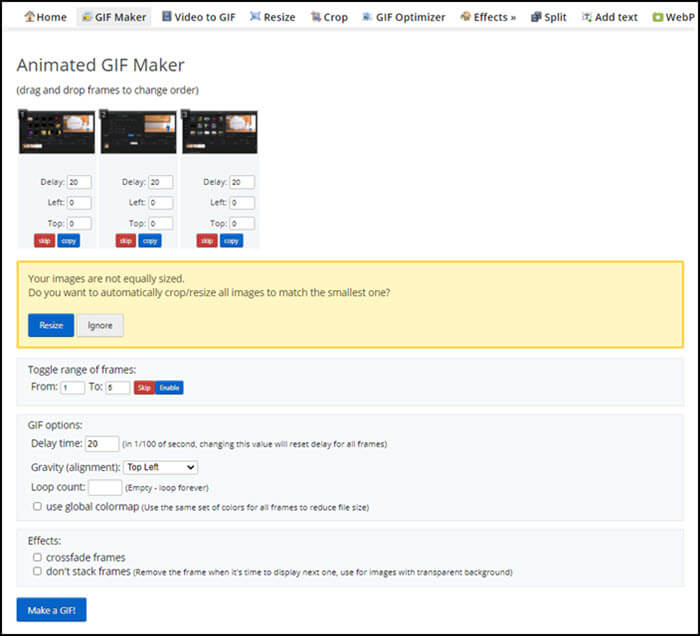 Cons:
It takes a long time to process
Video upload size is limited to 6 Mb each and a maximum of 100MB
The user interface is outdated
Steps to create GIF:
Step 1. First, prepare the images from which you want to create the GIF image. Then you open the Ezgif website.
Step 2. Select the files and upload them to the website. Depending on the file size, it will take some time for the upload to complete.
Step 3. Finally, set the size, delay time, loop count, and more. Click on Make a gif, and then download it.
If all you want to do is create gif from images, then online tools are your best bet. Image Online GIF maker is one of the feature-rich tools. Once you upload the picture, you can arrange them using the slider. The tool allows you to add text to display in GIF. You can also use the slider to set the GIF interval. However, there is a considerable drawback; you cannot change the size of the individual images. You can only choose to have a fixed size to which all images will be cropped.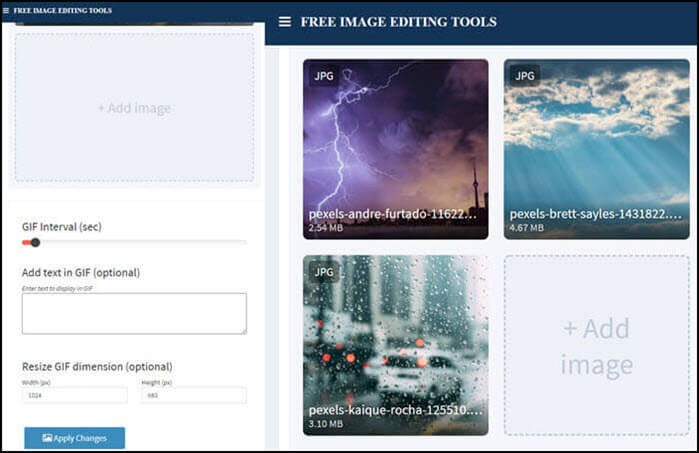 Features:
No limit on the number of images
Easy to use for beginners
Uses client-side scripts to create GIF at a faster rate
Entirely free for use
Cons:
Privacy concerns are there, so make sure not to upload private images
Since there is no timeline, you cannot blend images
No option to color correct images or resize them individually
Steps to create a GIF using Image Online GIF Maker:
Step 1. Open the website and then upload all the images.
Step 2. It will instantly display a preview with predefined timing and delays.
Step 3. You can set up width, height, and add text to GIF. Once done, download it.
It is another online tool to create animated gifs, slideshows, and video animations. You can upload multiples and video to create GIF out of it. It's a free tool that adds no watermark. Once uploaded, you get access to the control panel allows you to change the canvas size, animation speed, and repeat times, etc.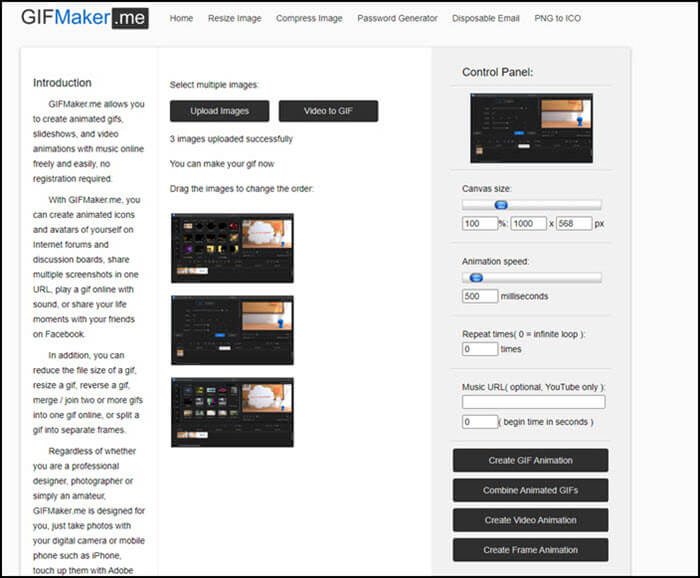 Features:
Create animated icons and avatars from images
Reduce, resize, reverse, split gif into separate frames
Setup canvas size, animation speed, repeat times
Apply filters and effects
Create a video animation with audio
Work on all the platforms
Cons:
Output quality can be compromised
Images cannot be removed, and the wholes set should be reuploaded
The outdated user interface will clutter when you choose to upload a lot of images
Step to create GIF using GifMaker:
Step 1. Open the website and upload the images. You can upload up to 300 PNG, HPG and GIF Images. Yes, you can combine multiple GIF images as well.
Step 2. Once the image is uploaded, you will get a preview that can be controlled by using a canvas tool, animation tool, repeat times, and so on.
Step 3. Once you are through the preview, you can choose to upload more images or click on create a gif animation to download them finally.
Kapwing is an online service that offers multiple tools, one of which is video editing. While it misses on a direct tool to create GIF, the studio can export in GIF format from images and video files. It offers a dedicated video editor which you to trim multiple parts of a single video, and then merge them into one. The tool provides a playhead and range selector. Once done, click on the add cut button to add it to the list.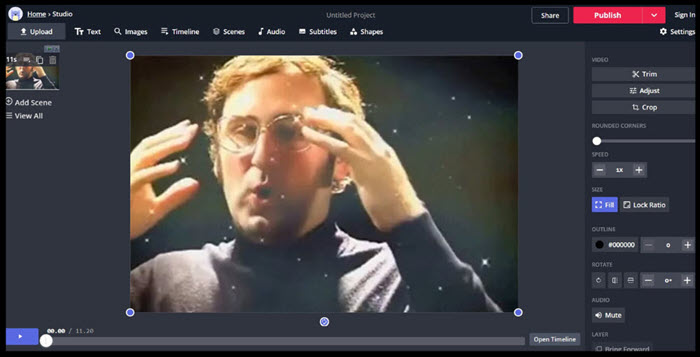 Features
It offers customization options such as aspect ratio, border, zoom and crop, background color, and more
Add effects such as fade, hue, reveal, vibrate, hue rotate, and more
Timeline support to merge and mix multiple images
Subtitle support to enhance your message in GIF
Cons:
No option to change the quality of GIF files
Not suitable for those looking to create GIF quickly
Too many view modes will confuse the end-user
Steps to create GIF using Kapwing:
Step 1. Open Kapwing.com, and click on the start editing button to open the editor. Here you can choose to upload images from the computer. 
Step 2.  Once the images are uploaded, you can customize settings such as image size, cropping, option to rotate,  You can also add animation effects.
Step 3. Lastly, click on the settings icon, and choose GIF as the output format. Click on Export image to download GIF file on your computer.
It's a popular online website that hosts tons of GIF files that you can share anywhere. It also hosts a tool that allows you to create GIF files with style. The tools offer styles, animations, stickers, filters, and draw. The website offers a wide variety of GIF files that you can download and remix with your images. Apart from GIF files, you can also create stickers, videos, and much more if you have the skills.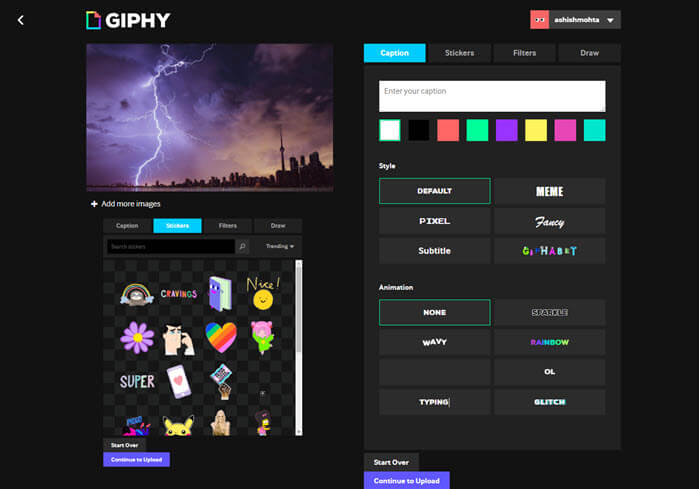 Features:
Instantly share the GIF images to multiple social media
Add stickers, captions, and trending images
Keep all GIF files into one place under one account makes it easy to find it
Cons:
Limited editing features
You will have to upload it to the GIPHY website first
There is no way to keep GIFs private
No option to re-edit the image
Steps to create GIF using Giphy:
Step 1. Open Giphy.com, and then create your account. Done that open the GIF creator, and upload the images.
Step 2. It will open the editor where you can add caption, stickers, and add trending animation.
Step 3. Lastly, upload to GIPHY, and then you can download it on the computer.
It's another brilliant website that offers multiple ways to create a GIF. You can use images, Youtube, Facebook, local video, webcam, and more. Once you create a GIF, you can quickly upload to multiple social media websites; however, stay aware than if the GIF file is way too big, the upload may fail. In that case, you should share a link. Most of the websites can preview the GIF file, and it delivers a better experience.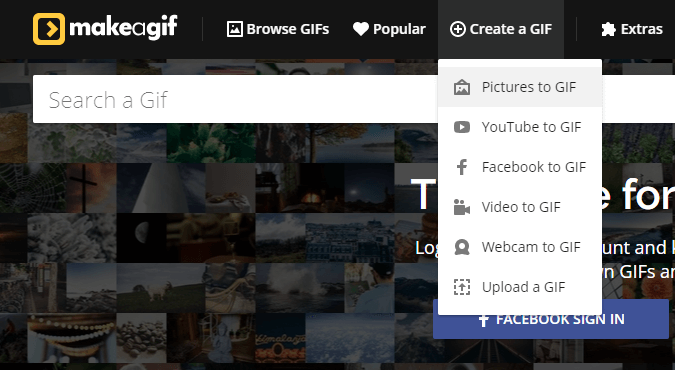 Features:
Professional online tool to create GIFs
Powerful features for Premium subscribers
Offer chrome extension, flipbook, GIF, TV, and API if you want to integrate with your application
Cons:
Deleting a GIF has to be requested
A lot of features are locked into a premium account
Useful for professionals
Steps to make a gif:
Step 1. Open the website, and create an account. Once done, you get access to all the methods, choose pictures to gif if that's your case.
Step 2. Drag and drop images to the tool and then click on continue to editing.
Step 3. Lastly, you can add captions, stickers, add watermark. It is done that you can go ahead and publish the GIF and download it.
It's a no-nonsense online gif maker where you upload images, set up the size, and choose the speed to create a GIF instantly.
The GIF effects tool included on the website from third party services are interesting. It shows a preview of what is applied to the GIF. The biggest problem is that you can apply it to only one image, and if you change effect, you will have to reupload the images again.
Online reversed GIF tool is another impressive feature which can change the sequence of existing gif in full reverse. So, if somebody was falling, the person could simply start rising in the air.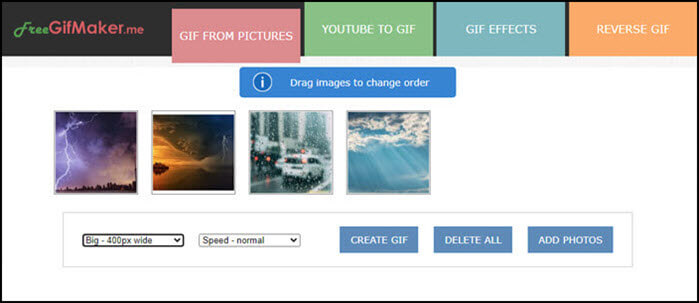 Features:
Create GIF from YouTube videos
Add GIF effects
Reverse any existing GIF file
Cons:
Limited to only creating GIF
No option to delete individual images
Cannot resize images to best fit
Steps to create GIF using FreeGifMaker:
Step 1. Open the GIF maker on your computer and click on Upload Photos. Select the photos and wait for the upload to complete.
Step 2. In this step, you can rearrange the photos, choose the size and speed of the final GIF. You are limited by the biggest size or anyone specific size of the uploaded image.
Step 3. You can now choose to add more photos, restart, or click on Create GIF button to create a GIF file instantly. 
Top 2 Birthday GIF Makers on Phone
Everyone now uses smartphones to do most of the things, so why not make a GIF.
It is a one-stop Android app for everything you want to do with GIF format. It allows you to create GIF using photos and videos added with a variety of features that are built into the application. Once you select multiple images from the phone, add effects such as filers, frame rate, and even create a boomerang GIF file.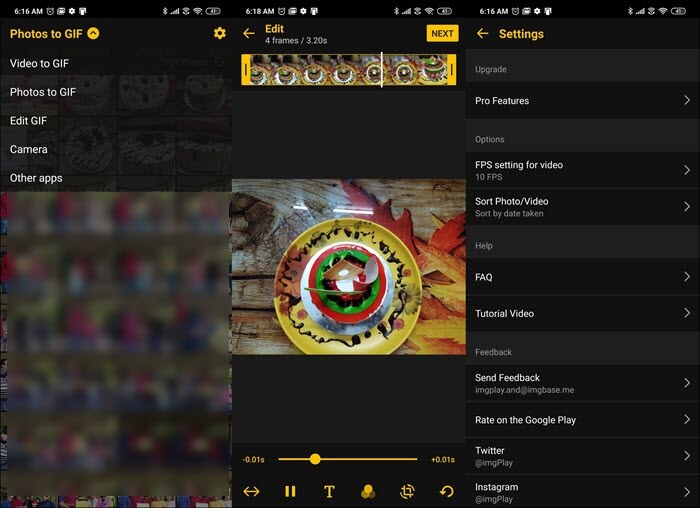 Features:
Create GIFs in a variety of ways i.e. video to GIF, photos to GIF
Offer GIF Editor, and Camera mode
Make GIF funnier using filters, edit frames, speed control, change playback direction, add captions
Steps to create a GIF on Android:
Step 1. Tap on Photos to GIF and then select the images. The images should be on your phone.
Step 2. Click Next, and here you can enhance a bit. It includes trimming, adding text, reverse option, and more.
Step 3. Finally, export it as GIF. The quality of export can be changed from the settings.
If you love creating meme GIF out of your images, then this is a perfect tool. You can add reactions, make a collage, looping GIF, and so on. The best part of the application is that you can add gif effects to existing photos & videos. There are over 200+ animated gif effects.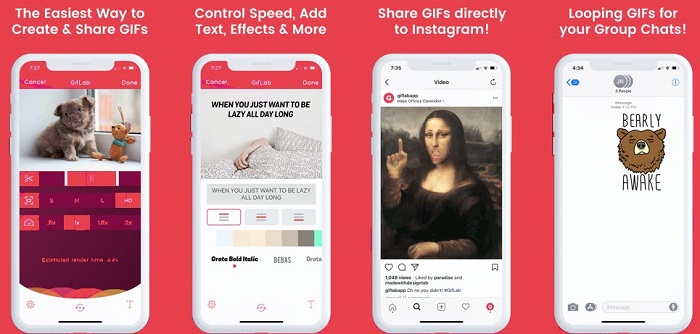 Features:
It also allows you to add music
There are over 100+ masks to customize your gif effects
Share your edits on your favorite social networks
Steps to create GIF
Step 1. Open the app, add the images, and then arrange the sequence of the photos.
Step 2. You can then choose from multiple options such as music, mask, and various effects. Apply and preview each of them.
Step 3. Finally, click on the Save icon on the top right to download on the computer.
Conclusion
These are some of the best tools to create GIFs. If you are using Windows, check out EaseUS Video Editor, which offers a full-fledged tool for video, images, and audio. Otherwise, you can always use any of the online GIF makers who offer a variety of options to create in the style you need. Lastly, you can also use applications on your phone to create GIFs. I hope the post was interesting, and you now know how to make a birthday gif.