Copying Files Starts Fast then Slows Down
"I have a lot of files to move, about 1TB to go... The files are more or less all the same size, about 10MBs of each. They are being copied from one external HDD to another, via USB3.0 and my Win10 PC. At first, the transfer rate shows about 30MB/s, at which rate it would be complete in 3-4 hours. But after a while the rate starts to go down, fluctuating between fast and slow, then it can be as little as 1MB/s maximum speed.
Is there anybody can help me get out of this situation? The pretty slow copying speed really bothers me! It will take weeks to finish copying or transferring all of my files. I really need help. Please help me! Thanks in advance!"
Why Does File Copy Speed Slow Down Dramatically
According to professional suggestions, the below-listed errors are top reasons that may cause your device with slow copying speed issue:
Low storage space: storage device runs out of free space.
Your device gets occupied by useless files or a large number of junk files.
Corrupted system files/bad sectors on the storage device.
How to Fix "File Transfer Starts Fast then Slows down" Issue
Here are some reliable fixes that can speed up the copying speed and fix the "file transfer starts fast then slows down" issue.
Fix One. Compress and Backup Data to Speed up Copy Speed
I'd strongly recommend automatically backing up your files to your external hard drive, instead of manually moving them from one partition to another. File backup is much time-saving and space-saving because it can automatically create images of your files to your external hard drive. Besides, the images of your large files take up less space of your storage device. Why not choose a professional and easy tool to help you automatically backup or copy all of your files.
EaseUS Windows backup software is your best choice for its advanced & flexible backup features. No need to manually copy and paste the files, as long as you set up a scheduled backup plan, it will help you automatically backup a specified folder with important data to an external hard drive. And the operation can be performed periodically, for example, daily, weekly, monthly or just when you plug in the external drive. All the details are in this article: Automatically Backup Files/Folders to External Hard Drive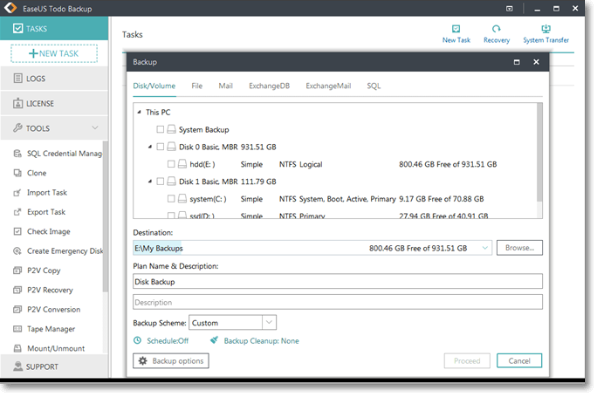 Fix Two. Clear Useless Big Files and Junk Files
To remove and clear useless junk files or big files, you can refer to professional file cleaner software for help.
If you need a simple guide, you can directly refer to clean up junk files for help.
Fix Three. Run CMD to Repair Corrupted System Files
1. Right-click on Windows icon and select the "Command Prompt" (Admin) option.
2. Click "Yes" when you are presented with a UAC window requesting permission to sign in with your account and password and launch the Command Prompt as Administrator.
3. Type: chkdsk E: /f /r /x and hit Enter. (Here you should replace E with the drive letter of your external hard drive or the hard disk that you are getting data off.)
After trying all the fixes above, you can get a fast speed to transfer files. You don't have to worry about the "copying files starts fast then slows down" error at all.