Windows 10 File History backup is not working, what can I do
"Hi guys, do you know what to do if File History is not working for file backup in Windows computer? I'm having this issue that I can't find any backed up files in my target hard drive.
When I tried to open it, it warned me that File History can't recognize this hard drive. What can I do to change the situation and quickly backup wanted files before I upgradecomputer to new Windows 10 version?
If you happen to have any good suggestions, please let me know. Thanks."
Have you ever received an error messages such as 'File History can't recognize this drive' or 'File History no usable drives found'? If you can't backup files with File History in Windows 10, don't worry. Here in below, we'll provide you quick fix to help you effective backup wanted files before Windows 10 update and reliable methods to fix and repair not working File History with simple clicks.
Quick fix File History not working error with backup software
If you are urgent or you need to use File History backup data right now, don't worry if it doesn't work. Here a File History alternative software - EaseUS Todo Backup will effectively help you backup wanted files, data or hard drive partition, etc within simple steps.
Just free download and install it on Windows 10, 8 or 7 PC and follow to see how to back up files without File History now:
Step 1: Open EaseUS Todo Backup and select "File Backup".
You may have a large amount of vital data to be protected as time goes on, such as documents, pictures, music, and videos, etc. It is always a good habit to have a backup on regular basis. File Backup is one of the best choices for you to get over unexpected data loss.
Step 2: Select the files that you want to back up.
If you just want to back up one or some specific file types from one folder, the option at top right corner can help you exclude the others files.
Step 3: Select a destination to save your backup file.
You'd better create the backup file in some other storage media or in some other drive. If not, there may be a risk of the backup file getting corrupted or destroyed.
Step 4: Click "Proceed" to execute your operation.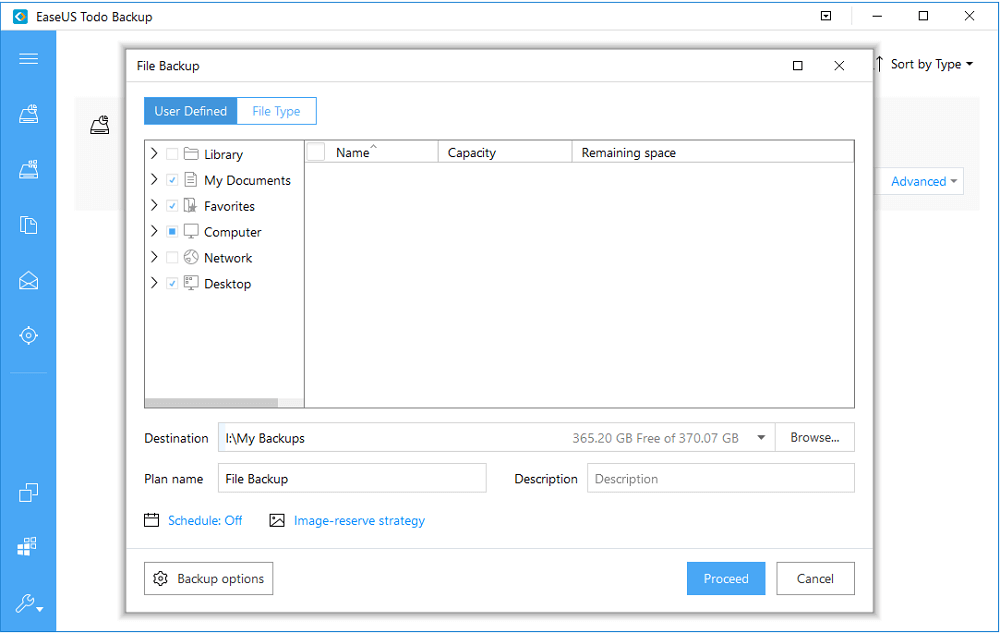 After this, you'll successfully backup wanted files into target drive by then. And you can choose to upgrade your Windows system or free up disk space or continue other jobs now.
Fix and repair not working File History in Windows 10
If you want to make File History back to work again, you can just follow below-offered methods and get things done now:
Method 1. Change hard drive to make File History work again
1. Typing: File History in the Search and click File History;
2. Select Configure File History settings if No file history was found;

3. Click Select another drive under 'File History doesn't recognize this hard drive' error message;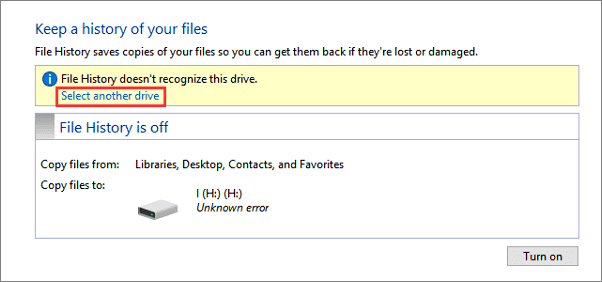 4. Then select the new disk to replace the unrecognized drive for File History and click OK to keep the changes.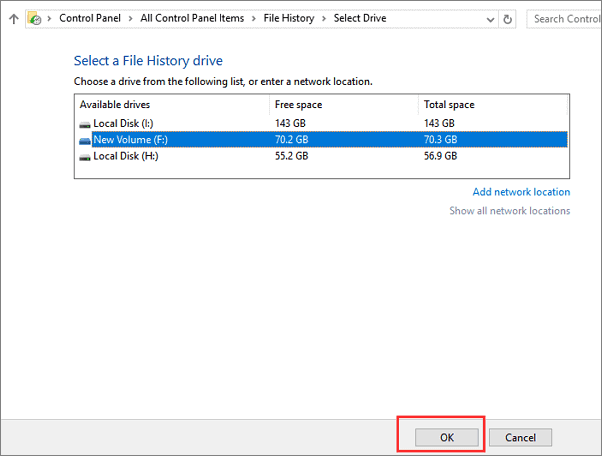 Method 2. Enable Windows Search service to repair not working File History
1. Press Win + R to open Run > Type Service.msc.
2. Double-click on Windows Search > If it's disabled, set it to Automatic.
3. Click on Apply > Then choose OK.
Method 3. Update Windows system into the latest version or try the system restore
You can also choose to directly update Windows system into the latest version so to gain a new and healthy File History for file backup.
Then you can set up to use File History to backup important files and data in your PC by then.
You can also try System Restore to restore Windows system to the previous healthy state. By doing so, you can apply File History for file backup by then.