We've heard of so many benefits of a Solid State Drive, and most people nowadays have purchased one. The lack of moving parts in an SSD allows data to be transferred at maximum speeds. So if you find your laptop or desktop computer hard drive running awkward, or need an additional drive to fastest run Windows 10 system, you should prepare yourself an SSD of 128GB or even 1TB, according to your own needs. Next, follow us to upgrade SSD without reinstalling Windows 10 operating system and your favorite programs.
Solid State Drive (SSD) Upgrade
Despite that prices of popular Solid State Drives have been dropping year after year, it's still significant to utilize the drive more economically. Usually, a 128GB is enough for the Windows 10 operating system, programs and some games, it's not suggested to store media files like muisc, videos or pictures on an SSD, because the fuller the SSD gets, the slower it will run. What's more, the more you write into the drive, the shorter the lifespan is.
In conclusion, an SSD should be ideally used for installation of operating system and applications. If you decide to upgrade an HDD to an SSD, or upgrade a smaller size SSD(64GB) to a larger one(128GB), it's necessary to know how to migrate Windows 10 operating system, programs, and other system data on the system drive to the newly purchased SSD.
Upgrade SSD with EaseUS Todo Backup
EaseUS Todo Backup, as the best disk cloning and system backup software for Windows 10 ever, works flawlessly in cloning a hard drive to a Solid State Drive. It's the top 1 choice for most Windows 10 computer users to replace or upgrade system drive to a powerful SSD. Download and install the program on your Windows 10 computer and get a free trial in 30 days.
Steps for SSD upgrade by using EaseUS Todo Backup
Step 1. Launch EaseUS Todo Backup and click Clone. Choose the source disk on the window that pops out. You may select a single partition drive or the entire hard disk to start the cloning job. Go to Next.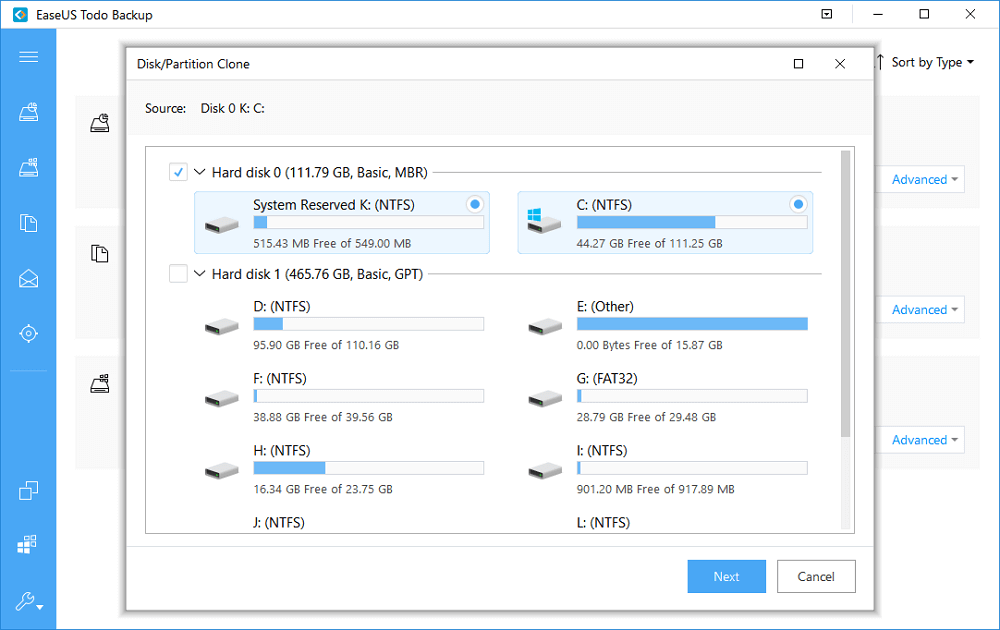 Step 2. Choose the destination disk (the Solid State Drive you installed on the computer). Tick Sector by sector clone so you can clone all sectors from source disk to the destination disk, and Optimize for SSD makes your SSD run with highest performance. Click Next, and then Proceed to clone.