Windows 10 runs more efficiently on an upgraded hard drive
Do you expect a smooth and efficient Windows 10 performance? As some of the major hard drives with spacious room are experiencing a declining price, you should feel no hesitate to upgrade your old even scratched hard drive to a new one. To a large extent, ensure windows 10 operating system running without any hassle on your laptop or PC. However, most of computer users are wondering that how to upgrade hard drive without reinstalling Windows 10 for free? Do they have to copy data and files one by one from the old to the upgraded hard drive?
Of cause you don't. We're here to help resolve hard drive upgrade trouble in keeping the upgraded hard drive identical with the old. Clone Windows 10 hard drive to new computer or upgraded hard drive should not be about the copy & paste time-consuming job but clone hard drive. Most importantly, the hard drive/disk clone I suggested doesn't require reinstalling Windows 10 and it's free.
How to free upgrade hard drive by means of clone?
You need a hard drive/disk clone tool, and we've brought you the best one - EaseUS free backup software, which is able to safely and quickly migrate system, data, programs, files and settings to an SSD or a bigger HDD for disk replacement and upgrade. Next, let's walk through the following procedure of using EaseUS clone software to upgrade hard drive without reinstalling Windows 10 for free.
Step 1. Launch EaseUS Todo Backup Free and click Clone. And it will pop up the below window and choose the source disk you want to clone.Click "Next".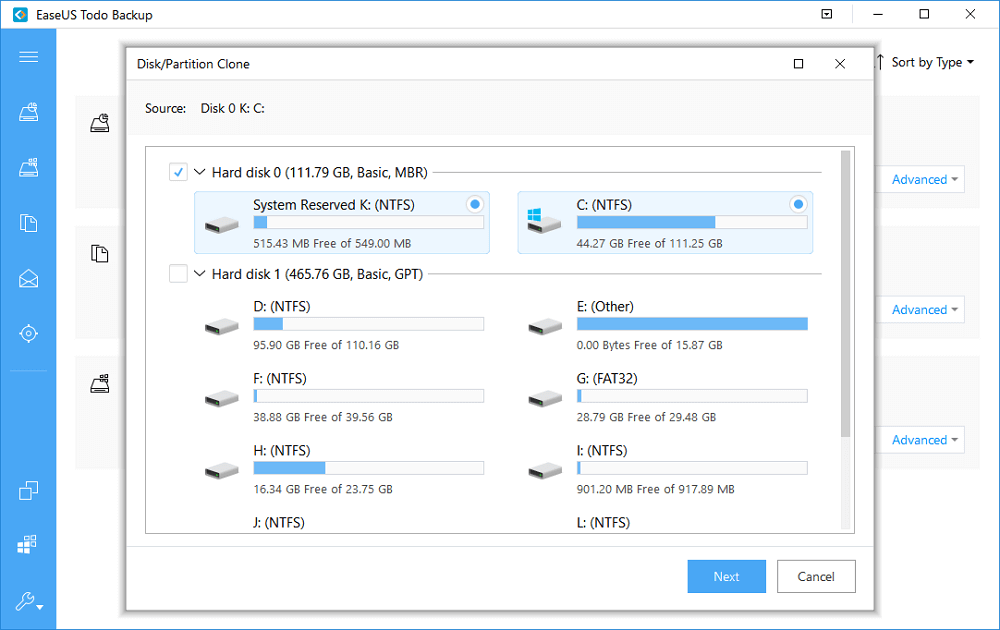 Step 2. Choose the destination disk. Tick Sector by sector clone, with it, we can clone all sectors from source disk to the destination disk. We can preview the disk layout in advance, then click Proceed to clone.