Question: How do I transfer Microsoft Outlook email to a new computer?
Most Outlook users may have the same question: Can I transfer Outlook emails to a new computer?
Most users would come across the same problem which is to transfer useful applications with personal data to the new PC when they are planning to change and upgrade their computers.
And to transfer Outlook email from one computer to another new PC is one of the top needs.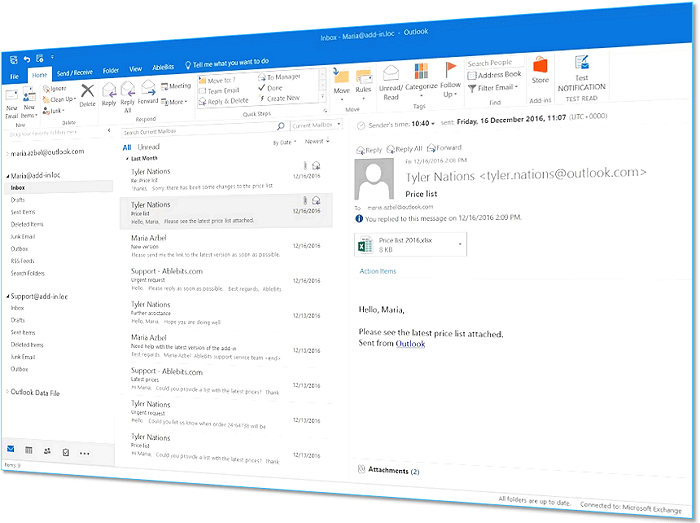 Some of you may suggest exporting .pst files from Outlook on your old PC and import to Outlook on your new PC.
Actually, .pst (PST) is Outlook data file and once you restore PST files to Outlook, it will restore all your data including calendar, index folder, Trash etc.
If you only want to transfer emails to a new computer, go through the step-by-step guide here and you can do this on your own.
NOTE:
1.The provided method here only works for transferring local saved Outlook email to a new PC. It only works for Outlook application users.
2.If you are using a web version of Outlook, please search how to export and import .pst to a new computer and find solutions online.
---
How to Transfer Outlook Emails from One Computer to Another New PC?
Preparations
1. Download and install Outlook backup and recovery software on both new and old PCs
Please download and install Outlook backup and recovery software - EaseUS Todo Backup on both of your two PCs in advance.
It's 100% free for Outlook users to backup and restore emails to a new PC within 30 days as a transfer method.
All Windows OS like Windows 10/8/7/Vista/XP is all supported.
2. Download and install Outlook application on the new PC
To guarantee the transferring process successfully, please install the Outlook application on your new computer before you start.
When you are done with the preparations, let's start the transferring process.
Tutorial: Transfer Outlook Email from One Computer to Another
# 1. Backup Outlook email to an external storage device
Step 1: Run Outlook backup software - EaseUS Todo Backup
Launch and run EaseUS Todo Backup and click the icon at the left top corner, then expand the left pane and select "Email Backup".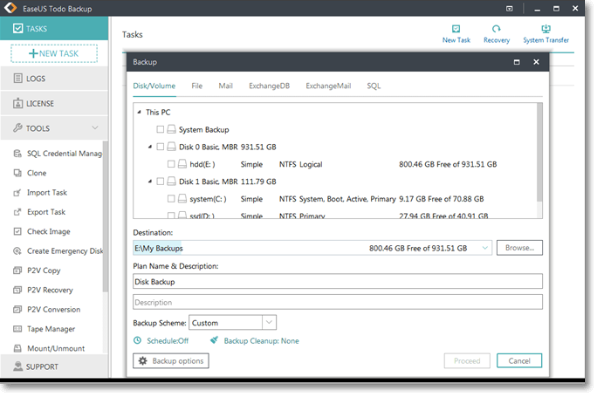 Step 2: Connect to Outlook, select Outlook emails and backup destination
Enter your Outlook password and select the email files that you want to back up.
Specify a location - hard drive or external hard drive as the destination to save the backup image.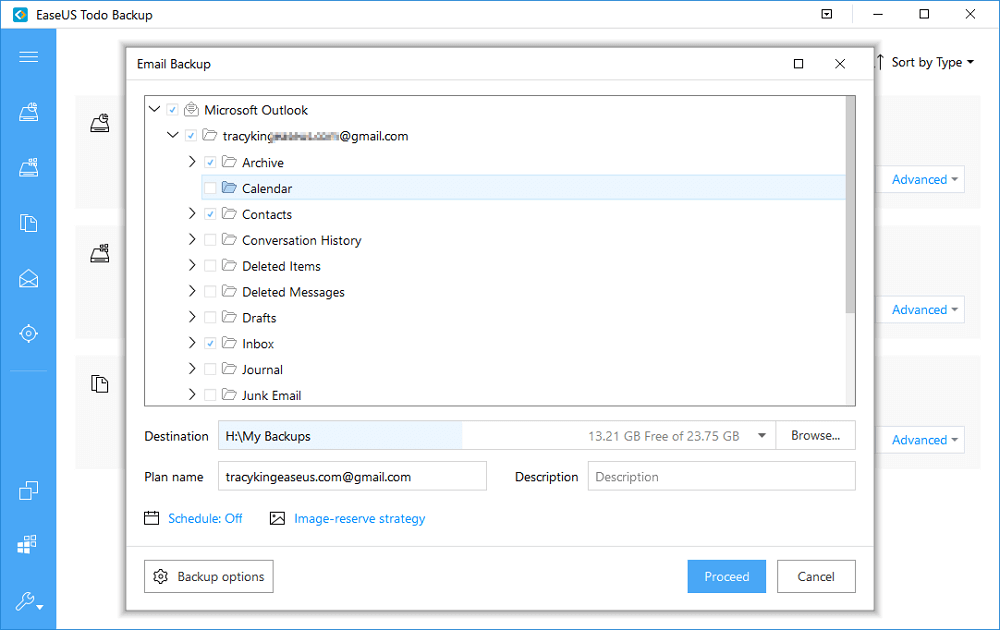 Step 3: Start the backup process
Click "Proceed" to start backing up your email files now.
All you need is to wait for the process complete. Then you can continue with the next guidelines.
# 2. Transfer Outlook email to new PC
1. Connect the storage device with your Outlook email backups to your new PC.
2. Configure Outlook with your email account on the new PC and log in with your password.
3. Launch EaseUS Todo Backup and click Browse to recover.
4. Select the Outlook email backup and select recover to Office Outlook.
5. Click Proceed.
---
Final Word
After the transferring process, you can open Outlook and check your emails at the Index box and find them again.