Warning: The specified backup disk or location cannot be found!
"I got an error message which told me that the backup failed when I was trying to create a system image. The detail message is that 'There was a failure in preparing the backup image of ...Additional Information: The specified backup disk cannot be found (0x80...).
I closed the window and tried to create the system image of my Windows computer again. But it still didn't succeed. Does anyone know how to resolve this issue?
Any alternative method or tool that can help me create a system image for my PC? I'm using Windows 10 by the way."
Usually, 'the specified backup disk not found' error as' occurs when the system backup destination disk doesn't have enough space. Some other reasons can also cause this issue on your computer. You can check out whether your system image backup failure issue is caused by one of these listed causes now:
1. Not sufficient/insufficient space on the specified drive (target drive where you want to save system image backup).
2. Volume Shadow copy service failure error.
3. Bad sectors exist on destination disk or location.
...
If you are one of those people who are unable to create a Windows system image backup on their computer with 'the specified backup disk cannot be found' issue, just relax and you can follow the provided solutions here below to fix this issue now.
Note: The specified backup disk cannot be found error usually occurs to Windows 10 and Windows Server users. So please be very careful to choose the right solution for solving your problem under different Windows system now.
Methods to Fix 'the Specified Backup Disk Cannot Be Found' Error for Both Windows and Window Server Users
Some general tips and fixes can work both on Windows and Windows Servers for resolving the 'backup disk not found' error:
Method 1. Free up Disk Space on Destination Disk and Convert It to NTFS
When the target disk is not sufficient for saving system image, the system backup process will succeed.
So the very first move for you is to free up disk space on the destination disk.
If the destination disk doesn't have data, you can directly format it into NTFS for a smooth system backup process.
If the destination disk has data saved there, you can either choose to delete non-essential data and files on it or save data to another device, then format the disk to NTFS.
Method 2. Check Bad Sectors and Fix Corrupted System Files With CHKDSK
When the system disk or target disk contains bad sectors or corrupted system files, the backup process may not complete.
You can refer to the below CHKDSK command line to do the job:
1. Type CMD in the search and hit enter.
2. Sign in Command Prompt as an administrator with your account if necessary.
3. Type: chkdsk /p and hit Enter.
4. Type: chkdsk C: /f /r and hit Enter. (You can also replace C: with the drive letter of your target disk to fix errors on it.)
Wait for the process to complete.
Method 3. Fix and Repair Volume Shadow Copy Service
If the Volume Shadow Copy Service is not working or fails to run on Windows 10 or Windows Server machines, don't worry.
You can just refer to fix Shadow Copy Service not working error on your own now.
Fix 'the Backup Disk Cannot Be Found' Error on Windows 10 with Windows Backup Alternative Tool
Besides these general fixes, you can also apply powerful Windows backup and recover alternative tool to create system image backup without any error.
Here we'd like to recommend you try EaseUS Todo Backup which allows you to create system image backup within 3 simple steps without any problems.
PS: It's 100% clean, risk-free for you to apply this too backup Windows 10, 8, 7 and even older Windows system for free in 30 days.
Let's see how to backup Windows system image on Windows 10 with ease now:
1. Launch EaseUS Windows 10 backup software and then choose the "System Backup" option.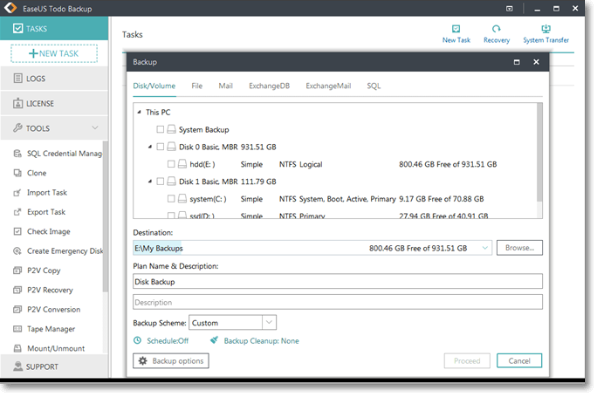 2. The software will then automatically recognize your operating system. And what you need to do here is to perfect the Destination, Plan name, and Description.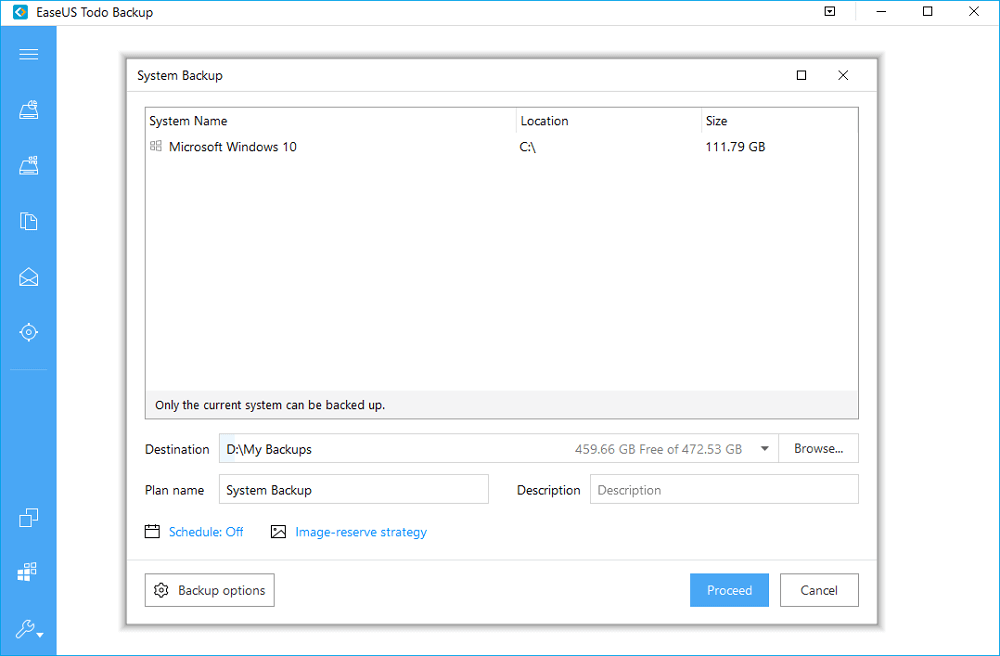 Note:
Destination - Click the folder icon to modify your backup destination.
Plan name and Description - An accurate plan name and appropriate description can help you find the needed image file easily.
You'd better create the backup file to an external storage device or in some other drives. If not, there may be a risk of the backup file getting corrupted or destroyed.
3. Click Proceed to start Windows 10 system backup.
Just wait for the backup process to finish, and you should be able to get a complete backup of your Windows system. No Windows backup failure error would occur.
Fix 'the Backup Disk Cannot Be Found' Error on Windows Server with Windows Backup Alternative Tool
If you are a Windows Server user, you can apply EaseUS Todo Backup Workstation for assistance. It's also free for system or file backup in 30 days by using this tool.
It allows you to create a system image backup on your Windows Server 2016/2012/2008 etc. machines with simple and easy steps.
If you need a tutorial, please refer to how to backup system for a detailed guide.