Help! Windows system restore failed and no disk can be used!
"Hi guys, does anyone know how to repair the Windows system image restore failure error? Yesterday, I tried to restore my computer to a previous state by restoring an earlier created system restore point.
I didn't finish the process. The computer didn't revert to the expected state and it even warned me with 'No disk can be used for the recovering the system...'. I was out of my mind about how to fix this issue.
If you have a solution, please help me. Thanks!"
Although, it seems that quite some users do know how to create a system image backup or create a system restore point in case of unexpected problems from happening. Sometimes, things just wouldn't go as our expectation. So when the system image restore process fails on your computer, don't worry. Here in the below, you'll find reliable solutions here to fix this issue right now.
Fix 1. Use System Image Restore Alternative Software for Help
As for Windows system image backup tool - Windows Backup & Recovery may fail to backup some program files, resulting system image restore failure. Here below is a list of files that you may not be able to back up by using Windows System Image tool:
Program files that define themselves as part of a program in the registry when the program is installed.
Hard drive files that are formatted using the FAT file system.
Temporary files that are smaller than 1 GB.
Files in the Recycle Bin.
Therefore, to fully backup important system image files, it's highly recommended for you to fully backup all Windows system image with professional Windows backup and recovery software - EaseUS Todo Backup. You can directly backup system with simple clicks:
Step 1. Launch EaseUS Todo Backup and then click System Backup.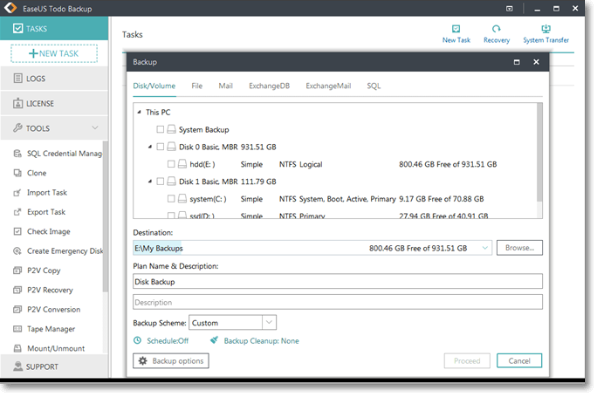 Step 2. Select a destination to save system and file image and click Proceed.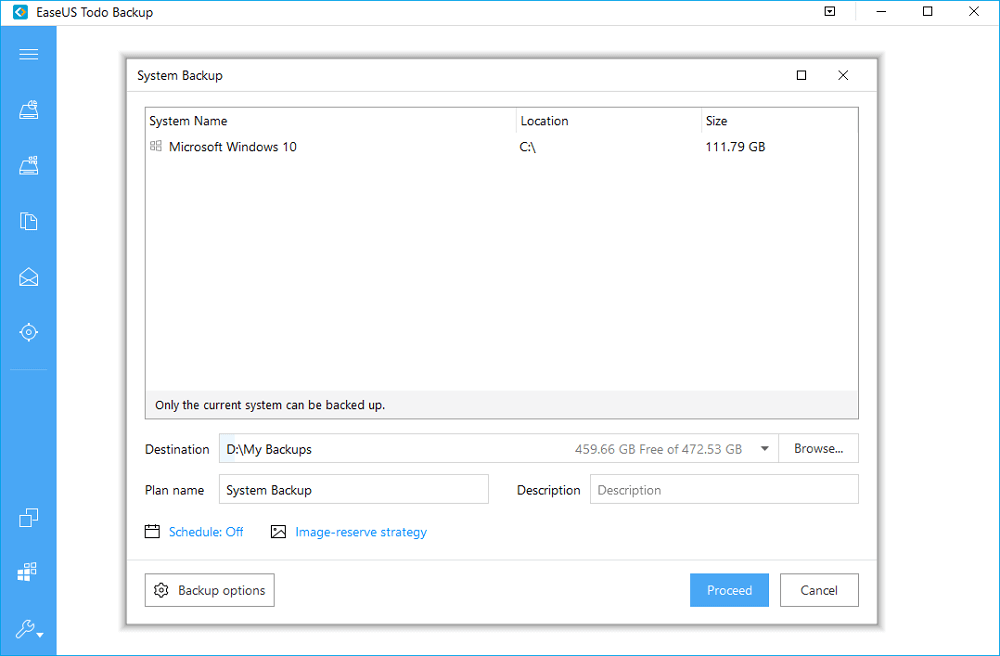 With this image, you can just avoid unnecessary System Image Restore failure error with No Disk can be used issue. And you can directly restore your Windows system to a previous state by following the below tips:
Step 3. Launch System Restore alternative tool - EaseUS Todo Backup, click System Transfer or Browse to recover.
Step 4. Select System backup image which you've created previously, select destination to restore the system or file backups and click Proceed to finish the process.
If your computer is dead or cannot boot, you can directly follow this tutorial to fix Windows won't boot error on your own.
Fix 2. Directly Fix 'Windows System Image Restore Failed with No Disk Can Be Used' Error
For Windows 10/8.1/8 uses:
This needs you to create a Windows installation media for help. And you can use your Windows installation media to fix Windows system image restore failure by following the below steps now:
1. Download the installation media and select Create installation media for another PC.
2. Connect the Windows installation media to a new PC and set language, edition, etc. Settings ready.
3. Connect the media to your PC and set to run the computer on it.
4. Follow the onscreen guidelines and select Repair your computer.
5. On the Choose an option screen, select Troubleshoot.
6. Select System Restore in Advanced options.
Wait for the process to complete and then you'll get a healthy computer back again.
If this process fails, you can also select Reset this PC on the Advanced options screen to reinstall Windows 10 on your computer.
For Windows 7 users:
1. Insert your system installation disk to your computer, restart PC and set it to run from the disk.
2. Select Repair your computer on Install Windows window.
3. Select Use recovery tool that can help fix problems starting Windows. Select an operating system to repair. Then click Next.
4. Select Command Prompt and type: diskpart, hit Enter.
5. Type: H:/ fix:ntfs and hit Enter. (Replace H with the drive letter that you need to restore the system image.)
6. After this, you can continue use to restore the system image on your computer again.