Seriously? Haven't you had your own backup and recovery software on PC yet? It's high time you took an opportunity to get a free one that fits you best. And, here's is the most recommended smart file backup software you're looking for.
It's called EaseUS Todo Backup which designs to serve all levels of worldwide users with the most effective backup plans, including editions of free, home, workstation, server and technician. But here we aim to introduce only the free backup software edition, which is perfectly applicable to home users and small businesses, who demand a simple, flexible yet all-around backup method for all sorts of files on their computer as well as external storage drives.
EaseUS smart file backup vs file backup
By launching EaseUS Todo Backup Free on your Windows 10, 8 or 7 computer, you'll be amazed at how well organized its user interface, and one catching option distinguished from the others is Smart Backup. What's smart backup? How does it act compared with the File Backup option?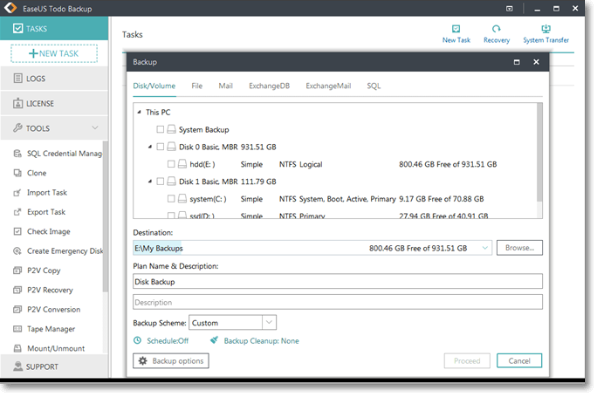 Actually, they are the same regarding the eventual backup goal, however, the backup settings are much different.
Smart Backup: backup settings were significantly simplified, by automatically ticking the options to backup at the set time in the form of incremental backup or differential backup.
File Backup: it's more personalized when backup folders, documents, pictures or video files. There are three options of Schedule, Backup options and Image-reserve strategies available for you to selectively choose.
In a word, smart backup is a smarter way of computer backup than a manual file backup on your own, the default settings make the backup process easier, quicker and more complete.
How to use EaseUS smart file backup
Now give a second to learn how to use EaseUS smart file backup software to backup every valuable file within a few clicks.
Step 1. On the home menu, choose Smart Backup.
Step 2. A smart Backup window then pops up, simply choose the files you want to backup from your computer Library, My Documents, Favorites, Computer hard disk partitions or Desktop.
Step 3. A default location will be selected by the software according to the disk free space it detects. You can also choose your own preferred location to keep the backup image, including an external USB flash drive or network drive.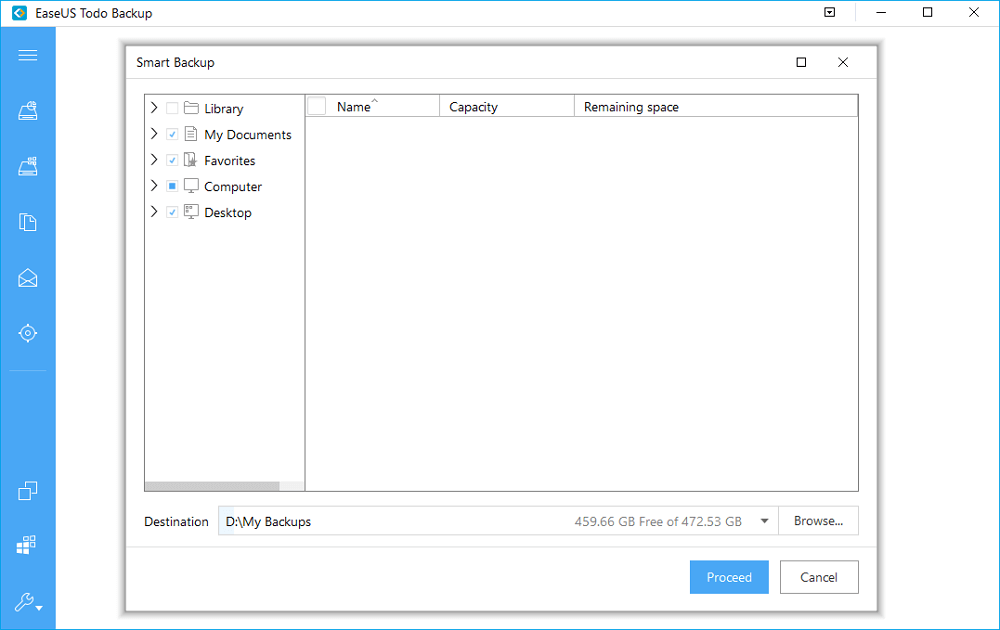 Step 4. Click Proceed. All selected files will be quickly backed up.
With the smart backup feature of EaseUS Todo Backup Free, you'll enjoy a frequent backup of every 2 hours. That's incredibly efficient in backing up files that always changed or newly added. In case that you require a high frequency less than 2 hours, please upgrade the free edition to its home edition, which sets the time interval at every half an hour.