When your Windows 10 operating system run into a problem and slow down your PC or even prevent your PC from working properly, what will you do to get rid of this issue?
Is it possible to reinstall windows 10 without losing data
Usually, instead of reinstalling Windows 10 which will sacrifice all your data and applications on the C drive, your first choice is to search online to find a solution. You might succeed if you are fortunate enough. But, at most times, you will just experience a situation that the problem still exists even after you have tried all the possible fixes.
At this moment, you will find the only effective solution is to reinstall Windows 10. Even it is the last thing you want to do in the world, you have to do it if you want to make your PC go back to the normal working state. Is there any way to clean install Windows 10 without losing data? Yes, we show you how to make it in this article step by step.
How to reinstall windows 10 without losing data
 Important

Before taking the steps below to reinstall windows 10, we recommend you to try EaseUS free backup software to back your PC in case that something goes wrong and make you lose your important files or programs during the process.
Launch EaseUS Todo Backup Free。
Choose "File Backup" or "System Backup".
Choose the important files/data or system and then select a backup destination.
Click "Proceed" to start the backup process.
1. Connect your bootable Windows 10 USB or CD to your PC.
*If you don't have Windows 10 USB or CD, please create one using the official Windows 10 Media Creation Tool.
2. Open up This PC (My Computer), right-click on the USB or DVD drive, click Open in new window option.
3. Double-click on the Setup.exe file. Click Yes when you see the User Account Control dialog.
4. When you see Get important updates screen, select Download and install updates (recommended) option and click Next.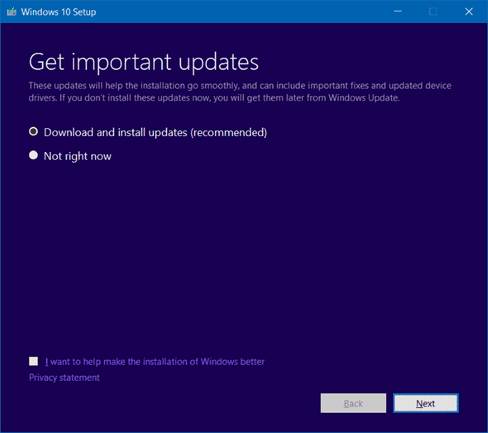 *Here, please make sure that your PC is connected to the internet.
5. Wait until the setup finished checking for updates.
6. When you see the License terms screen, click the Accept button to proceed further.
7. Wait until the setup finished seeking and downloading the available updates.
8. When you see the Ready to install screen, click the link labeled Change what to keep.
9. Select Keep personal files and apps or Keep personal files only. Click Next.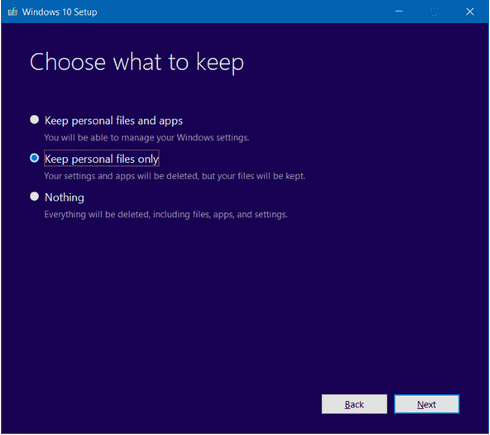 10. When you see the Ready to install screen once again, click Install button.
Wait until the setup finished reinstalling Windows 10, and follow the wizard instructions to customize your settings. No data and programs will lose!