Reinstalling Windows 10 can usually make your PC as good as new (or even better). For this reason, it is usually performed as a solution when your PC stop working or just doesn't work as well as it once did and cannot be repaired by some other methods. Have you ever encountered such a situation and been hesitated to do the job because it may cause data lost disaster or it is a little bit difficult especially when you have not an installation CD?
3 Ways to Reinstall Windows 10 Without CD
In the last post, we created troubleshooting steps teaching how to reinstall windows 10 without losing data. And on this page, we would like to introduce 3 ways to reinstall windows 10 without CD in different cases. Hope it is helpful to deal with your problem.
1. Reset Computer to Reinstall Windows 10 Without CD
This method is available when your PC can still boot properly. Being capable of solving most system problems, it won't be different from a clean install of Windows 10 via an installation CD.
1) Go to "Start" > "Settings" > "Update & Security" > "Recovery".
2) Under "Reset this PC option", tap "Get Started".
3) Choose "Remove everything" and then choose to "Remove files and clean the drive".
3) Finally, click "Reset" to begin reinstalling Windows 10.
2. Create a Windows Installation Disk to Reinstall Windows 10
This method is available when your PC cannot boot properly. Before starting, please prepare a USB drive (about 3GB or larger).
1) Download the media creation tool from Microsoft on a working PC.
2) Choose 32-bit or 64-bit for your PC, then the compatible one will run automatically.
3) Run the downloaded tool and choose "Create installations media for another PC" and click "Next".
4) Select "Language", "Edition" and "Architecture" for Windows 10 and then click "Next".
5) Choose "USB Flash drive", then insert the USB drive into your PC and click "Next".
After the drive is selected, the tool will start downloading Windows 10 and it will take a few minutes to finish the downloading process.
6) After it, connect the Windows installation USB to your PC and run it in Explorer, click "Setup".
7) When you get with the Ready to Install dialog, click "Change what to keep" and choose "Nothing". Click "Next".
After all these steps, all you need is to wait patiently, you'll be able to clean install Windows 10 in your PC.
3. Use a Recovery Drive to Reinstall Windows 10 Without CD
This method works no matter your PC can boot properly or not. But please note that it helps only when you have created a recovery drive before. So, next, we will show you how to use EaseUS free backup software to create a system backup when you think your PC is in the optimum state.
 Notice:

Please notice that if you want to backup Windows 10 system to an external hard drive, USB, or even SD card, move important data to another safe location to avoid data overwritten in advance.
Step 1. Connect your external hard drive, USB or SD card to your PC.
Note: The storage space of your external storage device should be as equal to or even bigger than your system C drive. Otherwise, the system backup process may not succeed.
Step 2. Launch and run EaseUS Todo Backup on your Windows 10 PC and click the icon at the left top corner to expand the feature pane on the left.
Then select the backup mode - System Backup.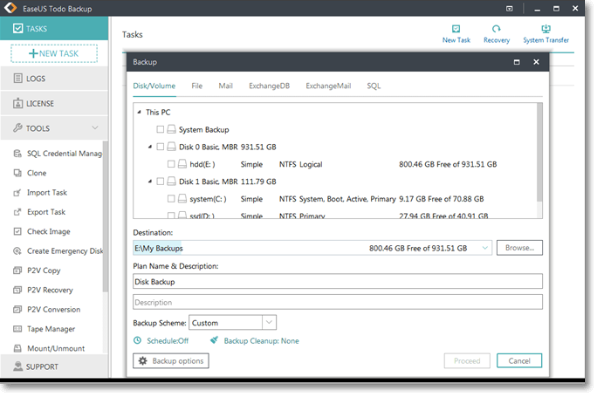 Step 3. Select Windows 10 system that you want to backup and click Browse to navigate and select your external hard drive, USB or SD card as the Destination for saving Windows 10 system image.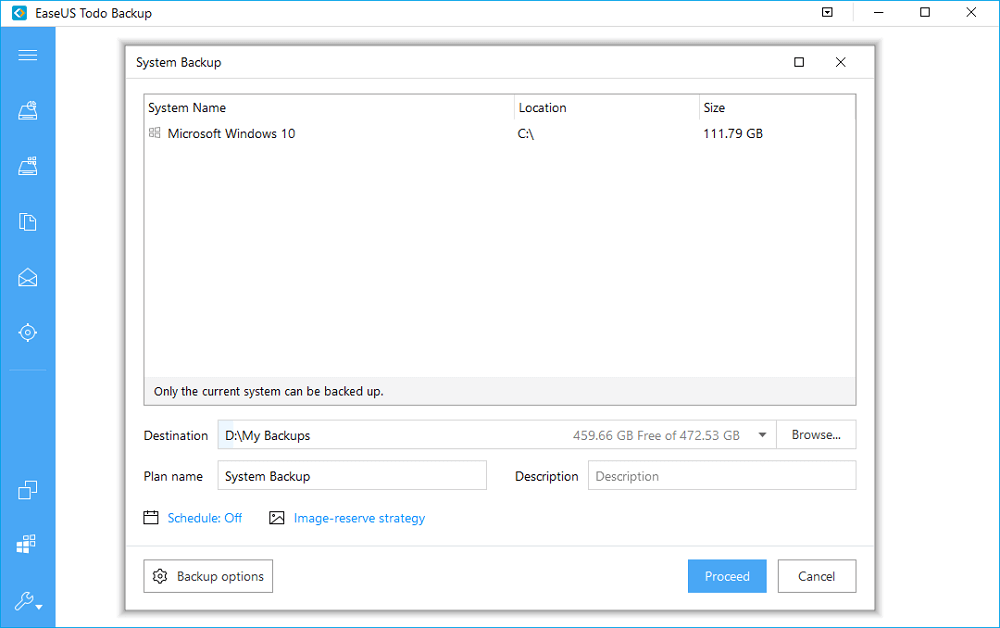 Step 4. Click Proceed to start backing up your Windows 10 System to an external storage device now.
When the backing up process finishes, your Windows 10 system will be saved to the selected external storage device with a compressed form by then.
See it? Just 3 simple steps can help you make a system recovery drive. And then you can restore Windows 10 from the recovery drive whenever you need. It is easier and faster than reinstalling Windows 10 from an installation CD.