How to Move Windows 8/8.1 to SSD Without Reinstalling Windows and Applications
Installing a solid-state drive (SSD) is one of the best upgrades you can make to your computer, but moving your Windows 8/8.1 installation to a small drive can be tricky. Here's how to install an SSD without reinstalling Windows and applications from scratch.
What You Need to Move Windows 8/8.1 from HDD to SSD
There are a variety of ways to go about this, but we've found this to be the simplest and most reliable method. The following is what you'll need:
Your current hard disk, with Windows, installed. To make it easy, we'll call this disk for short - that is, the disk you're migrating from - your "current hard disk" throughout the process.
A solid-state disk. This is the disk you'll be migrating to. To get a rough idea of how big it should be, go to your current disk, navigate to C:\Users\ and right-click on your user folder. Click Properties, and markdown how much space that folder takes up. Head to My Computer and note how much space Drive C: has filled up, and subtract your user folder's size from C:'s total. That's how big your SSD needs to be, though I'd give yourself a good deal of free space for future updates and new programs.
A backup of all your data. Since it's impossible to clone only part of a drive, you'll need to remove your music, movies, and other personal files from your current disk before migrating Windows to the SSD, which means you'd better back up your data somewhere else. Just make sure that data is safe and recoverable as we'll be restoring it later on.
EaseUS Todo Backup. This is the program we'll be using to migrate your installation. It's easy to use, can perform multiple operations at once.
Guide: How to Move Windows 8/8.1 from HDD to SSD with EaseUS Todo Backup
Follow the step by step guides provided below to transfer Windows 8 from HDD to SSD in the simplest way. 
 Tip

If you are trying to clone a Windows system to a new HDD or SSD disk, empty the disk in advance. One more thing that you can do is to convert your HDD/SSD disk to MBR or GPT - exact the same as your current system disk, which will allow you to effortlessly boot system after cloning Windows system.
Let's see how to clone your current Windows OS to a new HDD/SSD without reinstallation Windows OS now:
Step 1. Connect the new HDD/SSD to your PC
Step 2. Run EaseUS Todo Backup to start system cloning
Select "System Clone" on the left tool panel by clicking the icon at the left top corner.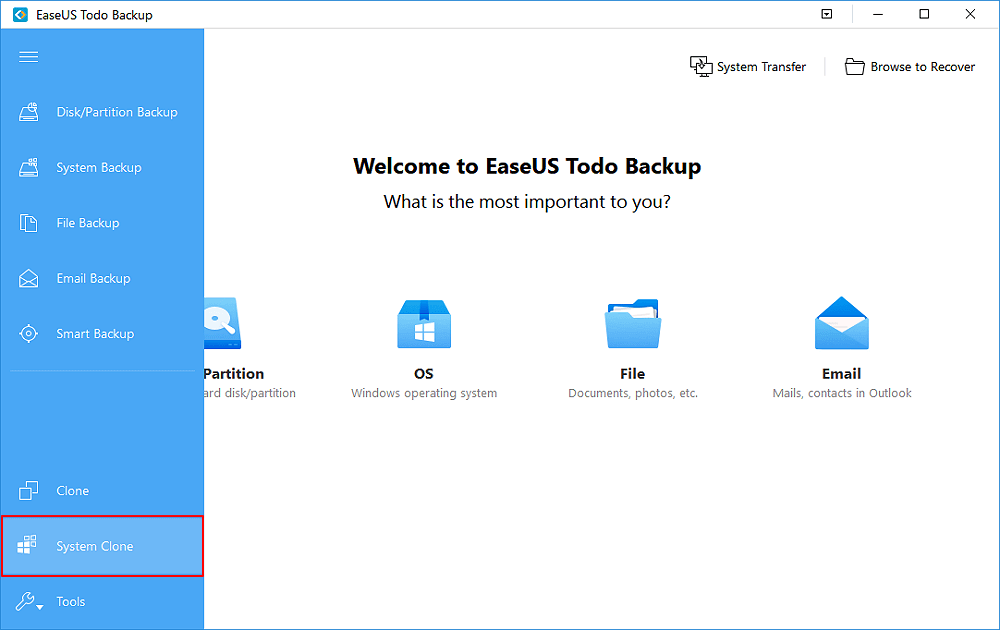 Step 3. Choose the destination disk - HDD/SSD to save Windows system
Choose the new HDD or SSD as your target disk for saving the cloned Windows system. 
Then click "Proceed" to start cloning Windows system to HDD/SSD now.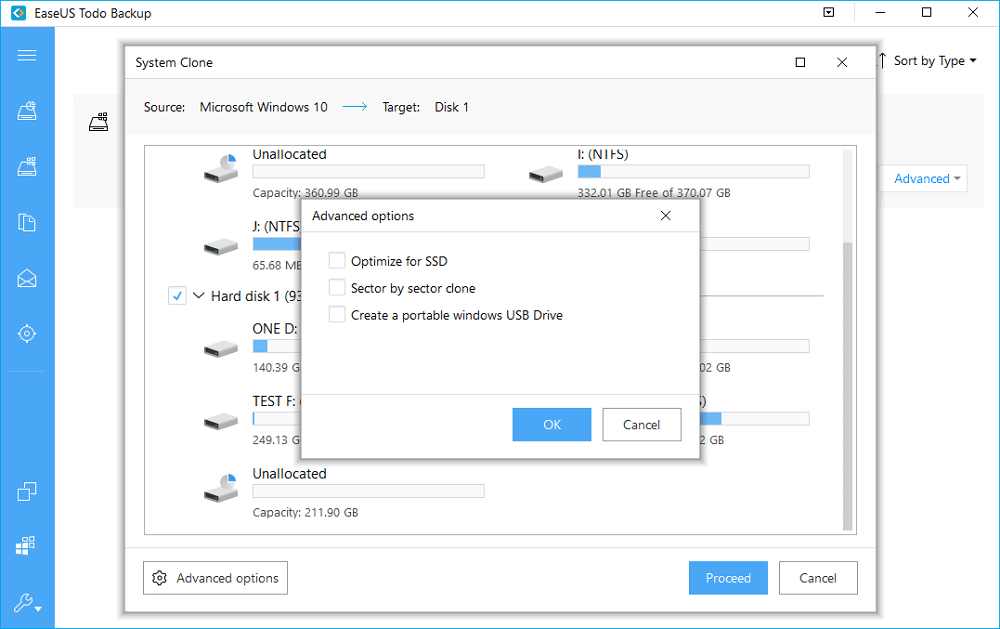 After this, insert your new HDD or SSD into your computer and reboot PC, change the boot order to set computer boot from new HDD/SSD with cloned Windows 10 system:
Restart PC and press F2 or F8 to enter BIOS settings.
In the Boot option, select new HDD/SSD as the new boot drive and save all the changes.
Exit BIOS and restart the computer, you should be able to see the Windows system running on your new disk without any problems.
Follow these simple steps, you can migrate Windows 8/8.1 from HDD to new SSD with EaseUS Todo Backup easily. Besides, EaseUS Todo Backup can also back up and restore the Windows 8/8.1 OS and data on your HDD and SSD.
Daisy is the Senior editor of the writing team for EaseUS. She has been working in EaseUS for over ten years, starting from a technical writer to a team leader of the content group. As a professional author for over 10 years, she writes a lot to help people overcome their tech troubles.
Taking everything into consideration, we can say that EaseUS Todo Backup Home can offer you a little extra sense of security with a set of advanced tools. The interface provides quick adaptation, every process guiding you all the way through so you don't get stuck or further damage your system rather than keeping it safe.

 Read More

EaseUS Todo Backup Free lets you create backups of your important files or your entire computer through its streamlined interface. Just choose the backup type you'd like to get started, and let the program do the reset.

 Read More

EaseUS includes all the features I expect from backup software like versioning, incremental backups, and scheduling. For more advanced users, EaseUS allows you to install a pre-boot environment onto your hard drive so you can use it to restore files without burning a CD or putting it on an external USB drive.

 Read More

EaseUS Todo Backup
Smart backup tool for your files and entire computer in Windows 10/8/7.