The large files we're trying to describe in this post are mainly with file extensions in the following.
Audio/Videos: .AVI, .MP3, .WMA, .WMV, .MOV...
Program files: .EXE
Documents: .PDF, .BMP...
Compressed files: .ZIP...
Overview of Large Files Backup
Without applying any backup and recovery software, sometimes the copy-and-paste way is considered as the most frequently used way to back up a small size of data. For example, back up an Android SD card with 2 GB or 4 GB size. That's a good backup way, seriously. But when it comes to large files backup, especially those computer files or server files that take up so much disk space, you must find some assistive tools to significantly reduce the cost of time and energy, meanwhile, to hugely increase the rate of successful backup of those bulky files.
Speaking of the best way of very large files backup, it's time to introduce you EaseUS Todo Backup, one of the reputable Windows backup software for individuals, small businesses and large companies which are working with big files produced by specified applications, such as PhotoShop, Camtasia, etc.
How to Backup Large Files Effortlessly?
EaseUS Todo Backup does not limit the size or types of files you can back up, so you don't need to worry about it being unable to fulfil your demands. Apparently, when you run this backup software, you will find it extremely easy to get started. Nevertheless, there are some hidden tricks for you to put to practical use.
1. Create a compressed backup file of large files.
2. Set up a schedule file backup on a regular basis.
The full guide to use EaseUS Todo Backup to back up large files in Windows 10, 8.1, 8 and 7:
Step 1. Click File Backup on the home menu.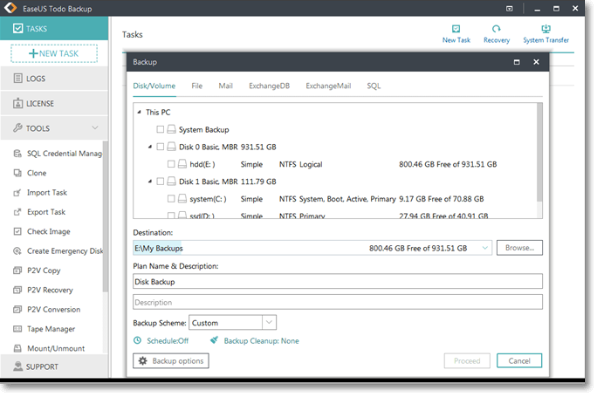 Step 2. Select the large files you want to backup from the targe location. To filter some specific file types quickly from one folder, click User defined option at the top right corner and select File type.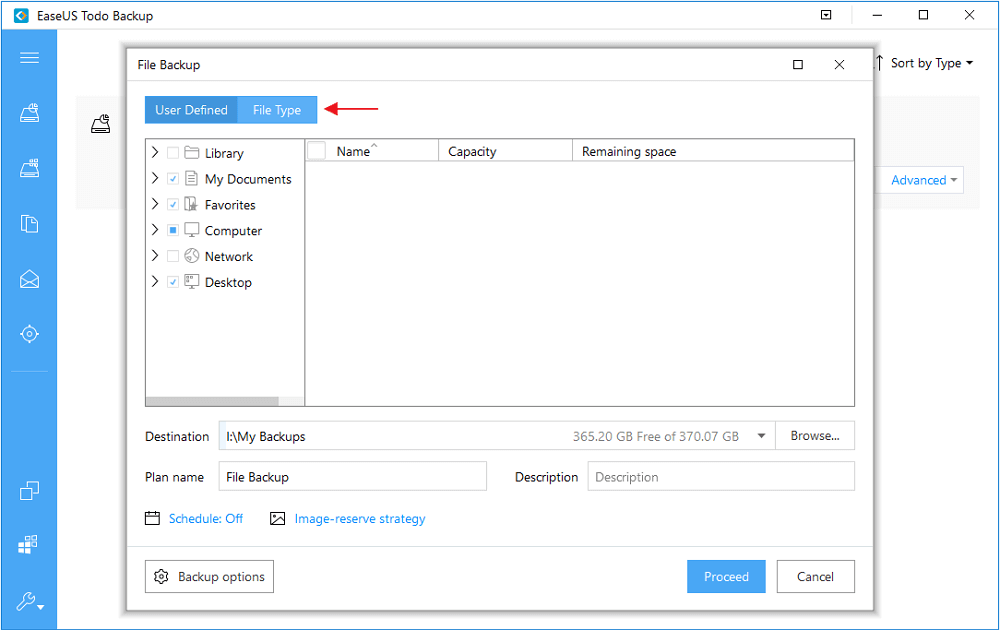 Step 3. Click the folder icon on the right side in the Destination area to choose a backup location. You can back up the files to a physical hard drive storage as well as a cloud drive.
Extra settings:
1) Schedual a file backup
Click the Schedule option. It's to create an automatic backup plan on a basis of a set time interval, such as daily, weekly, monthly and so on. At the same time, you can choose a desired backup type, including a full backup, incremental backup and differential backup.
2) Compress a backup image
Click the Backup options. You can largely decrease the size of backup image there. Also, to fully protect your backup file, you can use the encryption feature to encrypt the backup with a password.
Step 4. After making the essential settings, click Proceed to let the large file backup take effect.