Can backup take effect as soon as logging on user account?
"I used the default Windows 10 File History to backup system and D drive, where all my personal files are kept. Now I'm planning to change a backup plan, considering the inconvenience of taking time to launch the program every time when I need to backup more newly added files to the specific drive. Perhaps it's a great idea to find a piece of easy-to-use software that allows me to backup data when log on user account. Is it possible to make the idea come true?"
According to the user's description, a satisfied backup and recovery program could significantly save time and effort when a periodical backup task is required. Don't give up so early if you find the in-built Windows backup software doesn't give a hand. Here, EaseUS Todo Backup points you to a new backup direction by scheduling your own backup favorites. For example, you can make your backup task take effect at any time, starting at backup when system startup, system shutdown, user log on as well as user log off.
Here on this page, you'll learn how to use EaseUS Windows backup software to backup data when log on user account without a hitch.
Guide: How to schedule a backup and start the backup when logging on user account?
Step 1. Click and choose to backup system, disk/partition or files on the main menu.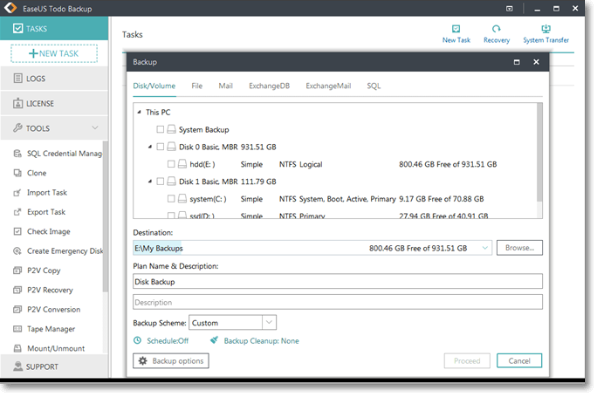 Step 2. Choose a backup location to keep your backup image. Add a backup name and description if needed. On this step, you'll need to click the "Schedule" option.
Step 3. At the stage of backup scheme, under the Schedule Type, click on "Upon Event".
Step 4. On the right side, you can choose to make the backup start at System startup, System shutdown, User log on, User log off, or backup when USB device plugged in. Now, tick the "User log on" option and click Save.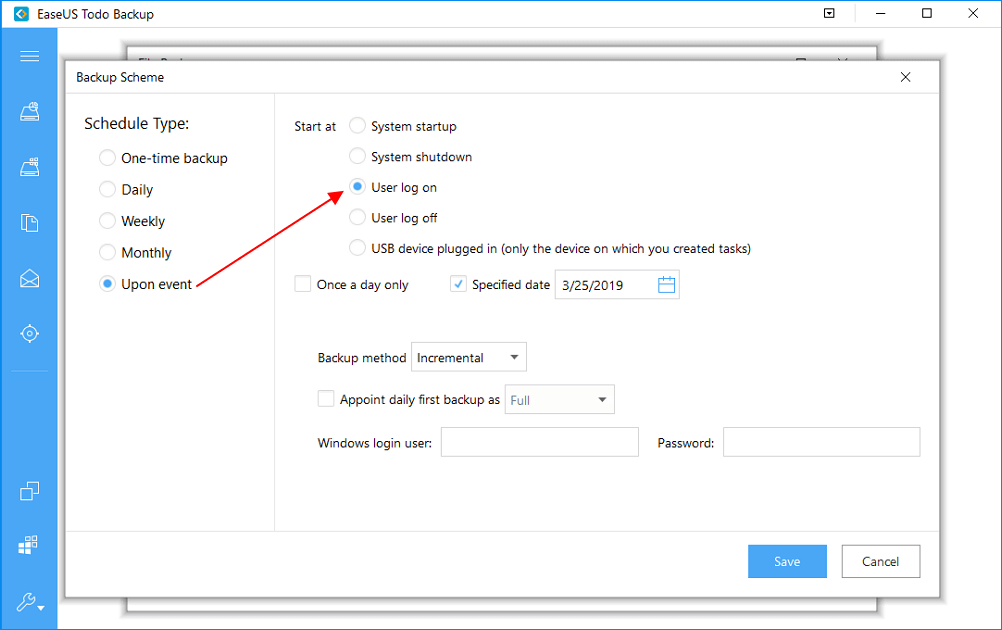 Step 5. Click Proceed to save your backup plan.
By accomplishing all the necessary backup settings, your backup plan will automatically start each time when you log on user account.