Part 1. Final Countdown: Microsoft's Windows 10 Free Upgrade Will End This Year
As is known to all, Windows 10 was available as a free upgrade for one year, you can free upgrade your Windows XP/Vista/7/8/8.1 to Windows 10, but that offer finally ended on July 29, 2016. If you didn't finish your upgrade before that, you will now have to pay the full price of $119 to get Microsoft's last operating system (OS) ever.
You Still Have a Backdoor After July 29
However, Microsoft has left open a small backdoor that you can exploit to get the Windows 10 upgrade after July 29, 2016. While the offer is closed to the general public, Microsoft invites customers who use assistive technologies on Windows 7, 8, or 8.1 to upgrade for free before December 31 this year.
Assistive technologies are designed to provide additional accessibility to individuals who have physical or cognitive difficulties, impairments, and disabilities, according to Microsoft. The free upgrade offer will be completely closed, after December 31 this year. If you didn't finish your upgrade before that, you will have to pay the full price to get Microsoft's latest operating system (OS) ever.
Reasons to Free Upgrade Windows 10 As Soon As Possible
According to the above situations, we strongly suggest a free upgrade to Windows 10 as soon as possible. Here are the reasons:
1. After several major updates, the function has become more and more stable, and Windows 10 is Microsoft's featured products.
2. Microsoft has halted the XP/ Windows 8 doing technical support and updates, and will soon stop update to Windows 7 / win8.1.
3. Data security incidents occur frequently worldwide, especially this year. The Blackmail virus, like WannaCry and Bad Rabbit, has become a data security threat. Compared with the previous Windows version, Windows 10 has gained more support and maintenance from Microsoft, which makes Windows 10 a higher safety coefficient.
4. A free upgrade, do not need to pay extra fees.
As a result, we advise users to free upgrade Windows 10 first, you can even roll back to your previous version. The difference is that you will be associated with a Microsoft account, after activating Windows 10 by the activation of the account, and your information can be stored in the cloud. If you reinstall your system, you just need login this account without having to buy a KEY again.
Part 2. How to Get Windows 10 Upgrade at No Charge
Tips and Preparations For Windows 10 Free Upgrade
Before we proceed our free upgrade for Windows 10, we must do as follows in order to avoid an accident.
1. Make sure that your C drive has enough space.
Basically, if you want to free upgrade to Windows 10, your C drive must have at least 16 GB free space. If your C drive doesn't have enough space and you don't know what to do, you can just simply follow the guides to increase C drive space without difficulty.
2. Backup your data
Data backup is not only important for data security, but also important for you to roll back to the previous version of your Windows. When you are backup your data, you must do as follows:
a. Backup your system
In our daily life, most users don't have the habit to backup files, especially system backup. Doing system backup is of vital importance to avoid stuck and won't boot problem during the upgrade process. Read on to know how to back up the system with ease.
Launch EaseUS Todo Backup, click System Backup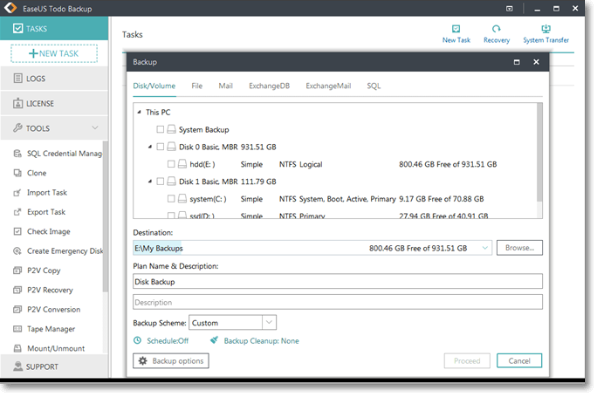 Select the backup destination, the software will choose the most suitable location by default.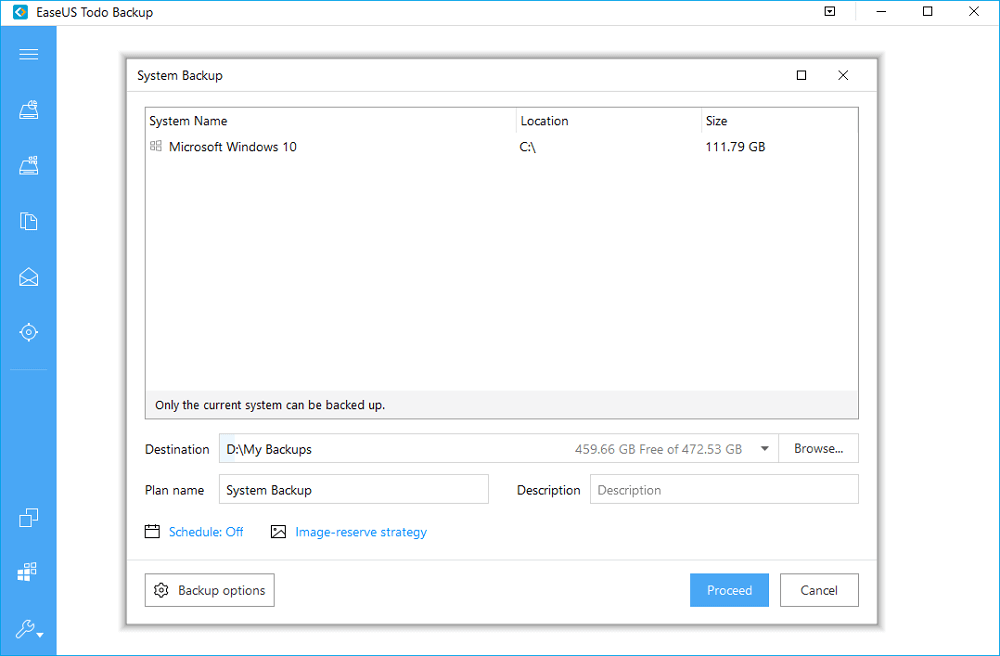 Click Proceed to execute system backup.
b. Backup your important data or files
During the process of free upgrade to Windows 10 with assistive technologies, files and data get lost easily, especially files on the desktop. It is wise to backup files to avoid data loss.
How to Free Upgrade to Windows 10
Here we provide two ways to get Windows 10 without any cost easily:
Method 1. Free Upgrade to Windows 10 with Assistive Technologies
If you use assistive technologies, you can upgrade to Windows 10 at no cost. It is really easy to upgrade to Windows 10 at no charge. Just visit Microsoft's Windows 10 Upgrade page with assistive technologies and hit the Upgrade Now button, which downloads the upgrade assistant to your device.

Then run the program, follow the on-screen prompts, and you'll have a working version of Windows 10 on your machine.
Method 2. Free Upgrade Without Assistive Technologies
Except for free upgrade to Windows 10 with assistive technologies, you can also get your free Windows 10 update by downloading Windows 10 Fall Creators on Microsoft's official website directly. Then open the program, and follow the direction step by step.
Advantages:
If you have activated your Windows operating system, you needn't have to activate Windows 10 anymore.
If you haven't activated your Windows operating system, after your update, you can associate a Microsoft account and activate Windows 10 at no cost.

Part 3. How to Roll Back to The Previous Version
Most users may feel not used to Windows 10 even they have a free update to it. So what if you don't like Windows 10? Do you want to get your Windows 7/8 back? Here's the way to restore system via image created by EaseUS Todo Backup.
In Part 2, we've mentioned system backup with the help of EaseUS Todo Backup in case that you want to go back to your previous version. Now, let's see how to restore your previous version:
Open EaseUS Todo BackUp, directly click the Recovery button to restore the backup you created before.
Choose one History version of the backup image, after confirming the contents, click Next button and select target location to restore.
Note:
The original system will be overwritten once the recovery starts.
A WinPE bootable disk is required for recovery in the case of OS failure.
Extra Tips:
If you didn't get Windows 10 free update before December 31(the deadline), you can follow the two ways to get Windows 10 upgrade at no charge even after December 31:
Option 1. Clean Install Windows 10
Option 2. Free upgrade via Microsoft - get 30 days of trial
The second choice is to go to Microsoft's official website to download the Windows 10 and get 30 days of the trial. This means that you can only free use Windows 10 for 30 days.
You have to buy the activation code after 30 days on the Microsoft's website if you want to go on using Windows 10. So, it is better to catch the last chance to free upgrade Windows 10 right now.