Windows 10 Backup
Windows 10 backup is essentially a remedy for Windows 10 system, disk, partition, file, Exchange, etc. The remedy is performed when Windows 10 computer encounters data loss, which can be a common experience for computer users.
Assume that you're working very hard on writing study or commercial report, editing videos, modifying photos or drawing construction graphics and after some sleepless nights you finish them. Will you let your efforts to be wasted? What if one day data loss disaster happens to you? I beg that you'll regret to death and hate yourself not doing data backups.
Back Up Windows 10 Disk/File to An External Hard Drive
The significance of doing Windows backups is beyond debating, and you won't sense its importance until data loss disaster knocks. So don't gamble yourself since it's not too late to build a safe place for your long-term useful files, old or new operating systems, hard drive data and more.
We highly recommend that your backup file had better be kept on an external hard drive instead of the same computer hard drive by using the best free backup program for Windows 10.
According to users' experience, they suffer data loss mostly from OS crash, computer viruses or hard drive corruption, so external hard drive data backups shall be safer than saved in the local.
Free Windows 10 Backup Solution - EaseUS Todo Backup Free
With the understanding of Windows 10 backup and the safer backup location, we're going to introduce a free Windows 10 backup solution. You may have heard of EaseUS Todo Backup Free, a program known around the world which supports Windows 10 file/disk/partition/system backup and recovery.
One-click backup with EaseUS free Windows backup solution
Step 1. Launch EaseUS Todo Backup Free and then choose the backup option as you want.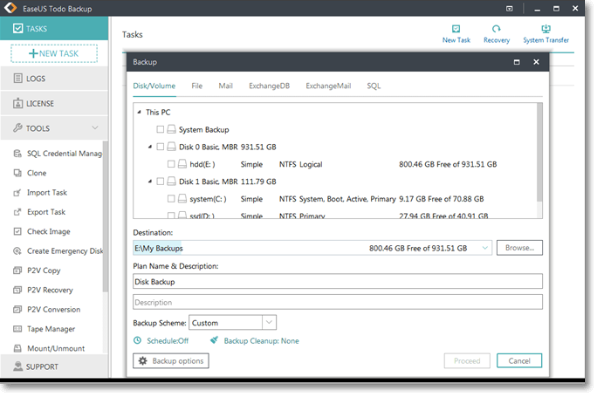 Step 2. Choose the system, hard drive, files or apps that you want to backup, and then select a destination (here should be the external hard drive) where you want to store the backup file.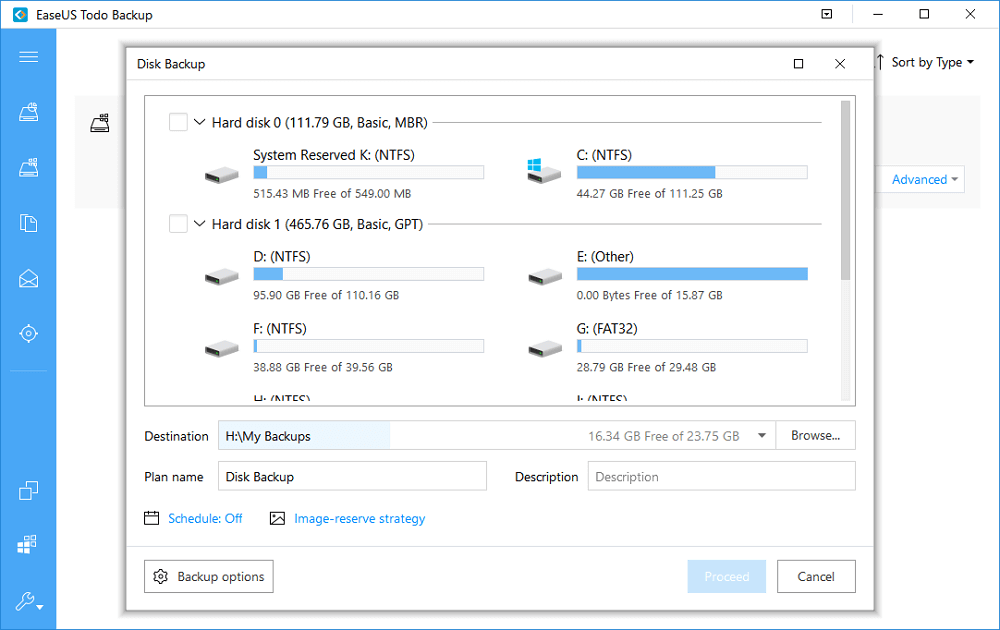 Step 3. Click Proceed to execute your operation.