How can I uninstall Windows 10?
About one month ago, I received the new Windows 10 reservation icon. It just appeared on my computer and told me that I could get Windows 10 for free. It's really a surprise for me. So I made a reservation and upgraded my computer from Windows 8.1 to Windows 10 later. But when I am about to enjoy all its easing features, I sadly found that some of my frequently-used programs are not compatible with the new system. It seems that I have no choice but uninstall Windows 10. So is there any way that I can use to go back to Windows 8.1 from Windows 10 without losing my programs and personal data?
Just like the cases mentioned above, you might encounter various problems after Windows 10 upgrade and need to uninstall Windows 10 and go back to previous Windows versions. Here the biggest problem you will meet is that how can you do it without reinstalling your programs and losing your data. Don't worry! This page introduces you two easy ways to deal with this problem. Just read it and choose the one you like.
Solution One: Uninstall Windows 10 with EaseUS free system go back software
EaseUS free system go back software is a program that can help you uninstall Windows 10 and revert back to your previous Windows version with one click. It requires you to backup your system partition before the upgrade. So you can easily restore the system to the original state if you have to uninstall Windows 10 for certain reasons.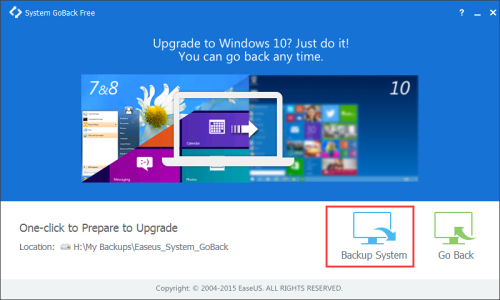 For a detailed guide, please refer to Windows 10 Downgrade to Windows 8.1 Without Data Loss
Solution Two: Uninstall Windows 10 with EaseUS Backup software
If you have upgraded your computer to Windows 10 without system partition backup, you can not try the first way to uninstall Windows 10. But it doesn't matter. EaseUS backup and recovery software can do you a favor. You can use it to backup your applications and data, and then restore them to your previous Windows version after uninstalling Windows 10.
Step 1. Launch EaseUS Todo Backup and click "NEW TASK" to start the backup job.
Steps 2. Choose "System backup", and then select a destination where you want to store the backup file.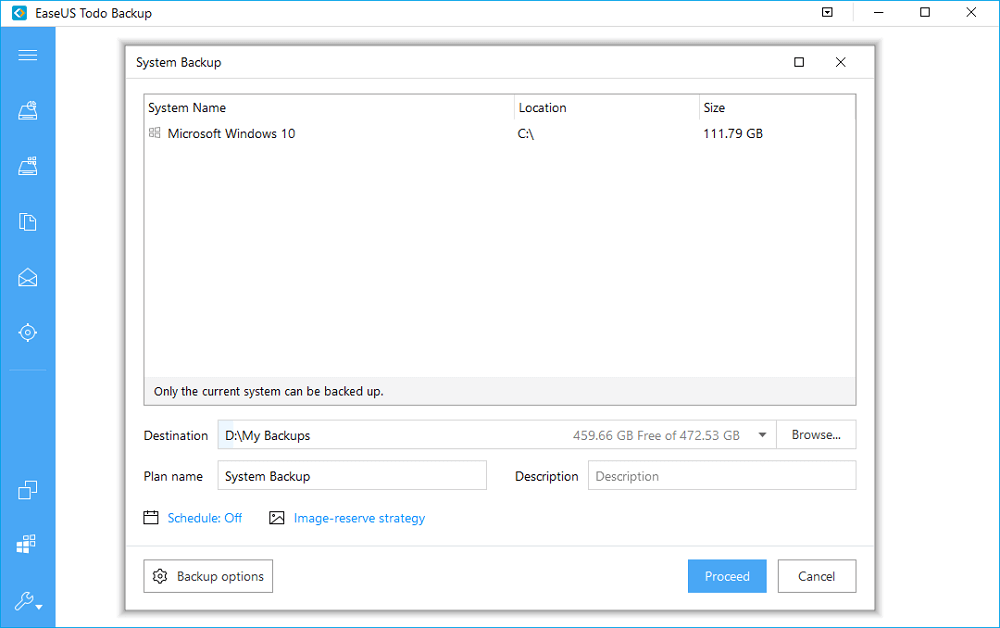 Step 3. Click "Proceed" to create a system backup image.