How can I clone a hard drive to another in Windows 10?
Recently, I updated my computer from Windows 7 to Windows 10. The latest operating system really gives me a more comfortable and brand new experience. I like it very much. But I noticed that there is too small free space on the hard disk after I upgraded to the Windows 10 system. It brings me a lot of inconveniences. So I want to upgrade my present disk to a larger one. But the problem is that I don't want to re-install the system and installed programs after I replace the hard drive. You know, it's really a tedious work.
So, is there any way for me to clone hard drive in Windows 10? Many people recommended me to try third party free Windows 10 cloning software. I know it is the best choice. But which program can I trust? Do you have any positive suggestions?
Try EaseUS free Windows 10 cloning software to upgrade your computer drive
To effectively protect your system and personal data, you should pay more attention to choosing a reliable cloning software before the hard drive upgrade job. It is the most important part to clone a hard drive. EaseUS free backup software is a program that you can try. The program works well in migration and clone. This feature can help you quickly, easily and safely migrate system & data from the old hard disk to an SSD or a bigger HDD for disk replacement or upgrade. Now you can learn the detailed guide about how to do it.
Step 1. Launch EaseUS Todo Backup Free and click Clone. It will pop up the below window and choose the source disk you want to clone. And then click "Next" to continue.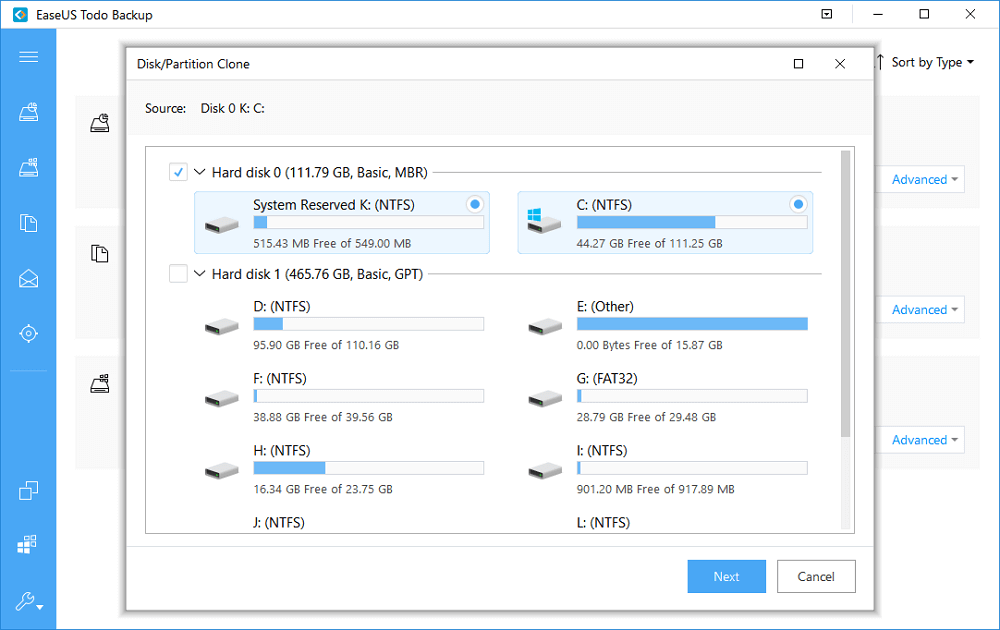 Step 2. Choose the destination disk. Tick Sector by sector clone, with it, you can clone all sectors from source disk to the destination disk. You are allowed to preview the disk layout in advance, then click "Proceed" to clone the disk.