"Can I clone Windows 10 HDD to a smaller SSD? My computer becomes slower and slower after upgrading to Windows 10. I've heard that SSD works more efficiently than HDD, then I bought a new 128 GB SSD (smaller than the old HDD), trying to resolve the issue by cloning OS from HDD to the smaller SSD. But the problem is I don't know how to do it. Can anyone show me how to make it?"
Why Need to Clone OS from HDD to Smaller SSD
With the fast spread of SSD, more and more computer and laptop manufacturers are using SSD as system disk to optimize system performance and speed up the device for worldwide users.
SSD has many apparent advantages compared with HDD, like better stability, faster reading and writing speed, less power consumption, and more great functions. Thus, more and more users, especially the game players, are trying to clone OS from HDD for SSD on their computers to improve performance.
But how to migrate Windows 10 from HDD to smaller SSD? Can you make it done without reinstalling Windows? If you are having the same problem, relax! Here, you'll find an effective and simple method to clone OS to SSD for free.
The Best Software to Clone Windows 10 to Smaller SSD for Free
EaseUS Todo free backup software is an ultimate data backup and recovery tool that allows for system clone, partition clone, and disk/hard drive clone. Its system clone feature will automatically select the current system partition and boot partition to be cloned, which ensures that the system can be properly started after migration.
Furthermore, as the destination disk is SSD, which has different structures need to be aligned along the SSD block boundaries, you can use the useful "Optimize for SSD" function of EaseUS Todo Backup to proceed sector alignment during cloning.
Another primary function of EaseUS Todo Backup is data backup. You can use it to accomplish file/folder backup, disk/partition backup, Outlook backup, cloud backup, as well as the system backup.
How to Clone Windows 10 to smaller SSD with EaseUS Todo Backup Free
You can follow the video tutorial or detailed steps provided below to migrate OS (Windows 10/8/7) to smaller SSD without reinstalling Windows for free. If you need to fresh Install Windows OS on SSD, link to the topic page.
 Notice:

If you are trying to clone Windows 10 to a new HDD or SSD disk, please do remember to empty the disk in advance.
One more thing that you can do is to convert your HDD/SSD disk to MBR or GPT - exact the same as your current system disk, which will allow you to effortlessly boot system after cloning Windows system.
Let's see how to clone your Windows 10 OS to a new HDD/SSD without reinstallation Windows OS now:
Step 1. Connect the new HDD/SSD to your PC.
Step 2. Run EaseUS Todo Backup for Windows 10 Clone.
Select "System Clone" on the left tool panel by clicking the icon at the left top corner.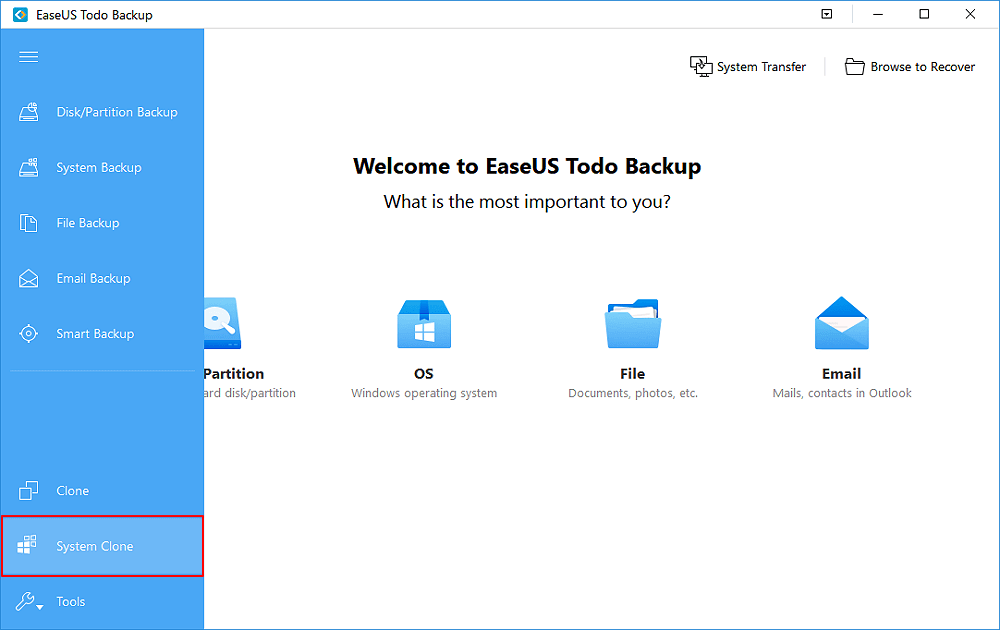 Step 3. Choose the destination disk - HDD/SSD to save Windows 10 system
Choose the new HDD or SSD as your target disk for saving the cloned Windows 10 system.
Then click "Proceed" to start cloning Windows 10 to HDD/SSD now.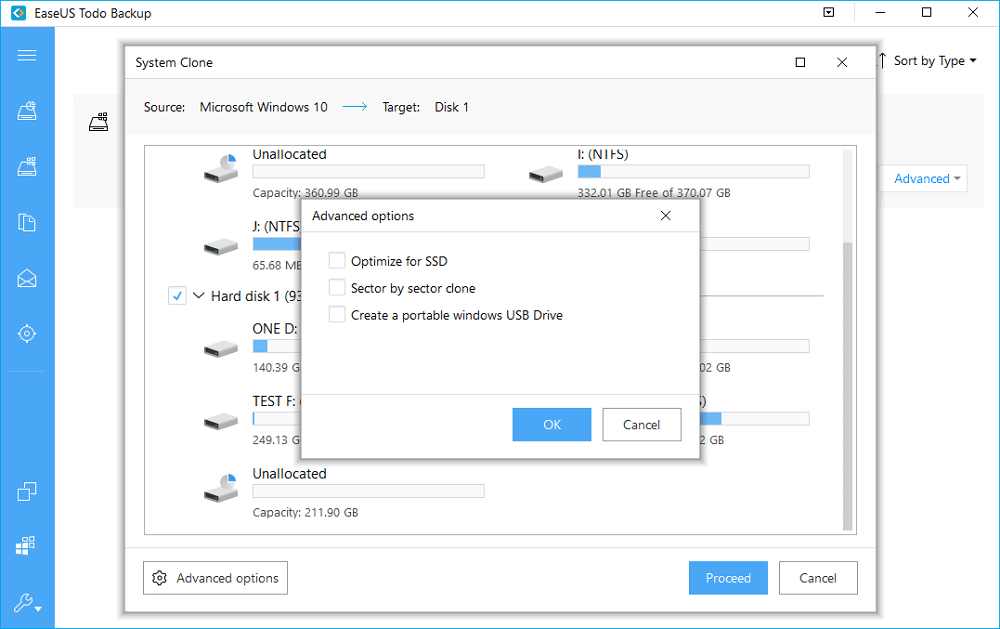 After this, insert your new HDD or SSD into your computer and reboot PC, change the boot order to set computer boot from new HDD/SSD with cloned Windows 10 system:
Restart PC and press F2 or F8 to enter BIOS settings.
In the Boot option, select new HDD/SSD as the new boot drive and save all the changes.
Exit BIOS and restart the computer, you should be able to see Windows 10 running on your new disk without any problems.