Can't get PS4 out of Safe Mode, it's looping there.
"Hi, PS4 stuck on a Safe Mode loop, with several options available to proceed, such as restart, update system software, rebuild database or initialize PS4... Unfortunately, I have no idea which one I should choose to go. Would you kindly explain those functions? I need to fix PS4 Safe Mode loop without losing data."
About PS4 Safe Mode
According to the official explanation, Safe Mode built in the console is widely used when players are having trouble starting the PS4 system. With the 7 most basic functions, including restart the PS4, change resolution, update system software, restore default settings, rebuild the database, initialize PS4 and initialize PS4 (reinstall system software), booting in Safe Mode can help correct issues and make PS4 start normally. For example, you can fix corrupted data error on PS4 by rebuilding the database.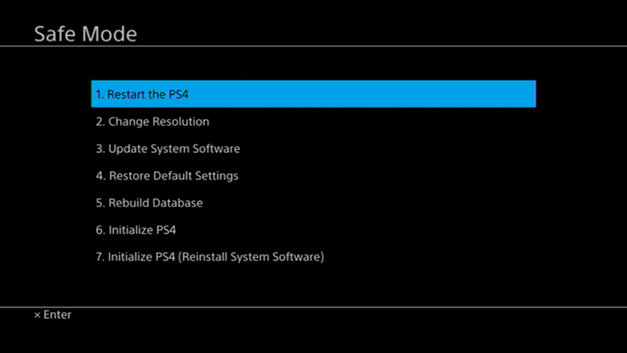 About PS4 Safe Mode Loop
Here's the story. When PS4 suddenly powered off and can never be powered up again in normal mode, then you come up with the idea - why not boot into Safe Mode? So, you just start off by following the formal procedures.
Completely turned off the PS4 console.
Press and hold down the power button for approximately 8 seconds until you hear 2 beeps.
Now you're welcomed by the PS4 Safe Mode screen.
However, in the coming hours or so, no matter how long you expect to access PS4 system storage from the Safe Mode, it just stuck on the screen with an endless loop.
How to Fix PS4 Safe Mode Loop Without Losing Data
Troubleshooting options to fix PS4 Safe Mode loop error
Update System Software - You can download and install any new updates that are available, by which you may get rid of the Safe Mode loop if the problem resulted from outdated system software.
Restore Default Settings - It restores the PS4 to the default factory settings. After factory reset, you need to set again the time zone and a few other console settings.
Initialize PS4 - All data and settings will be lost by performing this step. It deletes all user data and restores the PS4 as if it just came out of the box. So, make sure that you backed up the PS4 data before taking the step.
Initialize PS4 (Reinstall System Software) - It works the same with "Initialize PS4" by which all user data will be permanently erased, afterward a reinstallation version of PS4 system software will be installed.
Also read: How to recover PS4 game files?
How to Fix PS4 Safe Mode Loop with Error Code E-8200002E
In addition, according to some experienced users who had been suffering from Safe Mode loop, they surprisingly found out that insufficient funds in an associated card in the PS4 account would cause a Safe Mode loop within a loop! Let's see how they've finally worked the problem out.
"Here's a new one for you guys. I was stuck in the Safe Mode loop on PS4 and tried all suggestions but I couldn't update settings, initialize, etc. because when I chose any option I would then get error code E-8200002E. The error code forced me to turn off PS4. It was a loop within a loop! Looked up the error code. Insufficient funds. Didn't have money on my card so l deleted my card from my account through the website and restarted PS4, assuming it would go into Safe Mode for the 15th or so time in a row. Nope. Booted up normally. So, having a card on file with insufficient funds caused the Safe Mode loop. PlayStation, this is completely unacceptable."
100% of people found this article helpful.
Frequently Asked Questions
Why choose EaseUS Todo Backup?

"The easiest way to protect your data and system files." —techradar

"EaseUS Todo Backup Free is one of the most popular free data backup applications available. This software offers a myriad of features and is extremely user-friendly. It provides a full system backup, meaning you can back up your entire operating system." —TopTenReviews

"EaseUS ToDo Backup Home is a great backup program, well suited to the home and SMB space." —PCWorld
What is the difference between Clone and Backup? In what cases should I use Clone?

Clone will copy one disk to another or one partition to another (unallocated space is also supported). Usually, this option is used to upgrade the current disk by creating an identical copy. Backup will generate a .PBD image file containing the selected files or system that can be restored from the .PBD image if needed.
What is the difference between System Backup and Disk Backup?

System Backup will auto-select the system boot related partition(s) as the backup source to make sure the system image can be restored properly. Disk/Partition Backup will allow you to manually select a whole disk or speficy a certain partition as the backup source. You will get the same backup result as System Backup if you manually select the system and boot partitions with the Disk/Partition Backup option.
As a computer newbie, what features should I use to protect my computer?

You can use System Backup to back up the system and boot partitions, use Disk/Partition backup to back up the data partition and add plans to run an automatic backup. If you use the computer frequently or have software that may cause boot failure of the computer, we would suggest you back up the computer every 1 to 2 days. For other situations, you can backup the computer once a week. In addition, you can schedule File Backup to back up the files which are changed frequently.
What kind of storage service should I use to save my backup images?

EaseUS Todo Backup can save backup images to internal disks, external disks, network drives, or free cloud(Google Drive, Dropbox, and OneDrive) and CD/DVD. It is suggested to save the images to the internal/external/network drives to save time as those kinds of disks have a better read-write speed. It is suggested NOT to save the image on the source disk, because once the disk is damaged, all the files on the disk will become unavailable and you will be unable to restore the image.
As a company network administrator, what features should I use to protect our internal computers?

It is recommended that you use the SQL Backup feature to back up your company's SQL server and Exchange Backup feature to back up the Exchange server. In addition, you can execute System Backup to back up the system and boot partitions on every computer and set a plan to execute the backup once a day or twice a week to ensure that the computer can be restored timely when it has boot issues. File Backup feature can be used to back up important user data. If there are a large quantity of computers, you can purchase EaseUS Backup Center to manage the backups on the client computers centrally.
About EaseUS Todo Backup
Be it a file, system, partition, or disk, EaseUS Todo Backup will help you back up or clone the item and provide you with multiple backup plans.