What Is Bad Image Error in Windows 10
The 'Bad Image error fix' is badly requested from time to time by users currently running Windows 10. Starting from Windows 8, in fact, whenever an update is checked, it'll be automatically downloaded and installed onto the computer, even if it was a defective update.
So for your information, when you can't open a specific EXE program due to a repeated popping up a dialog box with the exact error message behind, and pressing OK didn't stop it coming back, the files and libraries of programs you're trying to run are unfortunately corrupted.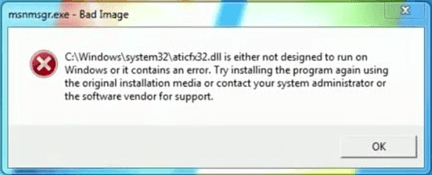 Detailed error information
(program name).exe - Bad Image
C:\Windows\system32\xxx.dll is either not designed to run on Windows or it contains an error. Try installing the program again using the original installation media or contact your system administrator or the software vendor for support.
Most of the time an additional Error status 0xc000012f is provided.
Does only a defective Windows update cause the Bad Image error of the most .exe applications? Not really. Any factor that is related to a file or system corruption issue should take responsibility. For example, excessive system cleaning, critical program files deletion, virus or malware infection, etc.
How to Fix Bad Image Error in Windows 10
We know how it is annoying and disgusting to receive a never-ending popup, which forbids you to launch any program on PC normally. No more tolerance for the Bad Image! Let's see how to remove the error so that Bad Image prompt will never show up again.
Required Software
EaseUS Todo Backup Free - for Windows backup of disk/partition, operating system, files, etc. Put it in use for every Windows 10 troubleshooting, update and changes along with risks of losing data, crashing system and unpredictable disasters.
Required Skills
Typically zero computer skills are necessary. You're going to start Bad Image error fix by accessing the following paths.
1. Windows 10 control panel.
2 Windows 10 command prompt
3. Windows 10 Automatic Repair
Here, Bad Image error fix starts...
First, download and install EaseUS free backup software on your PC where programs have difficulty in opening due to Bad Image error. Launch the software and follow the guide to create a full disk partition backup. It's a significant step regarding that a system restore is required for permanent removal of Bad Image error.
Step 1. Connect your external hard drive or USB to your computer. Launch EaseUS Todo Backup and click Disk/Partition Backup.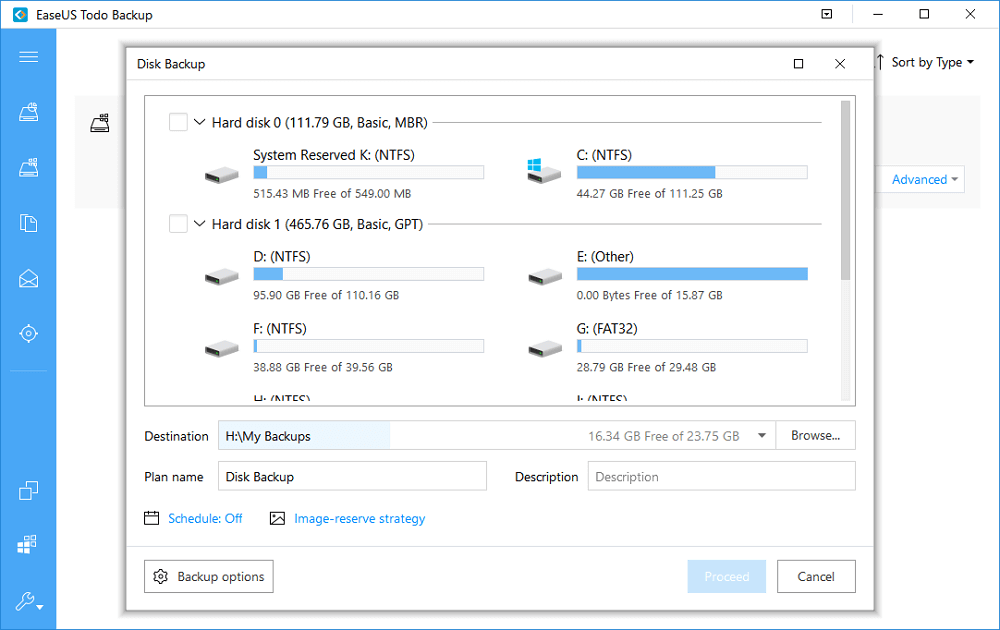 Step 2. Choose the disk or partitions that you want to backup. Then Click Destination to select backup storage location as an external hard drive, USB or Network.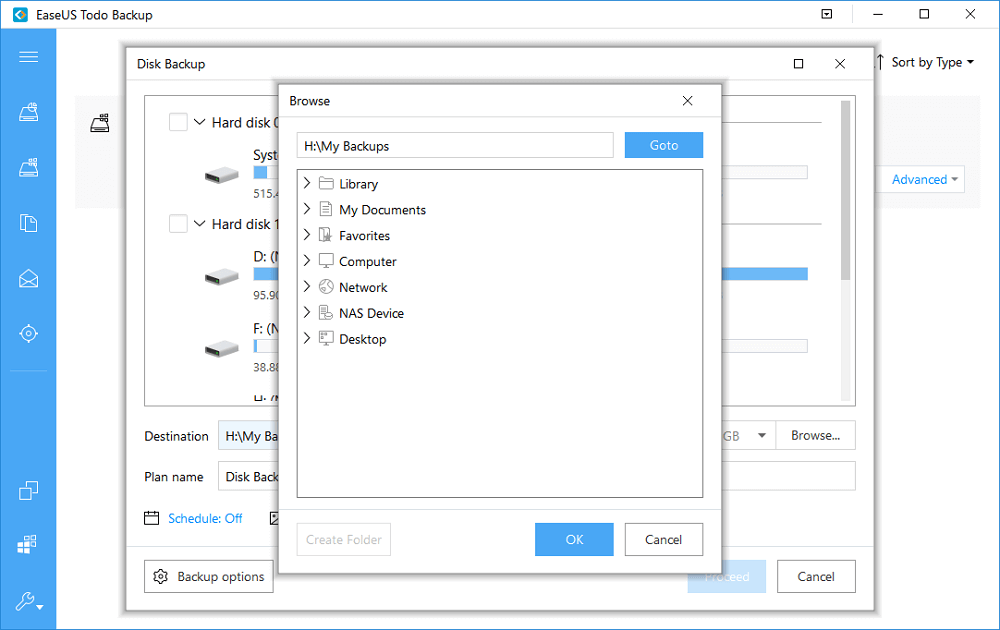 You can enter the Plan name and Description for specifying your disk and partition backup to your external devices.
Step 3. Click Proceed to perform the disk and partition backup.
5 Best Ways for Bad Image Error Fix
Next, feel worry-free and risk-free to begin with the following troubleshooting methods since your important computer data is fully protected.
Fix 1. Reinstalling the program
Step 1. Press Windows + R simultaneously to invoke Run, type appwiz.cpl and press enter.
Step 2. Double-click on the program producing the Bad Image error and click Uninstall.
Step 3. Go to the website and download the program again.
Fix 2. Uninstall the defective update
Step 1. Type control panel in the search box in Windows and press enter.
Step 2. Navigate to Programs and features.
Step 3. On the left panel, click View installed updates.
Step 4. On the right panel, locate on the Windows update version that causes the error and click Uninstall. Restart your computer.
Fix 3. Run SFC scan and fix
Step 1. Press Windows + X simultaneously and click Command Prompt (Admin).
Step 2. Type the following cmd and hit enter.
Sfc /scannow
sfc /scannow /offbootdir=c:\ /offwindir=c:\windows
Step 3. This will run a system file check and repair all corrupt system files. Restart the computer.
Fix 4. Run Automatic Repair
Step 1. Boot Windows from a bootable installation media and go on with Repair your computer option.
Step 2. Click Troubleshoot -> Advanced options and then Automatic Repair.
Step 3. Wait until Windows Automatic Repair finished. Restart your computer.
Fix 5. Perform System Restore
Only you've enabled the system restore and created a system restore point beforehand, this option is the last resort you should take to fix Bad Image error.
Step 1. Search for system restore in Windows 10, click on Create a restore point.
Step 2. Click System Restore and then Choose a different restore point and hit Next. Follow the wizard to perform the system restore to get back to the system point where no Bad Image error once occurred.
100% of people found this article helpful.
Frequently Asked Questions
Why choose EaseUS Todo Backup?

"The easiest way to protect your data and system files." —techradar

"EaseUS Todo Backup Free is one of the most popular free data backup applications available. This software offers a myriad of features and is extremely user-friendly. It provides a full system backup, meaning you can back up your entire operating system." —TopTenReviews

"EaseUS ToDo Backup Home is a great backup program, well suited to the home and SMB space." —PCWorld
What is the difference between Clone and Backup? In what cases should I use Clone?

Clone will copy one disk to another or one partition to another (unallocated space is also supported). Usually, this option is used to upgrade the current disk by creating an identical copy. Backup will generate a .PBD image file containing the selected files or system that can be restored from the .PBD image if needed.
What is the difference between System Backup and Disk Backup?

System Backup will auto-select the system boot related partition(s) as the backup source to make sure the system image can be restored properly. Disk/Partition Backup will allow you to manually select a whole disk or speficy a certain partition as the backup source. You will get the same backup result as System Backup if you manually select the system and boot partitions with the Disk/Partition Backup option.
As a computer newbie, what features should I use to protect my computer?

You can use System Backup to back up the system and boot partitions, use Disk/Partition backup to back up the data partition and add plans to run an automatic backup. If you use the computer frequently or have software that may cause boot failure of the computer, we would suggest you back up the computer every 1 to 2 days. For other situations, you can backup the computer once a week. In addition, you can schedule File Backup to back up the files which are changed frequently.
What kind of storage service should I use to save my backup images?

EaseUS Todo Backup can save backup images to internal disks, external disks, network drives, or free cloud(Google Drive, Dropbox, and OneDrive) and CD/DVD. It is suggested to save the images to the internal/external/network drives to save time as those kinds of disks have a better read-write speed. It is suggested NOT to save the image on the source disk, because once the disk is damaged, all the files on the disk will become unavailable and you will be unable to restore the image.
As a company network administrator, what features should I use to protect our internal computers?

It is recommended that you use the SQL Backup feature to back up your company's SQL server and Exchange Backup feature to back up the Exchange server. In addition, you can execute System Backup to back up the system and boot partitions on every computer and set a plan to execute the backup once a day or twice a week to ensure that the computer can be restored timely when it has boot issues. File Backup feature can be used to back up important user data. If there are a large quantity of computers, you can purchase EaseUS Backup Center to manage the backups on the client computers centrally.
About EaseUS Todo Backup
Be it a file, system, partition, or disk, EaseUS Todo Backup will help you back up or clone the item and provide you with multiple backup plans.